Got leftover peelings? Do NOT throw them away - waste them no more. In just a few minutes you can enjoy crispy air fryer potato peels instead. Season them and add your favorite dip & be wowed by the simplicity of this salty crunchy snack.
Why cook potato peels? Throwing out food that is perfectly edible is one of those things that drives me a little bit bonkers - confession time. Like reusing pickle juice to make pickles, this recipe transforms an ingredient into something new & yummy. That is something to feel good about on many levels.
So the next time you peel a potato to make mashed potatoes or a stew, like Hungarian goulash save those russet potato peels. This is the best way to use leftover or extra potato peels. Throw them in the air fryer & enjoy a quick & easy appetizer to nibble on while the rest of the meal is cooking.
Jump to:
Are Potato Peels Healthy?
If you wonder whether or not the skins of potatoes are good for you, the quick answer is - heck yes they are. Besides the fact the skins on potatoes are loaded with fiber & potassium, the skin is more healthy than the flesh inside.
So you absolutely should be eating those potato peels. When you eat a whole potato, you are enjoying some great nutritional benefits. But you actually get more calcium, iron, & 7 nutrients when eating the same amount of skin versus flesh.
Ingredients for Air Fryer Potato Peels
These potato skin chips are earthy, crunchy, salty, & savory. They taste best when using raw skins from freshly peeled russet potatoes.
You can also use skins from potatoes that have been cooked with the skin on, such as baked potatoes done in the toaster oven. Just chop them up first into strips or pieces & the cooking time with be less.
Potato Peels - freshly peeled skins from raw russet potatoes are ideal.
Avocado Oil Spray - this variety is best for the high-heat cooking that an air fryer puts off.
Seasoned Salt - the blend of salt, garlic, paprika, etc results in perfectly seasoned peels.
See the recipe card for quantities.
How to Cook Potato Peels in the Air Fryer
This recipe works in both a basket-style air fryer and one with a tray. I have a toaster oven air fryer combination made by Breville & love it. Potato skin chips are easy & healthier when air-fried vs frying in oil.
Wash & dry the russet potatoes. Using a vegetable peeler, remove the skins and collect them into a shallow pan or on a plate. Try and get them into as long of ribbons, strands, or peeling strips as you can. This makes them more fun & easier for dipping.
You will want them to go into the air fryer as soon as they are freshly peeled. This reduces the chance they will brown & oxidize while exposed to the air.
Spray the peels with avocado oil spray & sprinkle on the seasoned salt. Using your hands or tongs, toss to coat. Transfer the seasoned peelings to your air fryer. It is best to spread them out in a single layer with space between them so the heat can cook all edges.
Set the air fryer to 380° and the timer to 7 minutes. The potatoes will cook during the preheating & cooking time for about 10 minutes total.
For basket-style air fryers, flipping them over with tongs may be needed halfway through the cooking time. With a tray in my Breville Smart Oven model, this was not necessary.
Once the skins are deep brown with curled edges they are ready. Some may take longer to cook if there is a good amount of potato flesh still attached to them. Continue air frying the potato peels to your desired crispiness level.
Using tongs remove them from the air fryer to a serving bowl or plate. Enjoy these potato peeling crisps while they are fresh, hot, & crunchy. Try some fun other flavorings & dips which I share below.
HINT: add fresh parsley or other herbs when serving and season with additional salt & pepper to taste.
Variations, Dips, & Seasoning Ideas
One of the reasons why potatoes are loved around the world & the most popular root vegetable, they are so versatile. So many flavors, seasonings, & dips go so well with potato peel chips. You can also make these using the peels from sweet potatoes that may be leftover after making homemade sweet potato fries.
Here are some ways to serve air-fried potato peels as a snack, appetizer, or side dish.
Spicy - add a few pinches of cayenne pepper
Salt & Vinegar - like the classic potato chips, omitting the seasoned salt & use salt & vinegar fries seasoning
Italian - add garlic powder, dried basil, & dried oregano
Old Bay - use this seasoning instead of seasoned salt
Kid-friendly - use just salt when seasoning the peels
Cheesy - sprinkle with parmesan cheese or nutritional yeast (vegan) when they are done cooking.
Try these delicious dip ideas so you can enjoy something more than just ketchup with these fried potato peels. Instead of store-bought, try homemade ranch. try one of my favorite homemade sweet or spicy french fry dips.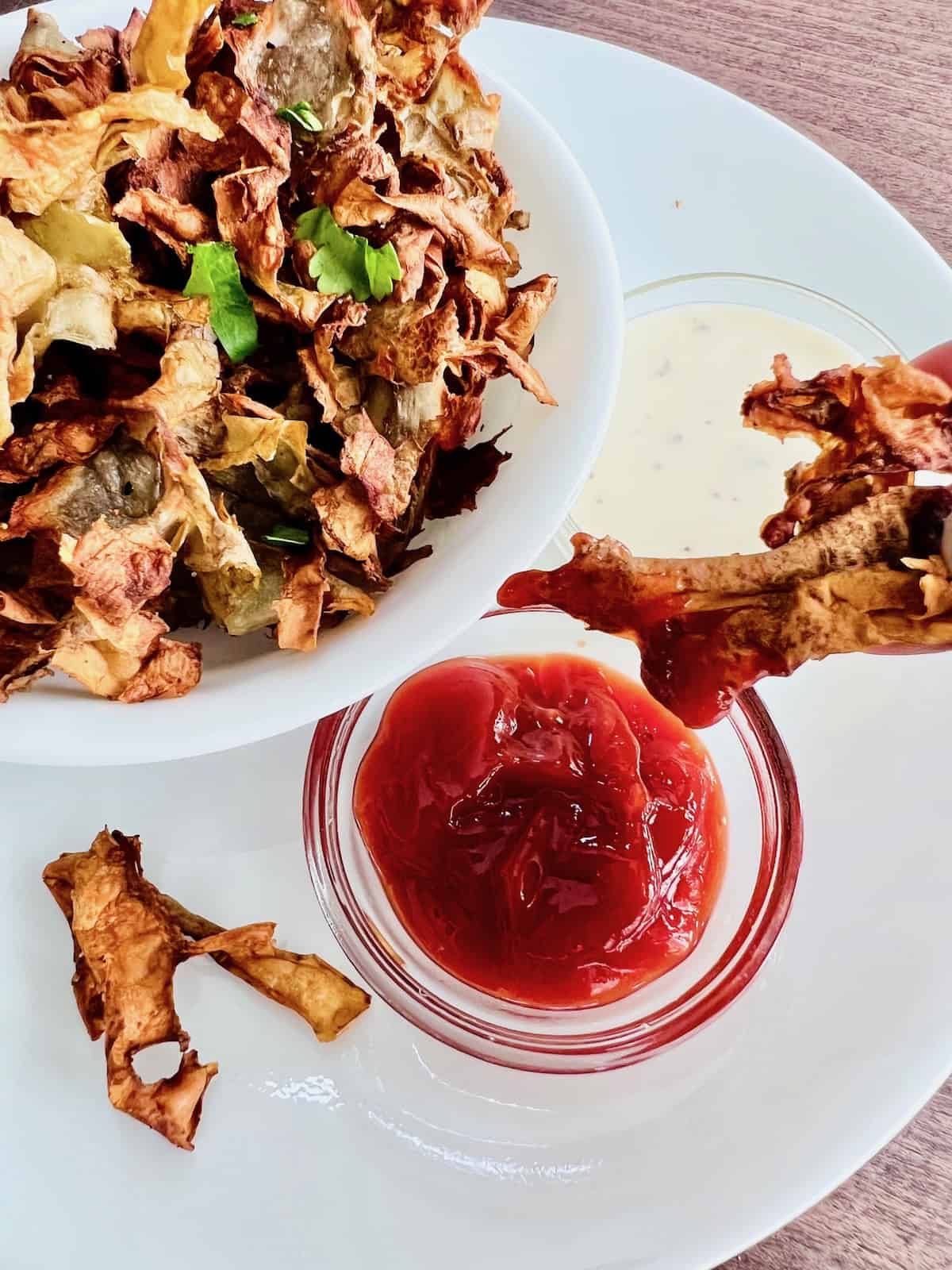 Equipment
Here are the items you will need to make this recipe.
The Short Order Cook participates in the Amazon Services LLC Associates Program. As an Amazon Associate, I earn from qualifying purchases. If you click on a link and make a purchase, I may earn a small commission on the sale at no additional cost to you. This helps with the costs of running the blog. Thank you!
Storage
These hot & crispy potato peels are best eaten immediately. They do not store well or reheat. I do not recommend storing them in the refrigerator or freezer to enjoy later.
Top Tips
All of these great tips are shared in the post. But these are so good and important they are worth mentioning again so you don't miss them.
Cook the potato skins immediately after peeling them before they start to turn brown or oxidize.
Try some fun seasonings for different flavors & don't forget the dips.
Enjoy them immediately while fresh & crispy.
Top with fresh herbs & serve with dips.
FAQ
What type of potato peels work for this recipe?
I think hearty russet peels work best but many other kinds of potato skins can be air-fried. Try these other options, Yukon gold, red new potatoes, & fingerling. These thinner skin options will cook faster, so watch them carefully. I have NOT tried any of these other skins as I typically leave them on when using them in recipes.
What are other uses for leftover potato peels?
Besides being great for composting, potato peelings also have other uses. Peels are great for adding to homemade stock or bone broth.
Crispy Air Fryer Potato Peels
Transform leftover potato peelings into an amazing snack or appetizer. Crispy air fryer potato peels are salty, crunchy, & addicting. Ribbons of potato skin chips are seasoned & great for dipping. Just 3 ingredients & ready in 15 minutes.
Equipment
air fryer

Vegetable Peeler
Ingredients
1

cup

potato peels

about 4 large russet potatoes

avocado oil spray

½

teaspoon

seasoned salt
Instructions
Using a vegetable peeler, remove the skins from the potatoes. Try and get large ribbons if possible but any size of peelings will work. Hold the potatoes over a shallow dish or plate to collect the peels.

Spray some avocado oil on the peels & sprinkle on the seasoned salt. Using hands or tongs, toss to coat.

Spread out the seasoned peels in the air fryer basket or tray. Get them in a single layer with space between them as much as possible.

Se the air fryer to 380° and the time for 7 minutes.

Let the potato peels air fry during the preheating and cooking time - which is 10 minutes in total.

If you have a basket-style air fryer, you may want to flip the peels or shake the basket halfway through cooking. I did not need to do so with the tray I have in mine.

The peels are ready when the skins are golden brown and the edges are curled and crispy. All sides should be crunchy & with no raw or uncooked flesh remaining.

** for bigger pieces or peels with more potato flesh attached the cooking time may take a bit longer

Using tongs, remove the peels from the air fryer to a serving plate or bowl.

Top with fresh herbs if desired. Season with additional salt and pepper to taste if needed.

Enjoy immediately with dips or as-is. They are best eaten while hot, fresh, & crispy.