The fun twist on this Southern dessert recipe will have you singing. Graham cracker crust sweet potato pie is as comforting as the classic recipe but with a modern kick of extra flavor.
The sweet spiced cinnamon and honey flavors of graham crackers pair so well with sweet potato pie filling. One bite and you will probably never make homemade sweet potato pie in a traditional crust again.
It is the perfect pie for Thanksgiving, Christmas, or other holidays. If you are feeding a crowd, buy two graham crackers crusts and also make a No-Bake Egg Nog Pie.
Jump to:
What Does Sweet Potato Pie Taste Like?
If you never had sweet potato pie, some say it is similar to pumpkin pie. I think it tastes better - sweeter, bolder, & a touch savory.
I love the mild and less spiced flavor along with the creamier texture compared to pumpkin. I admit that pumpkin & pumpkin spice are two things I do not care for but a slice of this takes me back to Grandma's house!
Ingredients for Sweet Potato Pie with Condensed Milk
This recipe calls for ingredients that are similar to most old-fashioned pies. The fancy twist is substituting a standard pie crust with a store-bought graham cracker crust. The premade shortcut is not only more delicious but is a timesaver.
The filling starts with fresh sweet potatoes that are cooked until tender. Two items are combined for the perfect sweet; brown sugar & sweetened condensed milk. By using both, this sweet potato pie has the best flavor with a caramel toffee-like richness that cannot be matched.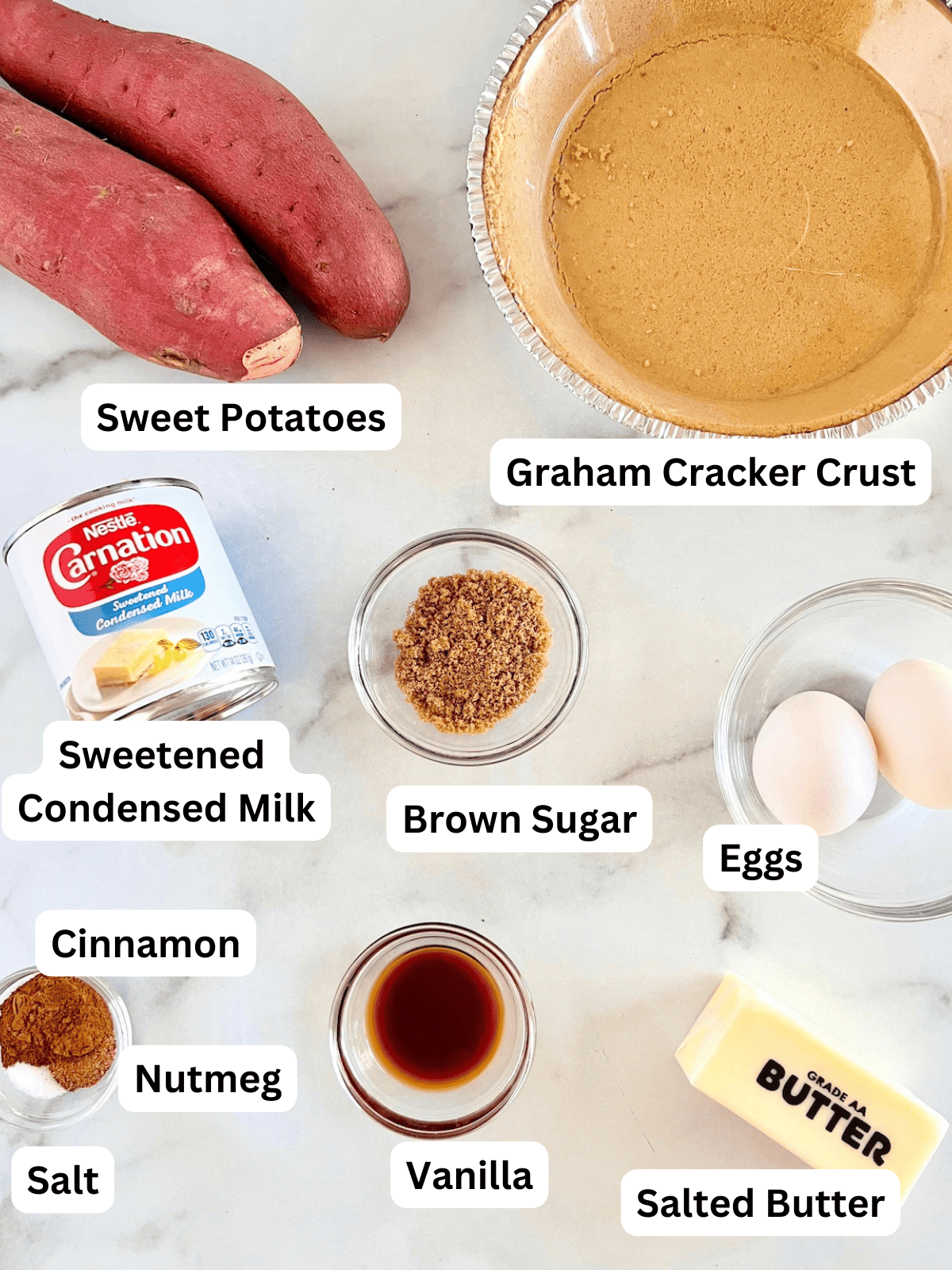 Sweet Potatoes - use an orange variety such as Covington, Belleview, Garnet, Jewel, or Beauregard for a sweet starchy pie.
Salted Butter - adds richness & fat to offset the sweetness.
Eggs - room-temperature eggs blend better and are best whenever baking.
Brown Sugar - this is key for the deep molasses/caramel flavor that results in gourmet flavor.
Sweetened Condensed Milk - the concentrated milky sweet flavor gives a creamy fluffy texture that is superior and not soggy due to excess moisture from regular or evaporated milk.
Vanilla - the floral flavor pairs well with sweet potatoes.
Cinnamon - classic warm spice for pie.
Nutmeg - a nutty spice that many say "tastes like Christmas".
Salt - to tone down all the sugars.
Graham Crack Crust - any 10" store-bought crust; most come in 8" but Keebler Ready Made does have the bigger option.
See the recipe card for quantities.
How to Make Sweet Potato Pie in a Graham Cracker Crust
This recipe is no-fuss and is really little effort. Even a beginning baker can make it. It does take a bit of time to bake the potatoes and then bake the pie. But don't be fooled, this sweet potato pie recipe is simple.
Here are the easy steps for making homemade sweet potato pie in a graham cracker crust.
Cook the Sweet Potatoes
Make the Sweet Potato Pie Filling
Add Filling to the Graham Crack Crust
Bake the Pie at 350°
Cool & Serve
1 - Cook the Sweet Potatoes
There are many ways to cook a sweet potato when making a pie. You can boil, steam in the Instant Pot, oven bake, microwave, steam, or grill.
My favorite way is to air-fry sweet potatoes for 30-40 minutes. They are fluffy, flavorful, & ready fast.
Bake or air fry the sweet potatoes until they are fork-tender. They should be fluffy on the inside & the skin will pull from the flesh easily. (bake at 425° for 35-45 minutes)
Gather & prep the rest of the ingredients, including melting the butter.
Let the potatoes cool for 30 minutes before making the filling. (cutting them open helps them cool off faster) This way the eggs don't "cook or scramble" when they are added. While they are cooling, preheat to oven to 350°.
2 - Make the Sweet Potato Pie Filling
The pie filling whips together in just 5 minutes. You will need a hand mixer and a large mixing bowl. I recommend using a bowl with a spout on the rim for easy pouring.
To the bowl add the flesh of the sweet potatoes. You will need 2 cups of mashed sweet potatoes. Add the melted butter and stir to combine.
Add the remaining filling ingredients to the bowl. Using a hand mixer, mix on medium for 2 minutes. The filling will be fluffy.
3 - Add Filling to the Graham Crack Crust
To prep the crust, simply remove the plastic cover. Set it aside to use later as a cover for the pie for storing.
Gently pour the filling into the ready-made graham cracker crust. There is no need to prebake it - it will bake all at once with the filling.
If you are using a crust smaller than 10" there will be leftover pie filling. Do not let it go to waste - try one of these recipes for leftover sweet potato pie filling.
The crust should be filled just to the edge. It will puff up a bit while baking but not much. I should not overflow or spill over but use a baking sheet under the pie just in case. Place it on the middle rack of the preheated oven.
4 - Bake the Pie at 350°
How long does it take to bake a sweet potato pie? The pie takes 40 minutes to bake at 350°.
The pie will be done when the center jiggles just slightly. The rest of the pie will be set and the graham cracker edges will be golden brown.
Hint: the low temperature should not cause the crust to burn or get dark. If it starts to get well done before the filling is set, cover the crust with thin strips of foil until it is done baking.
5 - Cool & Serve
Using oven mitts, remove it from the oven when ready. Let it cool on the counter for 30-45 minutes before slicing.
Top with whipped cream and serve immediately. This pie is lovely served warm, at room temperature, and cold. I admit, I love it straight out of the refrigerator chilled - heaven!
Substitutions & Variations
As with most baking recipes, following the ingredients & instructions is important for success. Here are a few substitute ingredients & variations that do work well for this recipe.
Variations
Gluten-Free - use a gluten-free crust such as the 9" one by Mi-Del. You may have extra filling due to the smaller size.
Spiced - add ¼ teaspoon each clove & ginger.
Equipment Needed
The right ingredients, supplies, & equipment help recipes taste amazing & turn out well. Here are recommendations for products that are needed for making this recipe. Shop this recipe & buy these top-rated items today.
The Short Order Cook is a participant in the Amazon Services LLC Associates Program. As an Amazon Associate, I earn from qualifying purchases. Clicking on links and making purchases may earn me a commission, supporting the blog's operational expenses. Thank you for your support!
Storing
This pie lasts for up to 5 days in the refrigerator. This is a great make-ahead recipe - especially for busy holidays.
It is safe to freeze the prebaked whole pie for up to 30 days and defrost in the refrigerator 2 days before serving.
HINT: reuse the plastic cover from the ready-made crust. Flip it over and seal it back on by crimping the foil edges over it.
Top Tips
All of these great tips are shared in the post. But these are so good and important they are worth mentioning again so you don't miss them.
For best flavor, air fry or bake the potatoes versus boiling or steaming.
Let the potatoes cool so they are easy to handle, this ensures the eggs don't cook/scramble when added.
Make it up to 5 days ahead of time & store it in the refrigerator. It's a great holiday time saver. Or freeze the prebaked whole pie for up to 30 days and defrost in the refrigerator 2 days before serving.
Cover the pie crust edges with foil to keep the graham cracker crust from burning.
DO NOT overbake, remove the pie from the oven when the center still has a little bit of jiggle.
FAQ
Can I substitute premade pie crust for graham cracker crust?
For a more traditional version, you can use regular pie crust for this recipe. A 10" recipe or store-bought or premade crust will work.
Do I need to prebake the graham cracker crust?
No. Only bake the crust while it has the filling in it.
My crust turned out too dark and well done, what went wrong?
The oven temperature may be higher than 350°. Some brands or a homemade crust may cook differently. If you see your crust start to darken before the filling is ready - cover the edges with foil.
Is it better to boil or bake the sweet potatoes?
If you want more flavor, I 100% recommend baking or air-frying the sweet potatoes. But if you want to boil, steam, or pressure-cook diced or cubed pieces, PLEASE make sure to remove all excess moisture from the sweet potatoes. Pat them dry and let them release any water or you will end up with a soggy watered-down filling.
Why is my sweet potato pie soggy?
Not cooking the pie long enough will result in an underbaked sweet potato pie. The filling will not set and once sliced will be too soft & running.
More Delicious Pie Recipes
Looking for other recipes like this? Try these other homemade pie recipes: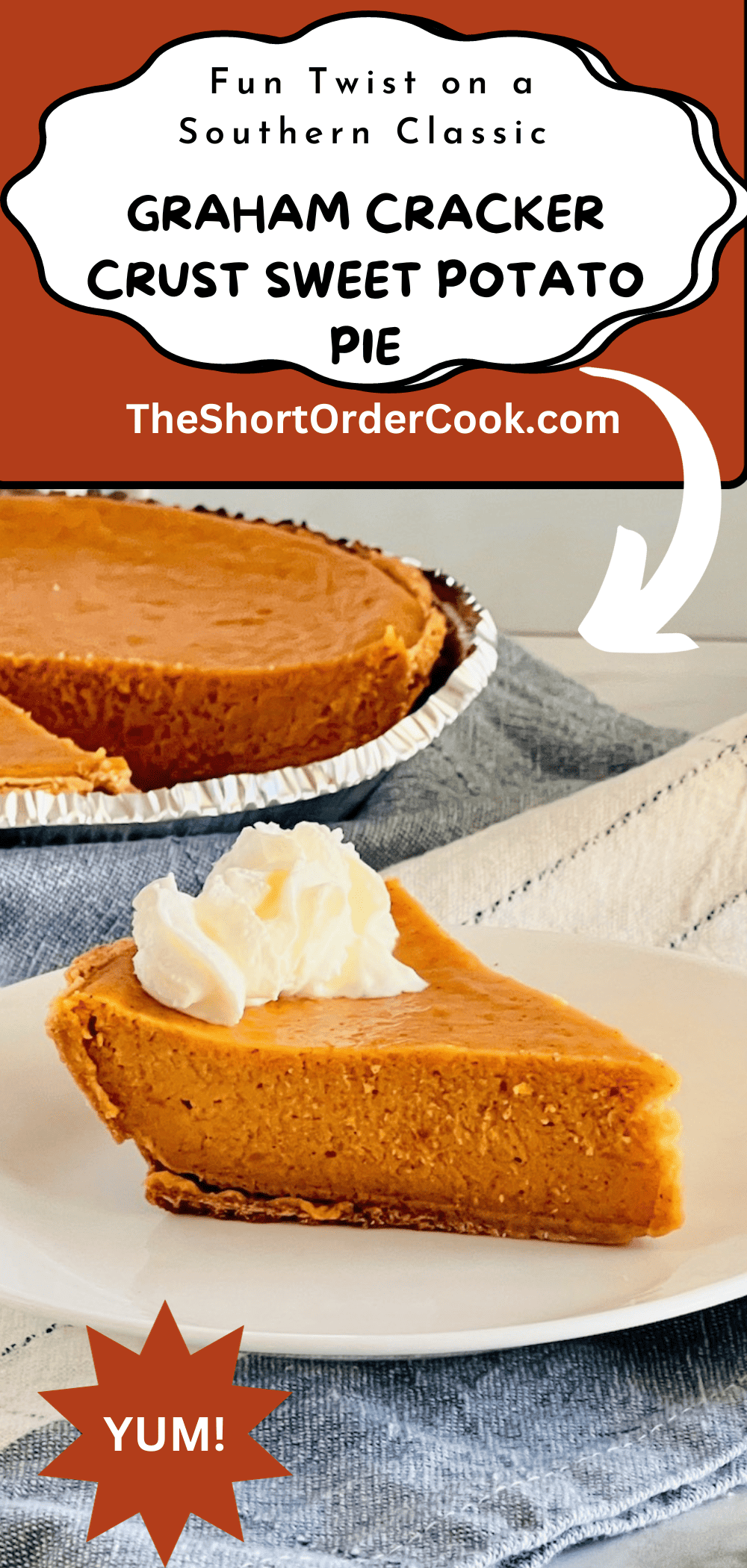 Graham Cracker Crust Sweet Potato Pie
This fun version of a Southern classic dessert has a modern twist. Instead of an old-fashioned pie crust, made this recipe for sweet potato pie with a graham cracker crust. The crispy texture & cinnamon honey flavor paired with a creamy rich pie filling is heavenly. A wonderful fall or autumn holiday recipe for Thanksgiving or Christmas.
Ingredients
1

10"

premade graham cracker crust

1

pound

sweet potatoes

about 2 large or 2 cups cooked mashed

¼

cup

salted butter

melted

1

14 ounce

can sweetened condensed milk

2

eggs

¼

cup

brown sugar

2

teaspoon

vanilla extract

1 ½

teaspoon

cinnamon

½

teaspoon

nutmeg

¼

teaspoon

salt
Instructions
Bake, air fry, steam, pressure cook, or boil cubes of peeled sweet potatoes. They need to be fork-tender before adding to the other filling ingredients. This can take between 30-45 minutes.

I prefer to air fry them at 375° for 30-40 minutes. Or bake in the oven at 425° for 35-45 minutes. The size and shape of the potatoes may cause cooking times to vary.

Let the potatoes cool so they are easy to handle. If they are too hot they will also not mix well with the added eggs later. (no scrambled eggs wanted here)

While the potatoes are cooling - preheat the oven to 350°.

Peel potatoes and place the flesh into a large mixing bowl. Add butter and beat with an electric mixer until smooth. Add the sweetened condensed milk, eggs, brown sugar, vanilla, cinnamon, nutmeg, and salt. Mix until smooth.

Pour the filling into the pie crust. Fill until just reaching the edges of the crust.

Bake in the preheated oven for 40 minutes. It is ready when the surface is firm except for a small spot in the center that will jiggle when the pie is gently shaken.

Carefully remove the pie using oven mitts. Let it cool for 30-45 minutes on the counter before serving.

To serve, slice into wedges and plate. Top with fresh or canned whipped cream. Enjoy warm or cold.

Place the plastic lid upside down so it creates a dome cover over the pie. Crimp the foil edges over the clear lid to seal.

Store for up to 5 days in the refrigerator.
Notes
** a store-bought gluten-free graham-style crust can be used
** Prebaked whole pies can be stored for up to 30 days in the freezer. To defrost, place in the refrigerator for 2 days. 
Nutrition Facts
Servings: 8
Amount per serving
 
Calories
329
% Daily Value*
Total Fat 12.1g
16%
Saturated Fat 7g
35%
Cholesterol 73mg
24%
Sodium 256mg
11%
Total Carbohydrate 49g
18%
Dietary Fiber 1.5g
5%
Total Sugars 35.8g
 
Protein 6.8g
 
Vitamin D 8mcg
39%
Calcium 176mg
14%
Iron 1mg
7%
Potassium 344mg
7%
*The % Daily Value (DV) tells you how much a nutrient in a food serving contributes to a daily diet. 2,000 calorie a day is used for general nutrition advice.

Recipe analyzed by