Rice and fava beans are a perfect match for one another.  Delicate rice paired with the protein of crisp fava beans results in a well-rounded combination.    The lemon vinaigrette and zest are the acidic punch that the dish needs to bring it all together.  Top with some fresh scallions too for the final pop of flavor.  This salad recipe is so hearty it can even be a main dish option especially for a light lunch along with my amazing homemade CIABATTA BREAD recipe.
Fava Beans and Rice - A Perfect Match
There are many rice and bean recipes that are classic and part of many cultures.  This dish is a different take on the Venetian classic dish, Risi e Bisi (rice and peas).  It is traditionally made with fresh spring peas, so why not with fresh spring fava beans.  The results are enticing but not entirely unique. I got the inspiration for this dish from a traditional Persian dish called baghali polo which is rice and favas layered with dill.
The main ingredients also bring together many different nutrients to help with a diet that is not just healthy and low fat but also delicious.
Nutritional Value of White Rice
One cup (158 grams) of cooked long-grain white rice:
Calories: 206 calories
Carbs: 45 grams
Fat: Less than 1 gram
Protein: 4 grams
Fiber: less than 1 gram
Folate: 23% of the Daily Value (DV)
Manganese: 37% of the DV
Selenium: 17% of the DV
Thiamin: 17% of the DV
Niacin: 12% of the DV
Iron: 11% of the DV
Nutritional Value of Fava Beans
A half-cup (80 grams) of cooked fava beans offers:
Calories: 93 calories
Carbs: 16 grams
Fat: Less than 1 gram
Protein: 7 grams
Fiber: 5 grams
Folate: 20% of the Daily Value (DV)
Manganese: 18% of the DV
Copper: 11% of the DV
Phosphorous: 10% of the DV
Fava are so nutritious that you should cook with them whenever you can. I love them with pasta in my Creamy Pesto Pasta with Fava Bean recipe.
How to Shell, Cook, and Peel Fava Beans
Learning how to prepare fresh fava beans is easy but it is a labor-intensive process.  However, it is worth all the effort.  Fresh fava beans are far superior to dried.  If you grow your own like we do or find them in your stores or farmer's markets, I highly suggest you buy some.  Then be ready to enjoy them and want them every spring.
The steps for preparing fresh fava beans in summary are:
Shell them from their pods
Blanch them to make tender
Shock them in cold water to loosen the skins
Peel the skins off to expose the bright green beans
I have outlined all the steps you need to know on how to prepare those fresh fava beans HERE:
How to Make a Rice a Fava Bean Salad
It starts off with fresh cooked long-grain white rice. Prepare this in whatever method you like best whether stove-top, instant pot, or in a rice steamer.
While the rice is cooking; shell, cook, and peel the fresh fava beans.  Above is the link to how you do that step-by-step.  The process will take about 30 - 45 minutes.
Once the rice is cooked, keep warm.   Mix the lemon vinaigrette ingredients in a bowl or pourable container.   In a medium-sized mixing bowl combine the warm rice, cooked fava beans, and lemon vinaigrette.  Add salt and pepper, then stir gently to combine.  Sprinkle the scallions on top and zest the lemon over the salad as a final step.   Enjoy!
PIN FOR SAFEKEEPING & SHARING!
Product Recommendations for this Recipe:
The Short Order Cook is a participant in the Amazon Services LLC Associates Program.  As an Amazon Associate, I earn from qualifying purchases.  If you click on a link and make a purchase, I may earn a small commission on the sale at no additional cost to you. This helps with the costs of running the blog. Thank you!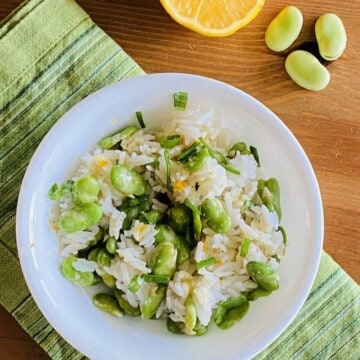 Rice and Fava Bean Salad with Lemon Vinaigrette
The best spring salad of rice and fresh fava beans. It is tossed with lemon vinaigrette & topped with scallions and lemon zest for a bright pop of flavor.
Ingredients
1

C

long-grain white rice

1

C

fresh fava beans

cooked & peeled

3

TB

scallions

minced

2

teaspoon

lemon zest

salt & pepper
For the Vinaigrette
3

TB

olive oil

2

TB

fresh lemon juice

2

tsp

dijon mustard

⅛

teaspoon

salt

dash

black pepper
Instructions
Cook the white rice by your usual method, via stovetop or rice cooker for instance.

While the rice is cooking prepare the fava beans, see above and link on how to shell, cook, and peel fresh fava beans.

Let the rice cool slightly but you still want it warm so it absorbs some of the vinaigrette and becomes more flavorful.

In a medium-sized serving bowl add the cooked rice and fava beans.

In a small bowl whisk together the vinaigrette ingredients. Pour over the rice and fava beans. Stir gently to combine.

Add the scallions and the lemon zest, stir lightly. Season with salt and pepper to taste. Serve immediately.

This can be stored in the refrigerator for about 2 days. Bring to room temperature before serving and you may need to add additional dressing to bring it back to life.
Notes
Nutrition Facts
Servings: 4
Amount per serving
 
Calories
393
% Daily Value*
Total Fat 11.6g
15%
Saturated Fat 1.8g
9%
Cholesterol 0mg
0%
Sodium 112mg
5%
Total Carbohydrate 59.8g
22%
Dietary Fiber 10.3g
37%
Total Sugars 2.6g
 
Protein 13.4g
 
Vitamin D 0mcg
0%
Calcium 58mg
4%
Iron 5mg
26%
Potassium 485mg
10%
*The % Daily Value (DV) tells you how much a nutrient in a food serving contributes to a daily diet. 2,000 calorie a day is used for general nutrition advice.