For a quick and simple way to cook sweet potatoes, this Instant Pot recipe is the best. Cubed sweet potatoes steam perfectly in the pressure cooker in no time for a wonderful healthy side dish. It is the best side dish for any Thanksgiving table. It is also the ideal side for those on a paleo, gluten-free, or vegan diet. The sweet and filling sweet potatoes are cut into chunks and cooked in the pressure cooker for a recipe done in just 20 minutes total.
There are so many options when you make this cubed sweet potato recipe. It is a delicious easy vegetarian recipe as is, but the steamed Instant Pot cubed sweet potatoes is a great base to then use in other ways. A simple enough way to enjoy them is to mash or whip them up to make your own homemade sweet potato baby food. It is a great way to get organic ingredients and serve these to toddlers or kids that love sweet potatoes as finger food. You can also use these cubed sweet potatoes as a base in casseroles, soups, salads, and more.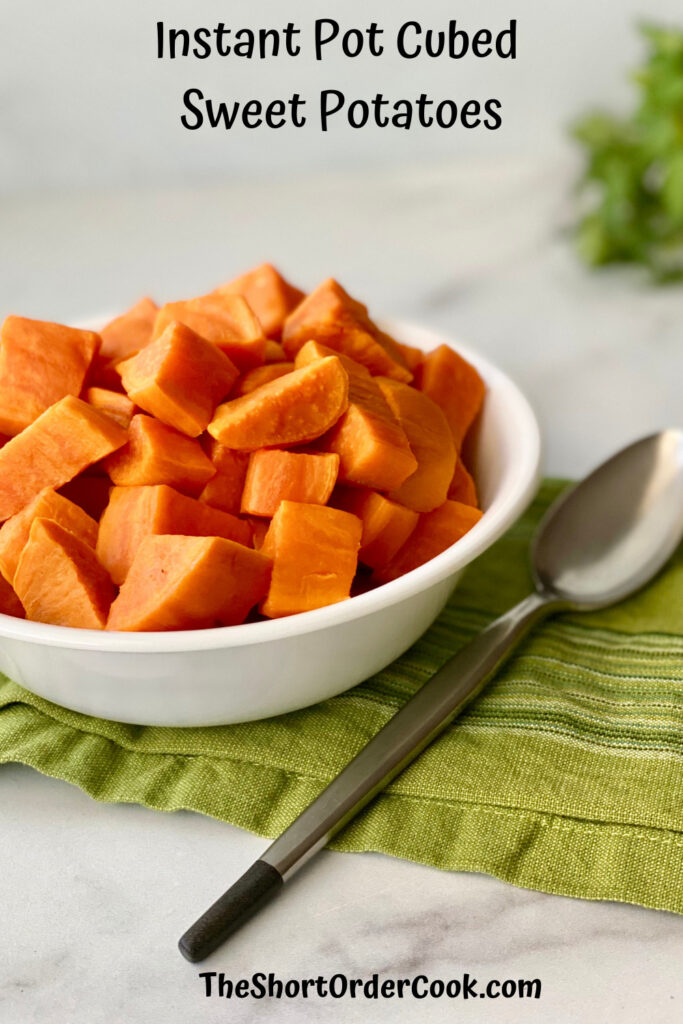 Ingredients for Steamed Sweet Potatoes
When making this sweet potato recipe in an electric pressure cooker, you only really need two things. You need sweet potatoes and a bit of water so that the Instant Pot can come to pressure and cook. It really is that easy. If you love steaming vegetables like this, try my other Instant Pot recipes such as: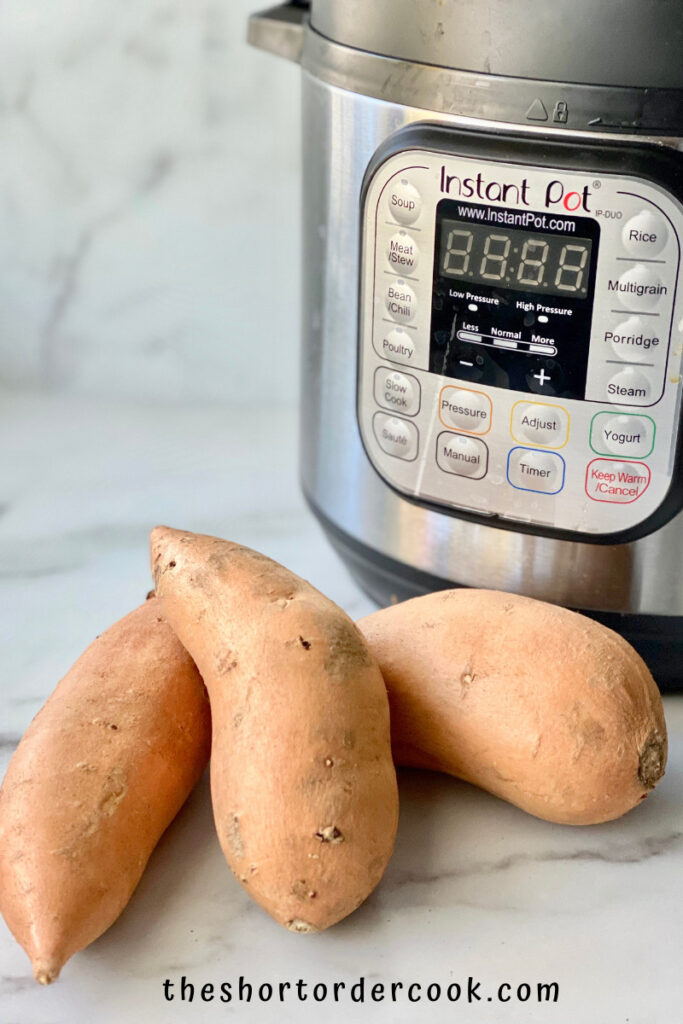 How to Cut Sweet Potatoes
Prep the sweet potatoes by washing and peeling them. Next, you will want to cut the sweet potatoes into large dice. Be sure to make sure they are the same size as best you can. This ensures they cook all with the same amount of time in the Instant Pot. For this recipe and the time set to cook, the sweet potatoes should be cut into cubes that are 1# in size.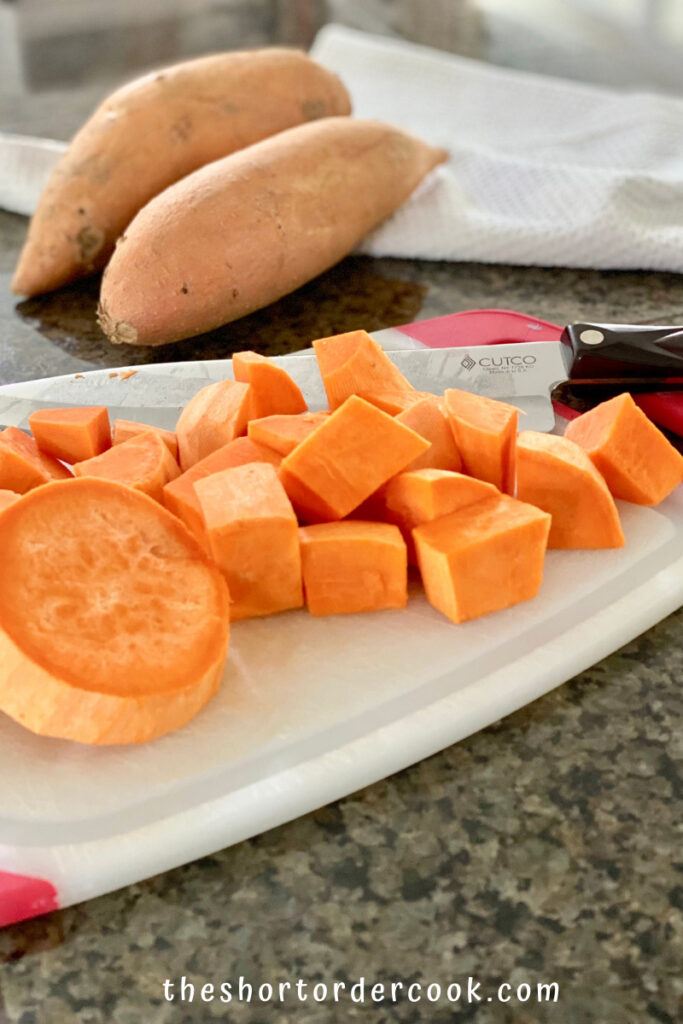 Prep the Instant Pot for Steaming
Ensure the gasket is in the lid and the insert is inside of your Instant Pot. Now add 1 cup of water to the insert of the Instant Pot / electric pressure cooker. Place your vegetable steamer basket in too. I use a collapsible steamer basket that works great in regular pots and in electric pressure cookers. It is inexpensive, takes up little room in your cabinet, and works great. I highly recommend these.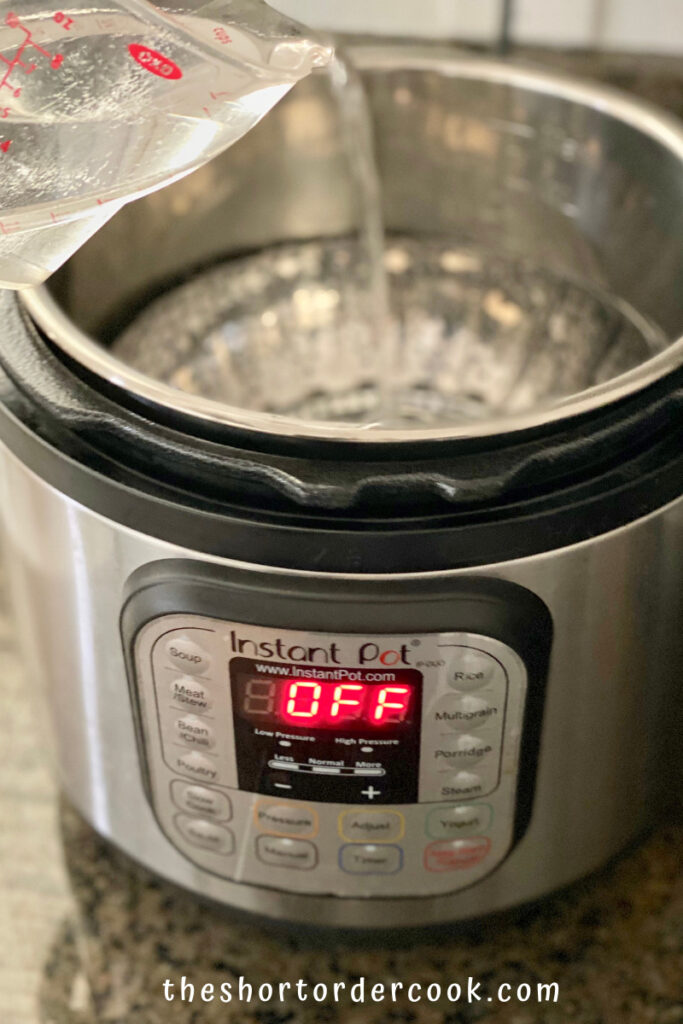 How to Cook Sweet Potatoes in the Instant Pot
The best way to cook cubed sweet potatoes in a pressure cooker is to steam them. This way they retain as much as their nutrients when steamed vs boiled. In addition, steaming diced sweet potatoes in the Instant Pot, retain their shape and do not fall apart or get mushy.
Using a steamer insert or basket, place the sweet potato cubes into it. Notice that the shapes may not be all exactly the same but they are relatively the same size. This ensures they all cook evenly and will be done to perfection.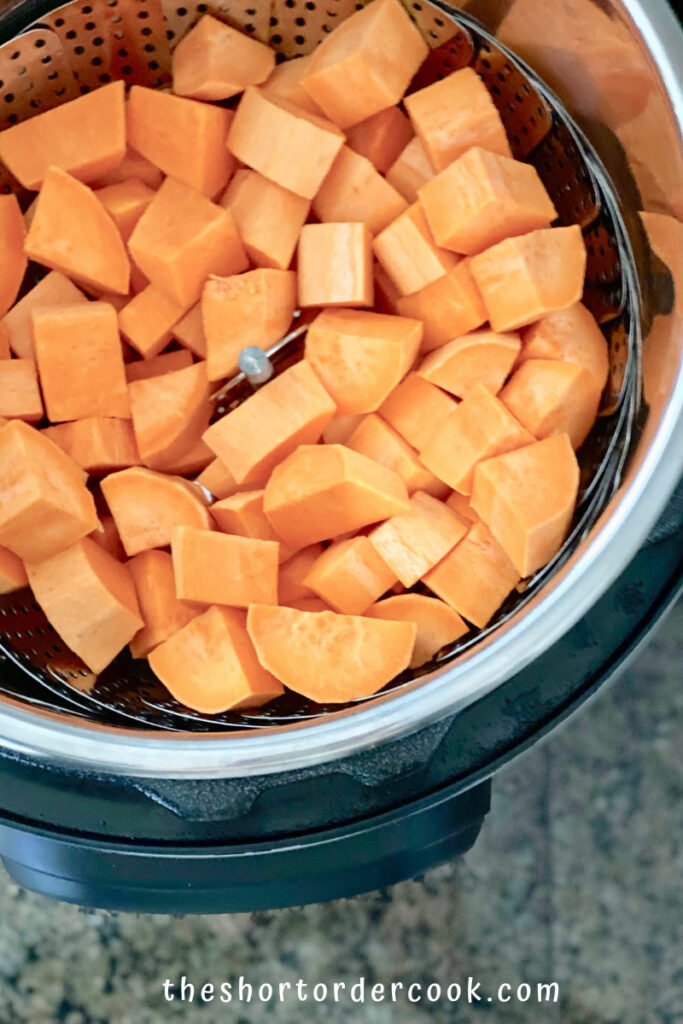 How Long to Steam Cubed Sweet Potatoes
To cook these in the Instant Pot, close the lid and make sure it is sealed. Ensure the valve is closed and set so it will pressurize.
Select MANUAL on the Instant Pot and then set for 10 minutes. The Instant Pot will take about 5 minutes to come to pressure beforehand and then start cooking and counting down.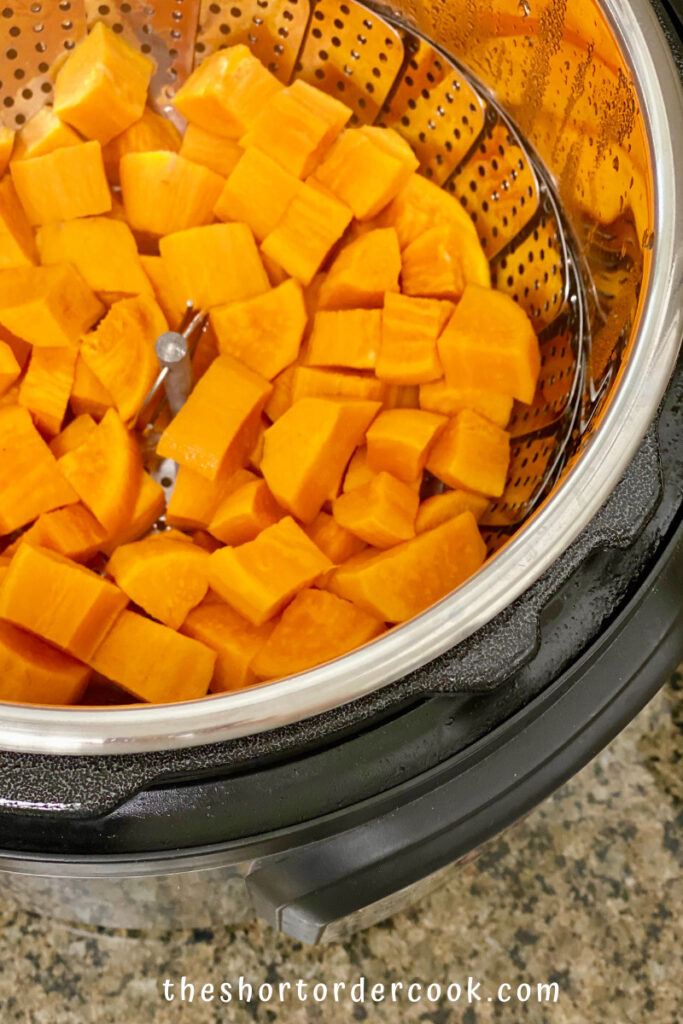 Once the 10 minutes cooking time is up, release the pressure manually. Be careful, steam will be hot.
Lift out the steamer basket carefully or spoon out the cubed sweet potatoes that are now soft and cooked. Season with salt and pepper or add butter to enjoy.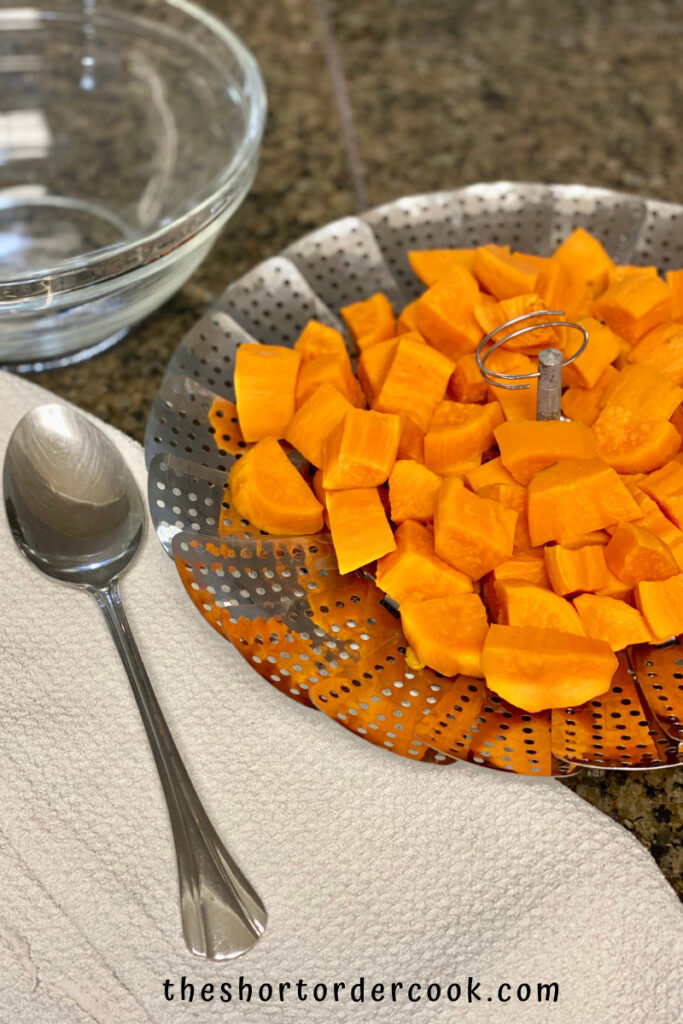 These steamed sweet potatoes are also the base for my WHIPPED SWEET POTATO recipe. They are fluffy, sweet, creamy, and simply fantastic. Just a few ingredients for pure heaven.
What to Serve with Sweet Potatoes
Here are the best main course or side dish ideas that go well with sweet potatoes. All these recipes are easy to make, serve, and pair well with these sweet potatoes. Next time you eat these, try one of these to complete your dinner.
How to Store & Freeze Sweet Potatoes
These cubed sweet potatoes are a simple recipe that is great to make ahead of time for meal planning. This is because it stores and freezes very well. You can store cooked sweet potatoes in an air-tight container for up to 3 days in the refrigerator. To freeze them, seal sweet potatoes in an air-tight ziplock bag and press to remove all the air from it. Then place in the freezer to store for up to 2 months. To defrost frozen sweet potatoes, place them in the refrigerator for 1-2 days. Once thawed, they can be microwaved to reheat and enjoy.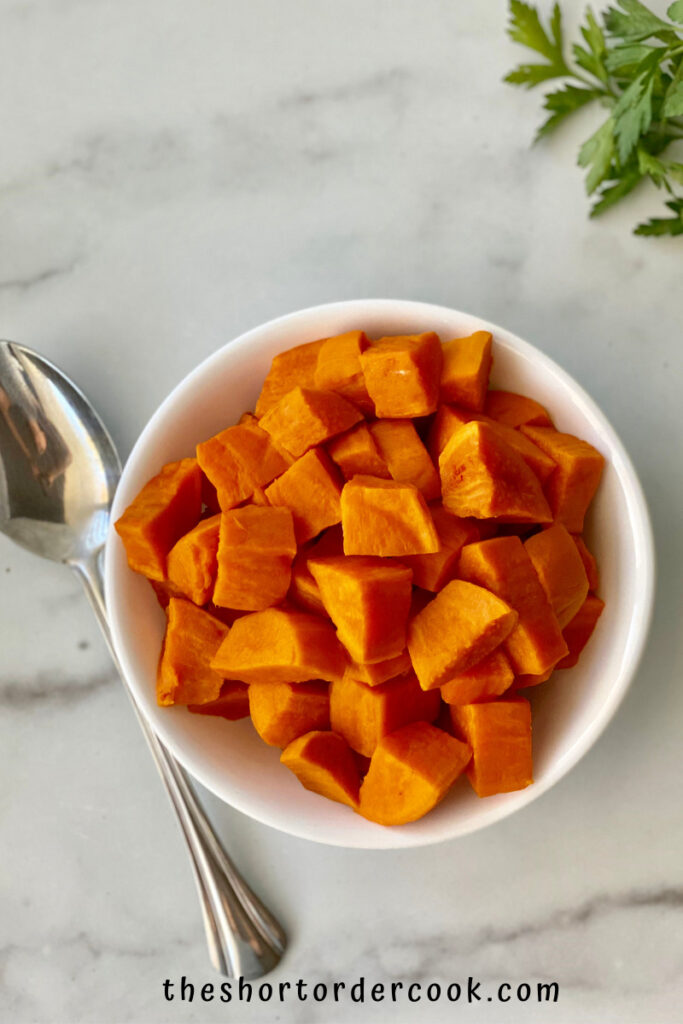 PIN FOR SAFEKEEPING & SHARING!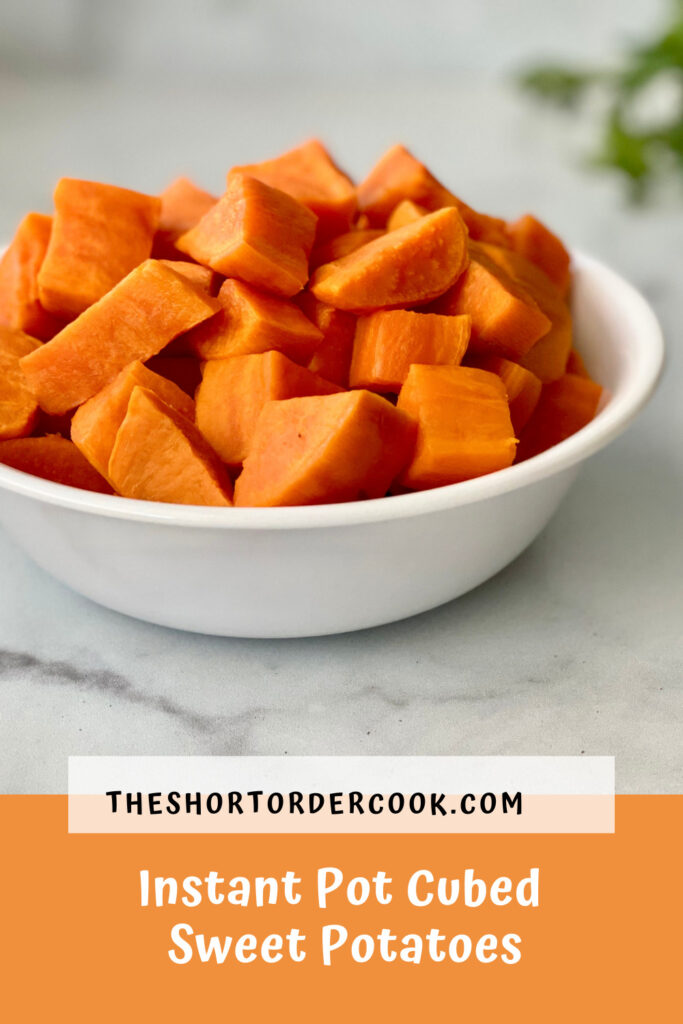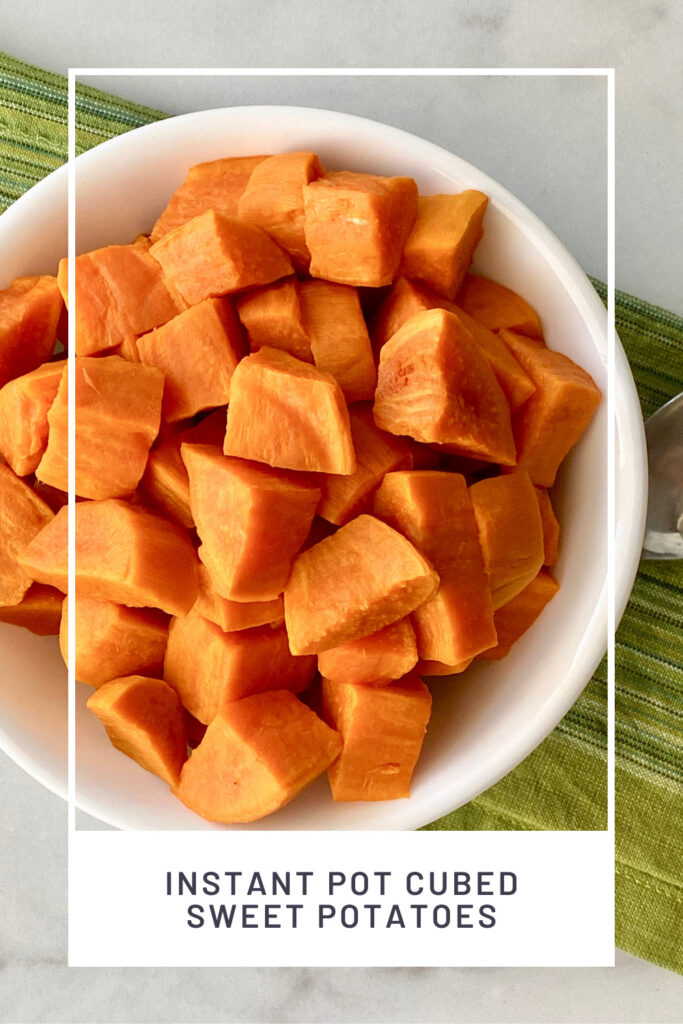 Product Recommendations for this Recipe:
The Short Order Cook is a participant in the Amazon Services LLC Associates Program. As an Amazon Associate, I earn from qualifying purchases. If you click on a link and make a purchase, I may earn a small commission on the sale at no additional cost to you. This helps with the costs of running the blog. Thank you!
Did you make this The Short Order Cook Recipe?
Tag @theshortordercookblog (Instagram & Facebook) or @shortorder_cook (Twitter).
I would love to see your latest creations and kitchen adventures.