Making an iced matcha latte at home is a lot easier than you think.  This delicious Starbucks copycat recipe is just as good as the pretty green matcha iced tea latte the barista makes. Plus it costs less.  This cold matcha drink with cream is rich, earthy, and slightly sweet.  The matcha powder has a grassy flavor that pairs well with the fats in the dairy. Add a small bit of sugar, for the best homemade iced matcha latte recipe.
The bonus of making this recipe homemade is you can change it up to make it just as you like it without rattling off a long list of ingredients to the Starbucks barista as those behind you roll their eyes - you know they do it.  For a matcha latte that is non-dairy use almond or oat milk instead. For a low-carb version hold the sugar and use a sugar-free flavored syrup instead.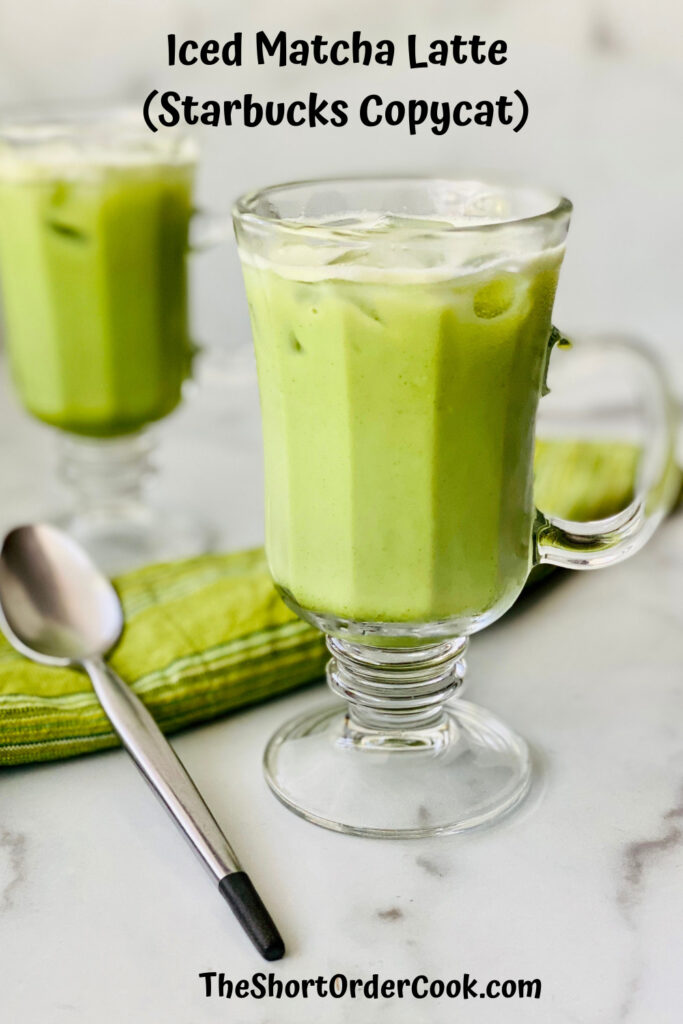 Ingredients for Iced Matcha Latte
The main ingredient for this drink is matcha, green tea powder.  You can buy it in Asian markets, specialty markets, or online.  You will also need some heavy cream, sugar, and whole milk. You may substitute the dairy in this recipe for non-dairy kinds of milk like almond milk, oat milk, or soy milk.   For an optional ingredient, you can add flavored syrup or even a sugar-free variety for an iced matcha latte that is low-carb and keto-friendly.
What is Matcha Powder?
Matcha actually means "powdered tea". In Japanese, "cha" means tea, and "ma" means powder; therefore, the literal translation is powdered tea. Matcha is a variety of green tea that is ground into a fine powder.  These tea leaves are harvested when young and ground finely into a bright green powder.
I am not sure what green tea powder Starbucks uses for their matcha lattes.  I have read Starbucks uses a sweetened Tazo matcha powder. Since I am always looking for ways to cut back on sugar, I do not use that. I use an organic unsweetened matcha powder and I recommend my favorite below.
Benefits of Green Tea
Enjoying matcha and other types of green tea has health benefits.   Green tea is loaded with antioxidants. It also has many vitamins including A, B, C, E, and K. To learn more, check out 10 Benefits of Matcha.
How to Make Iced Matcha Latte
In a small bowl, add the matcha powder. Pour in the hot water and whisk until the matcha has fully dissolved into the water. It will be a deep green color.  Add in the heavy cream and sugar, and stir.
Now, let it chill in the freezer for about 5 minutes. Meanwhile, gather the rest of your ingredients and two glasses.
Fill two glasses halfway with ice. Next, add your milk of choice to each glass - 1 cup each. Lastly, pour in the chilled matcha mixture.  Optional - add flavored syrup to each glass.  Stir and Enjoy.
What to Serve with Iced Matcha Latte
Here are some great breakfast options to enjoy with your Starbucks copycat iced matcha latte. All are great for the first meal of the day.  I also recommend my favorite iced beverage. This cool minty coffee is all things amazingly sweet and cream - MINT MOJITO ICED COFFEE - Philz Copycat!.
How to Make a Matcha Frappe
If you want a matcha frappe like at Starbucks, this latte recipe is easy to alter to have that perfect drink.  This will make two small frappes and you will need a blender to do it instead of the whisking and pour-over method.  For a frozen blended matcha latte just like Dunkin Donuts or Starbucks, try the following.
To your blender cup or bowl, add all the ingredients except the ice. Blend for 30 seconds. It should be fully combined and light green color.
Next, add 1.5 cups of ice cubes (depending on the size of your ice and how much you are making) and blend again for 1 minute. It should be frothy. Pour equal parts into 2 cups and enjoy.
KETO OR LOW-CARB ICED MATCHA LATTE
For a recipe that has less sugar than the original recipe or the Starbucks version, you can easily make this at home.  Here is how I have made this, plus the calories and carbs for a keto, low-carb, diabetic-friendly, and low-calorie recipe.  This keto-friendly iced matcha frappe is the best and is only 110 calories and 4.4 net carbs per serving.
The ingredients and measurements you will need are as follows but the instructions remain the same:
KETO/LOW-CARB ICED MATCHA LATTE RECIPE
2 teaspoon matcha powder
¼ C hot water
2 tablespoon heavy whipping cream
2 teaspoon Torani sugar-free Vanilla syrup
2 C unsweetened almond milk
crushed iced
PIN FOR SAFEKEEPING & SHARING!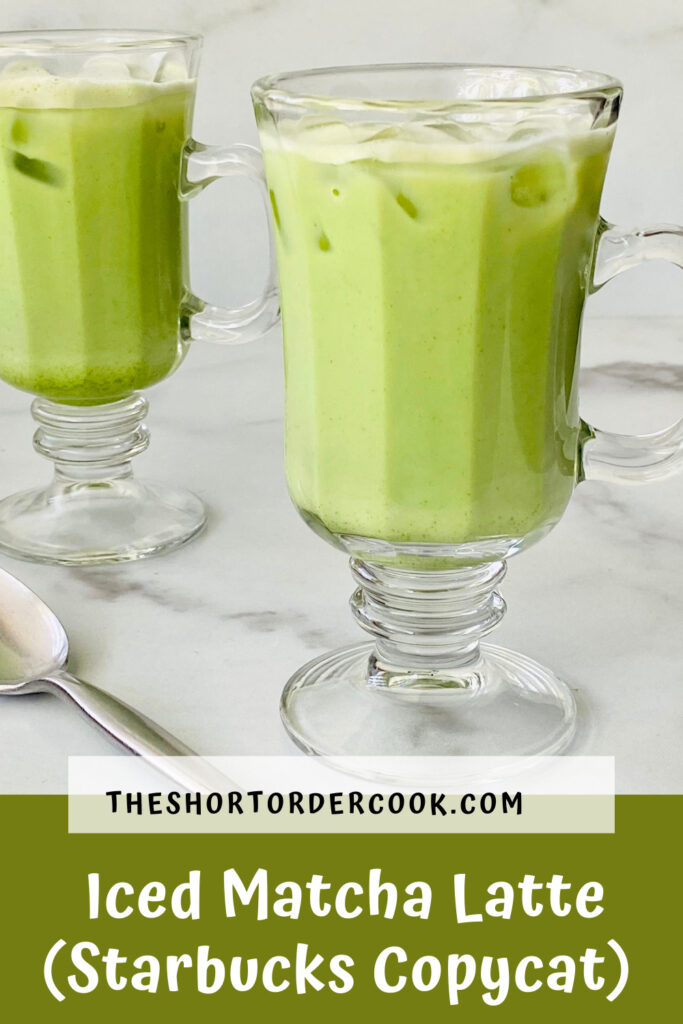 Product Recommendations for this Recipe:
The Short Order Cook is a participant in the Amazon Services LLC Associates Program.  As an Amazon Associate, I earn from qualifying purchases.  If you click on a link and make a purchase, I may earn a small commission on the sale at no additional cost to you. This helps with the costs of running the blog. Thank you! 
Did you make this The Short Order Cook Recipe?
Tag @theshortordercookblog (Instagram & Facebook) or @shortorder_cook (Twitter). 
I would love to see your latest creations and kitchen adventures.