Mochi waffles have a lovely chewy texture on the inside. This mochi recipe also has a crispy outside for a perfect balance of all things wonderful about homemade waffles. These sweet rice flour waffles are a unique version of a classic breakfast that may become your new tasty obsession. All you need to do is mix up the batter, pour it into a waffle iron, and in less than 10 minutes you have perfectly crispy and chewy mochi waffles. Enjoy!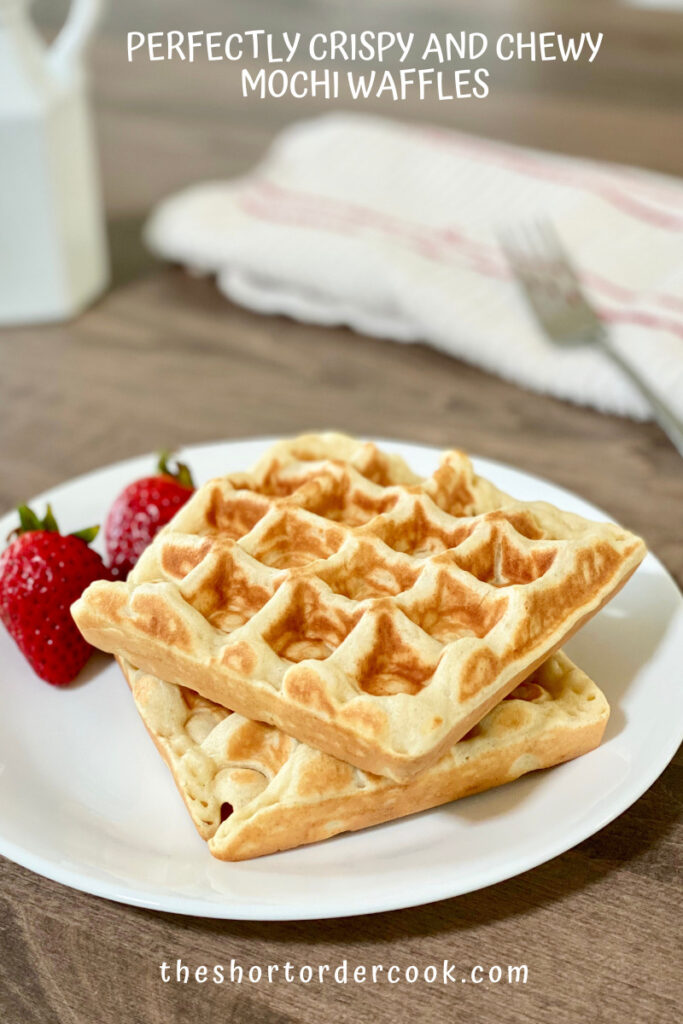 The mochi waffle batter mix is an easy recipe that is great for breakfast, snacks, or as a sweet dessert. It is made with mochiko, a glutinous sweet rice flour. Everything else you need for this mochi waffle recipe is likely already in your pantry and refrigerator.
I have heard the term "moffles" used for describing mochi + waffles. This is usually made by cutting up premade mochi paste into cubes and then pressing it to cook in a waffle iron. This is not that kind of recipe. This is more of a sweet rice mochi flour + American-style waffle collaboration.
It is a wonderful breakfast or brunch recipe. Just make cut up some fruit and make some oven-cooked turkey bacon and you have a complete meal.
Jump to:
Ingredients for Mochi Waffles
The main ingredient in this Asian waffle recipe is a sweet rice flour known as mochiko. This is what creates the chewy texture that mochi is known for. To ensure the insides are chewy and the outside is crispy, the addition of a bit of cornstarch is added for that crispy outer waffle crust.
I use less baking powder than other recipes for an important reason - chewiness. You do want some to help make the inside a bit fluffy and help the waffles rise and not be too dense. However, too much is then counterproductive to the mochiko's chewiness and results in airy versus chewy waffles.
The rest of the ingredients are similar to other basic waffle recipes such as flour, eggs, milk, sugar, and vanilla. For a dairy-free mochi waffle version, you can try using almond or coconut milk instead of regular milk.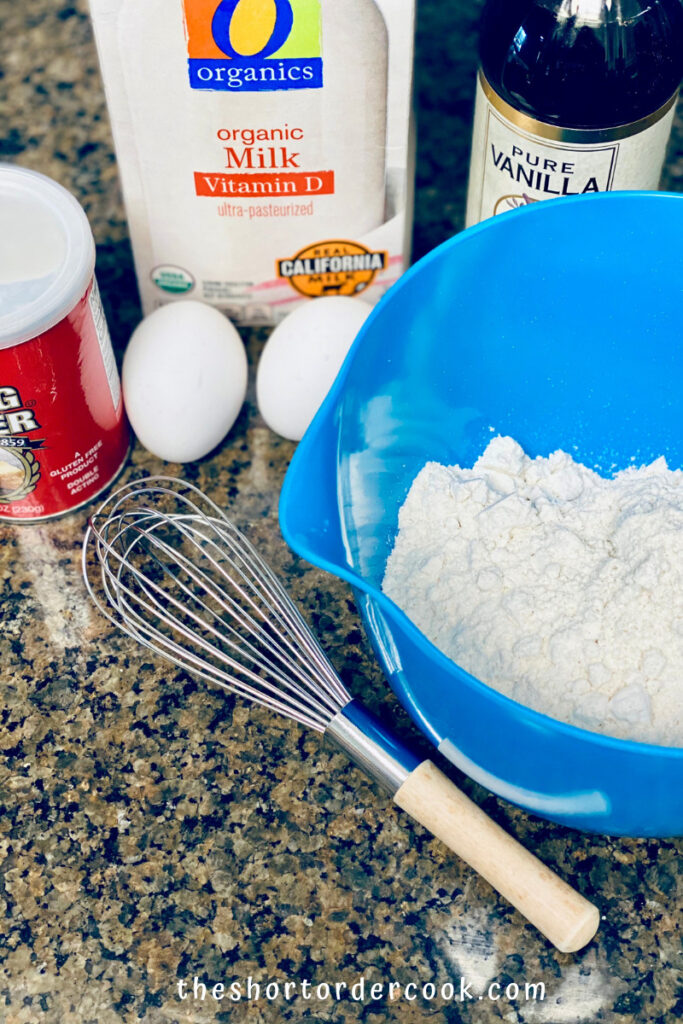 All-Purpose Flour - this gives a fluffy classic waffle texture
Mochiko (sweet rice flour) - what makes mochi waffles chewy & slightly sweet
Salt - boosts the flavor profile overall
Sugar - sweetens the mochi waffle batter
Baking Powder - helps the batter rise while cooking in the waffler iron/maker
Cornstarch - helps bind the waffle batter & ensures crispy edges & pockets
Whole Milk - full-fat milk I find works best to hold up to the dense rice flour so it is thick & not a thin runny waffle batter.
Vanilla Extract - added flavor
Eggs - a classic waffle batter ingredient also needed here helps make the crispy edges & so they rise
See the recipe card for amounts & full instructions.
What is Mochiko?
Mochiko is a sweet rice flour that you can purchase at Asian markets or even online at Amazon - see below. It is a very fine flour and a bright white color compared to traditional wheat flour. Mochiko is a gluten-free flour even though it is described as "glutinous".
Mochikoもち粉 is made from mochigome which is a glutinous short-grain Japanese rice. It is sometimes called Gyuhiko 求肥粉 or Daifukuko 大福粉 and is most commonly known for its sticky and chewy texture. It is used for making mochi and in many Japanese pastries, desserts, and, of course, waffles.
The Short Order Cook is a participant in the Amazon Services LLC Associates Program. As an Amazon Associate, I earn from qualifying purchases. If you click on a link and make a purchase, I may earn a small commission on the sale at no additional cost to you.
How to Make Mochi Waffles from Scratch
Making mochi waffle batter from scratch is an easy recipe mixed all in one bowl. It is best to use one with a pouring spout on the edge such as the one I am using, as seen below. This helps to pour the mochi batter into the waffle iron easily once it is time to get cooking.
Simply add the dry ingredients, flour, mochiko, salt, sugar, baking powder, & cornstarch into a medium-sized mixing bowl. Then whisk them together to combine evenly.
Next, add the milk and vanilla and whisk again. I have not tried buttermilk yet but you could give it a try if you wish to have buttermilk mochi waffles.
For the last step add the eggs and again whisk to combine until there are no lumps. The mochi waffle batter will be thinner and more white in color than the regular waffle batter would be.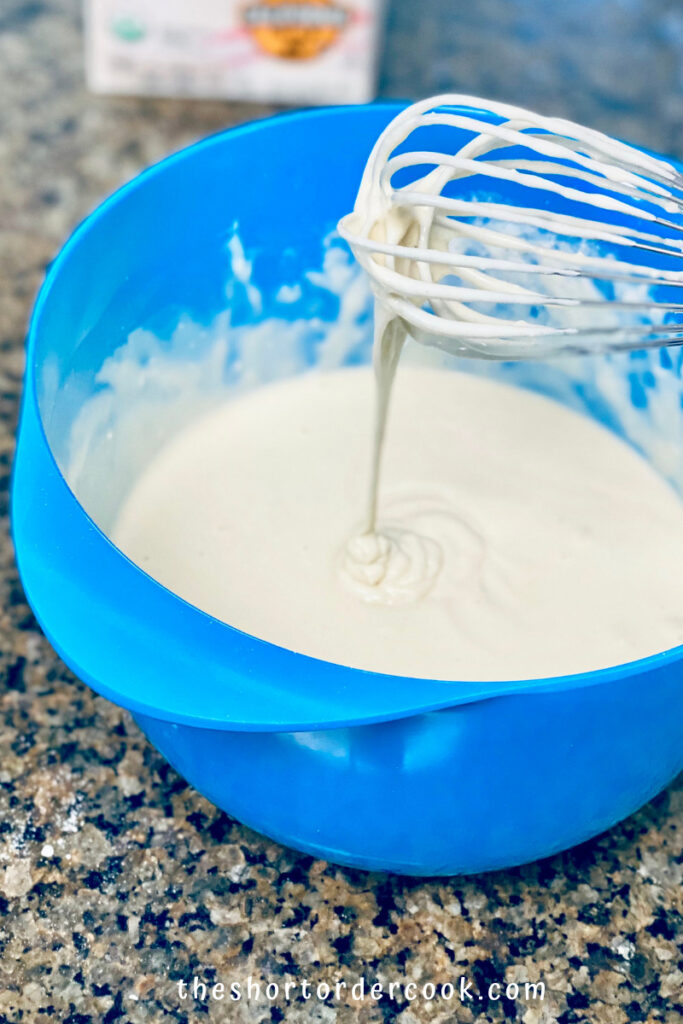 Best Waffle Iron for Cooking Mochi Waffles
We have a Belgian waffle iron in our house. We like it because it gives us big crevices for butter when making homemade waffles. Also, this mochi waffle recipe, helps also make big deep chewy pockets of dough and crispy edges.
It does sound funny to have Belgian mochi waffles but it works. You can use a regular American waffle maker for these mochi waffles or even a bubble waffle maker. You do not need a special waffle iron for mochi waffles, whatever you have at home will do.
How to Cook Mochi Waffles
Mochi waffles cook just like regular waffles. In just a few minutes they are hot and ready.
Pour the mochi batter evenly into the preheated waffle iron. For Belgian-sized waffles, cook for 4 minutes. A smaller or regular-sized waffle iron will probably cook in about 3 minutes.
Variations & Flavored Mochi Waffle Ideas
Use this recipe as a base and make small changes by adding other ingredients for flavor changes. I have not tried some of these but here are some great flavored mochi waffle ideas.
Try unique flavors like ube, pandan, matcha, or red bean. Fruity flavors like strawberry, blueberry, lemon, pineapple, or banana are great. You can also make chocolate, coconut, or almond.
Substitutions
I would not make any substitutes when mixing this mochi batter that I have not outlined below. It took me several tries to get the right amount of each ingredient to ensure a fluffy and chewy texture. If you want a vegan breakfast option, try my Dairy-Free Pancake recipe.
Gluten-free - For a gluten-free mochi waffle, substitute the regular flour with a 1:1 gluten-free replacement like the one from Bob's Red Mill.
Dairy-Free - use coconut or soy milk instead of the whole milk, the coconut milk with the mochiko is a delicious combination.
What to Serve with Mochi Waffles
Fresh fruit, whipped cream, flavored syrups, and other limitless ideas make great toppings for waffles. Enjoy these mochi waffles with any of these side dish ideas too.
Toppings for Mochi Waffles
You can top mochi waffles with basic butter, syrup, or powdered sugar. However, these special waffles need some more exciting toppings to make an over-the-top amazing breakfast. Here are some yummy ideas for topping mochi waffles.
Storing, Freezing, & Reheating
Both the batter and cooked mochi waffles keep well for a few days in the refrigerator. Place the batter in a jar or container with a tight-fitting lid. Store for up to 2 days and cook in the waffle iron as directed.
For cooked leftover waffles, place them in an air-tight container or Ziploc bag. Store in the refrigerator for up to 4 days or in the freezer for up to a month. To reheat, warm, or toast in your toaster oven or regular oven.
NOTE: Mochi waffles will lose some of their delightfully chewy texture when frozen or reheated in the microwave.
FAQ
What do mochi waffles taste like?
These waffles are sweet and savory. Mochi is more about the texture than the taste. They will be chewy and crisp vs fluffy and light like a regular American waffle.
Are mochi waffles gluten-free?
This homemade recipe is not gluten-free. It does use rice flour but it also calls for all-purpose flour that contains gluten. See the substitutions section for how to make them gluten-free.
Why are my waffles not chewy?
The combination of mochiko and the other ingredients should lend to a chewy waffle. There can be a few troubleshooting ideas that may be why your waffle did not turn out chewy. One of which is that you have too much regular flour and not enough sweet rice flour.

Another reason that may cause the waffle to be hard or dense is that the rice flour has gone bad. Also, baking powder and cornstarch are needed to ensure a texture that is known when making mochi baked goods.
Can I use Baking Soda instead of Baking Powder?
There are differences between baking soda & baking powder. They have similar uses but are not the same. When making baked goods like waffles, I recommend following the recipe & not making substitutions.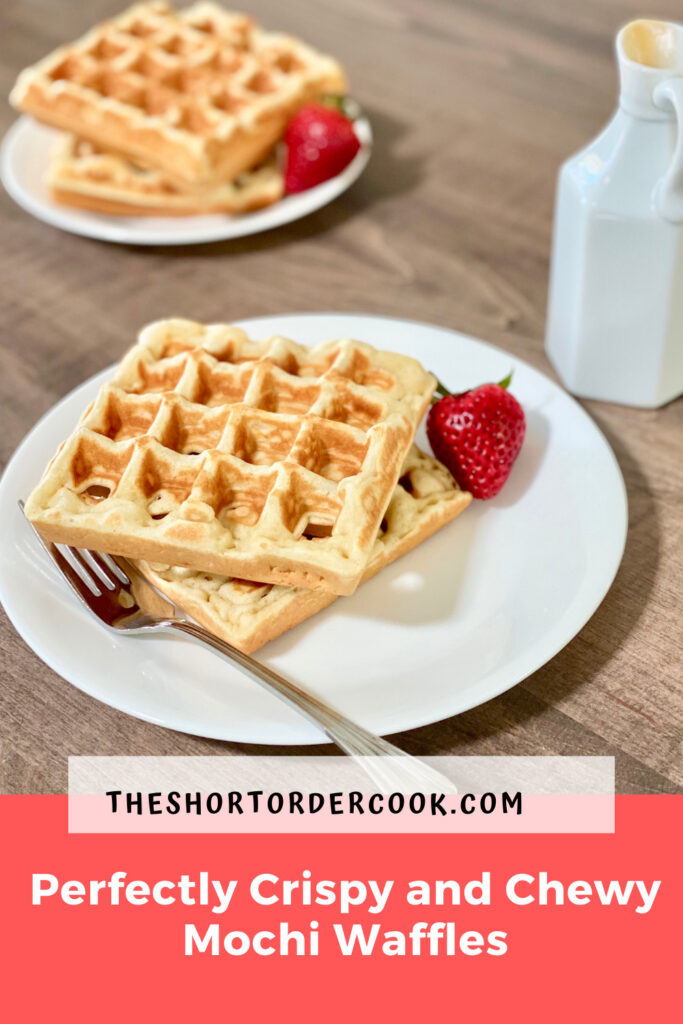 Product Recommendations for this Recipe:
The Short Order Cook is a participant in the Amazon Services LLC Associates Program. As an Amazon Associate, I earn from qualifying purchases. If you click on a link and make a purchase, I may earn a small commission on the sale at no additional cost to you. This helps with the costs of running the blog. Thank you!
Perfectly Crispy & Chewy Mochi Waffles
Mochi waffles have a lovely chewy texture on the inside. This mochi recipe also has a crispy outside for a perfect balance of all things wonderful about homemade waffles. 
Ingredients
¾

C

all-purpose flour

1 ½

C

mochiko

sweet rice flour

¼

teaspoon

salt

¼

C

granulated sugar

1

teaspoon

baking powder

1

teaspoon

cornstarch

1 ½

C

whole milk

1

teaspoon

vanilla extract

2

eggs
Instructions
Preheat your waffle iron.

In a medium-sized mixing bowl with a pourable spout, add the dry ingredients. Whisk together to combine evenly.

Add milk and vanilla. Whisk together until smooth and no lumps are showing.

Add one egg at a time and whisk until smooth.

Pour batter into the waffle iron. Close the lid and let cook for 4 minutes if using a Belgian waffle iron. If using a small waffle iron, cook for 3 minutes.

When the waffle iron is done cooking, remove each with a fork gently and plate. ENJOY!

To store mochi waffles, keep in an air-tight container in the refrigerator for up to 3 days. Warm in the oven for best results.
Notes
Nutrition Facts
Servings: 6
Amount per serving
 
Calories
297
% Daily Value*
Total Fat 3.6g
5%
Saturated Fat 1.6g
8%
Cholesterol 61mg
20%
Sodium 143mg
6%
Total Carbohydrate 56g
20%
Dietary Fiber 0.4g
2%
Total Sugars 11.8g
 
Protein 8.1g
 
Vitamin D 30mcg
148%
Calcium 115mg
9%
Iron 2mg
9%
Potassium 255mg
5%
*The % Daily Value (DV) tells you how much a nutrient in a food serving contributes to a daily diet. 2,000 calorie a day is used for general nutrition advice.
Did you make this The Short Order Cook Recipe?
Tag @theshortordercookblog (Instagram & Facebook) or @shortorder_cook (Twitter).
I would love to see your latest creations and kitchen adventures.