These Instant Pot baby potatoes are a wonderful salt potato (aka Syracuse Salt Potatoes) rendition. These little potatoes that are made in the Instant Pot are a delicious, easy, and popular recipe.  They are creamy on the inside and drenched in a butter ranch seasoning making for the best salt potatoes you have ever had.
This elevated boiled potato recipe is simple and fast to make thanks to the Instant Pot or any electric pressure cooker. It makes for a wonderful side for any meal. You can use small red potatoes or the dutch yellow ones that I used here today.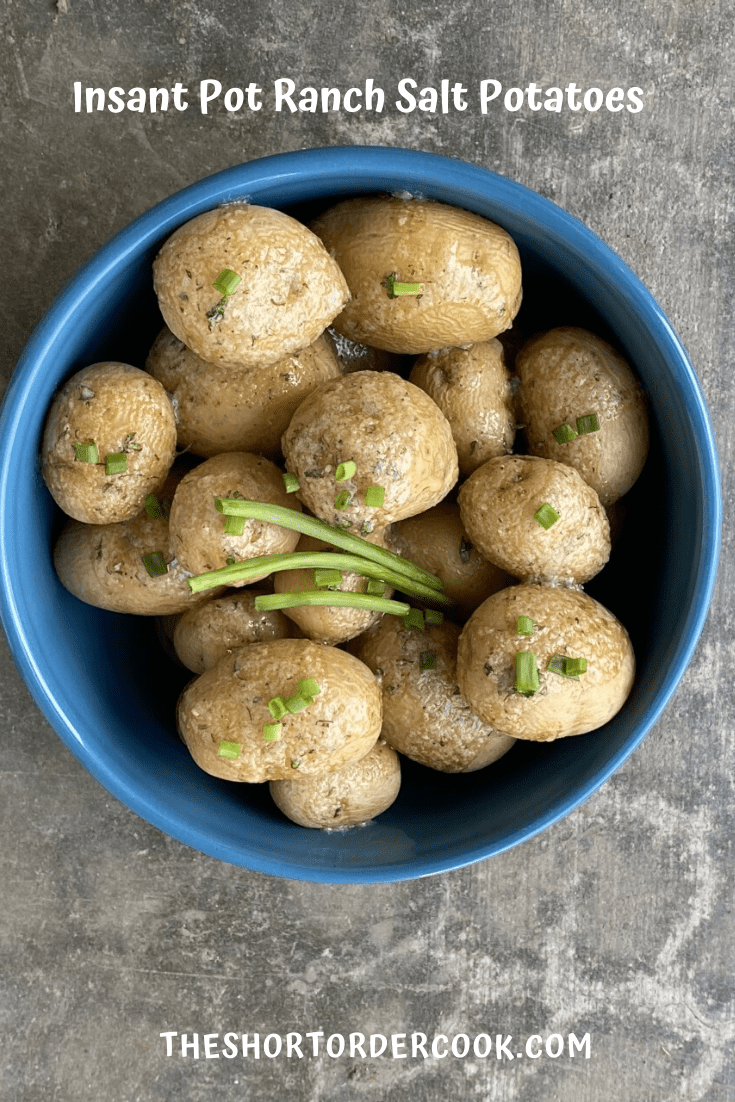 The original recipe and photos are all over the internet and social media. However, though it is delicious as is, I wanted a bit more seasoning and flavor. I admit it was one of the first recipes I tried when I got my Instant Pot years ago. Since then I have tried to add more flavor to the basic boiling potatoes in salted water recipe and came up with this tastier version. You will surely love it!
Pressure cooking has made a comeback in the last few years for sure. Whether you have an Instant Pot or another electric pressure cooker, these are not your grandmother's pressure cookers. That is for sure. Most noteworthy, they do not seem as "scary" as those manual versions in the past. No need to be scared of these, I promise.
Here is the model I have had for a few years. It does so many things like making homemade yogurt, rice cooking, saute, and soup mode. The 8-qt size is the one we have. It is also big enough for our family of 5 - now when the boys are teens that may be a different story but for now, it is just perfect!
Instant Pot Duo 80 7-in-1 Electric Pressure Cooker, Slow Cooker, Rice Cooker, Steamer, Saute, Yogurt Maker, and Warmer, 8-QT, Stainless Steel/Black
Why are Salt Potatoes so Popular
The reason they are so popular is simple. They are:
Creamy on the inside
Salty and tender on the outside
Budget-friendly, even when making a huge batch
Only need a few ingredients for a punch of flavor
So easy to make and ready in no time
The leftovers are so amazing and versatile (turn into a hash for breakfast!)
Perfect side dish for any meat - try these recipes!
Ranch Salt Potatoes are even Better!
So take all those above reasons for why salt potatoes are amazing and then add traditional ranch flavoring.  Melted butter and the dried ranch dressing mix are drizzled over the top for more flavor without taking away from the crisp skin that salt potatoes have.  This adds a bit of tang from the buttermilk and earthiness of the dried onions and herbs that are in the ranch seasoning.  This is hands down the best mini potato recipe you can make in the Instant Pot.
Making the Best Instant Pot Salt Potatoes is Easy
Creamy on the inside and drenched in butter ranch seasoning make for the best salt potatoes you have ever had. Easy to make thanks to the Instant Pot. You only need a few ingredients to make these and several things you probably already have in your home.
If your family likes ranch dressing or ranch dip, you probably already have the packets or the big container of the ranch seasoning. If not, you will be buying these more often once you get addicted to these potatoes. Fresh chives are optional but we love having them on these plus it adds a pop of color and freshness. These Instant Pot baby potatoes are so quick and easy to make plus they are packed full of flavor with just a few simple ingredients.
What Kind of Potatoes Work for Salt Potatoes
You will want 3 pounds of small baby potatoes for this pressure cooker recipe. You can use whatever are your favorite as long as they are small or bite-sized. This recipe makes the best Instant Pot mini potatoes. The kinds of potatoes we have used and find work great are the following:
Yukon Gold
Red Potatoes
Dutch Yellow
Fingerling
Petite - comes in many colors like red, white, and purple?
To find out more about potato varieties, check out IDAHO POTATOES OFFICIAL WEBSITE
Here are the fees steps you need for the perfect side dish. Scrub the potatoes and remove any that look bad. In the insert of the Instant Pot, add 1 cup of salt and top with 6 cups of warm water. You want to make sure the water is warm enough to help dissolve the salt. Stir to ensure all the salt is dissolved.
Once dissolved, add the potatoes. Lock the lid in place and set the valve closed. Select MANUAL on the Instant Pot and set to 3 minutes.
Once the potatoes come to pressure and cook for the 3 minutes, leave the lid on and let it continue. Once the clock comes up to 15 minutes, release any remaining pressure. Move the valve to open carefully - STEAM WILL BE HOT!
Drain the potatoes in a colander. The potatoes will be hot, tender, and the skins will be a bit shriveled from the salted water. Place the salt potatoes in a serving bowl and get the ranch mixture ready while the potatoes are still warm and will adhere to the mixture easily. Try to NOT gobble up too many at this time, they are so good even just this way but just wait - OMG!
Melt the butter and whisk in the ranch seasoning mix.
Pour the ranch butter mixture over the potatoes. Stir gently to coat evening. Dice the chives and sprinkle over the Ranch Salt Potatoes. If you like fresh herbs, diced chives, parsley, and dill are all wonderful with this Instant Pot salt potato recipe.
What to Serve with Salt Potatoes
All of these recipes are great main course ideas to serve with potatoes. Salt potatoes are a simple dish that goes well with chicken, beef, or any protein. Try one of these and have a complete meal.
Slow Cooker Corned Beef
Slow cooker corned beef is an easy way to prepare this St Patrick's Day classic holiday recipe. It is also wonderful to enjoy this any time of year. Simply dump a few ingredients into the CrockPot and soon the best juicy brisket is ready.
Check out this recipe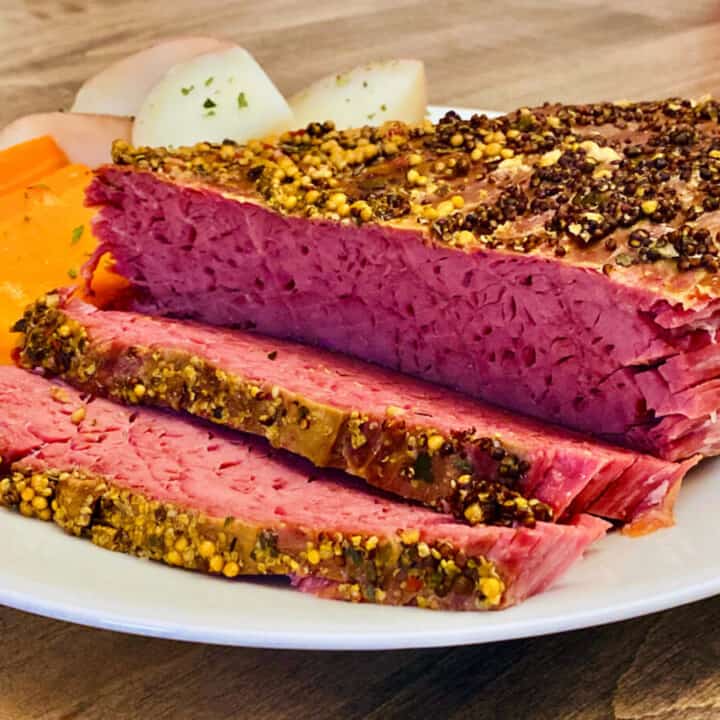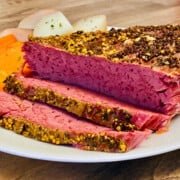 Instant Pot Boneless Beef Short Ribs with Gravy
Comforting short ribs braised until tender in the Instant Pot and then smothered in rich red wine gravy. This quick & easy recipe for amazing boneless beef short ribs is done in under 2 hours. An easy weeknight dinner with lots of protein, low-carb, and so delicious.
Check out this recipe
Smoked Beef Short Ribs
The best way to make short ribs in my mind is in the smoker.  The low and slow method of smoking meat breaks down the meat and renders the fat for the most delicate fall-off-the-bone short ribs you will have ever had. 
Check out this recipe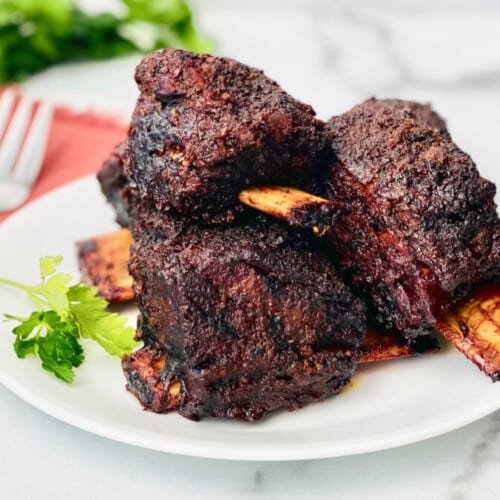 Grilled Lemon Pepper Chicken
This recipe for authentic Italian chicken drumsticks is bursting with flavor thanks to an easy lemon, pepper, garlic, and herb marinade. The chicken legs are grilled to juicy perfection.
Check out this recipe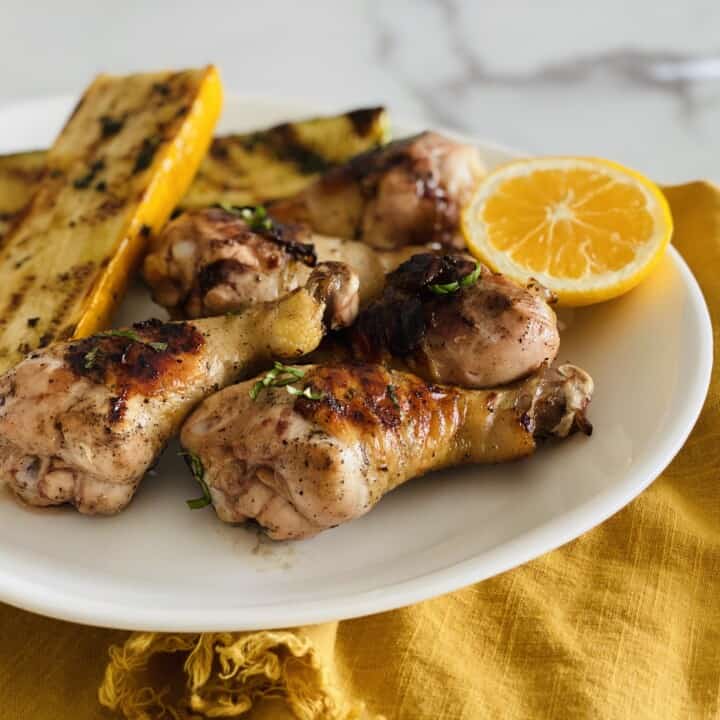 Keto Chicken Nuggets
Homemade Keto Chicken Nuggets are easy to make & delicious. The grain-free/gluten-free coating is low-carb, crispy & crunchy. Boneless skinless breast bites are deep-fried until juicy on the inside & golden on the outside. The breading of almond flour, parmesan cheese, & spices is flavorful. These are the best & loved by kids & adults.
Check out this recipe
PIN FOR SAFEKEEPING & SHARING!
Product Recommendations for this Recipe:
The Short Order Cook is a participant in the Amazon Services LLC Associates Program. As an Amazon Associate, I earn from qualifying purchases. If you click on a link and make a purchase, I may earn a small commission on the sale at no additional cost to you. This helps with the costs of running the blog. Thank you!
Instant Pot Ranch Salt Potatoes
Tender bite-sized potatoes are tossed with butter and ranch seasoning for a family favorite. These salt-crusted electric pressure cooker potatoes are easy and the best side dish recipe.
Ingredients
3

pounds

bite-sized potatoes

use thin-skinned like those described above

1

C

sea salt or kosher table salt

6

C

hot water

1

stick

salted butter

¼

C

ranch seasoning mix

2

TBS

fresh chives

minced - Optional but so good
Instructions
Scrub the potatoes clean. Toss any that look bad (very soft, split, etc)

Pour salt into the insert of your Instant Pot. Add the hot water to the insert. Stir to dissolve the salt. Once dissolved, add the potatoes.

Put the lid on and lock it in place. Set the valve to ensure it is closed and it will come to pressure. Select MANUAL and the time to 3 minutes.

Mine usually takes about 10 or so minutes to come to pressure. The pot will then begin counting the cooking time down. Once the 3 minutes is up, the Instant Pot will then begin counting up.

Let it count up to 15 minutes for it to naturally release. You will then need to release the remaining pressure by opening the valve carefully – STEAM WILL BE HOT!

Drain the potatoes in a colander, DO NOT rinse. Transfer to a large serving bowl.

In a small bowl, combine melted butter and the ranch seasoning. Whisk until smooth. Pour the butter ranch mixture over the potatoes and toss gently to coat evenly.

Dice some fresh chives and sprinkle on the top. Serve warm.
Notes
Nutrition Facts
Servings: 8
Amount per serving
 
Calories
239
% Daily Value*
Total Fat 11.7g
15%
Saturated Fat 7.3g
37%
Cholesterol 30mg
10%
Sodium 1217mg
53%
Total Carbohydrate 27.1g
10%
Dietary Fiber 2.9g
10%
Total Sugars 1.7g
 
Protein 3.4g
 
Vitamin D 8mcg
40%
Calcium 21mg
2%
Iron 1mg
7%
Potassium 780mg
17%
Did you make this The Short Order Cook Recipe?
Tag @theshortordercookblog (Instagram & Facebook) or @shortorder_cook (Twitter).
I would love to see your latest creations and kitchen adventures.