Making chicken wings in the Instant Pot is an easy and super flavorful way to cook them.  If you love hot wings, this will be your new go-to recipe for buffalo chicken wings. They will be juicy, flavorful, and addicting.  This electric pressure cooker chicken wing recipe is to die for.  Just a few steps and set the Instant Pot and you have the best spicy wings that are keto-approved, low-carb, & diabetic-friendly.
Instant Pot chicken wings are a one-in-a-million recipe. That is - there are about a million recipes out on the internet for these spicy little numbers.  I won't convince you that mine is completely different than the rest but I have a secret step that most recipes skip   And what I will convince you is that these wings are easy and you can adjust the spice so you make one big batch in the instant pot that all the adults and kids will love to eat.  This Instant Pot recipe works great on drummettes, wings, drumsticks, and even boneless chicken strips.
Secret Step
The key to this recipe is the liquid that the chicken is cooked in. Most instant pot recipes call for the chicken to be cooked on a trivet above water. Yes with just water. Now, how much flavor does water add to anything? NONE!  Then, in the end, the other recipes add some sauce after the chicken has all of its cooking.  The bulk of the flavoring is an afterthought.  My recipe layers the flavors in every step of the cooking process.
To make the chicken more distinct, these wings are cooked in a vinegary buffalo liquid that helps infuse flavor deep into the meat.  In the end, they will all taste as every buffalo wing should even just straight from the Instant Pot.  They do not even need to be sauced but ideally, you will do that to get the extra buffalo kick that most of us want. I prefer Franks RedHot Original Buffalo sauce for this easy and delicious chicken wing recipe for your Instant Pot or electric pressure cooker.   For me, the original buffalo wing recipe or flavor needs Franks RedHot.
How to Make Keto Buffalo Wings
It is as easy as 1 -2 - 3, to make low-carb chicken wings in the Instant Pot. The pressure cooker makes it fast & easy to have tender chicken wings.
Cook in Instant Pot in Amazing Cooking Liquid
Brown Chicken Wings under the Broiler to Crisp
Toss in Additional Sauce
I will warn you, if you do not like your chicken meat to fall right off the bone when you eat wings, this recipe is not for you.  These wings will be so very tender, there is no effort to eat these and they will be messy good.  This is another reason these are great for kids. If your kids are anything like mine are, they like to eat things that do not need a lot of fork and knife skills or can be eaten easily. These are a hit for them. They can use their hands and not get in trouble; yes, please.
Difference Between Wings, Wingettes & Drumettes
What I made with this recipe is what is technically called wingettes and drumettes, not a full chicken wing. But the consensus at home and in restaurants we all seem just simply call them wings.  Here is more information on Chicken Wings vs Wingettes.
Seasoning the Chicken Wings
To begin, mix together in a pourable bowl or pyrex measuring cup the melted butter, apple cider vinegar, cayenne pepper, hot sauce, and water.   Pat dry your chicken pieces and season liberally with salt and pepper.
Best Liquid to Pressure Cook Chicken Wings
Add the liquid and the chicken to the Instant Pot.  Secure and lock the lid.  Make sure the valve is set to sealing and is closed.  Set the Instant Pot to Manual and for 5 minutes.  The Instant Pot will say ON until it reaches pressure. Once it comes to pressure the 5 minutes will count down.
Once it beeps at 5 minutes, let the Instant Pot release pressure naturally for 10 minutes.  After the clock reaches 10 minutes, move the valve carefully open using a wooden spoon or long utensil to release any remaining pressure.
How to Make Instant Pot Chicken Wings from Frozen
If you forgot to defrost your chicken wings, you can still make this recipe in a pressure cooker.  Even though they are not defrosted you can still add the frozen wings to the Instant Pot insert and sprinkle them with the seasonings.  Still pour the cooking liquid over them and seal the pressure cooker closed.  When cooking the wings from frozen, you will need to set them for a longer time on the Instant Pot. So instead of 5 minutes on Manual, set it for 15 minutes on Manual.  Still, let it release pressure naturally for 10 minutes after.
Low-Carb Wings That are Crispy
There is one more step to perfect these wings.  Remove the chicken wings from the Instant Pot and place them on a baking sheet. Crisp them up under the broiler on low, rotating as you cook to ensure all sides get golden.  The skin will crisp up and caramelize the sauce that has been absorbed into every piece of chicken.
This is how you get crunchy crispy skin on chicken wings that have no flour or breading. To keep these wings low-carb and keto, you rely on the natural fats in the skins to sizzle and fry them up under the heat of the broiler.
How Many Carbs in Chicken Wings
Without breading, these wings are low-carb and a keto diet dream.  There are almost zero carbs in this recipe - so enjoy all you want!   For a 6 ounce serving or ⅛ of this recipe, these chicken wings have 376 calories, 18g fat & .1 carbs. Yes - there is only 1/10 of a carb in a tasty serving!   The full nutritional information in the recipe card below for more details.
Keto Chicken Wing Sauce
Time to heat things up!  The final step is to melt the additional butter in a microwave-safe bowl and add ¼ cup of hot sauce.  Add the wings then toss with a set of tongs. You can also serve without the additional sauce for a mild version that even my kids like.
If you do not like spicy, this is a great way to enjoy these too.  At this point do not add the additional sauce. Instead melt the butter and add the wings to coat.  Then sprinkle on ¼ cup of grated parmesan chese and toss to coat. This will give you the best crispy keto parmesan chicken wings ever. They will be crispy, buttery, with a salty cheese flavor that is addicting.
I recently had these with the pickled vegetables that Miley helped me make.  This recipe is a favorite and was our first Pinterest hit as it had 8K impressions in one day. You must try the recipe here - https://theshortordercook.com/how-to-make-quick-pickled-vegetables-kids-in-the-kitchen/
I also suggest serving these with my homemade ranch dressing. I make it without mayonnaise and it is the perfect cool creamy accompaniment for these spicy wings.  Try that here - https://theshortordercook.com/how-to-make-homemade-ranch-dressing-without-mayo/
PIN FOR SAFEKEEPING & SHARING!
Product Recommendations for this Recipe:
\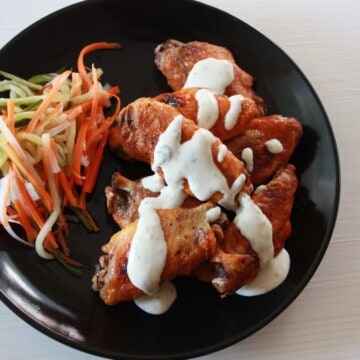 How to Make Instant Pot Buffalo Chicken Wings (Secret Step Included)
Fall-off-the-bone buffalo chicken wings will please any crowd. The cooking liquid secret adds so much flavor. These spicy wings are keto-approved, low-carb, & diabetic-friendly.
Ingredients
3

pounds

chicken wings / drummettes

¾

cup

water

¼

cup

hot sauce

2

TB

apple cider vinegar

4

TB

salted butter

melted

¼

teaspoon

cayenne pepper

salt & pepper

¼

cup

additional hot sauce
Instructions
Combine cooking liquid ingredients together – water, hot sauce, AC vinegar, 2 TB melted butter and the cayenne pepper. Pour into the insert of your Instant Pot or Pressure Cooker.

Season chicken thoroughly with salt and pepper. Add to the pot.

Lock and seal the lid. Close the steam valve on the lid. Select Manual and press the up or down arrows to set the Instant Pot to 5.

It will take about 10 minutes to come to pressure. Once it does it will count down the 5 minutes. After it counts down the Instant Pot will beep. At this point let the pressure release naturally by keeping the lid locked and the valve sealed until the clock counts back up to 10 minutes.

After 10 minutes, open the steam valve carefully with a wooden spoon or long utensil. Remove the chicken wings with tongs and place on a baking sheet.

Place under a low broiler and rotate to brown and crisp up all sides.

While crisping, in a large bowl combine the other 2 TB of melted butter and more hot sauce – to your taste. I use usually about another ¼-1/2 cup at this point for all the wings.

Once crispy toss wings in the butter and hot sauce mixture.

Serve with ranch or blue cheese dressing, raw vegetable sticks or coleslaw.
Notes
Nutrition Facts
Servings: 8
Amount per serving
 
Calories
376
% Daily Value*
Total Fat 18.4g
24%
Saturated Fat 7.1g
36%
Cholesterol 167mg
56%
Sodium 515mg
22%
Total Carbohydrate 0.2g
0%
Dietary Fiber 0.1g
0%
Total Sugars 0.2g
 
Protein 49.3g
 
Vitamin D 4mcg
20%
Calcium 28mg
2%
Iron 2mg
12%
Potassium 433mg
9%
*The % Daily Value (DV) tells you how much a nutrient in a food serving contributes to a daily diet. 2,000 calorie a day is used for general nutrition advice.