For an easy recipe to steam whole beets, use an Instant Pot or electric pressure cooker. Making beets (also known as beetroots) in the Instant Pot is a fast way to cook them. No heating up the oven for a long time to roast them the traditional method.   Once you try this quick recipe, you will never make beets any other way.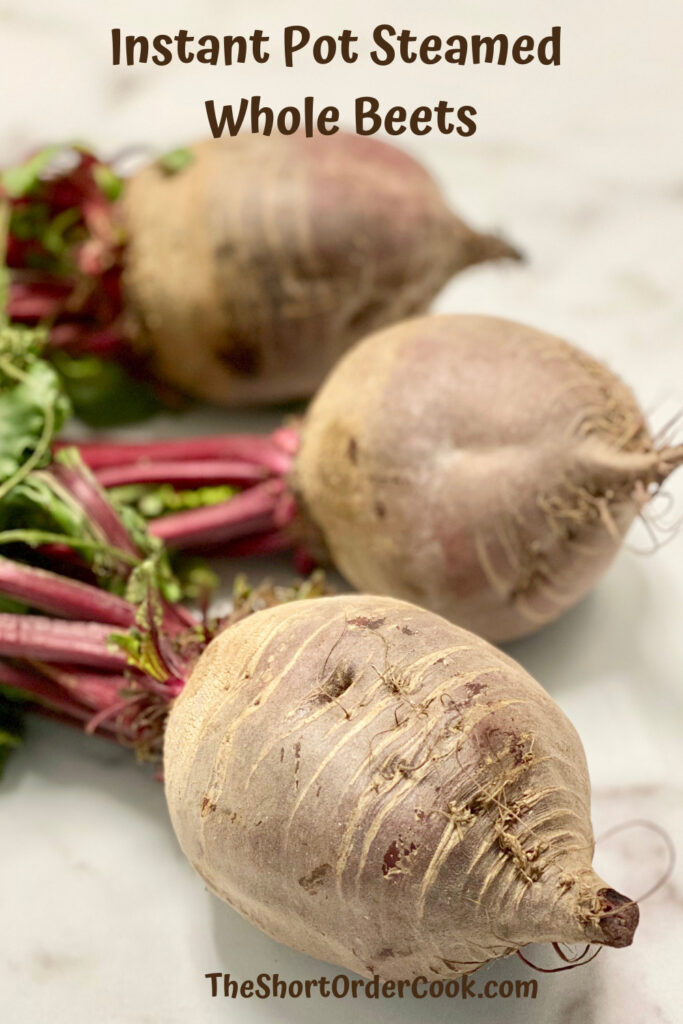 When beets are in season, typically spring and early summer for the more tender and small beets, I cannot get enough of them.  This recipe will give you sweet and tenderly cooked beets every time. They are great added to my peach, goat cheese, & arugula salad or as a simple summer side for smoked beef short ribs.
Jump to:
Types of Beets to use
This recipe also yields the best way to remove the skin of those whole cooked beets.  The Instant Pot steams them so well that peeling the cooked beets is easy and not messy.  Whether you like golden, red, or those with multiple colored rings like the Chiogga Guardsmark, cooking them in the Instant Pot is the way to go. To learn about more varieties of beets, check out TYPES OF BEETS. 
How to Cook Whole Beets in the Instant Pot
Cooking fresh beets does not have to be complicated and this is a quick and easy recipe. There is minimal prep and by steaming them in your Instant Pot or electric pressure cooker, most of the work is done for you. Once the whole beets are prepped by scrubbing them plus cutting off the stems and roots, they are ready to go into the Instant Pot insert.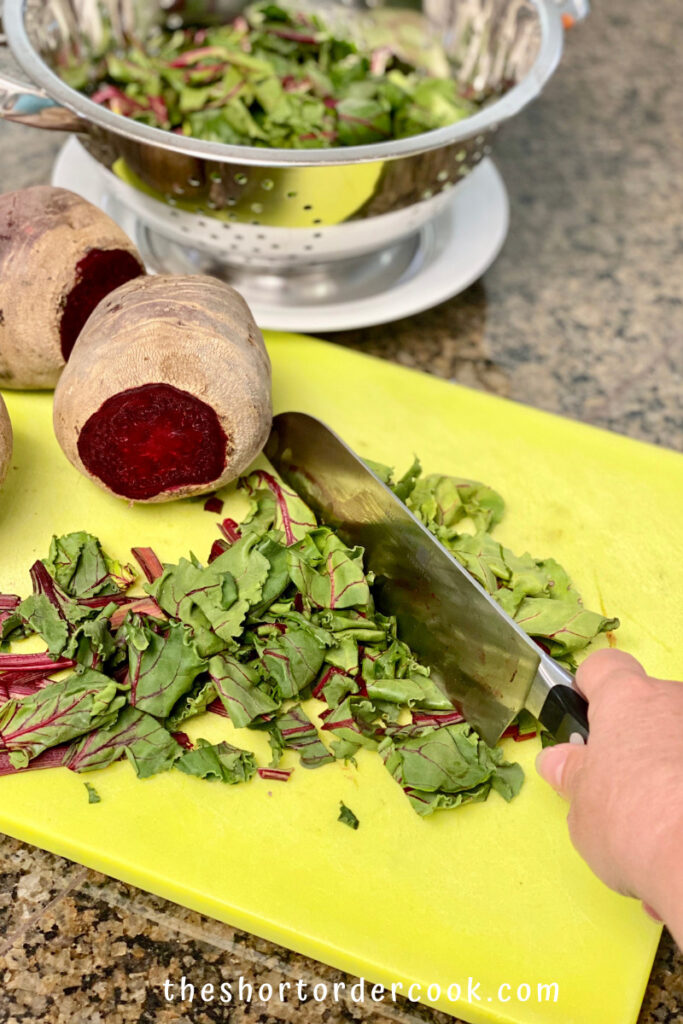 Prepare your Instant Pot by making sure the insert is inside, the lid has the rubber ring in place, and the valve is closed on the locking lid.  To the bottom of your insert add 1 cup of water and a steamer insert or the trivet rack it came with.   
Place the whole beets on top as shown below.   Lastly lock the lid in place, making sure it is snug and the valve is closed.  Press MANUAL and set the Instant Pot time based on the times listed below based on the size of your whole beets.
How Long to Cook Beets in the Instant Pot
The time you will want to set on your Instant Pot to steam whole beets will depend on the size of the beets. you will want to measure across the diameter of the beets. I highly recommend when selecting beets you try and make them as close to the same size as possible so they have an equal cooking time.
Cooking Times Based on Beet Size
When making the batch seen throughout this recipe, I had some lovely large beets from my CSA box so the cooking times in the recipe card at the end are based on that size. All the cooking times below are for the time you will set with manual cooking on your Instant Pot. 
Keep in mind it will take about 5 minutes to come to pressure, plus the below cook time, and then the natural release.  You will want to do a natural release, not a quick release on these.  I have never done a manual quick release but I can only imagine if the steam droplets had beet juice in them the stain horror that could happen on walls, counters, cabinets, and clothes!
Small Beets Cooking Times
2"-3" in diameter = 7-10 minutes
Medium Beets Cooking Times
4" in diameter = 8-12 minutes
5" in diameter = 12- 18 minutes
Large Beets Cooking Times
6" in diameter = 18-23 minutes
7" in diameter = 23 - 28 minutes
Jumbo Beets Cooking Times
8" in diameter = 28 - 33
9" in diameter = 33-35 minutes
Even Quicker Cooking Tip - If you have Large to Jumbo-sized beets and need to cook them in a faster amount of time, you can cut the beets in half and measure the new diameter to adjust the cooking time to be less.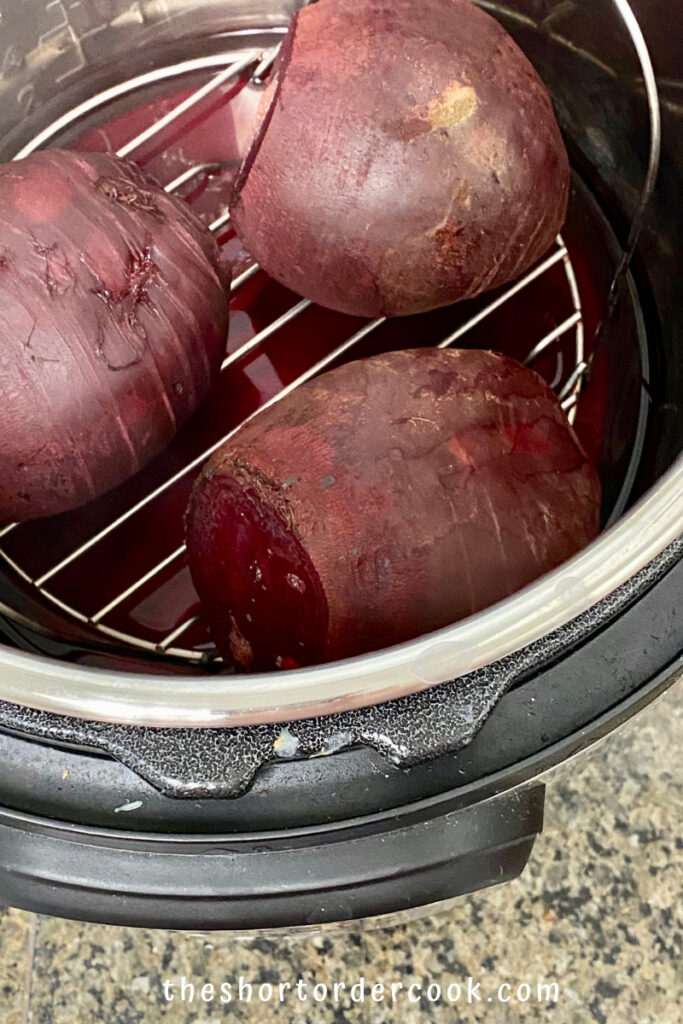 How to Peel Beets Easily
Once the beets are done and the natural release is complete, open the lid of the Instant Pot. (be careful steam may still be hot!) Let the beets cool before handling. Once cool, using disposable gloves or a paper towel rub the skin off easily as shown below.
How to Eat Whole Fresh Beets
Fresh cooked beets are great just as they are since they are sweet little earthy nuggets of flavor. I recommend either slicing or dicing them once they are peeled and cooled. This will ensure they are ready to go over the next few days for however, you wish to enjoy them. I love them diced in salads with other vegetables and lettuce.
Recipe Ideas for Fresh Steamed Beets
They are also great sliced by themselves with your favorite dressing and seasonings. One simple way to enjoy them is with some olive oil, balsamic vinegar, salt, pepper, and something creamy or crunchy to add texture and flavor. I enjoy my homemade steamed beets sliced this way and topped with shelled sunflower seeds.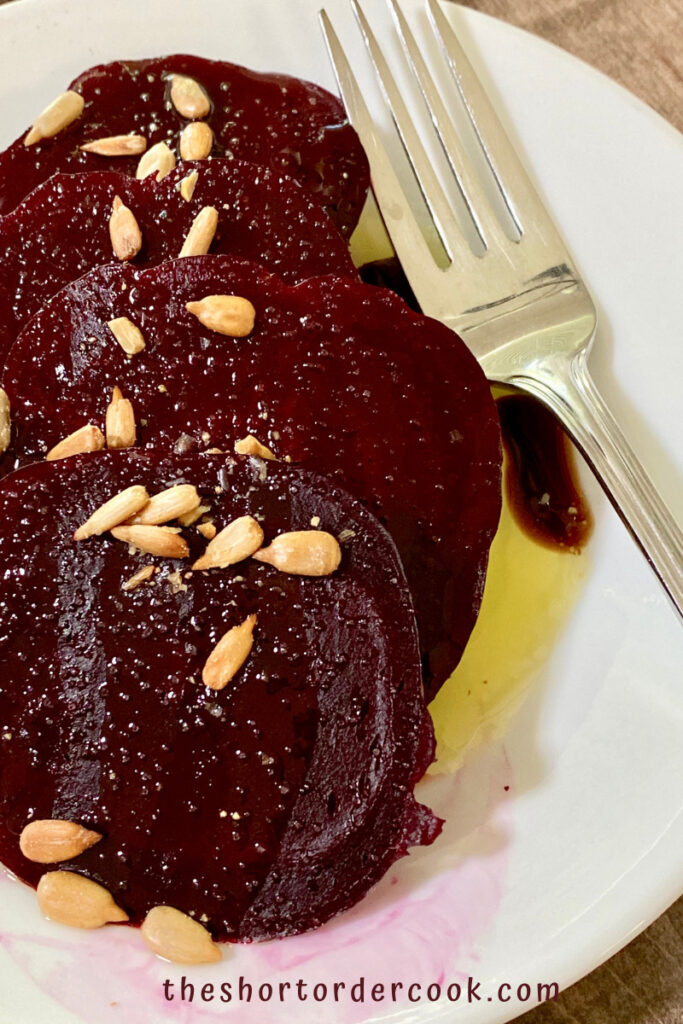 Storage
Cooked beets store well for days if stored properly. Place them in an air-tight container and store them in the refrigerator for up to 5 days.
PIN FOR SAFEKEEPING & SHARING!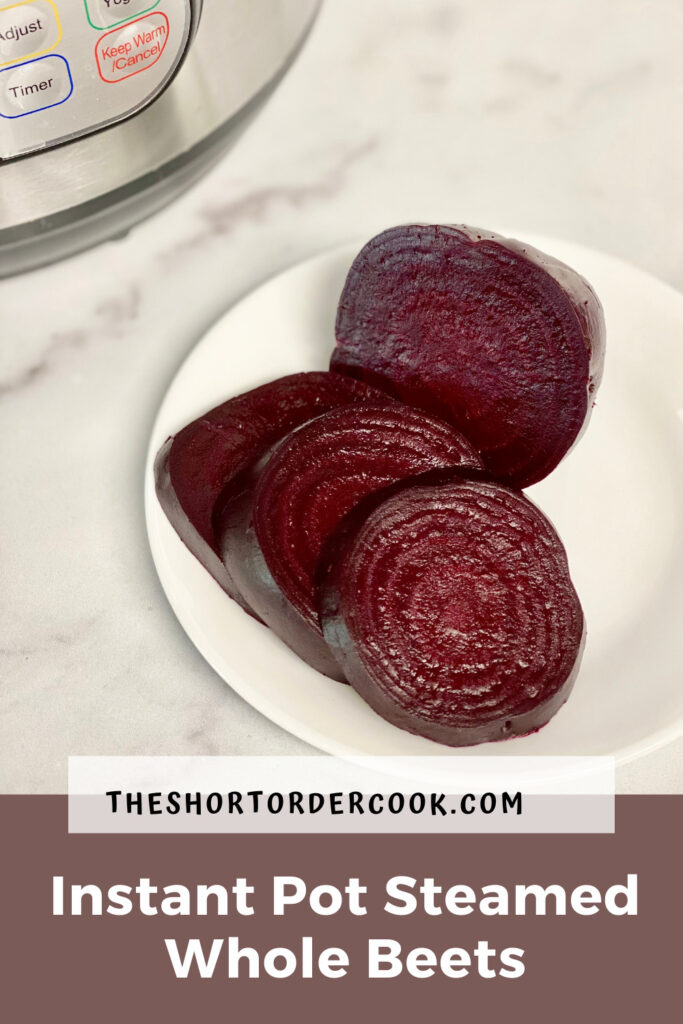 Product Recommendations for this Recipe:
The Short Order Cook is a participant in the Amazon Services LLC Associates Program. As an Amazon Associate, I earn from qualifying purchases. If you click on a link and make a purchase, I may earn a small commission on the sale at no additional cost to you. This helps with the costs of running the blog. Thank you!
Instant Pot Steamed Whole Beets
For an easy recipe to steam whole beets, use an Instant Pot or electric pressure cooker. This recipe also yields the best way to remove the skin off of those whole cooked beets. 
Ingredients
3

each

beets

large 6" diameter

1

Cup

water
Instructions
Scrub clean each beet. Cut off the roots and the beet greens from each beet or beetroot.

Add the insert to the Instant Pot and pour in the water. Add a steamer basket or the trivet to the bottom of the insert. Place the beets in the steamer basket or on the trivet.

Make sure the rubber seal is in place on the Instant Pot lid and lock it into place. The valve needs to be closed and on seal.

Press MANUAL on the keypad and then up or down buttons to set the cook time. For 3-4 beets that are about 6" in diameter set it for 20. SEE ABOVE FOR FULL COOKING TIME CHART BASED ON BEET SIZE.

It will take about 5-10 minutes for the pot to come to pressure. Then it will start the cooking time. Once the Instant Pot beeps that the cook time is done, do not open the seal. Let the beets stay in the pot through the natural release process. (No one wants beet steam and moisture in their kitchen that can potentially stain!)

Once the natural release is complete, about 10-15 minutes), the pin on the lid will drop. You can now open the lid. CAUTION STEAM MAY BE HOT! Let the beets cool before handling. This can take anywhere from 10-30 minutes depending on the size of your beets.

Once the beets are cool and ok to handle. Using a paper towel or while wearing disposable gloves, move the beets to a plate or cutting board. Slide off the skins easily with your gloved hands or with a paper towel - image above for reference.

Slice, dice, or store the cooked beets whole. For best storage, place in an air-tight container and store in the refrigerator for 3-5 days. They can also be stored in the freezer in a Ziplock bag with the air removed, for up to 3 months.
Notes
The nutrition facts are based on 1 cup of beets. 
Nutrition Facts
Servings: 6
Amount per serving
 
Calories
75
% Daily Value*
Total Fat 0.3g
0%
Saturated Fat 0.1g
0%
Cholesterol 0mg
0%
Sodium 131mg
6%
Total Carbohydrate 16.9g
6%
Dietary Fiber 3.4g
12%
Total Sugars 13.5g
 
Protein 2.9g
 
Vitamin D 0mcg
0%
Calcium 27mg
2%
Iron 1mg
7%
Potassium 519mg
11%
*The % Daily Value (DV) tells you how much a nutrient in a food serving contributes to a daily diet. 2,000 calorie a day is used for general nutrition advice.
Did you make this The Short Order Cook Recipe?
Tag @theshortordercookblog (Instagram & Facebook) or @shortorder_cook (Twitter).
I would love to see your latest creations and kitchen adventures.