If you are trying to figure out what to serve with a homemade meatball sub for dinner, this list is exactly what you are looking for. Meatball sandwiches are a family favorite and a hearty hot sandwich on their own. But they really need a simple side to make a complete meal. Therefore, you will want to pick the best easy side dish that goes well with your favorite Italian meatball sub.
Whether you want a salad, soup, vegetables, or more, we have you covered with so many choices on what to enjoy with your meatball sub. Many fellow food bloggers have shared some of their quick and easy side dish recipes. All of these sides pair well with the tomato sauce, cheese, and ground beef that makes these hot sandwiches a family favorite. Whether you call it a meatball sub, grinder, hero, torpedo, or hoagie, all these side dishes are great to serve and eat with your next meal. If you ever wondered who makes some of the best Meatball Sandwiches, check out this article about WHERE TO EAT THE BEST MEATBALL SANDWICH.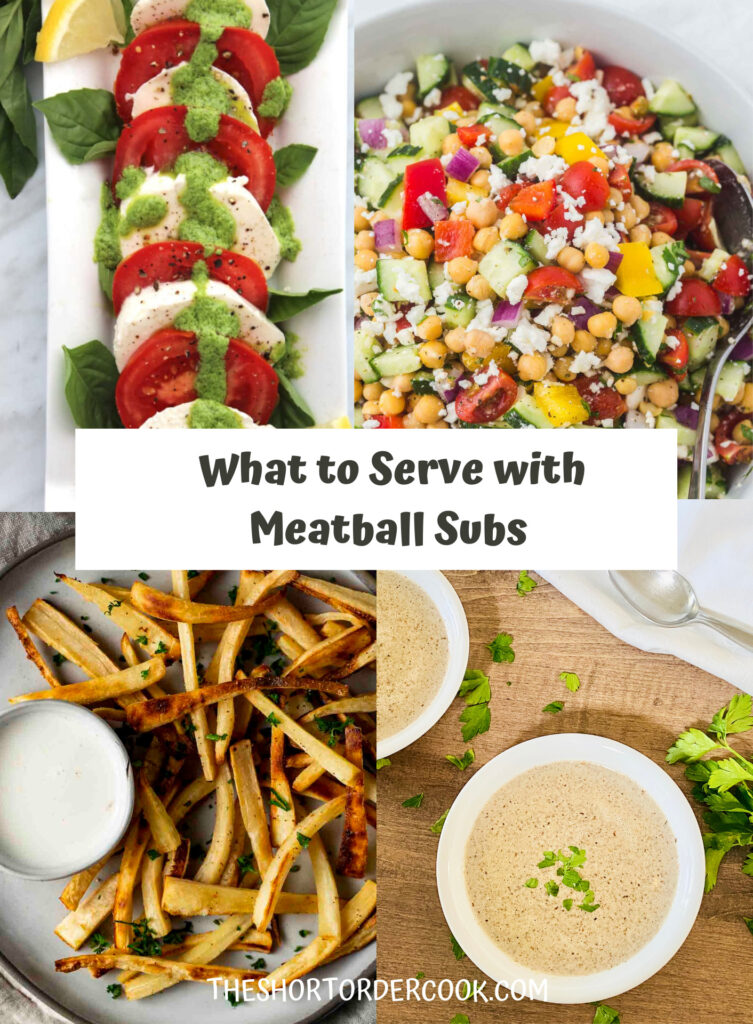 What to Serve with Meatball Subs
This is a tasty list of what to offer with meatball sandwiches. To help you decide what to serve with them, I have broken down the list into some subcategories. So based on your mood, preference, or diet, there is something for everyone. There are healthy salads, mayo-based salads, low-carb, keto, vegan, and fancy sides. This list of what to make with meatball subs includes:
Side Dishes by The Short Order Cook
Salad Side Dishes
Vegetable & Potato Side Dishes
Soup Side Dishes
Side Dishes by The Short Order Cook
Salad Side Dishes
Vegetable & Potato Side Dishes
Soup Side Dishes
PIN FOR SAFEKEEPING & SHARING!
Product Recommendations for this Article:
The Short Order Cook is a participant in the Amazon Services LLC Associates Program. As an Amazon Associate, I earn from qualifying purchases. If you click on a link and make a purchase, I may earn a small commission on the sale at no additional cost to you. This helps with the costs of running the blog. Thank you!