Sweet grilled juicy peaches, buttery avocado, creamy goat cheese, and peppery arugula combine for a flavorful summer salad that delights all the senses. This perfect healthy and delicious salad is simply finished with olive oil and balsamic vinegar for the ideal mix of sweet, tangy, and earthy flavors. This summer grilled peach salad will be one you make on repeat all summer long.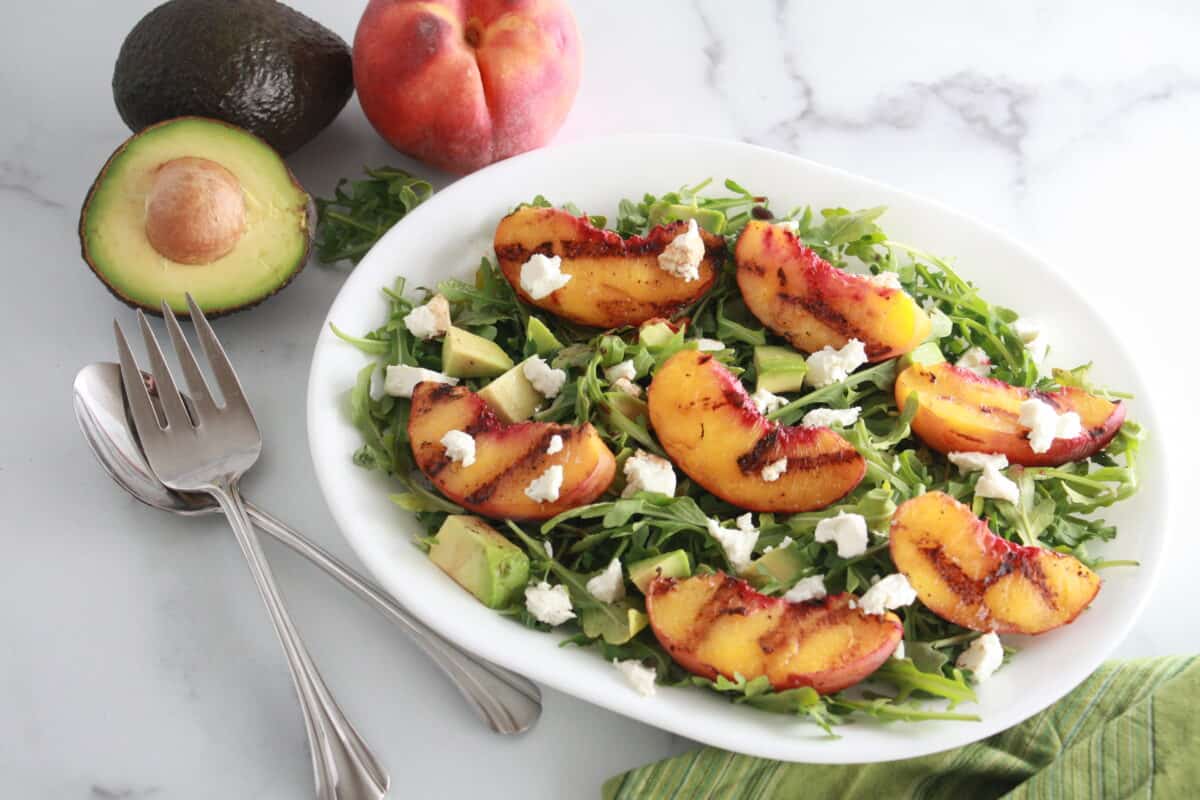 Green salads with fresh fruit are one of my favorites. The savory, sweet, crisp, & juicy combination is irresistible. If you love salads with fruit you will also love my recipe for Spinach Blueberry Salad. This easy arugula salad is vegetarian and nut-free which makes it a lovely salad to share with others for parties, backyard barbecues, or brunch with friends.
Jump to:
Why Grill the Peaches?
Grilling peaches may not be something you are familiar with but trust me this extra step is worth it. Do not be intimidated by this, all you need to know about grilling peaches is outlined below. You will wonder why you haven't tried this sooner. So what are you waiting for, read on.
At the peak of summer, peaches could not be any more wonderful. They are juicy, sweet, and have tropical hints. They really taste like they cannot possibly get any better. Then you grill one, and wow! They are elevated and become even sweeter as the fruit's natural sugars caramelize a bit. The little bit of acid that is found in stone fruits also mellows making it the perfect partner to the balsamic vinegar that gets drizzled on this masterpiece.
To find out more about why and when to grill food with the lid open or closed, read my post - Grilling with the Lid On or Off - All You Need to Know
Top Tips for Grilling Stonefruits
Ensure you have freestone peaches - you will want the pit to be removed easily for better slicing
With or without skin, it is up to your personal preference
Peaches that are just under or barely ripe are ideal. They will be firmer for handling on the grill. (they will yield a gentle give when squeezed)
If peaches are soft and ripe, best to grill them in halves so they do not slip through the grill as they soften even further once they get cooking.
Spray or brush with olive oil to ensure they do not stick to the grill
How to grill peaches includes grilling them on Medium-High heat. You want to produce fast grill marks and caramelization. Keep the lid open as you don't want to "bake" them, just sear the outside.
Watch them carefully, the natural sugars tend to burn easily so they do not take long to reach perfection
Do NOT stack them after grilling so they do not smash each other, line them in a single layer on a platter
Ingredients for Grilled Peach Arugula Goat Cheese Salad
Begin by gathering all the ingredients listed in the recipe card and shown below. Be sure your peaches and avocados are ripe but firm. The peaches will need to have the pit removed and then sliced thickly so they can grill easily.
Make sure to wash and dry your arugula and the goat cheese I find is best when it is closer to room temperature than very cold from the refrigerator. So be sure all the ingredients are ready to go.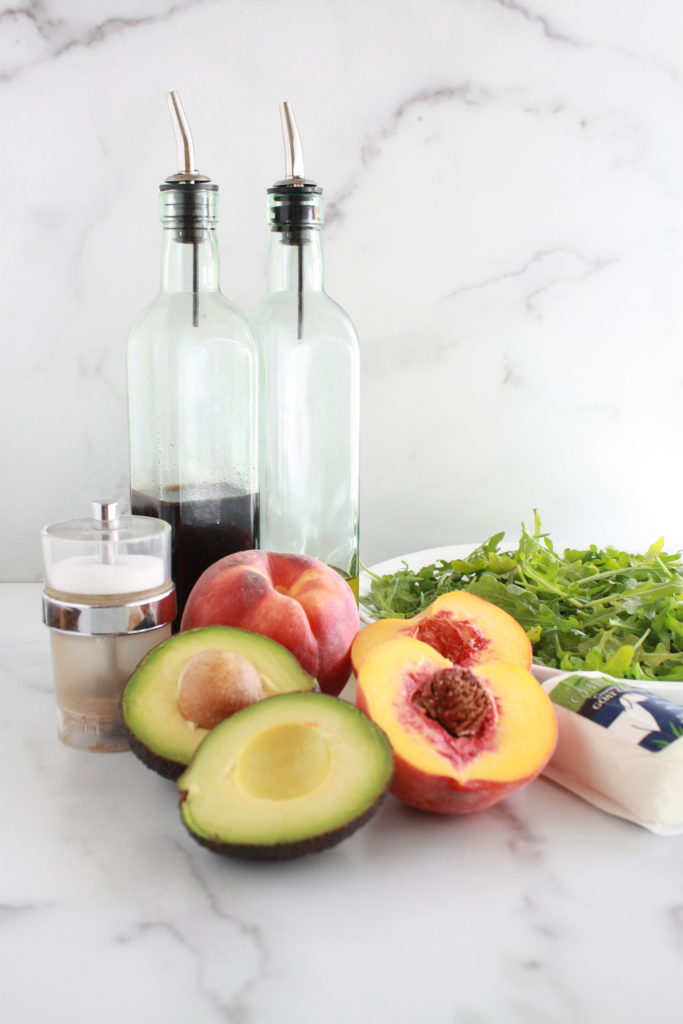 How to Grill Fresh Peaches
Gently toss or spray 2 large peaches, in thick slices, with 1 Tbsp. olive oil and salt and pepper to taste. Grill, uncovered with the grill lid open, for 2 minutes on each side, or until charred. Watch them carefully as they do cook fast and do not want to burn them.
How to Make a Grilled Peach Salad
Gather a large serving platter or salad bowl. Once the peaches are ready, gently place them over the arugula. Top with diced avocado and crumbled goat cheese. Drizzle with olive oil and balsamic vinegar. Then add salt & pepper to taste.
Can You Freeze Goat Cheese?
This recipe calls for 3 ounces of goat cheese. I often cannot find a small enough item at the grocery store; therefore, I have leftover goat cheese. When I cannot use it right away, I like to freeze it.
Due to its soft nature, goat cheese will not last long in the refrigerator like other hard cheeses. If you plan to not use it all in 2-3 days, I suggest your freeze your goat cheese which is easy to do.
To freeze goat cheese, wrap it tightly with plastic wrap. Next place it in a Ziplock, squeeze to remove all the air, and finally zip it closed. The goat cheese can be stored in the freezer for up to a month.
To defrost or thaw, remove the frozen goat cheese from the freezer and place it in the refrigerator. Depending on how big the size of the goat cheese section is, it can take 1-3 days to defrost in the refrigerator. Goat cheese is wonderful crumbled and freezing it will not change the texture.
Pairing
Here are some great main course recipes & baked goods that go well with this salad. Enjoy it as a main dish with some freshly baked rolls or as a side dish with smoked or grilled meats.
Product Recommendations for this Recipe:
The Short Order Cook is a participant in the Amazon Services LLC Associates Program. As an Amazon Associate, I earn from qualifying purchases. If you click on a link and make a purchase, I may earn a small commission on the sale at no additional cost to you. This helps with the costs of running the blog. Thank you!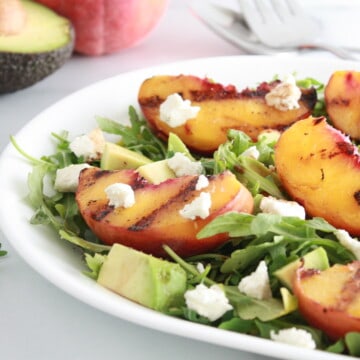 Grilled Peach & Goat Cheese Salad
Sweet grilled peaches, creamy avocado, tangy goat cheese, and spicy arugula are a summer salad sensation. This recipe for Grilled Peach, Avocado, and Goat Cheese Arugula Salad is fresh, sweet, crisp, & juicy. This simple summer salad is easy & perfect for bbq, cookouts, & parties.
Ingredients
2

medium peaches

pitted & thick-sliced (6-8 slices each)

1

tablespoon

olive oil or olive oil spray

salt & pepper

1

large avocado

peeled, pitted, and diced

6

C

loosely packed arugula

3

oz

goat cheese

crumbled
Dressing
2

tablespoon

olive oil

2

tablespoon

balsamic or red wine vinegar

salt & pepper
Instructions
Gently toss or spray the peach slices with 1 Tbsp. olive oil. Season with salt and pepper.

Grill on medium-high heat, uncovered with the grill lid open, for 2 minutes on each side or until charred. Once done, place in a single layer on a plate or baking sheet.

In a large serving bowl or platter, add the arugula. Top with the slices of peaches.

Top with diced avocado and crumbled goat cheese.

Drizzle with olive oil, balsamic vinegar. Then add salt & pepper to taste.

Toss gently and plate to enjoy immediately. This makes 6 servings as a side dish or appetizer. It can also be enjoyed as a main course for 4.
Notes
FOR 6 SERVINGS - 
Nutrition Facts
Servings: 6
Amount per serving
 
Calories
218
% Daily Value*
Total Fat 18.8g
24%
Saturated Fat 5.9g
29%
Cholesterol 15mg
5%
Sodium 57mg
2%
Total Carbohydrate 8.6g
3%
Dietary Fiber 3.3g
12%
Total Sugars 5.6g
 
Protein 6g
 
Vitamin D 0mcg
0%
Calcium 163mg
13%
Iron 1mg
5%
Potassium 342mg
7%
*The % Daily Value (DV) tells you how much a nutrient in a food serving contributes to a daily diet. 2,000 calorie a day is used for general nutrition advice.
Did you make this The Short Order Cook Recipe?
Tag @theshortordercookblog (Instagram & Facebook) or @shortorder_cook (Twitter).
I would love to see your latest creations and kitchen adventures.