Crispy pan fried potatoes & onions are a southern classic recipe that's great for breakfast, lunch, or dinner. Delicious fork-tender seasoned potato cubes is the amazing dish you need in your life. All you need is a few ingredients, your favorite skillet, & 30 minutes.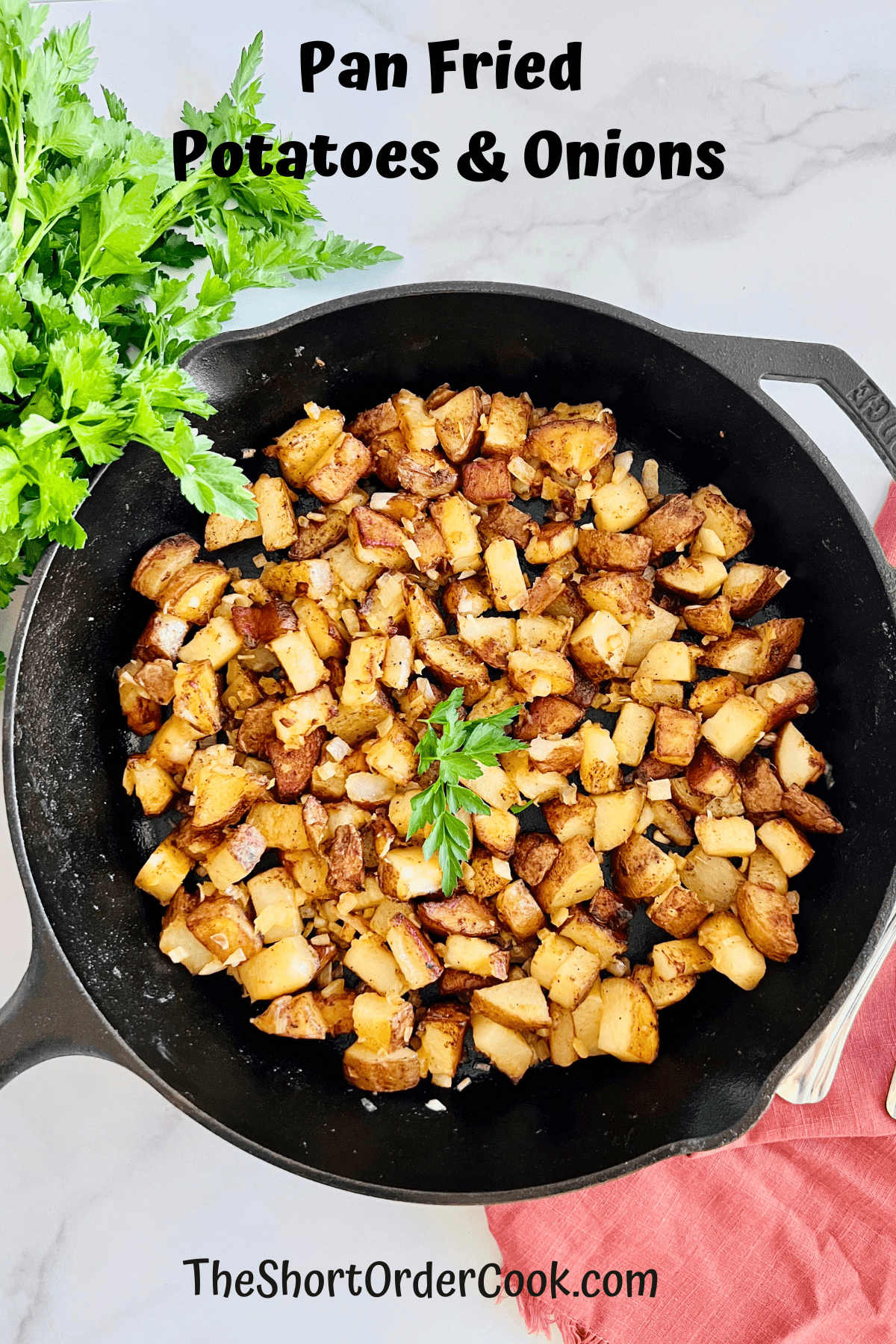 Whether you need a quick & simple side dish or some home fries to serve with soft scrambled eggs for breakfast, this is the country fried potatoes recipe you will love. No more boring potatoes. These are savory & salty plus sweet thanks to the sauteed onions.
Jump to:
Why Make Southern Fried Potatoes & Onions
This recipe is a staple in homes all across America, especially in the South. It is hearty supper favorite and for good reason. Here is why you will love this recipe:
Ingredients are easy-to-find staples
Budget-friendly recipe
One-pan skillet recipe
Ready in 30 minutes
Great for breakfast, brunch, lunch, or dinner
Amazing leftovers
Ingredients for Pan Fried Potatoes & Onions
This recipe only needs 6 ingredients. The 3 main ingredients are oil, potatoes, and an onion. Then add a few spices for seasoning and that's it.
Best Potatoes for Frying
When you think of fried potatoes, french fries come to mind first. The best potato for deep-fried french fries is a russet potato (though I do love sweet potato fries too). Russets are also ideal for pan frying. The high-starch russet potato is the best choice for this recipe.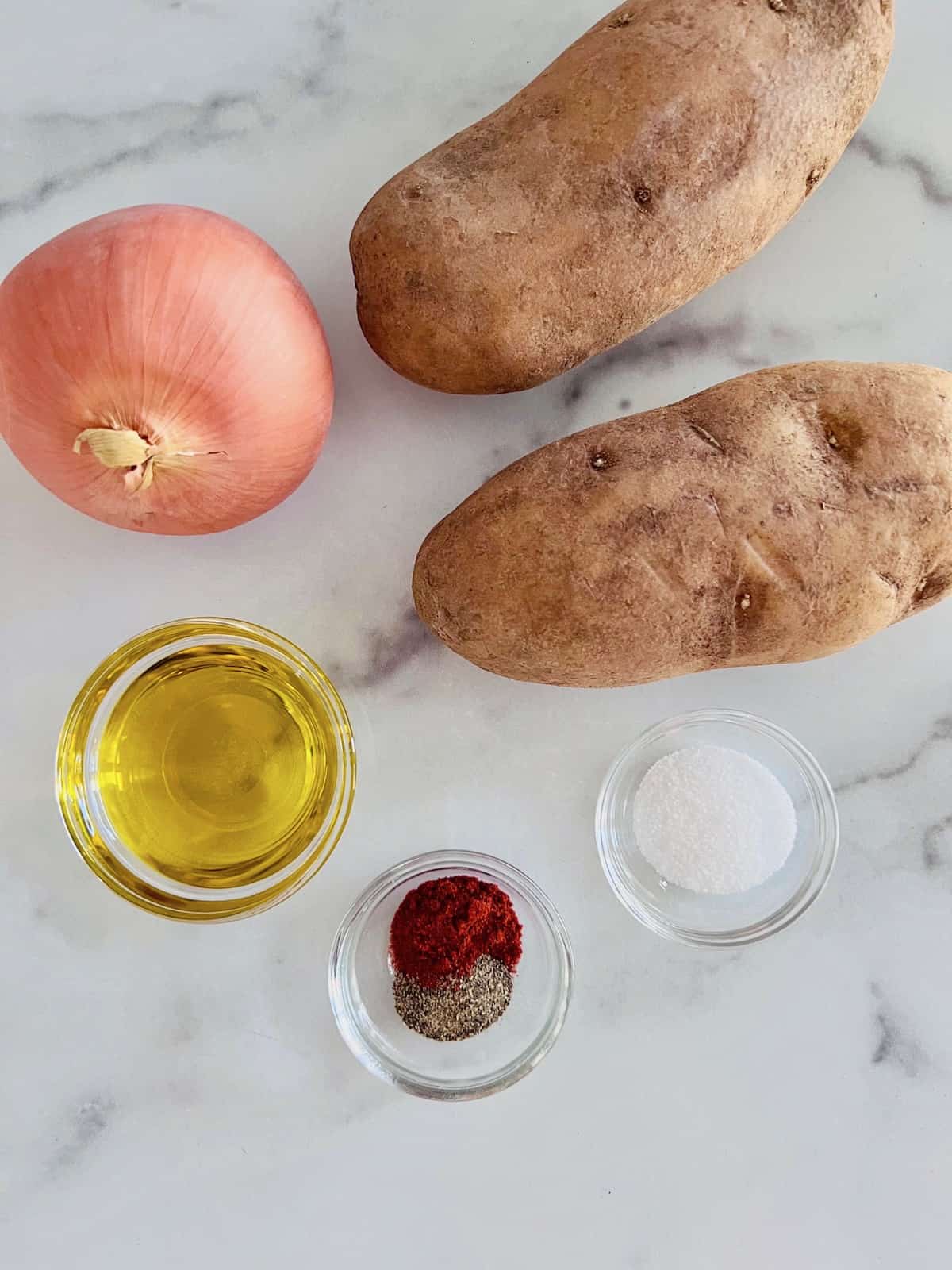 Olive Oil
Russet Potatoes
Onion
Salt
Pepper
Paprika
See the recipe card for quantities & full instructions.
Best Skillet for Pan Frying
When making pan-fried potatoes and onions, I recommend using a large sturdy skillet. You want to use one at least 12" in size but the bigger the better. The potatoes need to fry in a single layer so make sure you have enough surface space for all the potato chunks.
I am using my 15" Lodge cast iron skillet and I find it is best for this recipe. It heats evenly and retains that sizzling heat. The hot surface adds the yummy crust to the outer edges of the cut potatoes. Like my cast iron chicken recipe, that added flavor & texture make it so much better.
You can use any large skillet you have. One with a lid is also helpful but it is not necessary. I simply place foil over my Lodge skillet.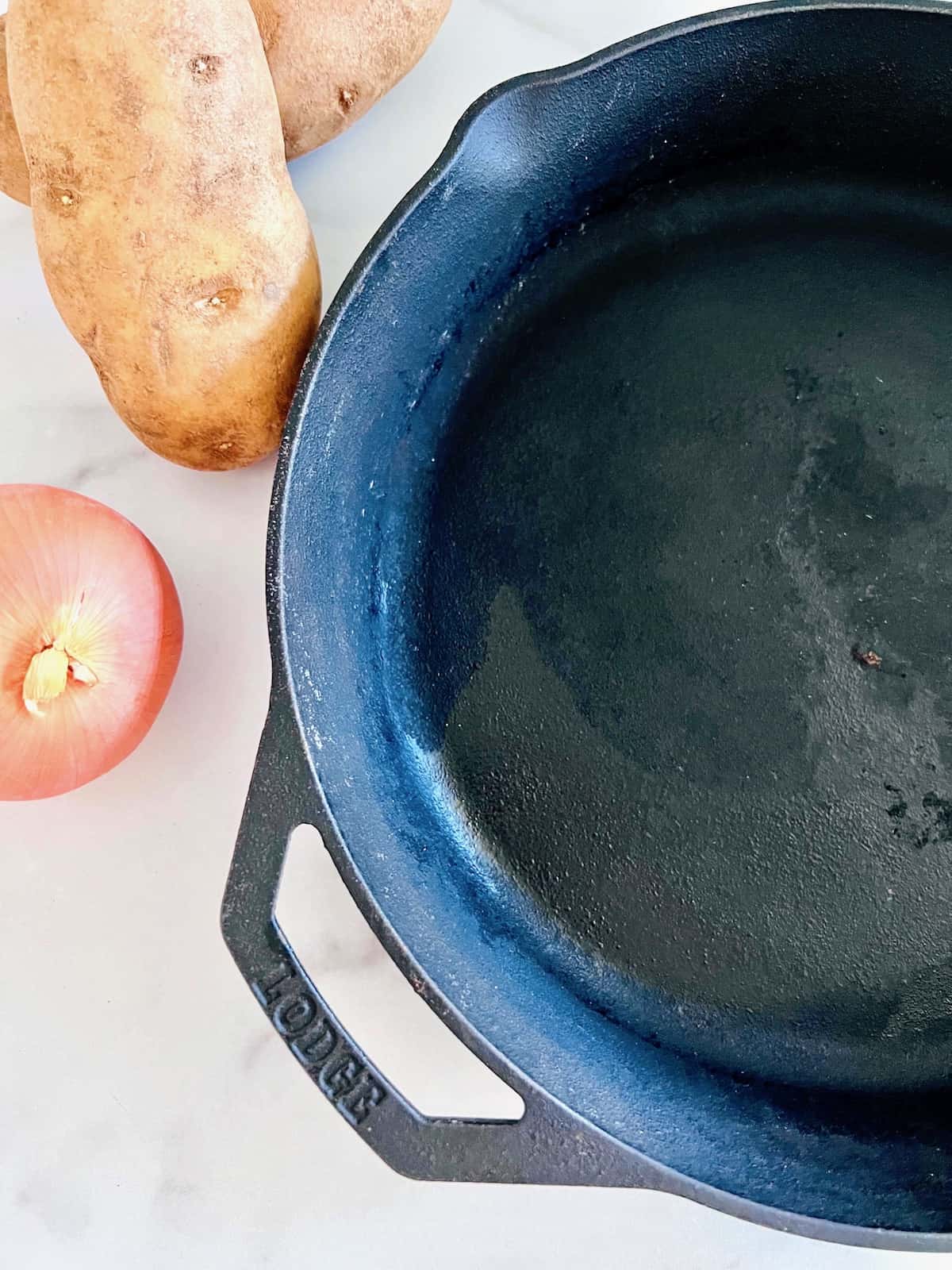 How to Make Fried Potatoes & Onions
It is easy to pan-fry potatoes with onions. With just 5 minutes of prep, this couldn't be easier. Since everything is cooked in one skillet so not much cleanup either. Who doesn't love that?
To begin, make sure your potatoes are thoroughly scrubbed clean and dry. Using dry potatoes ensures they cook and crisp up. Plus, any moisture is also not safe. The water will react to the hot oil when you add them to the pan causing splatter.
You do not need to peel the potatoes, the skins fry up and come out so crispy good. But if you do wish to remove them, save the peelings. Then make my recipe for Air Fryer Potato Peels in minutes & have a crispy salty appetizer or snack.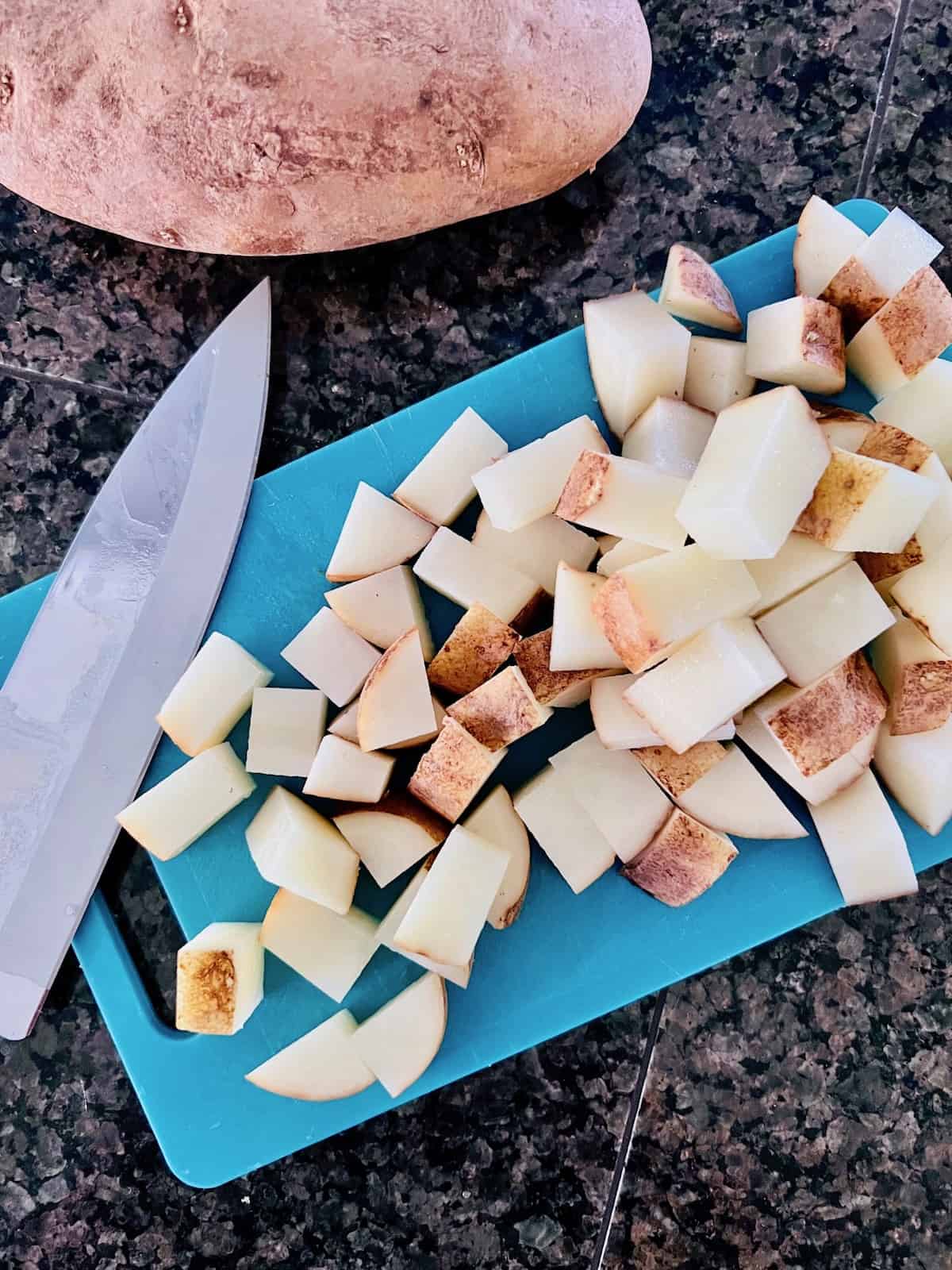 Cut the russet potatoes into cubes. Make them uniform in size about ½" cubes. Just before you are done cutting all of them - Preheat the skillet to medium heat for 2 minutes.
Add the oil to the pan. Make sure the oil is hot before adding the potatoes. Once a tester potato cube is added to the skillet sizzles, carefully add them all in a single layer.
Add the seasonings (reserve ¼ teaspoon of the salt) and stir to combine. Place the lid or foil tightly over the skillet. Continue to cook on medium for 10 minutes.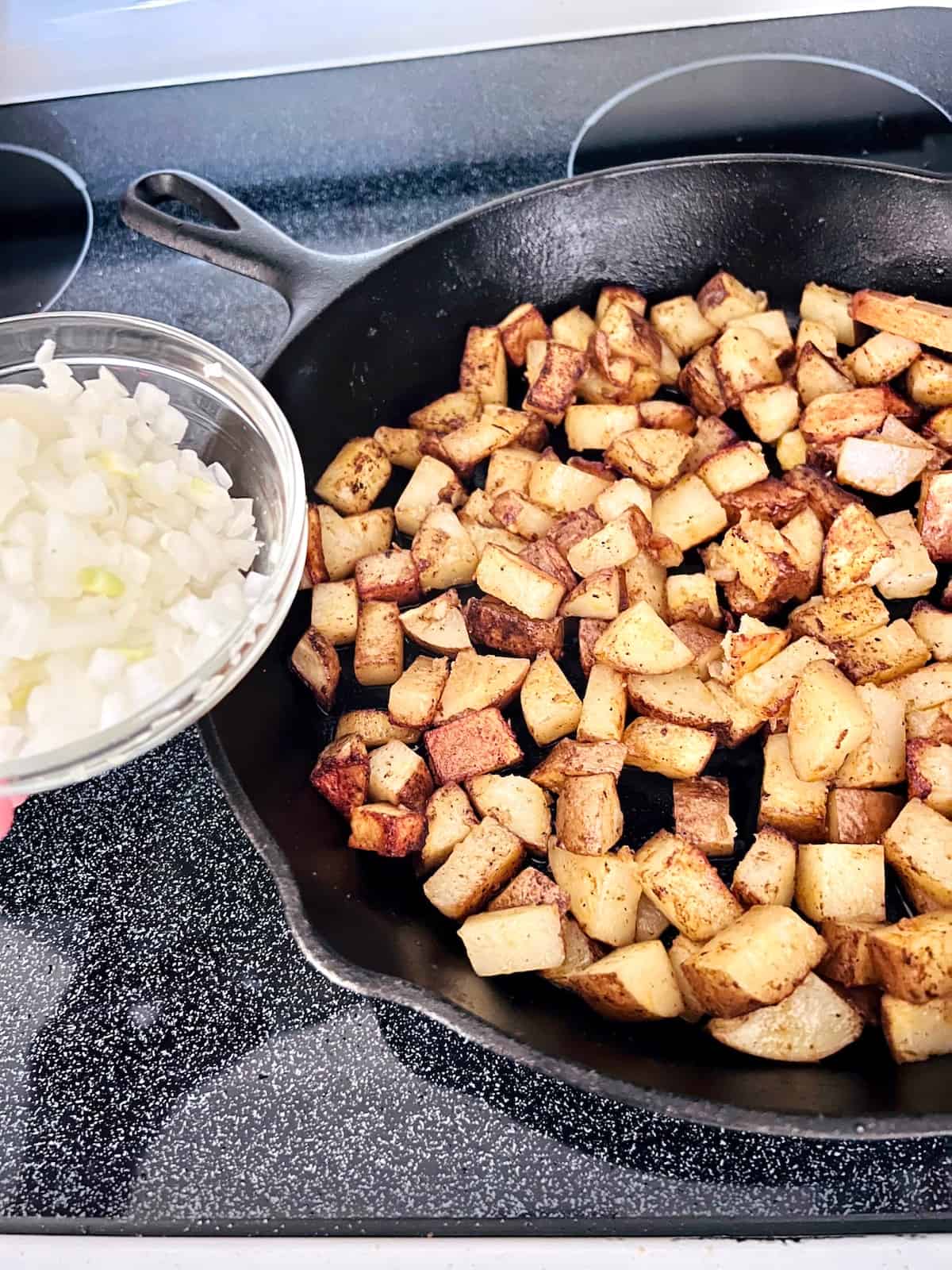 Remove the lid and stir in the minced onion. Leave uncovered to cook for 10-12 minutes more.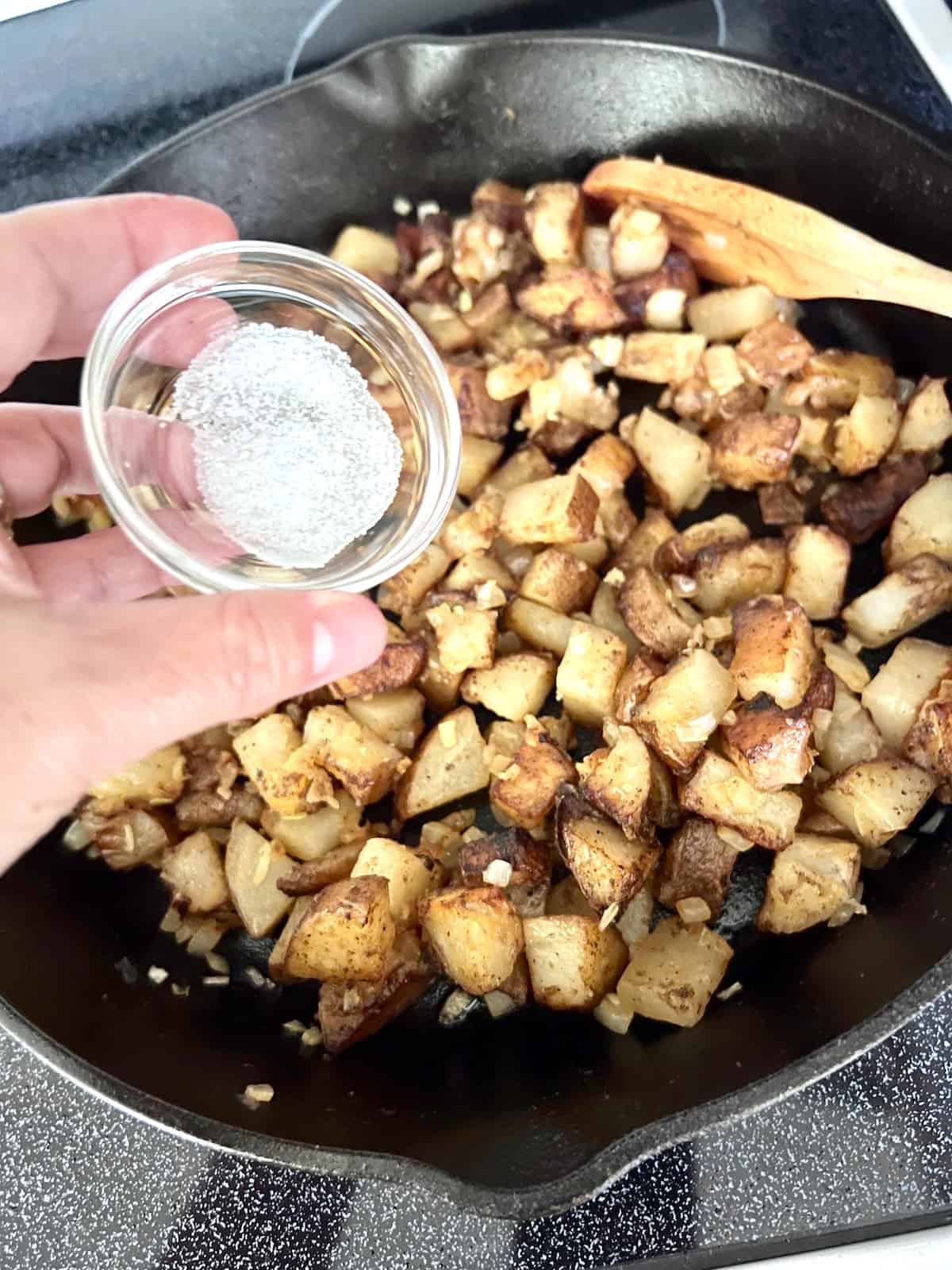 Stir occasionally so all sides can get golden brown. Once they are fork tender turn off the heat. Stir in the remaining salt.
Hint: potatoes are known for absorbing salt. If you season only at the beginning the potatoes will come out bland. This is why I recommend adding salt at the beginning and the end.
Serve potatoes immediately. Top with more salt & pepper to taste if desired. Sprinkle on fresh parsley leaves for a burst of freshness & color.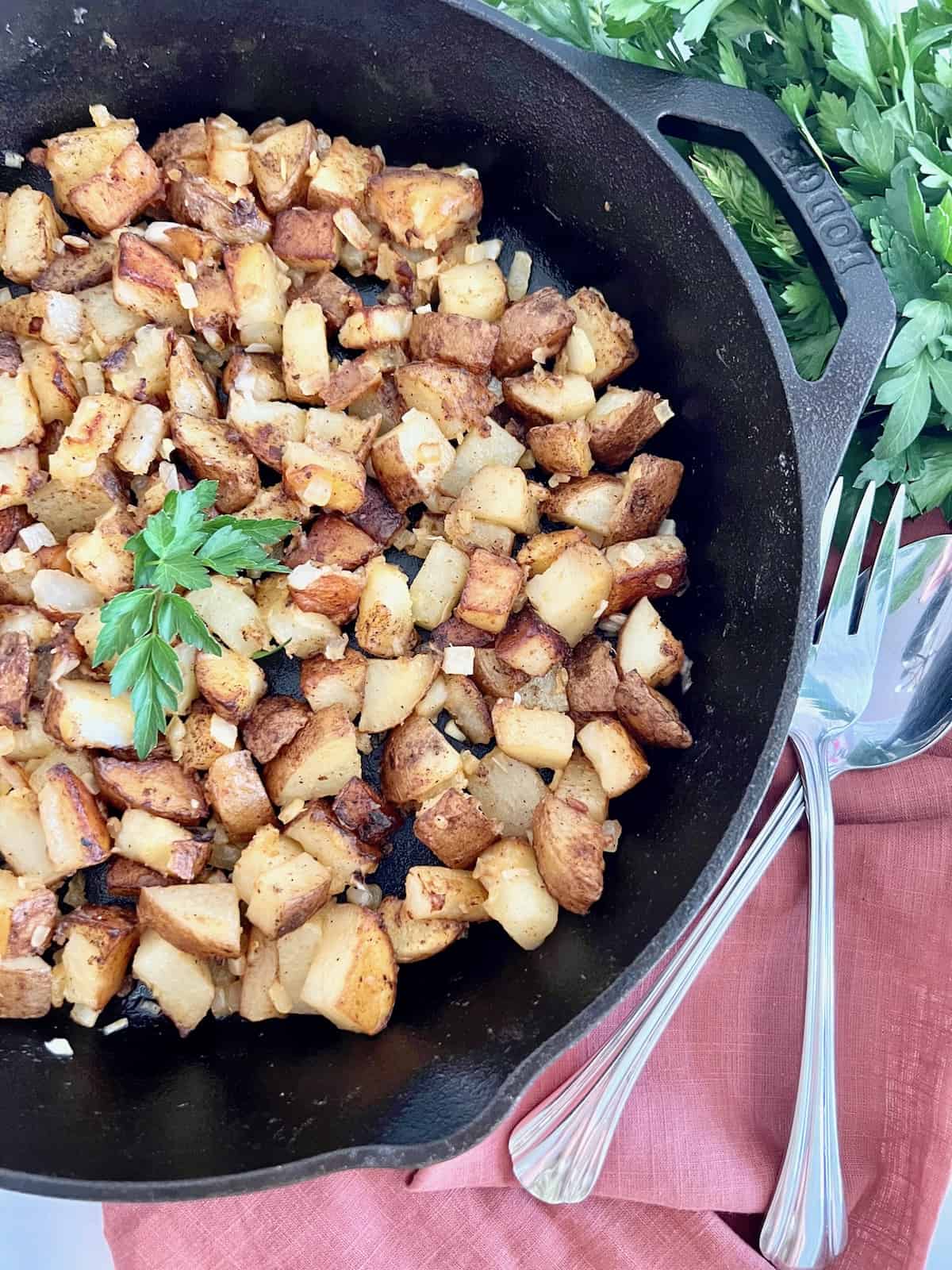 Substitutions
Here are a few ingredients you can use as an alternative to making this recipe.
Potatoes - instead of russets, you can use Yukon gold potatoes which are also hearty & starchy.
Onion - use yellow or white onion, any sweet or mild will do.
For a shortcut, use leftover diced toaster oven baked potatoes instead of the russets. Make sure they are cold & cubed - hot baked potatoes will fall apart. Add them to the hot oil with the onion & cook uncovered for 10 minutes. (skip to the step where you cook them uncovered)
Variations
Try these fun & tasty variations. The original recipe is so versatile. There are endless possibilities and here are a few recipe ideas we love.
Spicy - add chili pepper flakes or cayenne pepper while cooking or a few dashes of hot sauce at the end.
Garlic - add garlic powder to the seasoning blend.
Sliced - slice the potatoes into thin uniform sizes (use a mandolin).
Cheesy - sprinkle on your favorite shredded cheese at the end.
Pepper - add diced sweet bell peppers for a dish similar to O'Brien breakfast potatoes.
This recipe is vegan, vegetarian, gluten-free, grain-free, dairy-free, & nut-free. If you want a vegan cheesy version, add nutritional yeast to the fried potatoes and onions after cooking for a delicious option.
Top Tips
All of these great tips are shared in the post. But these are so good and important they are worth mentioning again so you don't miss them.
Cut the potatoes in uniform sizes so they cook evenly.
Make sure the oil is hot before adding the ingredients to they don't stick or get soggy/absorb the oil.
Do not overcrowd the pan & cook the potatoes & onions in a single layer.
Cook covered so they are fluffy & tender on the inside.
Finish cooking it uncovered so they get crispy brown on the outside.
Season with salt twice, at the beginning & the end!
Equipment
The right ingredients, supplies, & equipment help recipes taste amazing & turn out well.  Here are recommendations for products that are needed for making this recipe.  Shop this recipe & buy these top-rated items today. This recipe works best in cast iron but other frying pans will, just make sure you know the difference between a frying pan versus a saute pan.
The Short Order Cook participates in the Amazon Services LLC Associates Program. As an Amazon Associate, I earn from qualifying purchases. If you click on a link and make a purchase, I may earn a small commission on the sale at no additional cost to you. This helps with the costs of running the blog. Thank you!
Storage & Reheating
Fried potatoes and onions store well. Place leftovers in an air-tight container and place them in your refrigerator for up to 5 days. They can also be frozen for up to 3 months.
To reheat, place potatoes and onions in a hot skillet. Warm them up for about 5 minutes. They can also be reheated on a sheet pan in the oven for 10 minutes at 400°.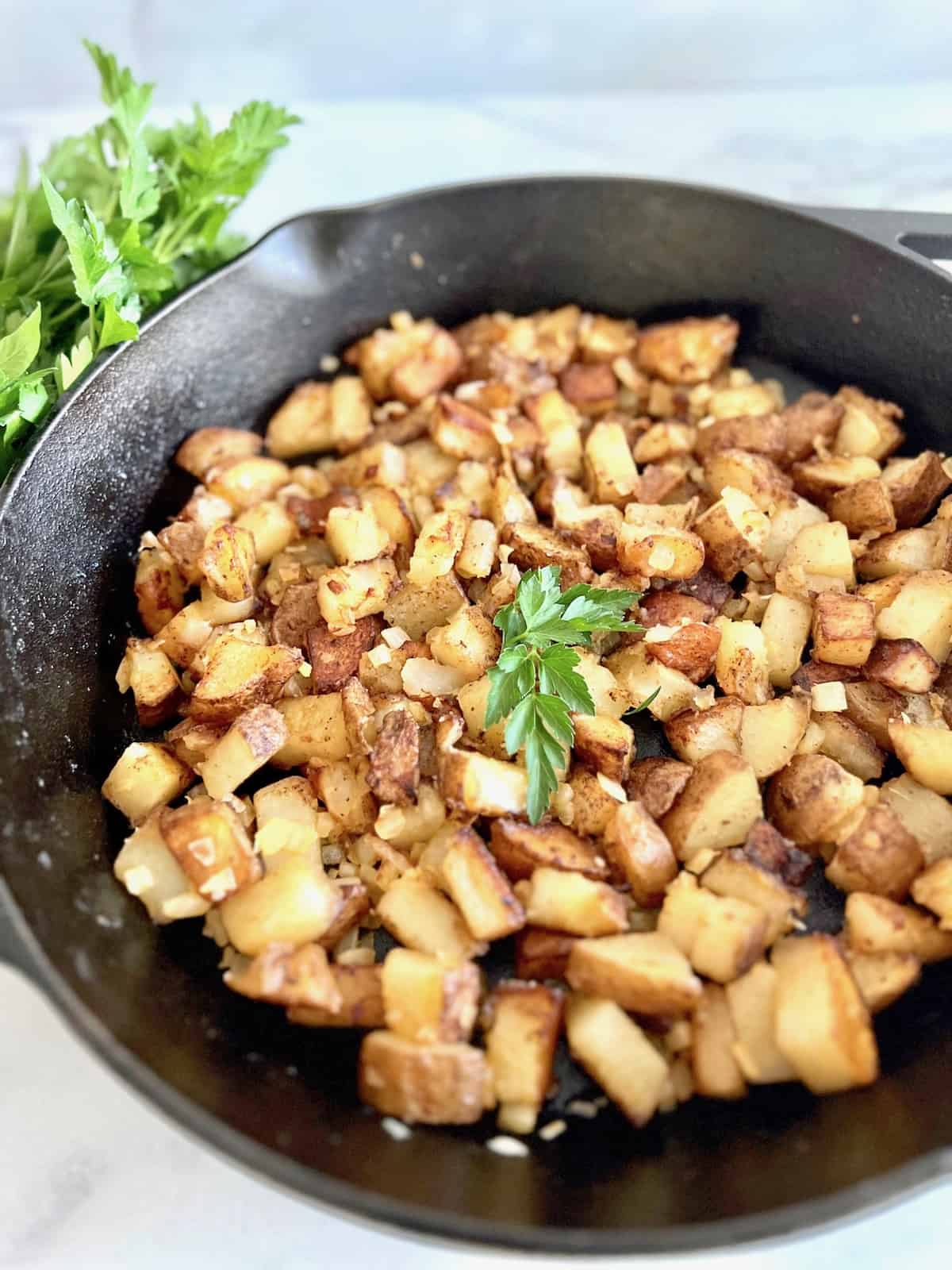 FAQ
Here are answers to some common questions. I hope you find what you need but if not, you are always welcome to send me a comment and I will get back to you.
What is the best oil for pan-frying potatoes?
I like to use olive oil in this recipe. I find the flavor is great paired wtih potatoes & onions. Since this is cooked on medium heat, you do not need a high-heat oil so olive oil is fine. You can also use vegetable oil (corn, safflower, soybean) if that is what you prefer.
Can I use butter instead of oil?
I do not recommend using butter for this recipe. Butter will overcook in the skillet as it cooks for the 20-25 minutes needed. Oil is best in this recipe.
Why do you need to dry the potatoes before frying?
Safety first! Hot oil & water do not get along. If the potatoes are wet or have any exterior moisture, the oil will pop & splatter. Always dry ingredients before adding them to hot oil.
Can I boil the potatoes first?
This recipe does not require the extra step of boiling or par-cooking the potatoes ahead of time. Boiling is not recommended. The potatoes will absorb water during that cooking process. The added moisture will result in soggy potatoes that will also likely fall apart and not stay in the fun cube sizes.
Do I need to soak the potatoes first?
This quick recipe requires no soaking. Recipes that call for soaking for an hour before frying, take too long. Soaking is done to remove some of the starches so that the sugars don't burn on the surface of the potatoes before the inside is cooked. This recipe instead cooks the potatoes covered and then uncovered with the same results & in way less time!
What to Serve with Pan-Fried Potatoes
This is the ultimate side dish recipe. It seriously pairs well with just about anything including beef, pork, chicken, seafood, & more. This Southern staple is fantastic with my recipe for Bacon Fried Corn - comfort food heaven together!
Here are some of my favorite main dishes that go great with fried potatoes. One of my favorites is making thick-cut pork chops in the air fryer.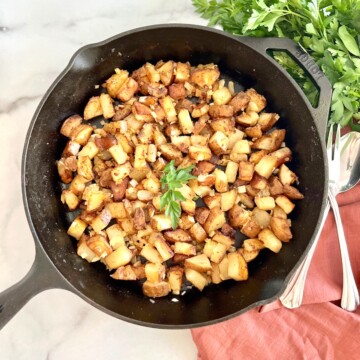 Pan Fried Potatoes & Onions
Fire up your skillet and pan-fry some potatoes and onions for a hearty side dish. This easy recipe is ready in 30 minutes & takes only a few ingredients. This southern recipe for seasoned russet potato cubes is a classic American dish great for breakfast, lunch, or dinner. The potatoes are crispy & fork-tender - plus gluten-free, vegan, vegetarian, & dairy-free.
Equipment
large skillet

cast-iron is best
Ingredients
¼

cup

olive oil

2

pounds

russet potatoes

1

medium

onion

minced

½

teaspoon

salt

½

teaspoon

black pepper

½

teaspoon

sweet paprika

¼

teaspoon

salt

additional at the end
Instructions
Wash & dry the potatoes. The peel can be left or removed. Cut the potatoes into ½ inch cubes. Set aside.

Mince the onion. Set aside.

Heat the oil over medium heat in a large frying pan. I recommend using a 15" cast-iron skillet.

Make sure the oil is HOT and sizzling before adding any ingredients.

As soon as the oil is hot, carefully add the potatoes to the pan in a single layer.

Sprinkle on all the spices (saving the second ¼ teaspoon salt for the end) to season the potatoes.

Do not stir just yet. Let the potatoes start to brown on the bottom. Stirring them immediately may result in some sticking.

As soon as they release easily from the pan, stir & toss to coat with the seasoning. Cover the pan & let the potatoes cook for 10 minutes. Stir 1-2x while cooking.

Once the potatoes are just starting to turn brown, add the minced onion. Stir to combine and continue cooking uncovered for 10-12 minutes.

The potatoes and onions will be done when they are golden brown. The onions should be translucent & slightly caramelized. The potatoes will be fork-tender with crispy edges.

Serve immediately & enjoy.

Store leftovers in the refrigerator in an air-tight containter for up to 5 days.
Notes
Nutrition Facts
Servings: 6
Amount per serving
 
Calories
184
% Daily Value*
Total Fat 8.6g
11%
Saturated Fat 1.2g
6%
Cholesterol 0mg
0%
Sodium 204mg
9%
Total Carbohydrate 25.5g
9%
Dietary Fiber 4g
14%
Total Sugars 2.5g
 
Protein 2.7g
 
Vitamin D 0mcg
0%
Calcium 18mg
1%
Iron 1mg
5%
Potassium 642mg
14%
*The % Daily Value (DV) tells you how much a nutrient in a food serving contributes to a daily diet. 2,000 calorie a day is used for general nutrition advice.