Dill Pickle deviled eggs are in my eyes the perfect party food.  They not only taste both creamy and tangy but they are simple to make. This is a quick and easy recipe that is made even better thanks to the flavor of dill pickles. Deviled eggs are also easy for guests to handle and eat.  What I really mean is that I can eat one and not have to bother putting down my purple passion cocktail - party priorities!
Classic deviled egg recipes are something handed down from generation to generation. Old-fashioned recipes for deviled eggs often have basic ingredients and are simple to make. The beauty of that simplicity is what has made them loved and enjoyed for a long time. These dill pickle deviled eggs are made without vinegar. Instead, I like to add pickle juice as my secret ingredient with a punch of flavor. This deviled egg recipe is also the best for keto and low-carb diets. Â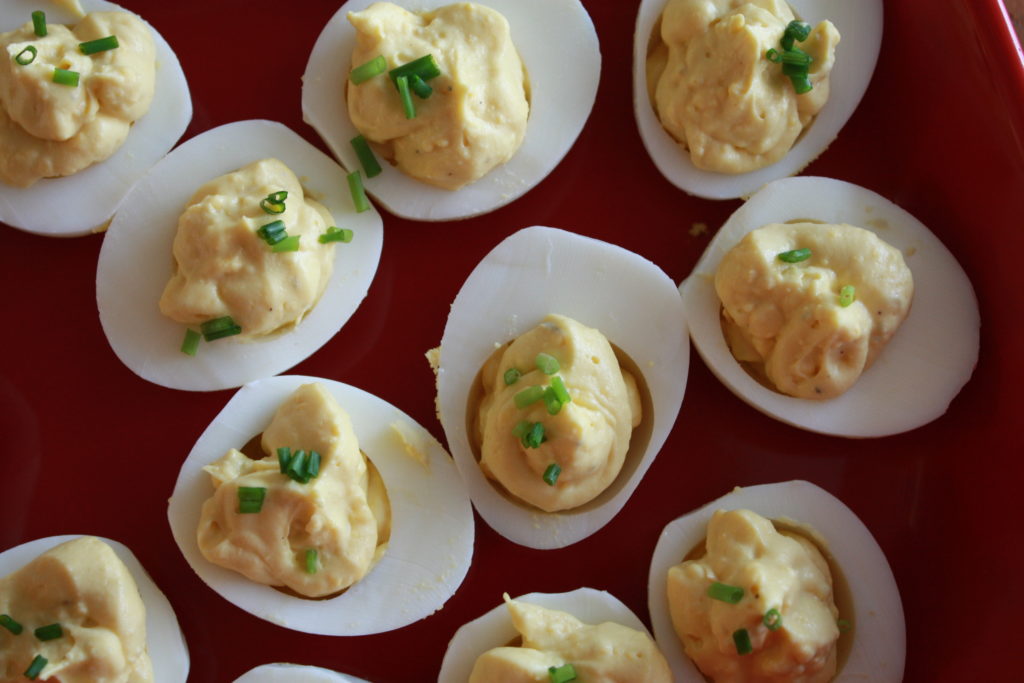 Ingredients for Classic Deviled Eggs
I know what you are thinking, 'but Angela you do not like mayo so how is it you love deviled eggs?'
Ok, I admit there is a small amount of mayonnaise in this deviled egg recipe but is it not much? I use a combination of mayo, mustard, and dill pickle juice to moisten the egg yolks into the perfect creamy filling. Always save your pickle juice to make this recipe or to make more homemade pickles with the leftover brine.
I do not use relish in my deviled eggs, instead, the dill pickle juice gives the briny tang that complements the creamy yolk mixture. You will need the following for this deviled egg recipe:
LARGE EGGS - large ones work best so there is plenty of white-to-yolk ratio for scooping and filling.
MAYONNAISE - Use your favorite but I prefer a full-fat option. Use a no-sugar mayo made with avocado oil if you want to make Whole30 deviled eggs.
MUSTARD - This is for a bit of tang and spice.
DILL PICKLE JUICE - For moisture and a salty brine flavor that cannot be beaten.Â
Seasonings/herbs - as desiredÂ
CHOPPED DILL PICKLES - optional
I have another recipe that I make for myself which is greek yogurt, mustard, pickle juice, and hot sauce. It is a great spicy combination. I highly recommend it for those that want a deviled egg recipe without mayo. For the true southern deviled egg I add a bit of relish as well. Either way, they taste amazing and you cannot eat just one or two - I promise!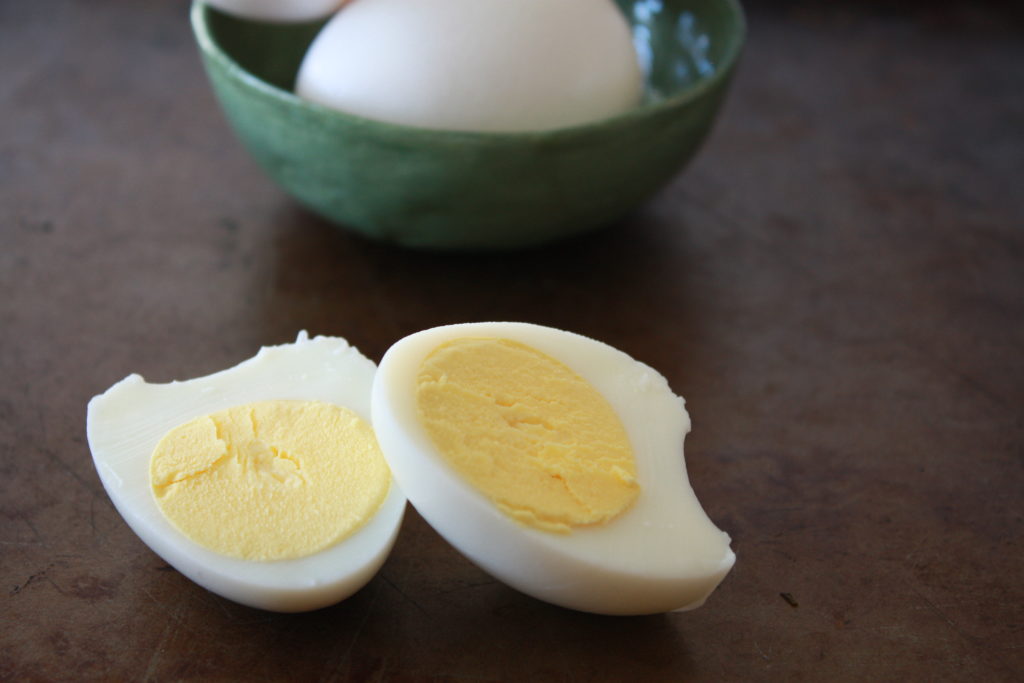 Hard-boiled eggs ready to fulfill their Deviled Egg Destiny[/caption]
How Long to Boil Eggs for Deviled Eggs?
This is my foolproof method for boiling eggs on the stovetop. You can also use your Instant Pot as well.
Place eggs in a pot covered with water. Turn the heat to high to bring water to a boil.
Boil the 12 eggs in a rolling boil for 3 min. Turn off the heat and cover the pot with a lid. Let sit for 10 min before draining hot water to let eggs cool.
Steps to Make Deviled Eggs
It is not rocket science:
Starts off with hard-boiled eggs
Peel and cut them lengthwise
Scoop out the yolk filling into a bowl
Add additional ingredients as seen in the recipe below
Next start piping in the (or as my daughter says SQUIRT) filling to make each deviled egg half
Garnish & the appetizers/snacks are ready
10 Fancy and Fun Variations of Deviled Eggs
This recipe is a great base for a traditional deviled egg that can be modified easily in so many ways. Here are some great ways to mix things up and offer your guests a few different variations of deviled eggs. Just start with this base recipe and then do the following delicious toppings or mix-ins for more party or holiday fun:
Keto Bacon Deviled Eggs - add crumbled bacon in the yolk mixture or as a topping
Seafood Deviled Eggs - top with cooked baby shrimp
Spicy Deviled Eggs - top with a slice of jalapeno or mix in chopped to the yolk mixture
Pimento Deviled Eggs - mix in drained pimentos from the jar
Buffalo Deviled Eggs - stir in Frank's Red Hot sauce with the yolk mixture and top with blue cheese
Ranch Deviled Eggs - stir in ranch dressing powder mix with the yolk mixture
Fusion Deviled Eggs - sprinkle with furikake for a Japanese twist (like my Furikake Snack Mix recipe)
Keto Avocado Deviled Eggs - stir in smashed avocado with the yolk mixture
Deviled Ham & Eggs - stir in deviled ham with the yolk mixture (I would eat this for breakfast!)
Protein-Packed Deviled Eggs - stir in silken tofu with the yolk mixture
Truffle Deviled Eggs - stir in a few drops of truffle oil with the yolk mixture
So much MORE.... the sky is the limit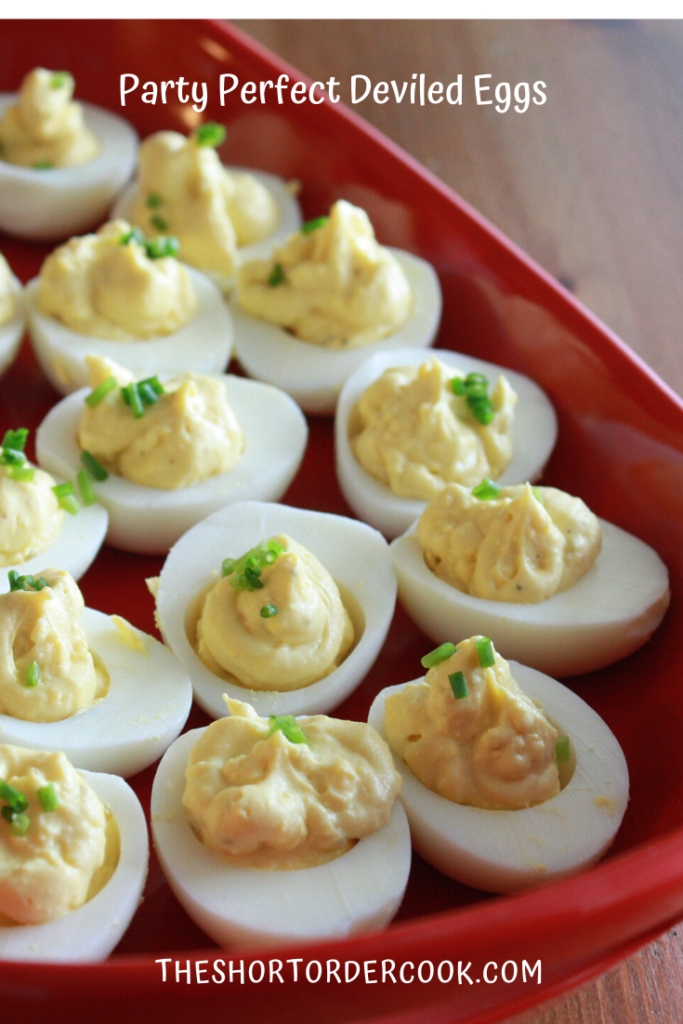 Are Deviled Eggs Low-Carb or Keto-Friendly?
With only 1 net carb per deviled egg half, this recipe is very low-carb and also great for a keto diet. Deviled eggs are also great for a high-protein diet with almost 3g of protein per half. They are also gluten-free, grain-free, and diabetic-friendly. So gobble a few of these tasty deviled eggs and stay on your diet with no problem. Â
How to Store Deviled Eggs?
Once deviled eggs are made they need to be stored in the refrigerator. They are highly perishable so deviled eggs do not last long once made and then stored. They should not be left at room temperature for longer than an hour or two due to the mayonnaise. They can be made ahead of time but I do not suggest having them stored in the refrigerator longer than 3 days.
PIN FOR SAFEKEEPING & SHARING!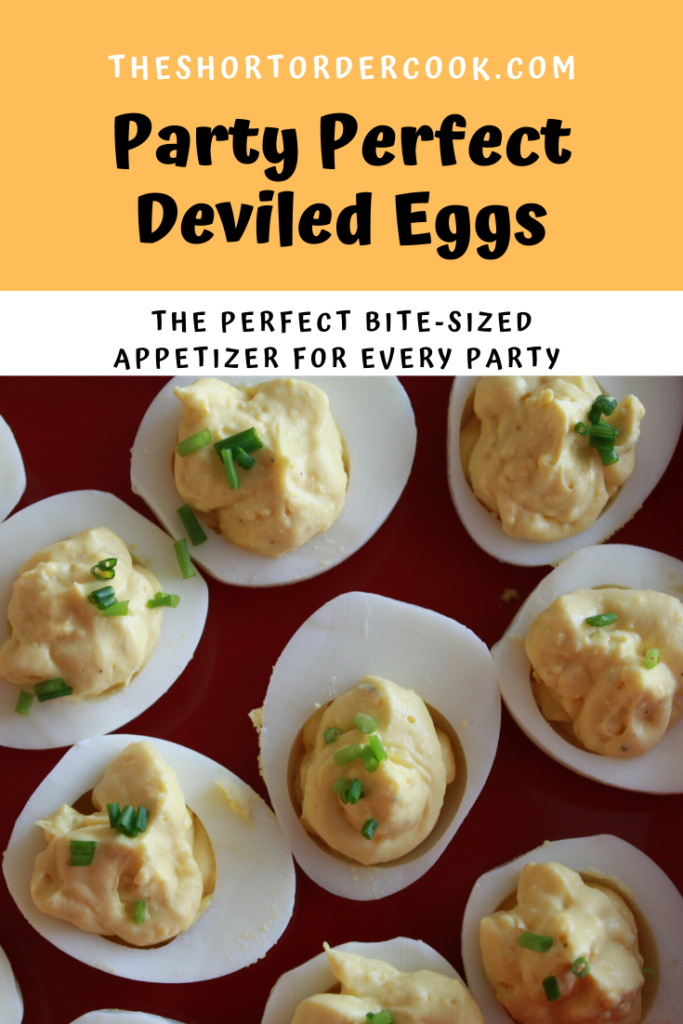 Party Perfect Deviled Eggs PIN[/caption]
Product Recommendations for this Recipe:
The Short Order Cook is a participant in the Amazon Services LLC Associates Program. As an Amazon Associate, I earn from qualifying purchases. If you click on a link and make a purchase, I may earn a small commission on the sale at no additional cost to you. This helps with the costs of running the blog. Thank you!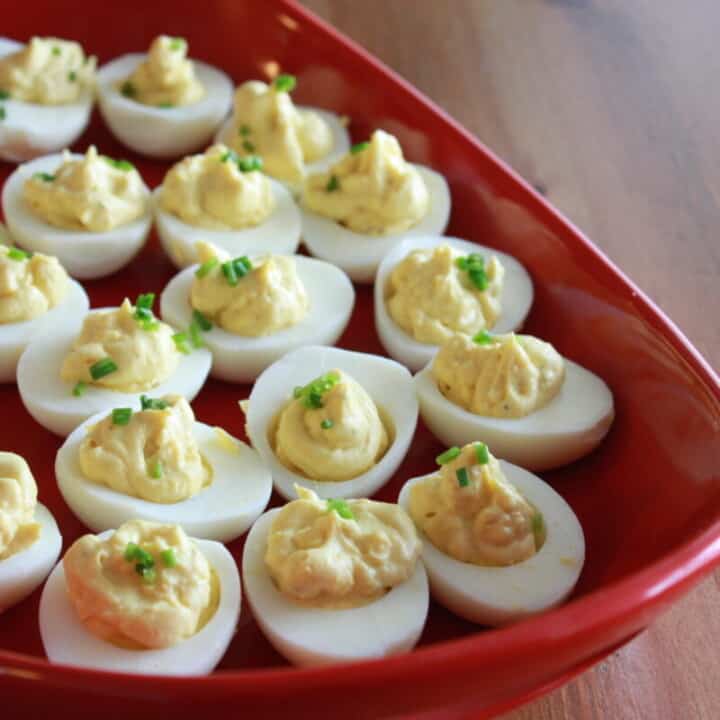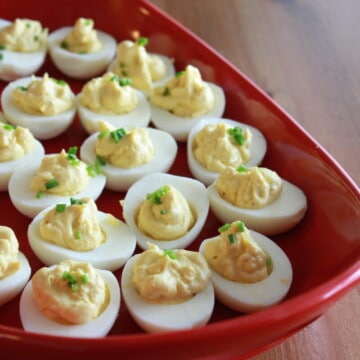 Dill PIckle Deviled Eggs
Creamy and tangy deviled eggs are party-perfect food and a crowd-pleasing appetizer. This easy recipe is keto, low-carb, gluten-free, and diabetic too. Great for cookouts, BBQs, game day, Super Bowl, & buffets.
Ingredients
12

eggs

½

Cup

mayonnaise

3

teaspoon

yellow mustard

1

tablespoon

dill pickle juice

smoked paprika, salt, & pepper

to taste

2

tablespoons

chopped dill pickles

optional

fresh parsley

optional
Instructions
Place eggs in a pot covered with water. Turn heat to high to bring water to a boil.

Hard boil 12 eggs in a rolling boil for 3 min. Turn off the heat and cover the pot with a lid. Let sit for 10 min before draining hot water to let eggs cool.

Once eggs are cooled, peel and slice each egg lengthwise to expose the yolk.

Scoop yolks out of the eggs and place in a medium-sized bowl.

Add mayo, mustard, dill pickle juice, paprika, salt and pepper. Mash and mix together until smooth and there are no egg yolk lumps.

Scoop yolk mixture into Ziploc bag and seal. Cut the bottom tip off the bag leaving a small opening.

Squeeze bag and yolk mixture to the bottom corner as you fill the hollowed-out egg whites.

Top each with a garnish of your choice.
Notes
Each Deviled Egg half equals - 
Nutrition Facts
Servings: 24
Amount per serving
 
Calories
51
% Daily Value*
Total Fat 3.9g
5%
Saturated Fat 0.9g
5%
Cholesterol 83mg
28%
Sodium 73mg
3%
Total Carbohydrate 1.4g
0%
Dietary Fiber 0g
0%
Total Sugars 0.5g
 
Protein 2.8g
 
Vitamin D 8mcg
39%
Calcium 13mg
1%
Iron 0mg
2%
Potassium 31mg
1%
*The % Daily Value (DV) tells you how much a nutrient in a food serving contributes to a daily diet. 2,000 calorie a day is used for general information.
Did you make this The Short Order Cook Recipe?
Tag @theshortordercookblog (Instagram & Facebook) or @shortorder_cook (Twitter).
I would love to see your latest creations and kitchen adventures.