Homemade pickles are so easy to make when you reuse pickle juice for this recipe. In 24 hours quick refrigerator pickles are crisp and ready.  There really is no easier recipe or economical way to make no-cook refrigerator pickles from fresh cucumbers than this half-scratch recipe.  You should never throw out pickle juice or brine and this is just one reason why.
I will keep this as simple as this recipe is.  You only need two ingredients to make the best icebox pickles by reusing pickle juice.  All you need are cucumbers and leftover store-bought pickle juice. Any brand works such as Vlasic of Claussen.  You can also use any whether it is spicy, bread and butter, dill, or sweet.  Whatever you like, save that pickle juice to reuse and make a small batch of quick refrigerator pickles. Dill is our personal favorite.
#ad this post contains affiliate links where a commission may be earned
Why This Recipe is Amazing!
I was inspired to make this recipe after collecting several jars of pickle juice in my refrigerator. I never throw it out. Leftover pickle juice is great for sipping, marinating chicken, adding to cocktails, and more. So I always save it.
One day the kids wanted pickles and they were convinced we had some. I mean we have all these jars, right? Not one had a single pickle in them.  I was planning to go to Costco the next day so thought, I should add cucumbers to the list and see what happens.  I am sure glad I tried this easy way to make pickles from pickle brine.
How to Reuse Pickle Juice
What to do to reuse pickle juice/pickle brine? There is so much to do with it, including the best way to reuse pickle juice is in this recipe to make more pickles.  But there are other uses for pickle juice so make sure you save it.  One of my favorite ways besides adding it to bloody marys or as my secret (not so secret) ingredient in my amazing PARTY PERFECT DEVILED EGGS.   
Uses for Pickle Juice
You also need to save your pickle juice to use as a brine for chicken, use in marinades, for pickling hard-boiled eggs, or add to your favorite dressing for macaroni or potato salad.  It is also great to freeze pickle juice for popsicles or use in a martini cocktail or shot recipe.  Anytime you want a briny, salty, or fermented flavor, add pickle juice.
Ingredients for Refrigerator Pickles
There are only two things needed for this easy recipe.  The hardest part about this recipe is making sure you use cucumbers that are fresh and crisp.  Small cocktail-sized cucumbers are what I recommend for this process.  They are the right size for the jar and once sliced down the middle, soak up that brine for a quick pickle.
Make sure you are using leftover pickle juice that is still fresh and clear. Do not use any that have been contaminated by other ingredients or juices.  This works for either sweet, sour, dill, or bread & butter pickle brine.
Cocktail Cucumbers
Leftover Pickle Juice
When cucumbers are in season, we make a lot of these pickles. Whether we grow our own cucumbers or I order them in my bi-weekly Farm Fresh to You box, this homemade pickle recipe is a summer must.  
How to Make Homemade Pickles
It is as simple as these 3 steps to make this fresh pickle recipe. This is a simple basic 24-hour pickle recipe, not exactly artisan or fancy but still really delicious. There is no easier way to make homemade pickles. When you reuse leftover pickle juice to make new pickles, this money-saving kitchen hack will make you smile.
Wash and slice your cucumbers
Put cucumbers in the leftover pickle juice (store-bought pickles) and close
Refrigerate for 24-48 hours
How Long are Homemade Pickles Good For?
Once a jar of pickles is opened, you have to refrigerate them. They will last from 1 -2 years in the refrigerator after being opened.   The shelf life for unopened pickles is the same.  Either way, they will last up to 1-2 years even after the expiration date.
Does Pickle Juice Go Bad?
Same as with the jar of opened pickles, the juice as well will last from 1-2 years in the refrigerator. So you can keep pickle juice for a long time to reuse later to make homemade pickles.
How to Store Homemade Pickles
These pickles store very well in the refrigerator. Since they are refrigerator pickles made in an opened jar using leftover juice, they could not be easier to keep.  Make sure the lid is screwed on tight.  Store in the refrigerator for up to a month.   They do not last as long as the first batch in a store-bought jar but they still have a good refrigerator life.
I do recommend eating these pickles within a week.  The longer the cocktail cucumbers sit in the pickle brine, the softer they will get. They may be soggy or mushy after 2 weeks. So depending on if you like a crisp or soft pickled cucumber, you may want to enjoy these immediatley or let them set for a week or two.
What to Serve with Homemade Pickles?
There are many ways to enjoy this recipe.  They are great as a snack or side dish with so many foods.  Here are some ideas on what to eat with this quick pickle recipe. Enjoy your homemade pickles and pickled vegetables as a side dish with the following:
Burgers or hot dogs
On or alongside a sandwich
Bread and fry as an appetizer
Dice up and add to salads
Ham rolls with pickles
Classic Homemade Philly Cheesesteak Sandwich
Tender beef and melty cheese are delicious in this iconic sandwich, easy enough to make at home.
Check out this recipe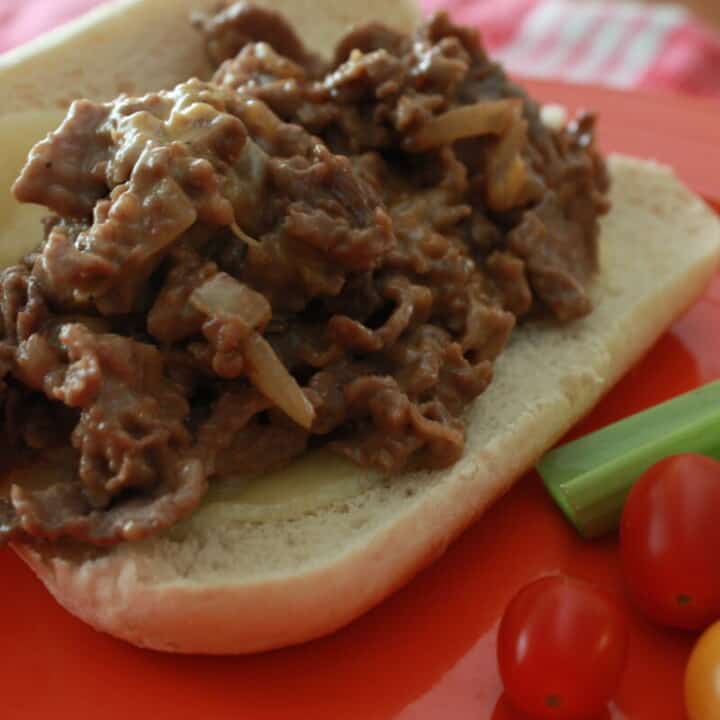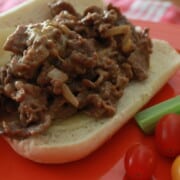 GRAIN/GLUTEN-FREE FRIED CHICKEN NUGGETS (Keto & Low-Carb)
Chicken nuggets have never been more easy or delicious to make homemade thanks to this quick grain-free coating. Keto, low-carb, & gluten-free too! 
Check out this recipe
AIR FRYER FROZEN POPCORN CHICKEN
Crispy air fryer popcorn chicken is so easy to make using your favorite store-bought frozen popcorn chicken.  It is a family favorite whether it is for an appetizer, snack, football food, lunch, or dinner. 
Check out this recipe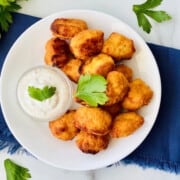 Smoked Beef Short Ribs
The best way to make short ribs in my mind is in the smoker.  The low and slow method of smoking meat breaks down the meat and renders the fat for the most delicate fall-off-the-bone short ribs you will have ever had. 
Check out this recipe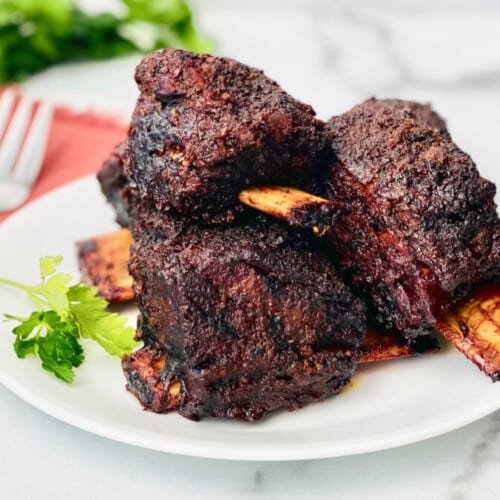 Health Benefits of Pickles
As with other fermented foods, they offer health benefits.   There are known gut health benefits from enjoying pickles. They help digestion thanks to good bacteria known as probiotics.
To learn more about the health benefits of pickles, you can also check out WHAT PICKLES CAN DO FOR YOUR HEALTH.  Pickles are gluten-free and low carbs and are some of the main reasons why I love snacking on them. This pickle recipe is also great for anyone on a keto, low calorie, diabetic, Whole30, Paleo, vegetarian, vegan, or grain-free diet.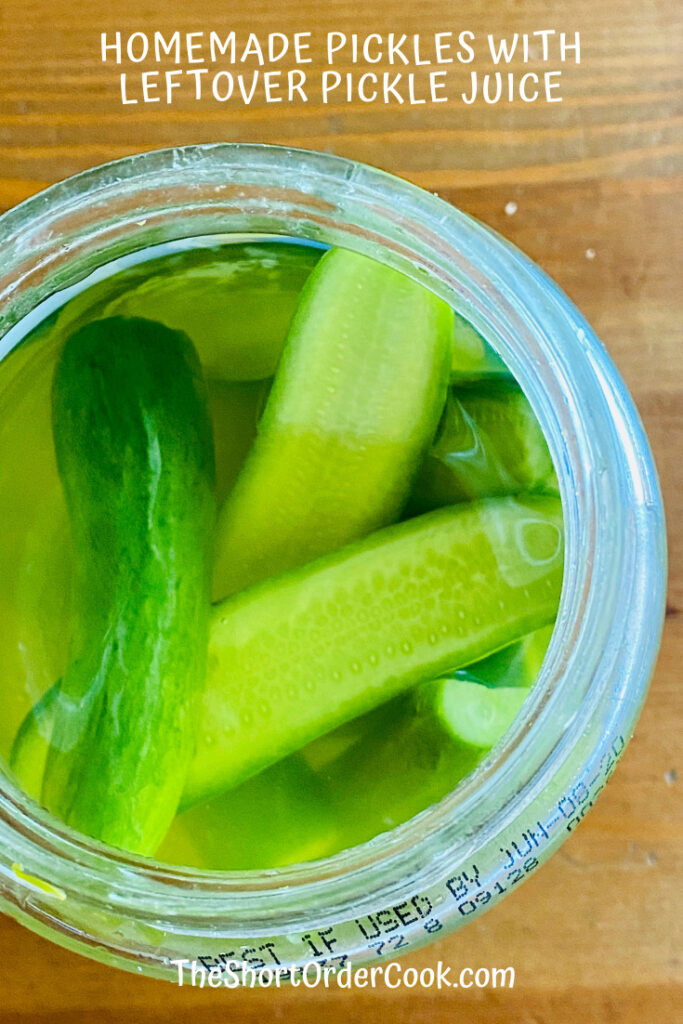 PIN FOR SAFEKEEPING & SHARING!
Product Recommendations for this Recipe:
The Short Order Cook is a participant in the Amazon Services LLC Associates Program.  As an Amazon Associate, I earn from qualifying purchases.  If you click on a link and make a purchase, I may earn a small commission on the sale at no additional cost to you. This helps with the costs of running the blog. Thank you!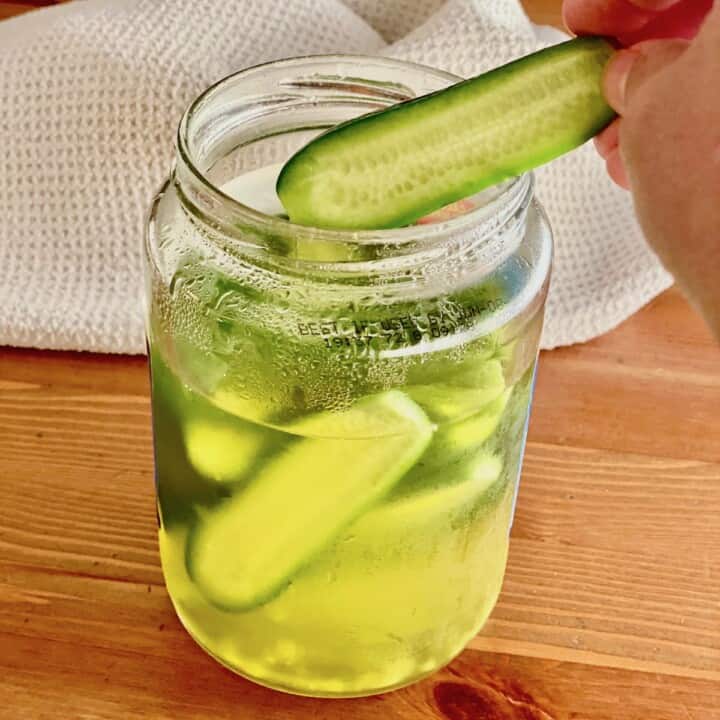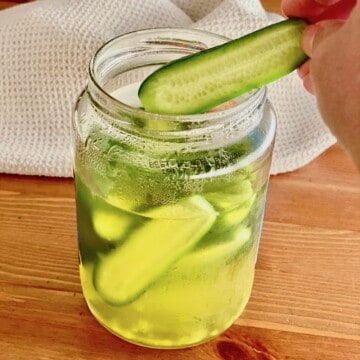 Homemade Pickles with Leftover Pickle Juice
Homemade pickles are so easy to make when you reuse pickle juice for this recipe. In 24 hours quick refrigerator pickles are crisp and ready.  
Ingredients
1

jar

leftover pickle juice

8

cocktail cucumbers
Instructions
Wash and slice your cucumbers to the desired shape or size. For this recipe, I cut them lengthwise to make pickle spears. You can also slice them or leave them whole.

Add the cucumbers to the leftover juice from store-bought pickles and close lid.

Refrigerate at least 24 hours.

Pickles can be stored in the refrigerator for 1-2 years. Enjoy the pickles and you can even make up to 4 batches of homemade pickles using the same jarred leftover pickle juice.