This recipe for Purple Passion is a copycat of the classic bottle cocktail. Purple Passion was a grape-flavored Everclear-based ready-to-drink drink from the 80s.  It was very fruity, a little bit sweet, and had a high alcohol content.  The gorgeous color and yummy flavor had a cult following and now you can make it at home.
I believe due to the high alcohol content of Everclear, 26 proof, it didn't have a long history on our shelves and was no longer made.  I am not exactly sure when it stopped being produced but it did come back for a guest appearance in stores around 2014 for a short period of time with a different recipe mostly of wine versus Everclear.
Jump to:
What is Purple Passion Drink?
This is a nostalgic copycat recipe of the ready-to-drink bottled cocktail that was popular in the 80s and 90s. It was made of Everclear, 190-proof grain alcohol. It is a pretty cocktail like my candy corn martini.
It has a deep purple color with a fruity taste. It packs quite a punch that is balanced with sweet & tart flavors. It was a favorite for myself and some friends long ago and I wanted to recreate the taste of long ago so I came up with this easy recipe.
Surprise Cocktail for Reunion Weekend
One of my best friends, Caroline, enjoyed Purple Passion back in the day and I really wanted to recreate this for an upcoming reunion weekend. Reunion weekend was just a few weeks ago and Caroline was surprised to see what I had planned for her.  To this day her favorite color is purple, coincidence? Maybe?  I pulled out the ingredients and she was able to guess right away what was about to happen. 
I was happy to see that she loved it and a lot of laughs and reminiscing went down that fun reunion night.  Including that infamous note left all those years ago banning this very drink. Thankfully I have no white carpeting in my house so we drank wherever we wanted!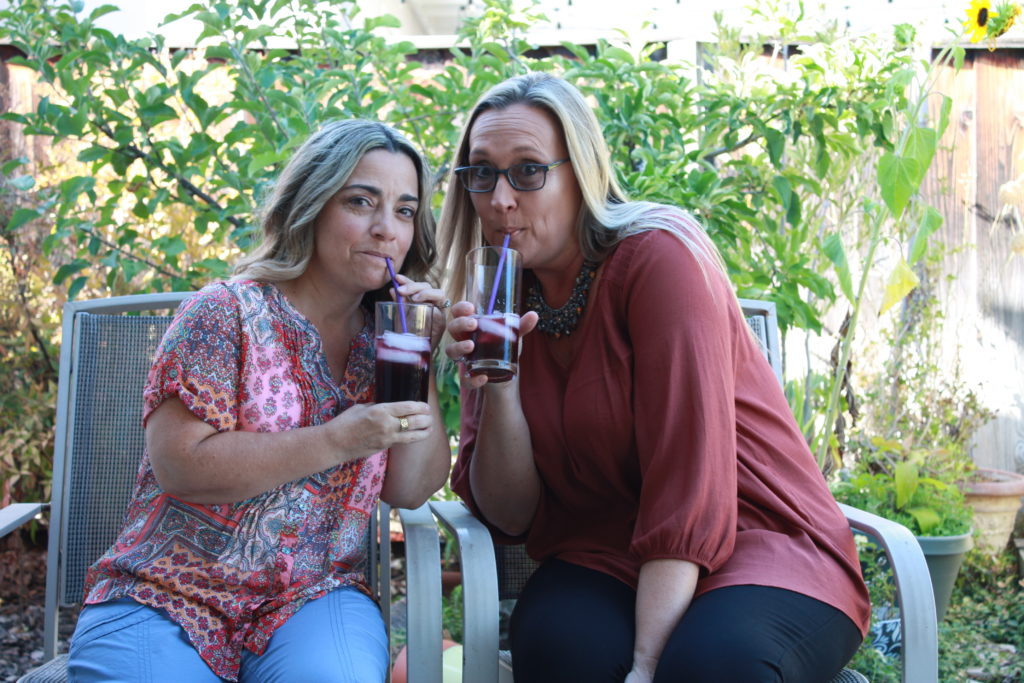 Purple Passion Ingredients
There are several ingredients to make the purple color and yummy taste that makes Purple passion so fun. To make a Purple Passion drink you need the following:
Vodka
Grape Juice
Grapefruit Juice
Grape Kool-Aid
Simple Syrup
What Kind of Alcohol is in Purple Passion?
The bottled Purple Passion was made with Everclear. This homemade cocktail at home does not use Everclear, though you could. This recipe uses vodka to make the recipe. It is easier to find and does not have as high an alcohol content.
How to Mix the Perfect Purple Passion
The ingredients for the Purple Passion include two important purple items: concord grape juice and grape-flavored Kool-Aid or Wild Purple Smash Hawaiian Punch.  The Hawaiian Punch single packets that are added to bottled water are convenient when only making 2-4 cocktails. 
Mix the packet with bottled water and shake to mix up the Kool-Aid.  No sugar is needed when using the single-serving packet. Now if this was a block party, make a pitcher of Kool-Aid and get your party on!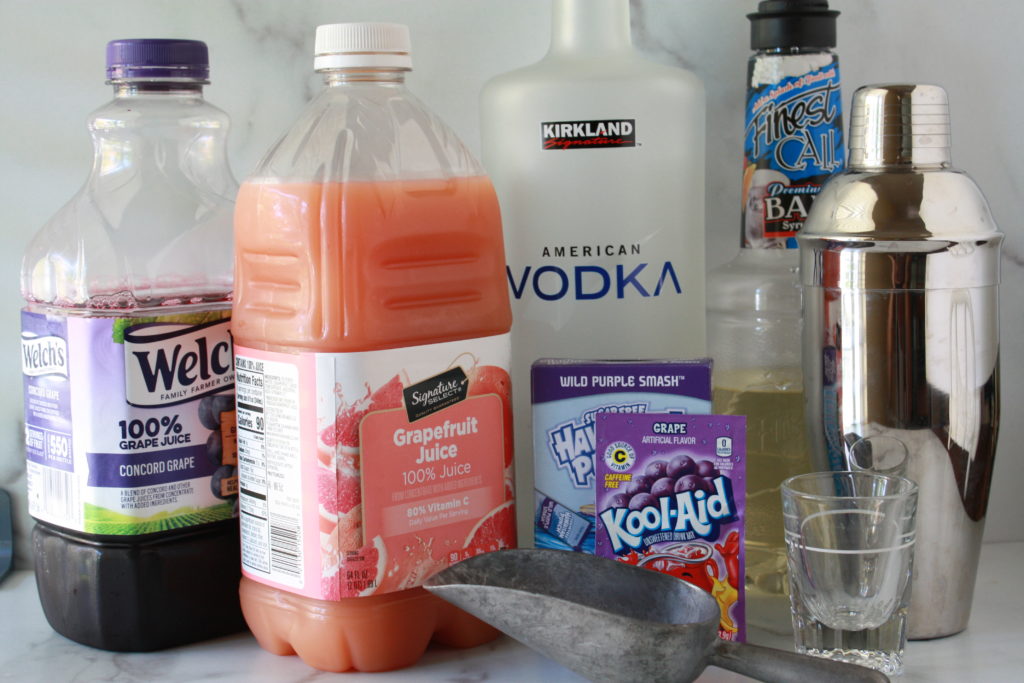 Measure out the vodka, juices, and simple syrup. Combine all ingredients over ice in a martini shaker. Shake for about 15 seconds and pour into two prepared high balls or collins glasses filled with ice.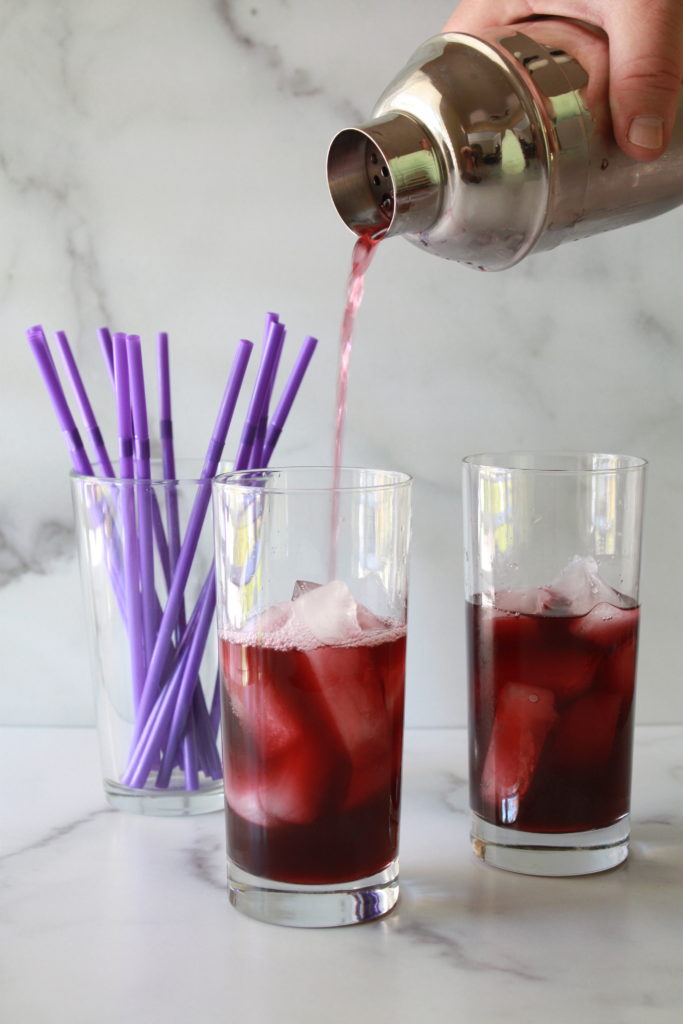 FAQ
Who made Purple Passion?
The company that bottled Purple Passion drinks was Luxco. The ready-to-drink cocktail was made with grain-alcohol, Everclear.
Can you still buy a Purple Passion drink?
There are some retailers or mail-delivery liquor stores that sell a variety of Purple Passion Everclear.
PIN FOR SAFEKEEPING & SHARING!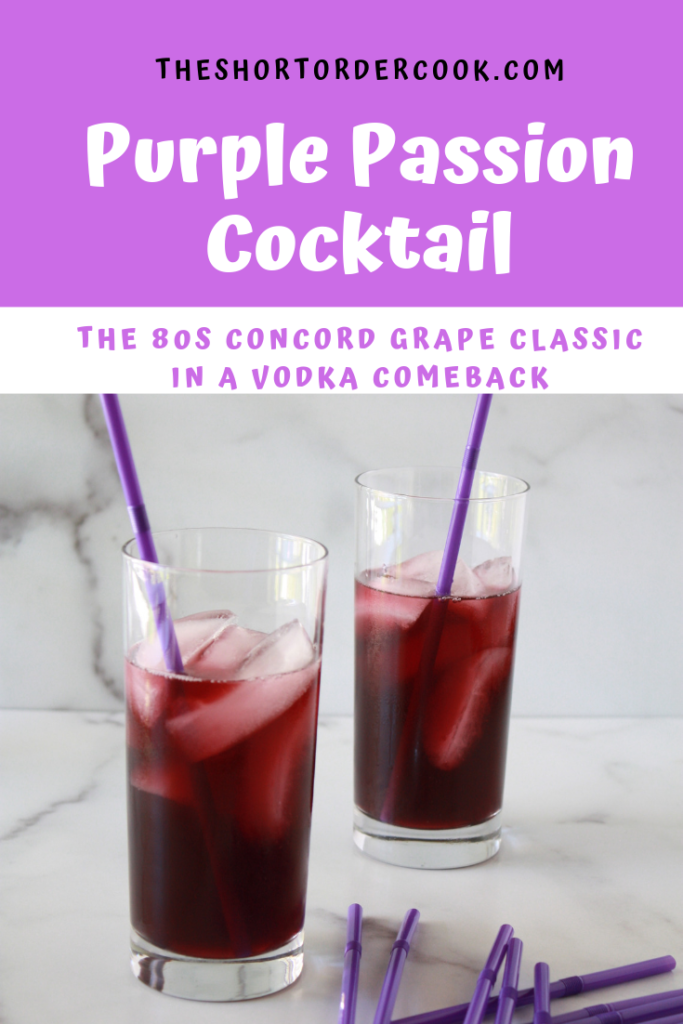 Product Recommendations for this Recipe:
The Short Order Cook is a participant in the Amazon Services LLC Associates Program. As an Amazon Associate, I earn from qualifying purchases. If you click on a link and make a purchase, I may earn a small commission on the sale at no additional cost to you. This helps with the costs of running the blog. Thank you!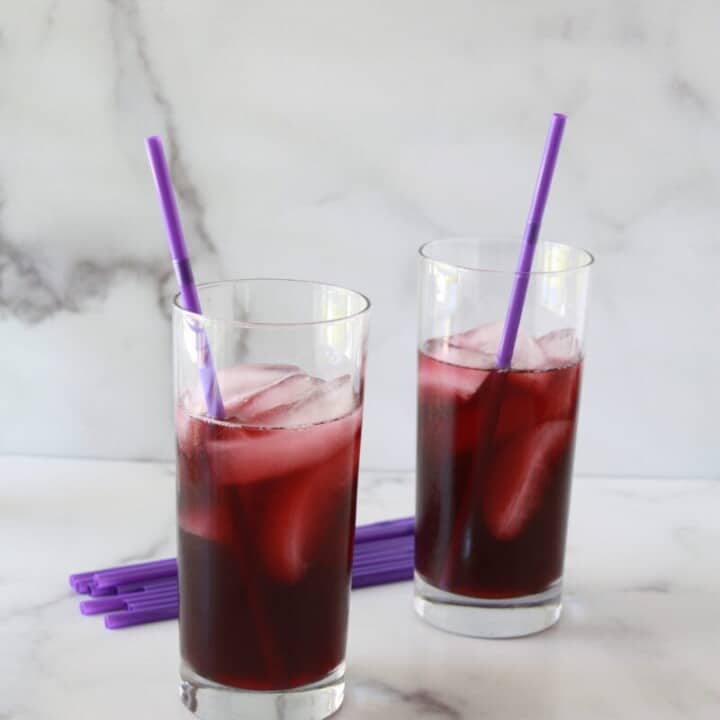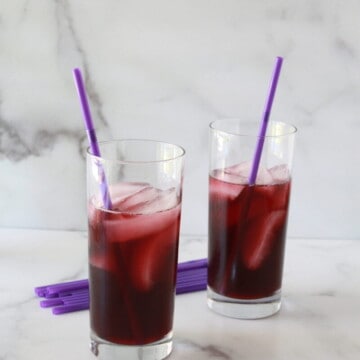 Purple Passion Cocktail
The 80s classic Purple Passion is back with vodka and all the grape goodness from the past.
Equipment
Martini Shaker

High Ball Glasses

Straws
Ingredients
3

oz

vodka

4

oz

Concord grape juice

4

oz

grape Kool-Aid

mixed, ready-to-drink

½

oz

grapefruit juice

½

oz

simple syrup

ice cubes
Instructions
Mix the Kool-Aid as directed on the packet. I used single-serving packets that do not need added sugar. Simply mix it in a bottle of water and you are ready.

To a martini shaker add about 8 ice cubes and all the ingredients.

Close martini shaker and shake vigorously for about 15 seconds.

Prepare two high ball or collins glasses by filling ¾ of the way with ice.

Remove the top and pour through the strainer into each glass over the ice.

Add a straw and enjoy. CHEERS!
Did you make this The Short Order Cook Recipe?
Tag @theshortordercookblog (Instagram & Facebook) or @shortorder_cook (Twitter).
I would love to see your latest creations and kitchen adventures.