This slow cooker apple sauce is so easy and delicious. Fresh apples make a healthy homemade recipe. Make it chunky, smooth, sweet, or tart. By stewing fresh apples slowly for hours along with a few simple ingredients, the best homemade apple sauce recipe comes together. Your house will smell amazing and it will be hard to wait to enjoy this Fall favorite. It is not just good for you, but it really is comfort food that all ages love.
This recipe will help you figure out what apples are best to use when making homemade apple sauce. I will also write about what liquid to use and how much sugar to use if you want a sweetened apple sauce recipe. This homemade unsweetened applesauce recipe is also perfect for those that want a nutritious and healthy option. There are also ideas on how to make spiced apple sauce. Finally, I will recommend what to enjoy this apple sauce with and how you can bake with it.
For this recipe, you can add a lot of sugar, low sugar, or no sugar at all. This applesauce is great either sweetened or unsweetened. It is also wonderful as is but for a changeup, you can also make spiced apple sauce with this base recipe. When adding the sugar in the final hour of cooking, you can also add ½ teaspoon of each or any combination of allspice, cinnamon, and/or cloves. See adjustments in the recipe card.
Variations and Ideas to this Traditional Apple Sauce Recipe
You can more flavor to your applesauce with other ingredients or by using a variety of apples. For homemade apple sauce, there is a variety of apple choices that work. Depending on your taste, here are some wonderful suggestions. Use one or a combination of apples to make your ideal apple sauce. A great reason to make your own homemade apple sauce is so you can get the right balance of sweet and tart that your family likes best. For this recipe, I used ½ Fuji & ½ Granny Smith.
FOR A SWEETER APPLE SAUCE, use Golden Delicious, Fuji, or Gala
SWEET BUT A BIT TART - McIntosh, Pink Lady, or Honeycrisp
FOR A CRISP OR MORE TART APPLE SAUCE - Honeycrisp, Granny Smith, or Braeburn
Remember you can also adjust how much sugar you add later too. It is all about your personal preference for a sweeter or more tart apple sauce result.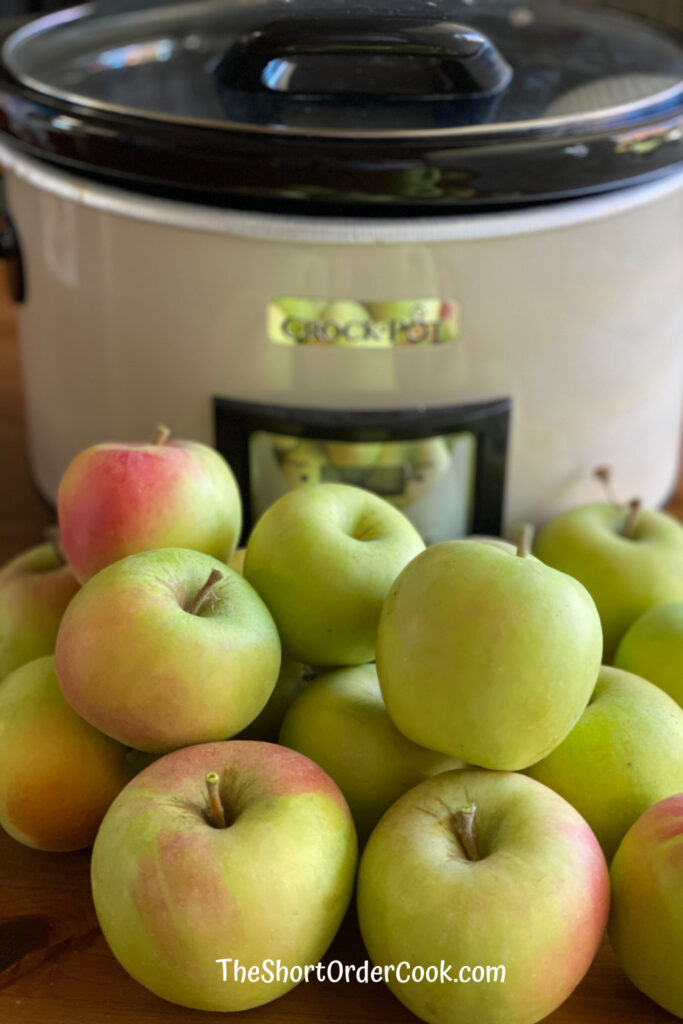 Why Add Lemon Juice when Making Apple Sauce?
A squeeze of lemon juice helps to slow down oxidation. It will help retain the color as much as possible as the apples slow cook in the CrockPot.
What Liquid to Use when Making Apple Sauce?
Traditionally water is used to make old-fashioned homemade apple sauce. When making apple sauce when fresh apples are in season, the apples will have so much natural flavor that a little bit of water is all you need. We grow our own apples so I have always used only a bit of water in my slow cooker for this apple sauce recipe. However, if you want even more apple flavor, you can replace it with apple cider or unsweetened apple juice.
How to Make Homemade Slow Cooker Apple Sauce
Peel, core, and dice the apples. The apples should be in large chunks as shown below. Once they are added to the insert of your CrockPot slow cooker, add the water and a squeeze of lemon.
How Long to Slow Cook Apples to Make Apple Sauce?
You can overcook apples so be careful to watch the time. They will lose their flavor so you do not want to leave it to cook longer or stay in the warm setting of your CrockPot for too long. If you cut the apples to the size, as shown above, set your slow cooker for 3 hours on HIGH.
Once the 3 hours are up, the apple sauce should look like chunky applesauce as seen below. At this point, stir in the sugar. You can add optional spices at this time as well as outlined above. As you do this the apples will break down even more. If you want no-sugar applesauce just skip this step and continue cooking for one more hour.
Set the slow cooker for one more final hour and let it cook again on HIGH. Once that fourth and final hour is over it will be ready. The apples will be completely cooked, sweetened up even more, and smoother as seen below. If you want it even more smooth you can use an immersion blender in the apple sauce. If you are making apple sauce for a baby or toddler, oftentimes making it even more smooth with the immersion blender is exactly how they like homemade apple sauce. When the twins were babies, that was the final step and how I would make this recipe. This applesauce recipe for kids and adults is just perfect.
How to Enjoy Homemade Apple Sauce
This slow cooker recipe makes the tastiest apple sauce that is so wonderful to eat as is. It is simple, sweet, tart, smooth, or chunky just as made. However, if you like to bake or cook with apple sauce, this is a great recipe to use to make other recipes even more amazing. Substituting store-bought applesauce for this homemade apple sauce will make anything more delicious.
Use this recipe along with pork chops, pork roast, or when making apple sauce muffins, bread, or cookies. For the most part, we love to eat this plain as a snack or dessert. Sometimes we love it as a side dish along with fried pork chops or homemade chicken nuggets. My kids love to dip fried pork chop bites or my GRAIN-FREE FRIED CHICKEN NUGGETS into apple sauce.
Apple Sauce as a Replacement for Eggs or Oil When Baking
Apple sauce is a great replacement for oil in baked goods and I have done that even in banana bread with this recipe and it was moist and fantastic. When replacing oil in a recipe with apple sauce, use equal amounts so if a recipe calls for ¼c oil, use ¼ c of apple sauce. It can also be used in vegan baking. You can use apple sauce in place of eggs when vegan baking when making the following substitution - Use ¼ cup of unsweetened apple sauce to replace one egg.
Store Homemade Apple Sauce
This recipe can be made ahead of time and stores very well. Spoon apple sauce into an air-tight container and store in the refrigerator. Homemade apple sauce can store from 7 - 10 days in your refrigerator.
Can you freeze apple sauce? Yes - freezing applesauce is ok. It can be stored in the freezer for up to a year if stored properly. The best way to store it is in Ziplock bags that are filled and then all the air is let out before sealing shut. The water and juices may separate as it chills and sits, simply stir to combine again before serving. Enjoy!
PIN FOR SAFEKEEPING & SHARING!
Product Recommendations for this Recipe:
The Short Order Cook is a participant in the Amazon Services LLC Associates Program. As an Amazon Associate, I earn from qualifying purchases. If you click on a link and make a purchase, I may earn a small commission on the sale at no additional cost to you. This helps with the costs of running the blog. Thank you!
Slow Cooker Apple Sauce
This slow cooker apple sauce is so easy and delicious. Fresh apples make a healthy homemade recipe. Make it chunky, smooth, sweet, or tart.  
Ingredients
10

C

apple chunks

peeled & cored (see above for best apple varieties)

⅓

C

water

1

TB

lemon juice
For Sweetened Apple Sauce
⅓

C

sugar

for a sweeter sauce, use ¼ C for a more tart taste (we prefer ¼C sugar for our Fuji & Granny Smith sauce)
For Spice Apple Sauce
½

tsp each

Cinnamon, Clove, and/or Allspice

optional
Instructions
Peel, core, and dice the apples into large-sized chunks.

Add apples to the insert of your CrockPot slow cooker. Next, add the water and lemon juice.

Cook on HIGH for 3 hours in your slow cooker.

Add optional sugar to taste. Also if you want spiced apple sauce, this is the time to add the optional spices. Stir to combine and break the apples down more.

Cook one more hour on HIGH, for a total of 4 hours.

After 4 hours, the apple sauce will be ready. You can cool and enjoy immediately for a slightly chunky apple sauce. For a smoother apple sauce, you can use an immersion blender until it is the consistency you like.

Store in an air-tight container in your refrigerator for 7 - 10 days.
Notes
If made with ⅓ C sugar and no spices - the nutritional information is as follows 
Nutrition Facts
Servings: 8
Amount per serving
 
Calories
38
% Daily Value*
Total Fat 0g
0%
Saturated Fat 0g
0%
Cholesterol 0mg
0%
Sodium 1mg
0%
Total Carbohydrate 10.1g
4%
Dietary Fiber 0.2g
1%
Total Sugars 9.8g
 
Protein 0.1g
This recipe was shared on THE WEEKEND POTLUCK
Did you make this The Short Order Cook Recipe?
Tag @theshortordercookblog (Instagram & Facebook) or @shortorder_cook (Twitter).
I would love to see your latest creations and kitchen adventures.