For something bubbly with a kick, a spicy jalapeno basil Moscow mule will hit the spot. When the weather heats up, this twist on a Moscow mule with a mix of jalapeno, fresh basil, lime juice, ginger beer, and spicy pepper vodka over ice is one of my new favorites.  This mixed drink is spicy, aromatic, and cool all at once.  This jalapeno vodka drink recipe makes a fancy & delicious summer cocktail like my Pina Colada on the Rocks. 
Trust me, it is a perfect cocktail once you try it and if you have had an angry mule you will love this one.  The Absolut Peppar vodka is the best-flavored vodka for a spicy Moscow mule. When it all comes together, it pleases all the senses. At first, you take in the scent of the ginger and the fresh basil.  Then as you sip, the kick from the spicy vodka and jalapenos hits the palate and then everything cools down thanks to the ice.
Why I Created This Moscow Mule Recipe
My neighbor has made a spicy martini for us a few times during some memorable neighborhood happy hours.  It is always soooooo good.  I wanted to attempt a similar version but as a mule.  This spicy cocktail on the rocks make is refreshing even on a really hot day.
I knew this would be mouthwatering but it really turned out better than I had hoped - which may be dangerous! This alcoholic drink is one of the best ginger beer vodka cocktail recipes you can make.
Why This Moscow Mule is Unique & Refreshing
Spicy from jalapenos and pepper vodka
Bright and citrusy from the lime juice
Sweet and aromatic from the fresh basil
Spiced and refreshing all from the ginger beer
Cool from the ice
Ingredients for a Spicy Moscow Mule
You need to start off with fresh ingredients when it comes to limes, jalapenos, and basil. Please do not use bottled lime juice; fresh squeezed is best.  This calls for fresh basil and jalapenos, not jarred pickled jalapenos.
When it comes to the ginger beer of choice, I like to use a diet ginger beer. Having a delicious cocktail and keeping it low-calorie is just a total bonus. For a keto or low-carb Moscow mule, mix this cocktail with diet ginger beer for a less than 5 net carb drink. I found that Bundaberg's is my favorite and it is widely available even in grocery stores so it makes it easy to obtain without a need for a special liquor store run.  You can use other brands such as Fever-Tree if you have that for making cocktails.
Here is what you need for the best Moscow mule recipe:
Absolut Peppar Vodka
Bundaberg's diet or regular Ginger Beer
Jalapeno
Limes
Fresh Basil Leaves
How to Mix a Moscow Mule
In the bottom of copper mugs or tall highball glass, place 2 slices of jalapenos, 2 large basil leaves, and the lime juice.  Muddle (crush) with a muddler or the back of a wooden spoon handle (which is what I have - nothing fancy needed).
The important thing is you want to break up the jalapenos and basil in the liquid to bring out the flavors and essence in the lime juice. I keep the seeds and membranes on my jalapenos - I like it HOT!     (remember don't touch the peppers and then your face or eyes - ouch! - wash your hands!)
Next, fill the mug or glass with ice.  Add the vodka and ½ a bottle of the ginger beer which should fill the glass to the top, and stir. Garnish with jalapeno slices and more basil.
How Many Carbs & Calories in a Moscow Mule
This recipe can be made sugar-free and low-carb for the best spicy Moscow mule cocktail.  I like to use Bundaberg diet ginger beer so that this becomes a keto-friendly drink.  There are only 4.6 carbs & 148 calories in this low-carb mule recipe.  The classic version with regular ginger beer is 25 carbs & 240 calories.  Either way, this is delish.
Variations of a Moscow Mul
Whether a cocktail party, family gathering or barbecue, these spicy jalapeno Moscow mules are a hit.  They can be altered a bit to give you a variety of flavors as well.  If you love this drink you will also enjoy the Best Pomegranate Moscow Mule which is a Christmas favorite.
Here are some quick substitutions to make more yummy Moscow mule recipes.  With different fruit juices and herbs, this recipe has so much to love.
MANGO - add a splash of mango nectar for a spicy jalapeno mango mule
PINEAPPLE - add a splash of pineapple juice
PEACH - add some peach nectar instead of jalapeno, it goes great with basil
MINT - add fresh mint instead of basil
CILANTRO - add cilantro as well for a Mexican twist on a Moscow mule
What to Serve with Spicy Cocktails
These spicy drinks go well with a lot of food.  Enjoy them with some of these Mexican or summer recipes.
Why is a Moscow Mule Served in a Copper Mug?
The quick answer is that copper is known to retain a cold temperature through conduction and the iced beverage's chill transfers to the tankard or copper mug.  They help in keeping your Moscow mule colder and less likely to become diluted or warm quickly.  It is not a must to enjoy this pomegranate cocktail recipe but I highly recommend buying them and sharing my favorite Moscow mule kit for purchase here.
PIN FOR SAFEKEEPING & SHARING!
Product Recommendations for this Recipe:
The Short Order Cook is a participant in the Amazon Services LLC Associates Program.  As an Amazon Associate, I earn from qualifying purchases.  If you click on a link and make a purchase, I may earn a small commission on the sale at no additional cost to you. This helps with the costs of running the blog. Thank you!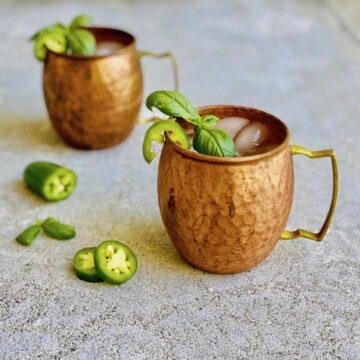 Spicy Jalapeno Basil Moscow Mule
A refreshing and spicy twist on a Moscow Mule that includes jalapenos and basil. A wonderful vodka cocktail that is an easy recipe and a crowd-pleaser.
Ingredients
4

oz

Absolut Peppar Vodka

4

oz

lime juice

1

Bundaberg ginger beer

regular or diet for keto/lowcarb cocktail

4

large basil leaves

1

jalapeno

thinly sliced

ice
Instructions
Place 2 slices of jalapeno, 2 basil leaves, and 2 oz of lime juice into each copper mug or tall glass.

Muddle (crush)using a muddler or the end of a wooden spoon handle. Muddle until the jalapeno and basil are broken into small pieces and the lime juice has taken on the flavors from the ingredients.

Fill each glass ¾ high with ice.

Pour in 2 oz of Absolut Peppar vodka and ½ a ginger beer in each mug or glass. Stir with a long stir stick or spoon.

Garnish with slices of jalapeno and a basil leaf.
Notes
Nutrition info is for when made with regular ginger beer
Nutrition Facts

Servings: 2
Amount per serving
 
Calories
240
% Daily Value*
Total Fat 0.1g
0%
Saturated Fat 0g
0%
Cholesterol 0mg
0%
Sodium 23mg
1%
Total Carbohydrate 25.5g
9%
Dietary Fiber 0.5g
2%
Total Sugars 21.4g
 
Protein 0.4g
 
Vitamin D 0mcg
0%
Calcium 10mg
1%
Iron 0mg
1%
Potassium 85mg
2%
*The % Daily Value (DV) tells you how much a nutrient in a food serving contributes to a daily diet. 2,000 calorie a day is used for general nutrition advice.
FOR A KETO/LOW CARB version with DIET ginger beer & less than 5 net carb 
Nutrition Facts
Servings: 2
Amount per serving
 
Calories
148
% Daily Value*
Total Fat 0.1g
0%
Saturated Fat 0g
0%
Cholesterol 0mg
0%
Sodium 2mg
0%
Total Carbohydrate 5g
2%
Dietary Fiber 0.4g
1%
Total Sugars 1g
 
Protein 0.4g
 
Vitamin D 0mcg
0%
Calcium 17mg
1%
Iron 0mg
1%
Potassium 85mg
2%
 
Did you make this The Short Order Cook Recipe?
Tag @theshortordercookblog (Instagram & Facebook) or @shortorder_cook (Twitter). 
I would love to see your latest creations and kitchen adventures.