St. Patrick's day celebrations here in America need some alcohol.  These pudding shots are not only a festive dessert but so yummy. The addition of Irish cream liqueur to creamy pistachio Jell-O pudding makes this the St. Patrick's Day shot recipe the holiday needs.   This is the best recipe for a treat with alcohol for the Irish celebration.
Adding Bailey's or Carolans to instant pudding is what makes these shots so good. Who knew that pistachio and Irish cream went together so well? Oh my goodness they are so delicious!     Sip these and you too will know the magic!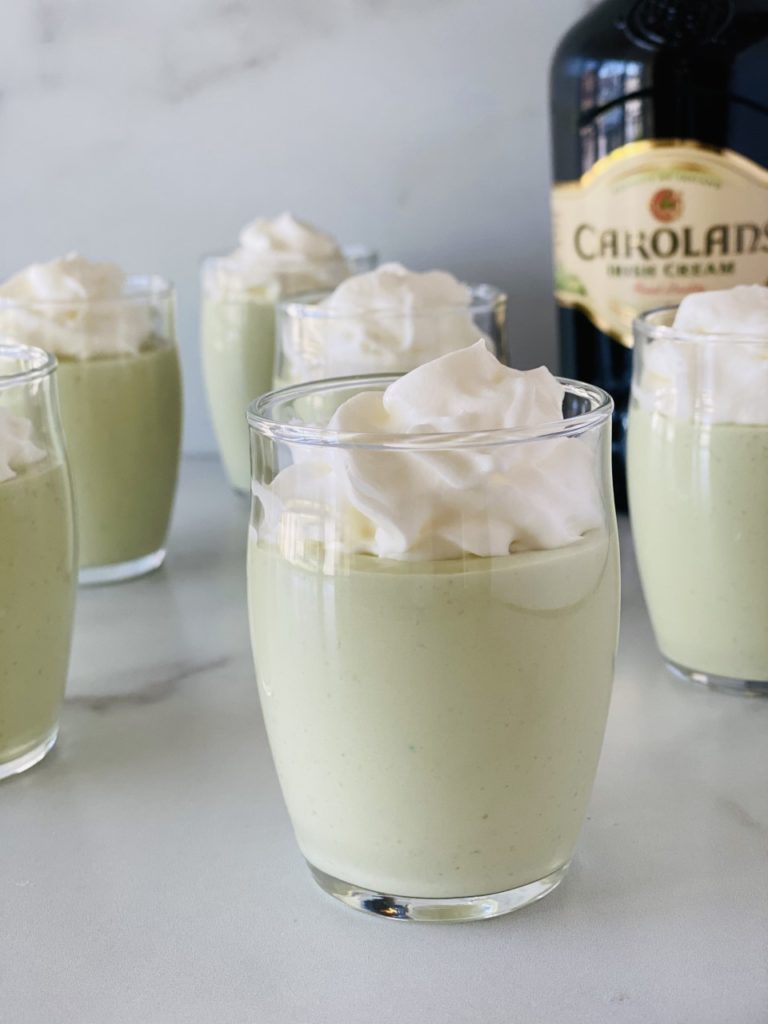 This easy no-bake recipe is a fun green dessert for St. Patrick's Day and other holidays. Pair with some Shamrock Sugar Cookies for a festive green dessert combination. This green drinkable pistachio pudding cocktail is irresistible.
The green pudding makes a festive dessert or cocktail also for Christmas.  If you want the best pudding shots to serve at your next party or holiday, try this easy recipe. 
Jump to:
What is Irish Cream Liqueur?
The two most popular brands in America are Bailey's and Carolans.  Irish cream is a blend of Irish whiskey, cream, hints of vanilla, and chocolate.  So right there, I should have you hooked.   It has an ABV (alcohol by volume)  level of about 15-20% and is popular in many mixed drinks. 
If you have Irish cream in your liqueur cabinet already, these pudding shots will be great to enjoy some in.  Other cocktails that you can use Irish cream in include:
Nutty Irishman
Mudslide
Irish Car Bomb
Cement Mixer
How to Make St. Patrick's Day Pudding Shots
This recipe is super easy and is ideal to make ahead of time. So when the big day comes to celebrate, you can spend more time on other things like prepping the corned beef, drinking a Guinness, or taking a nap before you indulge in all the festivities. Those are just suggestions, I am not speaking from experience or anything.
The key to these is that they are green in color and the pistachio flavor is what makes these unique.  This pudding shot recipe is wonderful for St Patrick's Day, Halloween, and Christmas.  However, if you are not a pistachio fan or do not want these to have the small bits of nuts that the pudding mix does have, you can substitute vanilla pudding into this pudding shot recipe.
It will be also delicious and if you simply want them green too, just add the bit of food coloring as listed below.  You can add really any food coloring and make them for any holiday or themed party that way - the ultimate vanilla pudding shot recipe!
Ingredients for St. Patrick's Day Pudding Shots
a small package of instant pistachio Jell-o pudding (3.4oz)
1 C milk
1 C Irish Cream liquor
1 C Cool Whip
whipped cream

sprinkles - optional tasty fun!
green food coloring - optional for the desired color
You can try regular or sugar-free puddings and Cool Whip. To find out more about ingredients and carb counts, check out COOL WHIP's OFFICIAL SITE.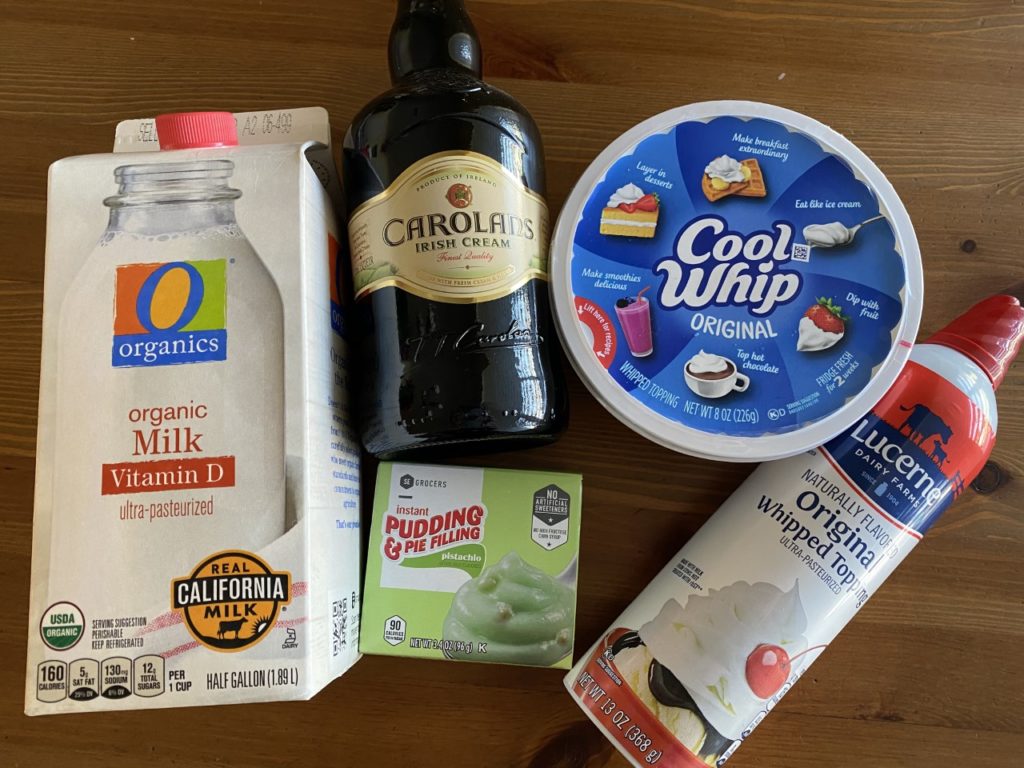 How to Make Pistachio Pudding Shots
Here are the ingredients you need for the pudding shots. Jello pudding is the most popular but any brand of pistachio pudding will work for this fun pudding shot recipe.
Optional is green food coloring. The green will not be as bright as the pudding is alone. Once the liqueur is added it will change a bit. It is up to you if you want it green and festive or if it is all about the taste.
Mix the Pudding
In a mixing bowl with a pourable spout, add the instant pudding mix, the cold milk, and the Irish cream. Mix with a hand mixer on low until it is smooth and combined. The brown color will change the color, it will still be green but subtle. This is where I decided to add some food coloring.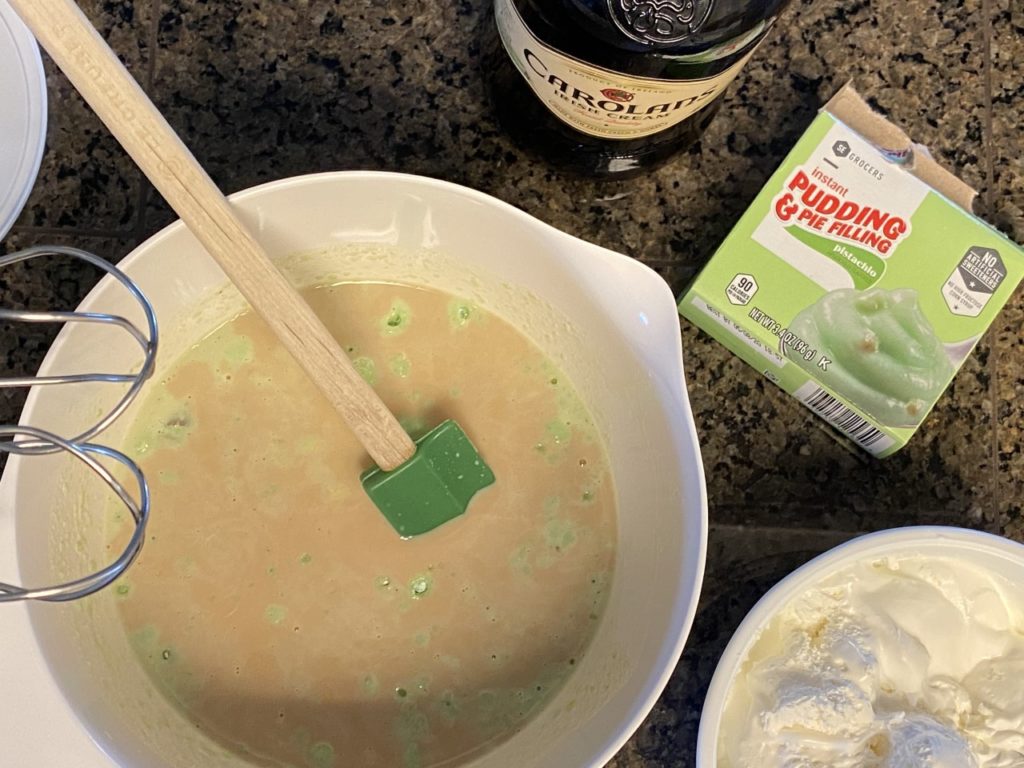 Add Food Coloring
It will turn a bit greener with each drop you add. My results are from 2 drops of green food coloring added.  If I really wanted a more true green for St. Patrick's Day I would have added a few more drops. I wanted this to be green but still light in color like the original pistachio pudding.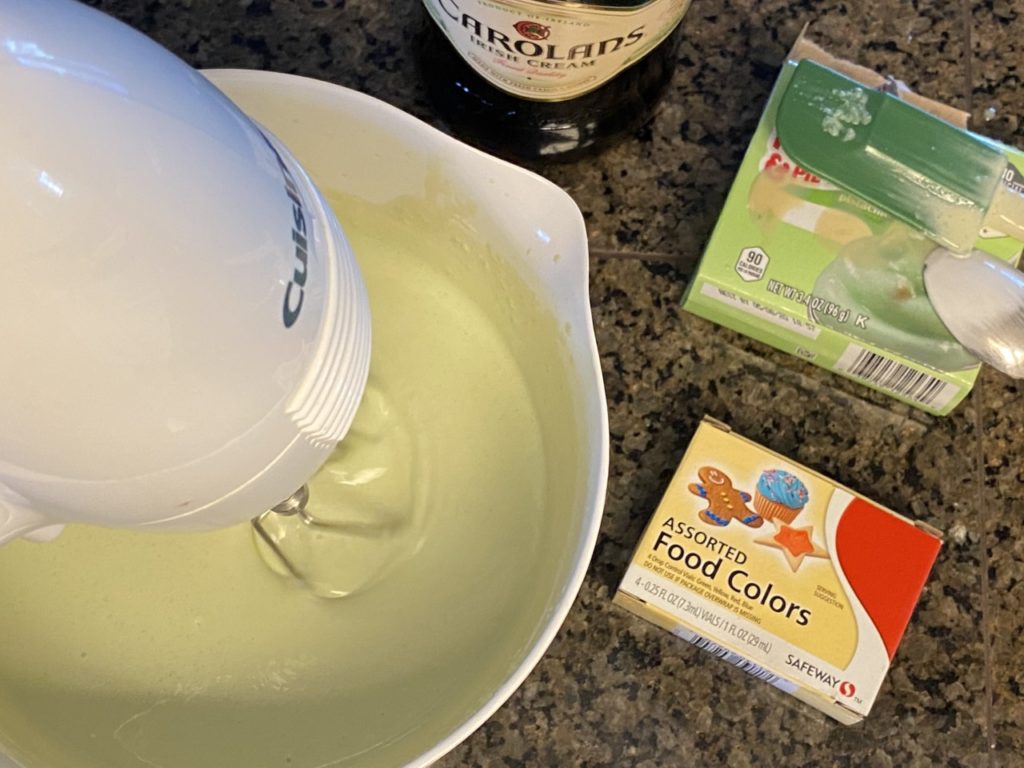 Fold in the Cool Whip
The last step is to fold in the soft Cool Whip. If it does not fold smoothly, you can use the hand mixer for a few seconds on low. You want this to be smooth so it is pourable and it will be drinkable as it sets just a bit.
Chill the Pistachio Pudding
Pour into 12 regular shot glasses or into 6 larger dessert/jelly cups. I like the bigger size so it feels more like a dessert and drink. Once all are poured, place in the refrigerator for at least 30 minutes. They will NOT get the pudding skin that can happen so they can be made ahead of time and still be drinkable.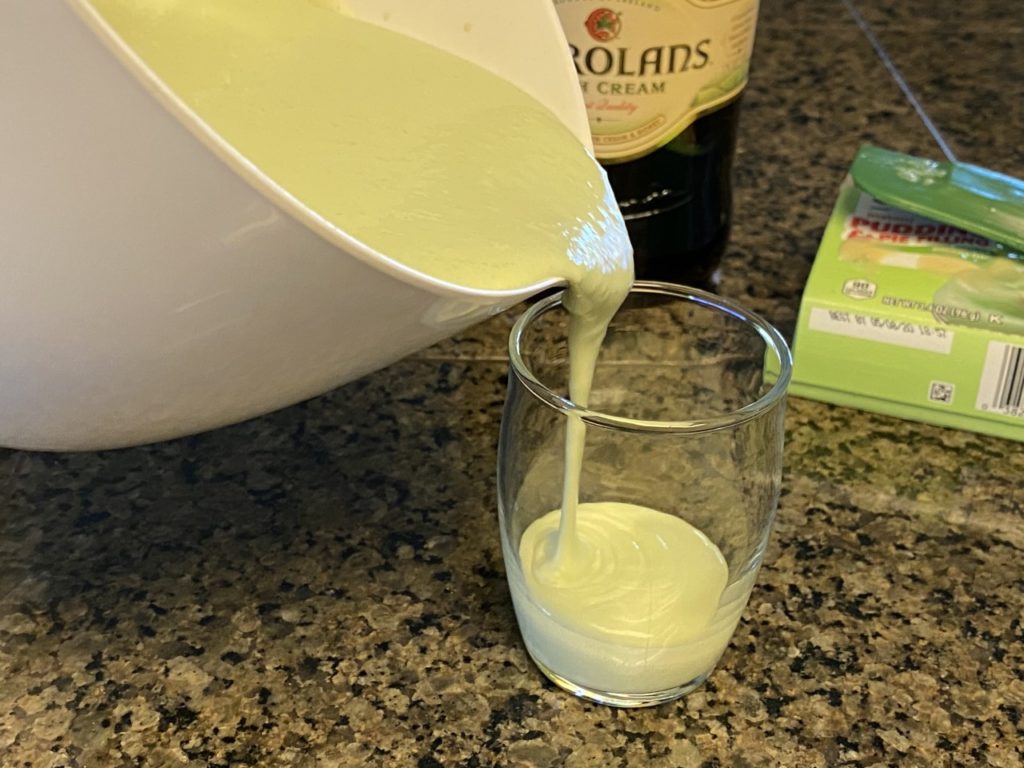 The puddings will be a bit set but if you tilted the cups would be thick but still pourable. Think of a really thick milkshake.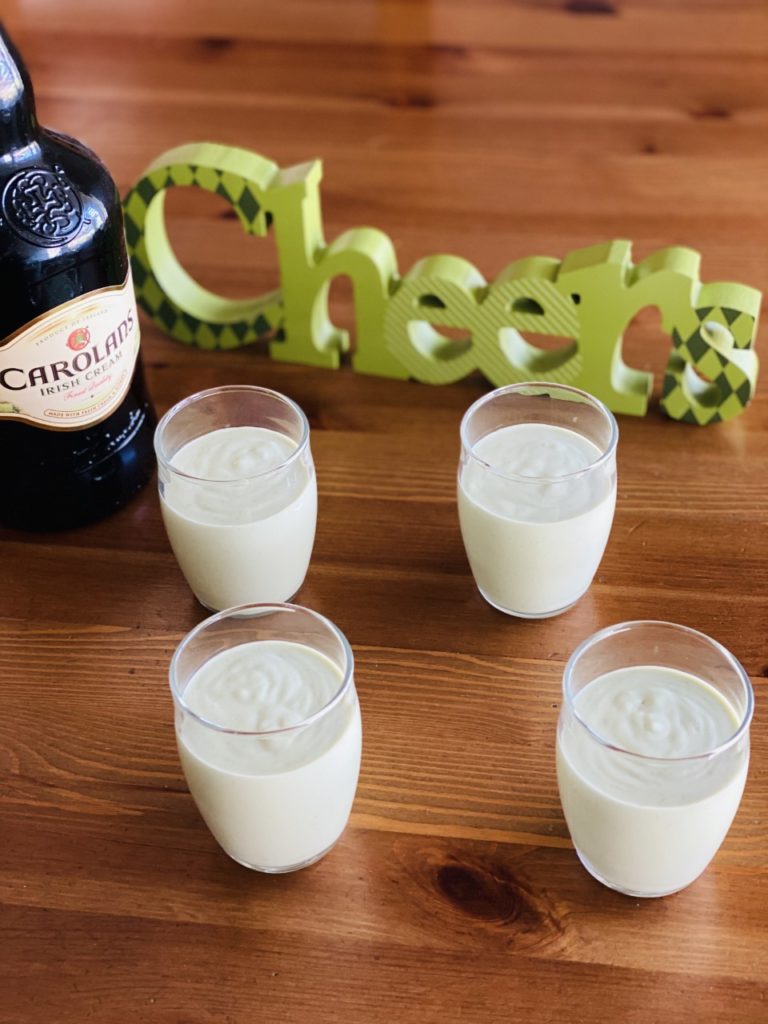 Top Pudding Shots with Whipped Cream
Top with whipped cream and/or sprinkles. My kids eat a lot of sprinkles on ice cream sundaes around here so we were out of them.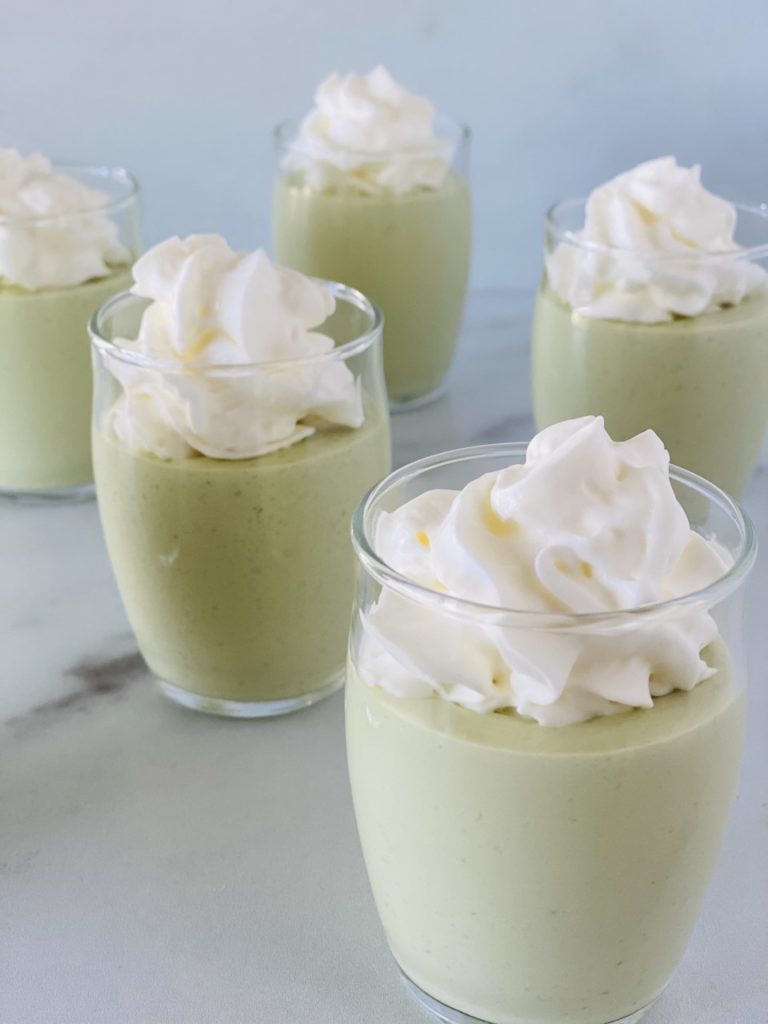 Variations
This simple recipe has only a few ingredients & tasty as written. However, you can make a few changes & try a different variation. Here is what I suggest.
Vodka - instead of Irish Cream make vodka pistachio pudding shots.
Pudding - use sugar-free pistachio pudding if available.
CHEERS - HAPPY ST PATRICK'S DAY!
These would also be great to have as a Christmas Pudding Shot. Maybe add some red sprinkles on top of the whipped cream.
See how quickly these IRISH CREAM PUDDING SHOTS come together.
What to Serve for St Patrick's Day -
These great pistachio pudding shots with Irish cream are the perfect ending to a great St Patty's Day meal. The SLOW COOKER CORNED BEEF is fantastic! Here are more great recipes to enjoy in your celebration:
Slow Cooker Corned Beef
Slow cooker corned beef is an easy way to prepare this St Patrick's Day classic holiday recipe. It is also wonderful to enjoy this any time of year. Simply dump a few ingredients into the CrockPot and soon the best juicy brisket is ready.
Check out this recipe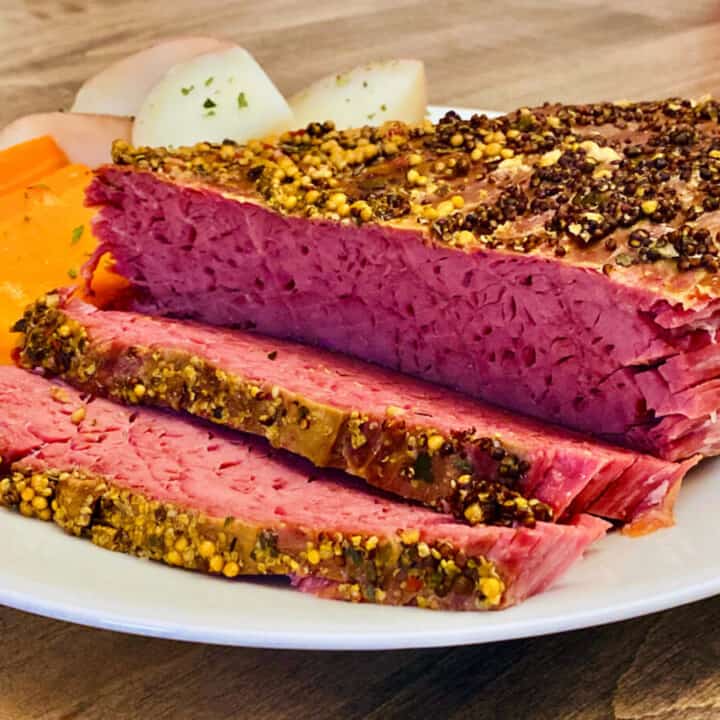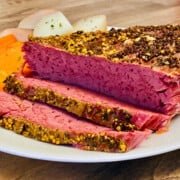 Instant Pot Ranch Salt Potatoes
Tender bite-sized potatoes are tossed with butter and ranch seasoning for a family favorite. These salt-crusted electric pressure cooker potatoes are easy and the best side dish recipe.
Check out this recipe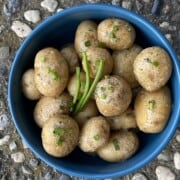 Easy Homemade Soft Dinner Rolls
The best soft homemade dinner rolls baked using yeast are easy to make. These rolls are delicious and enjoyed best when warm straight out of the oven.
Check out this recipe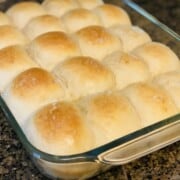 Green Shamrock Sugar Cookies
These green shamrock sugar cookies are the best sweet treats for St. Patrick's Day. This easy dessert recipe for sugar cookies that don't spread is not just delicious but ideal for shamrock cookie cutters. enjoy them plain or decorate with frosting, icing, & sprinkles - Bonus recipe idea for Shamrock Shake Flavored Cookies!
Check out this recipe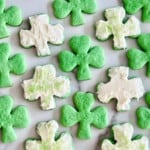 How Long Can you Refrigerate Pudding Shots?
These pudding shots are not different than when you refrigerate plain pudding. Once they are made and chilled they are ready to enjoy. I recommend storing them without the whipped cream on top. That is best to add fresh just before enjoying.
If stored properly in the refrigerator, pudding shots can last for up to 5 days. I do not recommend freezing pudding shots.
PIN FOR SAFEKEEPING & SHARING!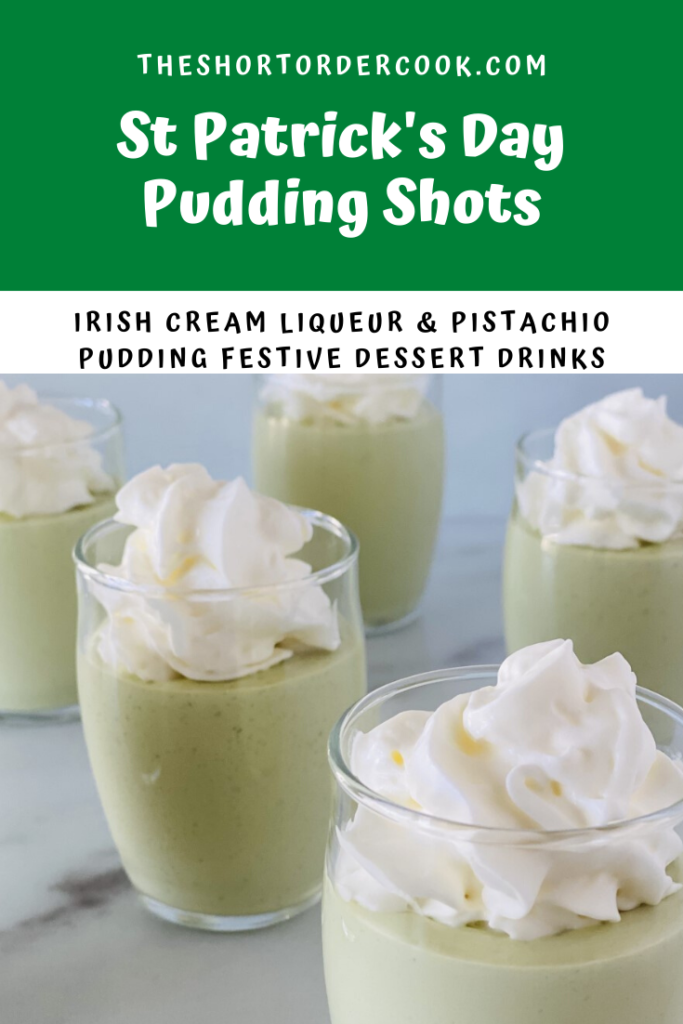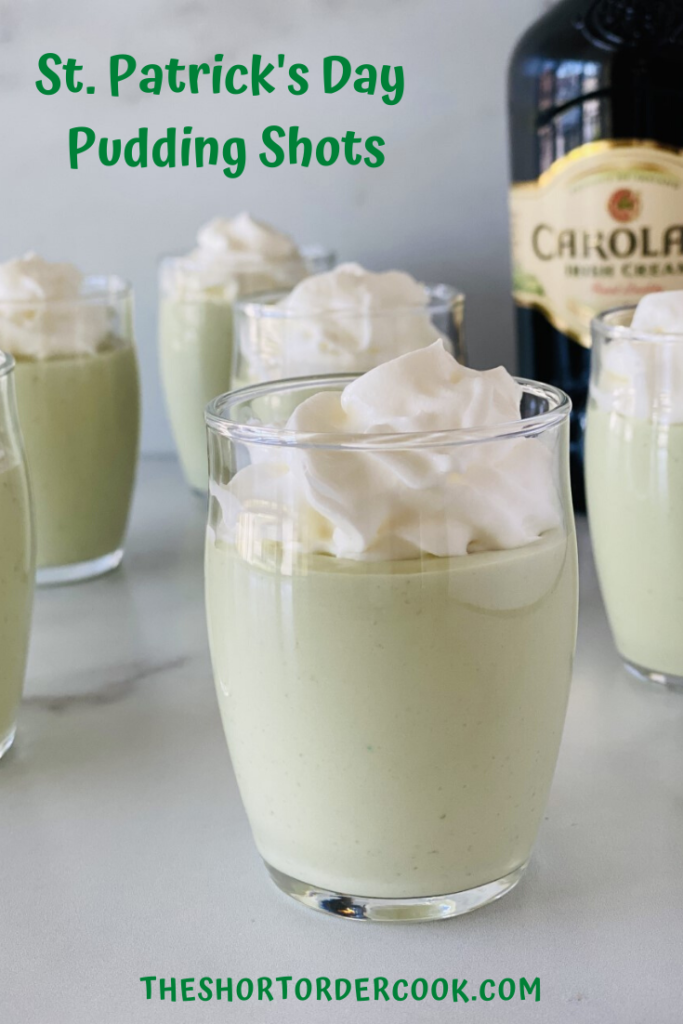 Product Recommendations for this Recipe:
The Short Order Cook is a participant in the Amazon Services LLC Associates Program. As an Amazon Associate, I earn from qualifying purchases. If you click on a link and make a purchase, I may earn a small commission on the sale at no additional cost to you. This helps with the costs of running the blog. Thank you!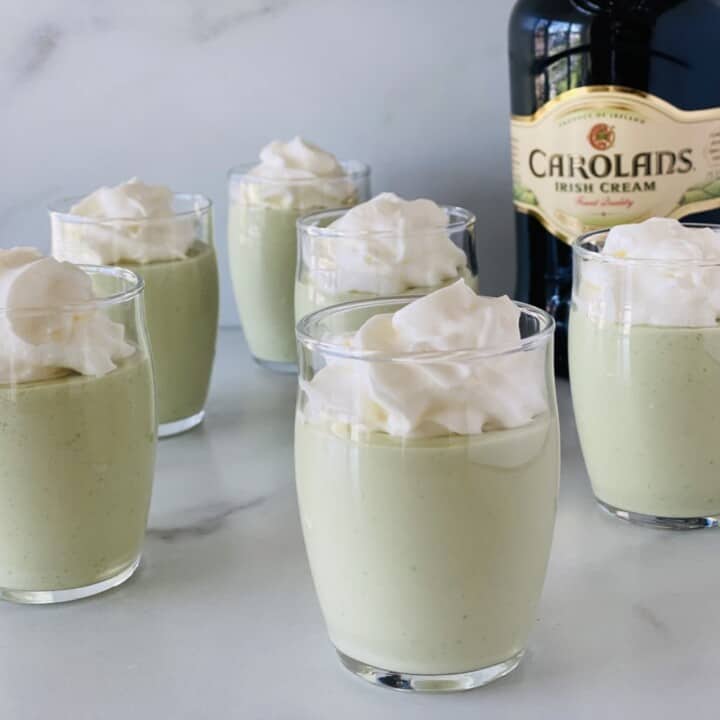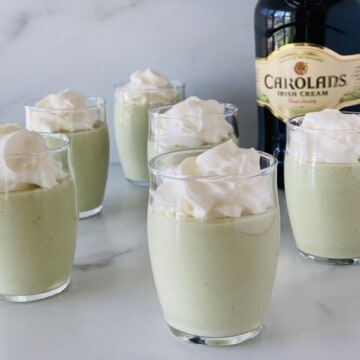 St Patrick's Day Pudding Shots
Celebrate St. Patrick's Day with pistachio and Irish cream liqueur pudding shots - Cheers! A fun and easy pudding shot recipe great for parties and the green color is great also for Christmas.
Equipment
shot glasses or pudding'yougurt glass jars
Ingredients
1

small package instant pistachio pudding

3.4oz size

1

C

cold milk

1

C

Irish cream liqueur

Carolan's, Bailey's, etc

1

C

Cool Whip

soft at room temperature

whipped cream

green sprinkles & green food coloring

optional
Instructions
In a mixing bowl with a pourable spout, add the pudding mix, milk, and liqueur.

With a hand mixer, mix on low speed until combined and smooth. There will be really small pistachio bits from the pudding mix, that is ok.

Optional but makes it a true green again - Add a few drops, one at a time, of food coloring if you want the green color to be more pronounced. In mine pictured above, I added 2 drops of food coloring. Mix with hand-mixer to combine.

Fold in the cool whip until evenly combined. If still a bit lumpy, use the hand-mixer for only a few seconds.

Pour into 12 shot glasses or into 6 larger jelly/yogurt/dessert glasses.

Place in refrigerator for at least 30 minutes to chill and set. It will not be solid like regular pudding. It will be thick and pourable/drinkable.

To serve, top with whipped cream. Add sprinkles if desired.

This can be made ahead of time. It will last in the refrigerator for up to 3 days. Top with whip cream only before serving as that will not hold up well.
Did you make this The Short Order Cook Recipe?
Tag @theshortordercookblog (Instagram & Facebook) or @shortorder_cook (Twitter).
I would love to see your latest creations and kitchen adventures.