Fresh sweet ruby red strawberries are a wonderful treat on their own but add homemade vanilla whipped cream and Wow! This seemingly simple pairing is the ideal spring & summer dessert. All you need is 4 simple ingredients to make a sweet treat everyone will want to dig into. So whip up this recipe for fresh strawberries & whipped cream today.
This recipe is so simple and heavenly it can be enjoyed weekly through spring and summer when fresh strawberries are at their peak of flavor.  It is also healthier than most desserts so you won't feel guilty about indulging regularly. If you love this dessert, Fresh Strawberry Mousse Parfaits is also one you will want to try.
Jump to:
There are many reasons why I love living in California. One of them is that so many of the fruits and vegetables that are grown in the United States come from my home state.  Besides avocados,  local strawberries are my second favorite thing about the "grown in California" lifestyle I love so much.  We grow them organically in our own yards.  
There is nothing like picking a strawberry and eating it while it is still warm from the California sun.  Getting to them before my kids or the squirrels do is the challenge. We grow our own and protect our berries from squirrels & birds so we can enjoy them for months.
Only Need 4 Ingredients
Fresh Strawberries
Heavy Whipping Cream
Powdered Sugar
Vanilla
See the recipe card for amounts & instructions.
How to Make Homemade Whipped Cream
Making homemade whipped cream takes little effort and tastes far superior to any store-bought stuff from a can.  My kids love the spray whipped cream for the fun of it of course.  
However, lately, I have been making it homemade and the kids cannot get enough of it.  It is a low-calorie treat coming in at under 150 calories for this strawberries & whipped cream recipe.
Top Tip - freeze beaters & bowl
The hardest part of making homemade whipped cream is planning ahead. The bowl and beaters need to be put in the freezer at least 30 minutes prior to making them.  A metal bowl is needed and pick one a lot bigger than what you think you need. Remember, the cream will expand exponentially as you whip air into it.
I like to put a metal bowl and the beaters in the freezer an hour ahead of time and put the carton of the heavy whipping cream in there for the last 5 minutes of that process.   When I do this, the cream whips in 2 minutes perfectly every time.  The sweet pillowy feel of homemade whipped cream is what we are aiming for in this recipe and this method is foolproof.
Once the bowl, beaters, and cream are chilled properly, it is time to get whipping.  In the chilled metal bowl, pour 1 C of the cream. Then add 2 TB of powdered sugar and ½ teaspoon of vanilla.  
Then set the electric hand mixer on medium for a few seconds and then move it to high.  Continue to beat on high for 2 minutes. It is done when you have medium-stiff peaks. Here are some things to remember:
Cold beaters & bowl is best
Chilled heavy cream is ideal
Beat on high - lots of air = lots of fluff for whipping cream
Do NOT whip for too long (overbeat) & lose track of time!
How Long to Whip the Cream?
Wondering how long it takes to make whipped cream? It does not take long at all. You want to achieve medium peaks. This means the cream makes tall mounds with a tip at the top that will slightly bend & fall at the top.
You do not want the tops to be hard and firm. Soft peaks will also deflate and the whipped cream will become soft and run again after sitting too long. Medium peaks are the way to go & how the whipped cream should look.
Do not forget to time this.  This is a tried and tested method if you do 2 minutes only.  If you lose track of time or use a stand mixer and step away, you will end up with hardened grainy clumps if overbeaten.
What if I overbeat the cream?
** To save overbeaten whipped cream, add an extra TB of cream and beat on low to smooth out. If it continues to harden like pebbles of butter, just continue to beat and go with it, make butter. Fresh homemade butter is never a bad thing!  
Here is what fresh cream looks like when whipped correctly. It should be airy and fluffy. It should be thick enough that it holds its shape without sagging, shrinking, or deflating. There will be a slight sheen or shininess to it.
Prepare the Fresh Strawberries & Layer
In spring and summer when the strawberries are at their peak, they are sweet and juicy. All that is needed is to dice them up small. I also keep a few whole ones on hand and remove the stems for the kids. They like to dip the big juicy ones into a pile of fluffy cream to eat.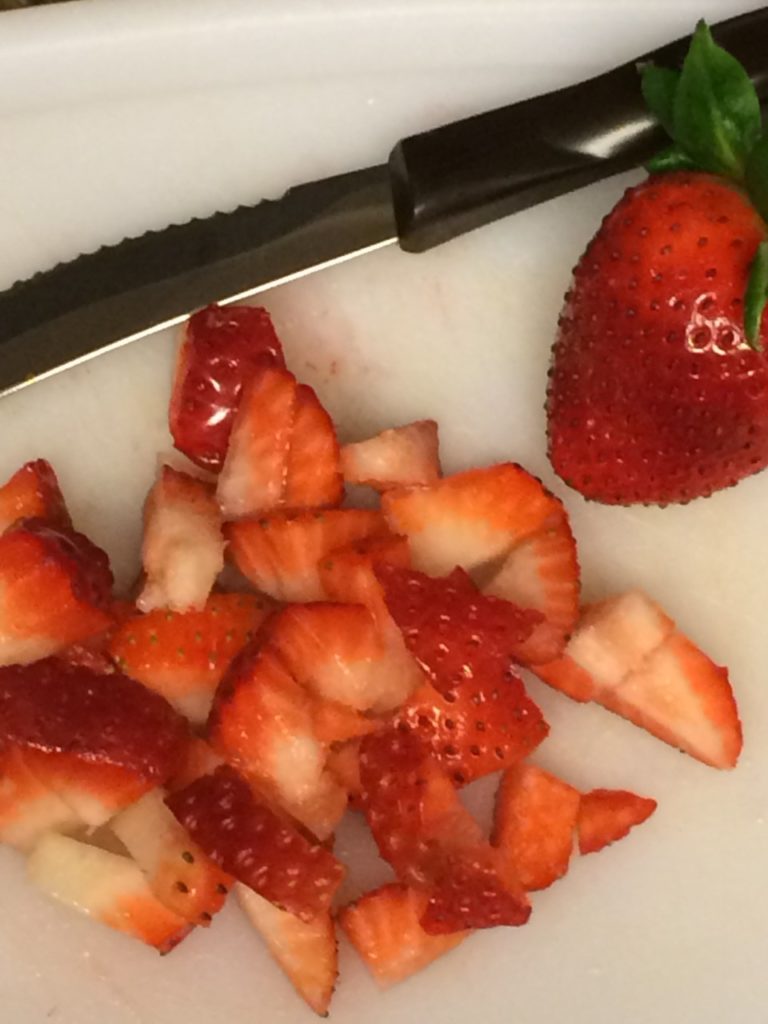 I have small clear serving glasses that are perfect for layering desserts.  To fancy this up, layering the strawberries and cream in them elevates this dessert.  Three layers of each look gorgeous in the size I have.  Use whatever serving bowl or glass containers you have.
Storage
This is a great make-ahead berry dessert. The fresh strawberries & cream hold up well to staying chilled in the refrigerator. Prepare these dessert cups hours before you want to serve them.
This recipe is ideal for dinner parties, cookouts, BBQs, & picnics. It holds up well to serve later. So enjoy the hike or party. Dessert is done and ready to enjoy when you are.
I do not recommend freezing this dessert. Strawberries & whipped cream will store in the refrigerator for up to 3 days.
FAQ
Can you make whipped cream ahead of time?
Unlike meringue, whipped cream holds its shape & can be made in advance. Whipped cream lasts in the refrigerator for about 3 days if covered and chilled properly.  
Is this dessert low-carb or keto-friendly?
Strawberries are a low-carb & often keto-approved fruit. Along with heavy cream, this can be a wonderful recipe for those on the diet. To make this a keto diet, you only need one alternate ingredient.

For a keto strawberries & whipped cream recipe, use a sugar-free powdered sugar replacement. I like to use powdered monkfruit which has zero carbs & calories! I use half as much as regular powdered sugar & it is fantastic! Comes in at 92 calories & 4.7g net carbs per serving.
Other Great Strawberry Desserts
If you love desserts with fruit, these sweet strawberry desserts are for you. These recipes are easy to make and strawberries are the star.
Pin this Recipe for Safe Keeping & Sharing!
strawberries and vanilla whipped cream dessert[/caption]
Strawberries and Whipped Cream
Sweet strawberries and vanilla whipped cream are a perfect pairing for a simple but elegant dessert. This easy recipe is light, fluffy, healthy, & yummy. It is a wonderful make-ahead dessert that is gluten-free & nut-free. Just 4 ingredients for this spring & summer recipe.
Ingredients
3

C

fresh strawberries

diced

1

C

heavy whipping cream

2

TB

powdered (confectioners) sugar

½

teaspoon

vanilla extract
Instructions
Place metal bowl & beaters in the freezer for one hour. Be sure to select a large enough bowl to allow the cream to expand as it is whipped.

When 5 minutes remain, add the carton of whipping cream to the freezer as well. Once all items are chilled and ready, get the electric hand mixer fitted with the chilled beaters.

Pour 1 C of heavy whipping cream into the chilled metal bowl. Add the sugar and vanilla also.

Using the mixer set on medium, beat for a few seconds and turn up to medium-high to high immediately. Beat on high for 2 minutes until stiff peaks form.

Once the whipped cream is ready keep chilled in the refrigerator while prepping the strawberries.

Dice strawberries into small pieces.

If using clear tall glass, layer strawberries with the vanilla whipped cream. Depending on how tall your glass is it may be 2-4 layers. If using a shallow bowl, spoon in the strawberries and top with whipped cream.

Whipped cream can be stored for up to 3 days in the refrigerator.
Notes
Nutrition Facts
Servings: 6
Amount per serving
 
Calories
103
% Daily Value*
Total Fat 7.6g
10%
Saturated Fat 4.6g
23%
Cholesterol 27mg
9%
Sodium 8mg
0%
Total Carbohydrate 8.8g
3%
Dietary Fiber 1.4g
5%
Total Sugars 6.2g
 
Protein 0.9g
 
Vitamin D 10mcg
52%
Calcium 25mg
2%
Iron 0mg
2%
Potassium 126mg
3%
*The % Daily Value (DV) tells you how much a nutrient in a food serving contributes to a daily diet. 2,000 calorie a day is used for general nutrition advice.