Homemade peach and strawberry cobbler made in a cast-iron skillet is a classic American recipe. Fresh fruit and a biscuit topping crust make the perfect southern old-fashioned cobbler dessert. This cobbler batter mix is easy and simple to make from scratch. It turns our buttery with hints of cinnamon to complement the sweet peaches, tart strawberries, and hint of vanilla. For a fantastic bourbon brown sugar peach cobbler recipe, try this for a to die for option.
Cobbler is a southern staple and baking it in an iron skillet is the traditional method; therefore, that is why I always make it from scratch this way. The sweet peaches and strawberries in this recipe are cooked in the cast iron on the stovetop and then topped with a homemade biscuit-like layer for the topping. The best ever cast-iron skillet cobbler recipe is made with fresh peaches and strawberries.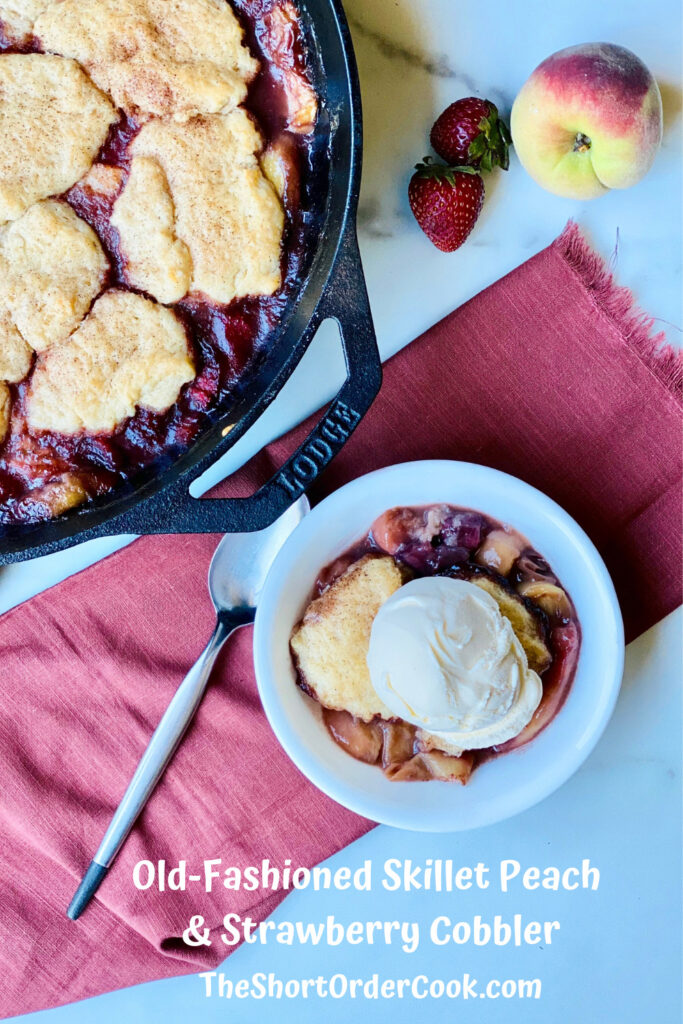 Ingredients for Peach & Strawberry Cobbler
Cobblers are a quick and easy dessert that includes a bottom layer of fruit filling and has a biscuit topping. You will need all-purpose flour, baking powder, butter, and milk for the dough. Since cobbler dough is typically not very sweet, I have finished it with a dusting of cinnamon and sugar.
When summer fruits are in season, homemade baked desserts are my favorite recipes to make. The best fresh peaches to use for cobblers or crisps are white or yellow freestone or cling-free peaches. They are easy to cut and separate from the pits. To find out which are freestone, read more about PEACH VARIETIES.
However, if they are not in season, you can make this cobbler with frozen peaches and strawberries, too. Just be sure to defrost and drain them so they do not add too much liquid to the fruit layer or it will be too watery versus a syrupy thick filling. I have not used canned peaches but that may be an option as well in this cobbler recipe.
How to Make Peach & Strawberry Cobbler
To make an old-fashioned cobbler in the skillet a good quality cast iron skillet is a must. It will ensure even baking and the cooking times will be accurate. Once all your ingredients are ready including having the fruit sliced and diced, you are ready to begin making the cobbler.
This recipe includes stovetop steps for the fruit filling and then is finished off in the oven baking it with the buttery biscuit topping. Begin by preheating the oven to 375° and prepping the cinnamon sugar. In a small bowl mix together 1 TB granulated sugar & ¼ teaspoon cinnamon; set aside for later.
Browning the Butter
Another key to making an old-fashioned classic cobbler is browning the butter in the cast iron skillet before adding the peaches and strawberries. Brown butter adds so much rich nutty flavor to desserts and is really a step that should not be skipped. Add the butter to a 10 or 12-inch oven-safe skillet set over medium heat. (I am using a 10.25" Lodge brand cast-iron skillet) Allow the butter to brown and is a deep golden brown, stirring often and watching carefully so it does not burn. Once it has reached the desired color, as seen below, remove it from the heat and turn off the burner.
Making the Peach & Strawberry Filling
Next add the sliced peaches, quartered strawberries, vanilla, ½ cup brown sugar, and 2 TB of flour, tossing to combine. (if adding bourbon do so at this time) Transfer to the oven and bake for 10 minutes.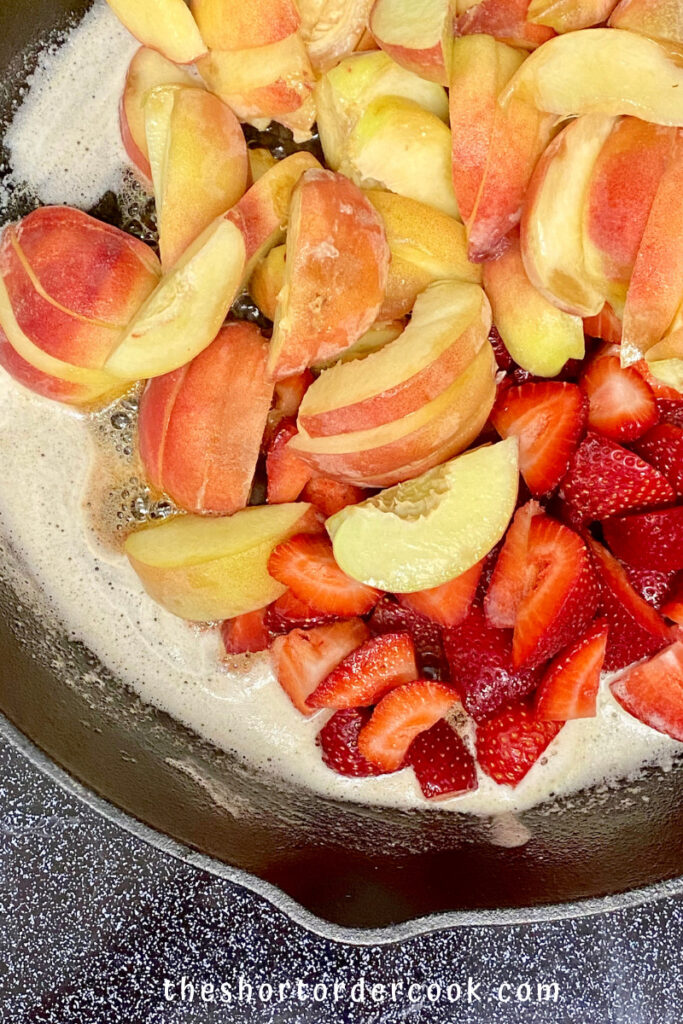 Make the Biscuit Topping for the Fruit Cobbler
While the fruit is baking in the oven, make the dough for the biscuit topping. In a medium-sized bowl, mix together the remaining ingredients starting with 1 & ⅓ C of flour through the milk (not including optional sea salt). Stir to combine.
Assemble & Bake the Peach & Strawberry Cobbler
When the fruit is done cooking, remove it from the oven. Drop large tablespoons full of the batter in evenly distributed dollops over the entire top of the filling. I prefer a thin layer of dough so I grab some dough with my hands and flatten it and then lay circles on the top. Sprinkle with the cinnamon-sugar mixture over the top. If you want a salted crust, sprinkle on the sea salt at this time.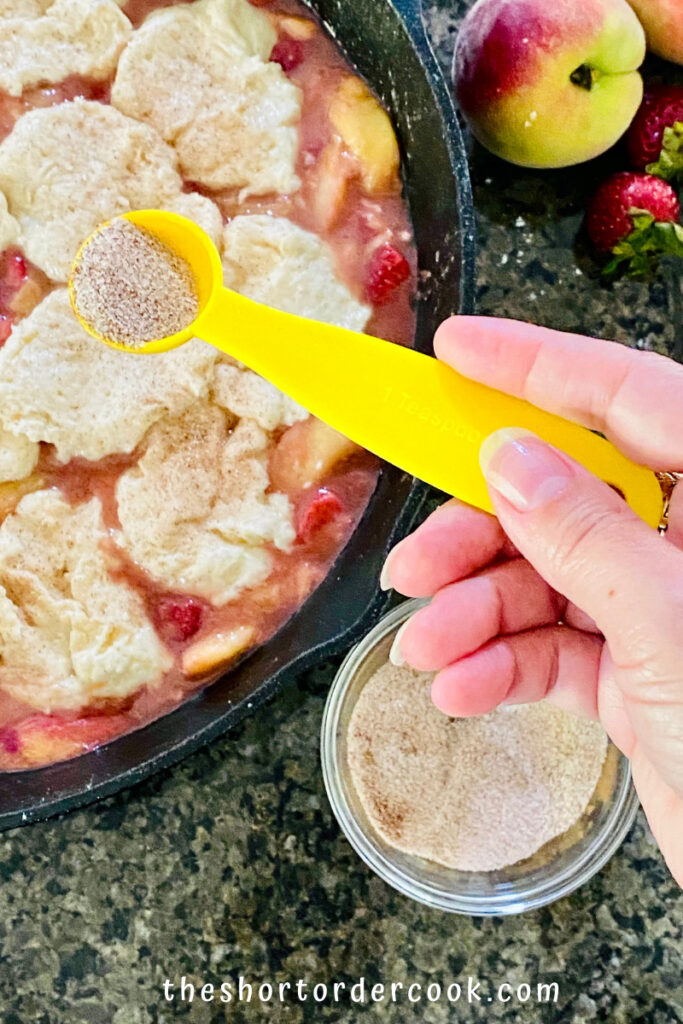 Place in the oven and bake for 25 minutes, until golden brown and the batter is cooked through. Remove carefully from the oven and let cool. To enjoy it warm, enjoy after about 15 minutes of cooling.
What to Serve with Cobbler
This classic homemade old-fashioned southern cobbler is fantastic. This homestyle from-scratch peach and strawberry cobbler recipe is warm, sweet, comforting, and tasty. To elevate it, making it a la mode is always a great idea. I like this with a vanilla, caramel swirl, or butter pecan ice cream for a peach cobbler just like my grandma would make and serve us when we were kids. A dollop of whipped cream or a drizzle of caramel sauce is also a quick way to add a fancy twist to this dessert.
How to Store & Reheat Homemade Cobbler
Peach and strawberry cobbler can be left out on your counter for about 24-hours. If you still have some remaining after a day, transfer it in an air-tight container and store it in your refrigerator for up to 5 days. Scoop desired servings into a microwave-safe bowl and reheat for 15-30 seconds.
If You Love Fruit Desserts, Try These Recipes Too!
PIN FOR SAFEKEEPING & SHARING!
Product Recommendations for this Recipe:
The Short Order Cook is a participant in the Amazon Services LLC Associates Program. As an Amazon Associate, I earn from qualifying purchases. If you click on a link and make a purchase, I may earn a small commission on the sale at no additional cost to you. This helps with the costs of running the blog. Thank you!
Did you make this The Short Order Cook Recipe?
Tag @theshortordercookblog (Instagram & Facebook) or @shortorder_cook (Twitter).
I would love to see your latest creations and kitchen adventures.