Pico de gallo is a fresh salsa commonly used with Mexican cuisine. What is not common, is making it from watermelon instead of tomatoes.   It is traditionally made with tomatoes, onions, peppers, cilantro, and lime.   In this refreshing version, the sweet watermelon balances the pungent onions, spicy peppers, and the fresh kick from the lime and cilantro.
During summer, the most popular fresh ingredient in my house is always watermelon so we have a lot of from May to September.  This is why I am always looking for new delicious ways to enjoy.    This is probably why I already have several amazing watermelon recipes on the blog. So if you love watermelon, you may want to check out these refreshing, fun, and unique recipes:
WATERMELON MINT MARTINI RECIPE
MEXICAN WATERMELON CUCUMBER SALAD WITH TAJIN
This easy recipe for watermelon pico de gallo is the summer salsa for all your fun Mexican cravings.  I love it on tacos or with just chips.  However you wish to enjoy it, the colors, flavors, and ease of this recipe will make you want this part of your normal rotation.
How to Make Watermelon Pico de Gallo
Start with either a personal size or large watermelon.  We typically buy the seedless but whatever variety you prefer will work just fine.  The key to this watermelon salsa fresca is that the ingredients be fresh.  Since it is a raw recipe and no cooking is needed, quality ingredients at their peak are important.  For the most part, this recipe is all about your chopping skills.
Ingredients Needed for Watermelon Pico de Gallo (salsa)
Watermelon
Onion
Jalapeno Peppers
Sweet Bell Peppers
Cilantro
Citrus juice (lemons or limes)
Salt & Pepper
Cut the watermelon into small dice, you do want them to be smaller than bite-sized or else the chips or tacos will be full of large chunks for watermelon and nothing else.  Also, dice the onions and sweet bell peppers.
I like to seed and remove the membranes for one of the jalapenos so that the pico de gallo is not super spicy.  Doing this to only one jalapeno makes it just right for our family's heat tolerance. You can do whatever you like and have all the insides for more heat or none at all for all mild all the time.
DON'T FORGET TO WASH YOUR HANDS REALLY GOOD AFTER HANDLING AND DICING THE JALAPENO PEPPERS -- the last thing you want to accidentally do is touch your eyes after that. OUCH
Once everything is diced and in a medium-sized bowl,  juice the lemons or limes.  Depending on your size, you may need one or two.  I had two small lemons so I used a little over a whole one for this recipe.  During "shelter in place", not all produce was easy to find and on my latest run there were no limes but the lemon was just as great.   Pour the juice over the ingredients and toss lightly to coat.
Nice I finely diced the fresh cilantro leaves and sprinkled that on top. Followed by one final gently stir and I also seasoned with salt and pepper.   Optional, a sprinkle of Tajin or cumin if you have that to your liking.  The great thing about fresh salsas like this pico de gallo is you can experiment and make it your own.
PIN FOR SAFEKEEPING & SHARING!
Product Recommendations for this Recipe:
The Short Order Cook is a participant in the Amazon Services LLC Associates Program.  As an Amazon Associate, I earn from qualifying purchases.  If you click on a link and make a purchase, I may earn a small commission on the sale at no additional cost to you. This helps with the costs of running the blog. Thank you!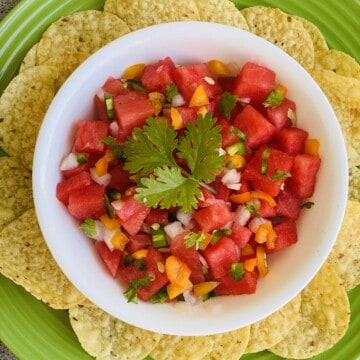 Watermelon Pico de Gallo (salsa)
Sweet and spicy watermelon pico de gallo is the summer salsa great with chips or on seafood tacos.
Ingredients
3

cup

watermelon

small dice

½

cup

yellow or orange bell peppers

finely diced

⅓

cup

onion

finely diced

2

small jalapenos

finely diced, (seeds and membranes removed optional)

½

cup

cilantro

chopped

3

tablespoon

lime or lemon juice

¼

teaspoon

salt

⅛

teaspoon

black pepper
Instructions
Chop and dice the first 5 ingredients as listed.

In a medium-sized bowl, add the ingredients and gently stir to combine.

Juice the citrus and pour over the bowl of ingredients.

Add cilantro, salt, and pepper. Mix gently to combine.

Serve immediately with chips or use it to top seafood tacos.
Did you make this The Short Order Cook Recipe?
Tag @theshortordercookblog (Instagram & Facebook) or @shortorder_cook (Twitter). 
I would love to see your latest creations and kitchen adventures.