When you bite into a banana or a seedless watermelon, you may wonder if they have seeds? We often see the small black or white seedlike pods in our fruits and assume that all fruits have seeds. Well, we may visually see little "seedlike" organic matter in our fruits, but they are not always what they may seem.
Seeds in botanical terms are produced for germination. Once they are pollinated, the creation of a plant or fruit is started. However, not all seeds are created equal. Many fruits do not get fertilized and grow from seed. For the purposes of this article, we will talk about the seeds that grow and produce fruit.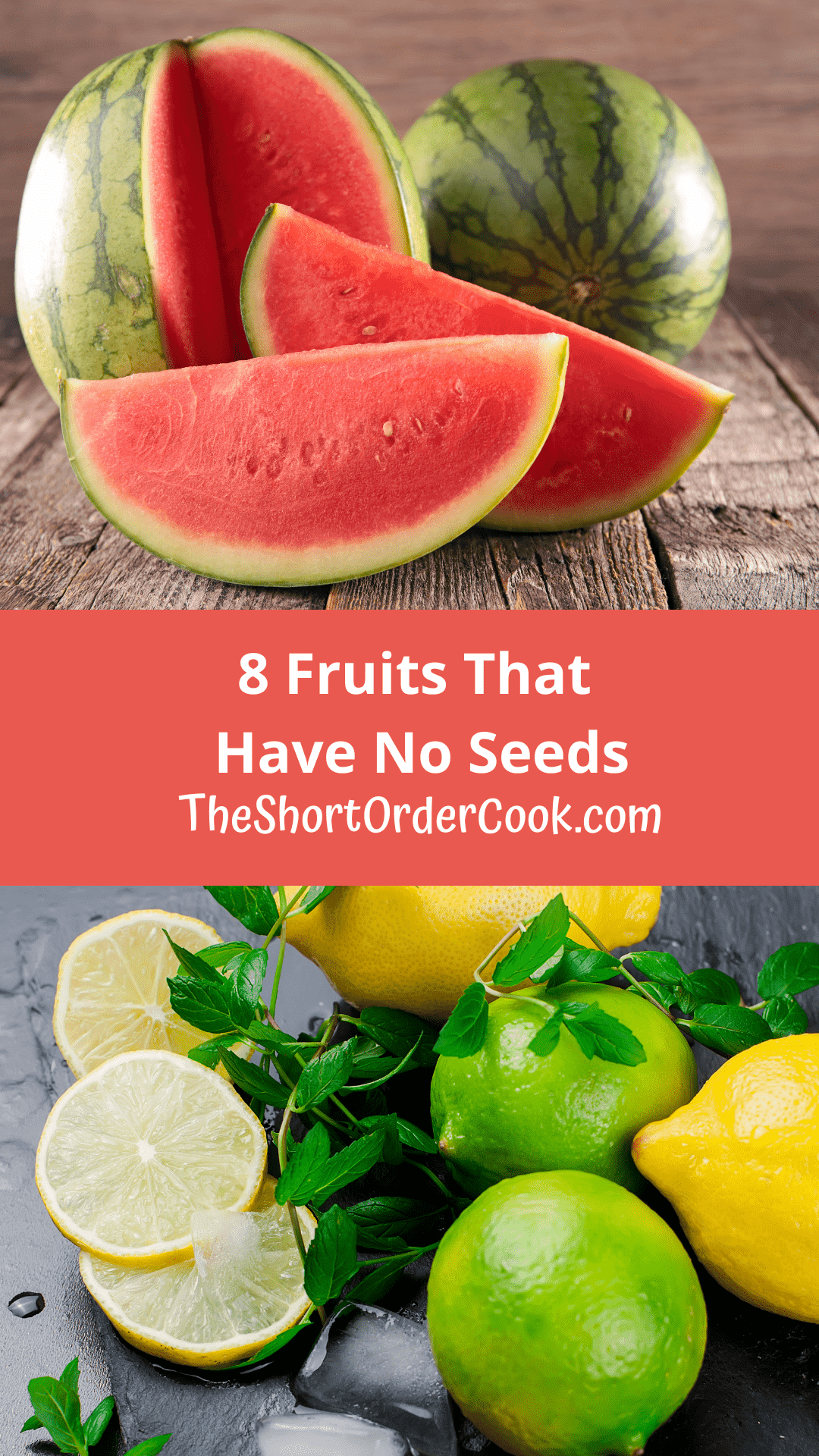 "Seedless" varieties like watermelons and tomatoes are altered and do not naturally occur. They still have remnants of seeds inside when you bite or cut into one.
Do All Fruits Have Seeds?
Most fruits naturally have seeds. Those that do not have seeds naturally due so when the fruit develops without fertilization, also known as parthenocarpy. When pollination begins but then is stopped through a stoppage in the development of the mature seeds developing, known as stenospermocarpy. The next section will discuss both types of seedless fruit varieties.
Fruits Without Seeds
Here is a list of all the fruits that have no seeds. These seedless fruits are either parthenocarpy or stenospermocarpy. Many have small seeds that do not need fertilization and are not needed to grow plants or more fruit.
Bananas
Do bananas have seeds? They happen to be one of the few fruits that naturally are seedless. They have three set chromosomes. Since bananas are triploids, they do not produce sperm or egg, thus the fruit is created without any fertilization. Bananas propagate to grow and multiply for producing fruit from offshoots on the adult trees.
You may see the little black dots inside the fruit when you cut it into a banana. Those are little black dots are seeds. But they are immature. So if you are hoping to plant those little guys to grow more bananas, don't bother. The seeds in bananas won't develop into functioning seeds that will produce a new tree or more fruit.
Seedless bananas as we know them are favorable for many reasons. The large fruit has a lot of small seeds in them and if they were larger, it would make bananas difficult to eat and not very appetizing. But the seedless variety we eat now is wonderful. Since bananas are seedless, they make a great ingredient for blending like in a sweet, tart, and creamy Pineapple Banana Protein Smoothie.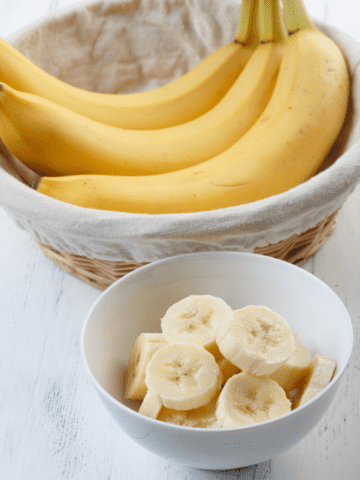 Grapes
Those tiny grapes sure are much better when they are seedless. Let's be honest, biting into this tiny fruit to find you have nothing but a mouthful of seeds just isn't yummy. Over time seedless grapes have become the preferred table grapes. The first seedless grape came from a natural mutation, not from something manmade. They are now propagated through cuttings versus grown from seed.
The most common seedless grape is the Thompson variety. You can pop these juicy little numbers into your mouth without any worry about seeds. I use seedless grapes when making Tanghulu. This candy-coated fruit skewer is amazing.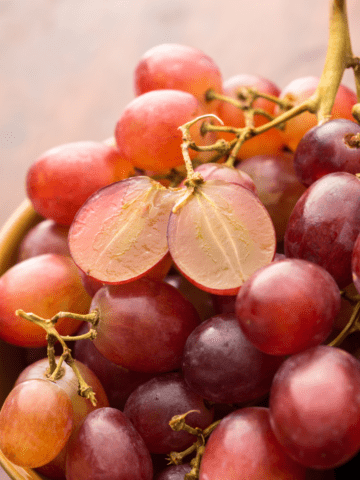 Lemons
There are some lemons that have been commercially grafted to be seedless. One lemon variety that has no seeds is the Verna type. If you find seeds in your lemons annoying try seeking out one of the seedless varieties at your local store, farmer's market, or plant a tree. Makes baking sometimes easier, like my North Carolina Lemon Pie.
Seedless lemons tend to have thinner skin and more juice. They are great for garnishes when making cocktails. I also find lemons without seeds are ideal for slicing or cutting wedges for garnishes. They are wonderful for when making large batches of Homemade Lemonade Concentrate.
Limes
Limes that are seedless are often easier to find than lemons. The common variety of limes we find in grocery stores is often seedless. Limes have been altered to be grown seedless since consumers like them that way. Limes without seeds also tend to have thicker skin, thus giving them a longer shelf life.
No seeds and limes that last longer, no wonder they are popular. Seedless limes are great for making cocktails, juicing, and slicing. They make a great garnish and provide the citrus flavor in one of my favorite drinks, Texas Ranch Water.
Oranges
There are many varieties of oranges. The two most popular in America is the navel and the valencia. Do these oranges have seeds? Navel oranges are seedless. Valencia oranges have seeds. Other oranges with seeds include tangerines and tangelos.
Seedless oranges are great for eating. They are perfect for soccer game snacks or to pack in school lunches. Being able to eat them without seeds is convenient. Nothing can ruin a nice juicy wedge of orange than biting down on a hard seed. Tangy fresh orange juice in a Vodka Sunrise is like summer in a cocktail.
Pineapple
Pineapples, like bananas, grow without the fertilization of seeds. In general, pineapples do not have seeds. But you may cut through one and find the dark thin organic seedlike matters inside. They will be tough and hard. So yes they have seeds but most are seedless and none require seeds to grow the fruit on pineapple plants.
Sweet and juicy pineapples have a thick outer shell to protect their tasty flesh. If you love pineapple and want to grow your own, keep the top off the next one you cut. You can plant a top to grow your own pineapple. Then all summer long you can have a great snack or Rum Raisin Pineapple Sundaes for dessert.
Tomato
Ok, stay with me. I will try to not confuse you more. Ever wonder if tomatoes are a fruit or a vegetable? This may be part of many debates across dinner tables every night. Botanically, tomatoes are classified as a fruit since they have seeds. Aha, they are not seedless. Almost!
As mentioned earlier, some fruits are seedless naturally and some have been cultivated over time. Those changes in the way tomatoes are grown have led to some tomatoes being grown without seeds. The seedless varieties like Oregon Cherry and Golden Nugget are mostly seed-free. They are great for people who love tomatoes but not the chunky "guts" inside. Seedless tomatoes would be ideal when making Easy Tomato Basil Bruschetta.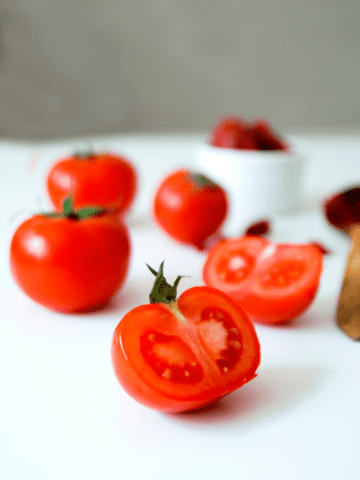 Watermelon
One of the most popular seedless fruits is watermelon. Most watermelons purchased at commercial grocery stores are of seedless varieties. They tend to have thin white seeds versus the hard black seeds that watermelons produce naturally. Over the last 50 years, they have been grown and altered. Watermelons are a triploid fruit, like bananas.
Juicy watermelon without seeds is a summer classic in America. There is for sure something special about being able to bite into a wedge without any seeds. Those pesky seeds also would not be fun in most recipes. I know that making a sweet and refreshing Watermelon Mint Martini or my Watermelon Pico de Gallo.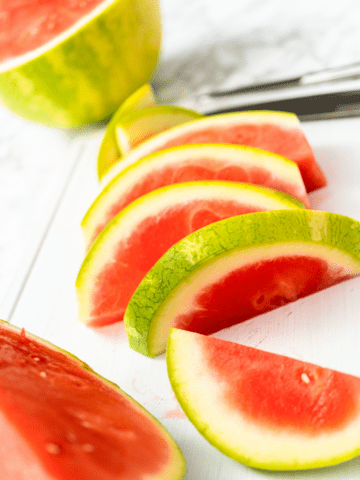 Thought These Were Seedless?
Most other fruits you may consider seedless have pits. Avocados and olives are indeed fruits without seeds but they have pits. Here are some other varieties you may think were vegetables but are indeed fruits because they have seeds. Several of these are seedless in terms they do not need to be fertilized to produce.
Cucumber - Yes, they are technically fruits and there are seedless varieties but if a nearby plant pollinates it will have seeds so this is rare to control. Seeds or not, they sure taste great in a Cucumber Shrimp Salad.
Eggplant - botanically, eggplants are fruit and some varieties are nearly seedless like the Orient Express.
Strawberry - no seed on the inside but strawberries are the only fruit with seeds on the outside - over 200 on each one!