This recipe for a restaurant-style Carnitas Burrito is so easy to make at home. Load up large tortillas with crispy tender pork carnitas, rice, beans, cheese, avocado, and all your favorite Mexican ingredients for the ultimate super burrito.
When you make it at home your carnitas burrito is just how you want it every time. Customize it with extra cheese, mild versus spicy hot sauce, or hold the avocado (though I would never!) for a perfect burrito every time.
With this simple recipe, the authentic Mexican burrito de carnitas is better than any you will get at your favorite local taqueria. Grab some chips & salsa and mix up a spicy jalapeno Moscow mule for the perfect meal.
Jump to:
What Meat is Carnitas?
If you have never had carnitas before you may now know what kind of meat or protein it is. Carnitas comes from pig and is made using the pork shoulder. It is not beef and not the same as carne asada or steak.
Think of it as a Mexican version of pulled pork. Carnitas translates to "little meats". Don't be fooled by the name, it has a big flavor and is delicious.
The pork is seasoned with spices and citrus juices then cooked low and slow by braising, simmering, or smoking the roast until it falls apart.
Ingredients for Carnitas Burritos
When making a burrito it all starts with flour tortillas that are 10 or 12 inches in size. Burritos are loaded up a lot of yummy things so you want a large tortilla to hold it all. Tender carnitas, Mexican red rice made with tomato sauce, & savory beans are the staples.
Here are the ingredients needed to make carnitas burritos:
Carnitas - the slow-cooked shredded pork is the star of this recipe, make your own or use store-bought precooked carnitas. I ordered from ButcherBox & it's fantastic.
Flour Tortillas - large burrito-size (8-10 inch) ones are needed to load these up with all the ingredients. Your favorite brand is fine, we use Mission flour.
Mexican Rice - my recipe for Mexican Rice is perfect for making burritos.
Refried Beans -canned or homemade works.
Shredded Cheese - I've used cheddar but any Mexican blend or Jack cheese is recommended.
Avocado - the buttery texture & delicious earthy flavor is a variety in burritos.
Sour Cream - adds creaminess and moisture to balance and hold the dry ingredients.
See the recipe card for quantities.
How to Make a Carnitas Burrito at Home
Once all the ingredients are made for this recipe, it takes just 5 minutes to roll up each burrito. Whether all the ingredients are made from scratch or some are premade, this is the best super burrito with carnitas ever.
Here are the easy steps for making burritos with carnitas:
Make the Mexican Rice
Prep Carnitas & Other Ingredients
Warm the Tortillas & Fill
Roll the Burritos & Serve
1 - Make the Mexican Rice
For my recipe and the list of ingredients used, the rice is homemade and the step that takes the longest. This is why it is the first step.
Here is a detailed recipe and ingredients for my Restaurant-Style Mexican Rice or see the next section. In the recipe card I list it as rice that has already been made.
NOTE: if you are making homemade beans or carnitas that may take hours, start that first. For instance, this recipe for Slow Cooker Carnitas takes 4 hours on high.
Heat oil on medium-high in a large saucepan. Add rice and saute to brown and toast the grains. Some should be slightly brown and others white as they heat.
Add the garlic, cumin, and dry onion. Stir to saute for one minute.
2 - Prep Carnitas & Other Ingredients
If you are not using premade carnitas or canned refried beans. Begin prepping those homemade items first per my note in step 1.
Heat up the carnitas. Depending on which ones you are using, the package may call for microwaving, pan sauteeing, or oven roasting the meat. Keep it warm.
Warm up the refried beans in a the microwave or in a pot on the stove. Set it aside and keep it warm with a lid on it.
Finish prepping and gathering the other ingredients. Shred the cheese, slice the avocado, & grab the sour cream. Once everything is ready to go, time to get the tortillas ready.
3 - Warm the Tortillas & Fill
For the next few steps, work fast. This way the tortilla is still warm and pliable & easy to roll.
Warm each tortilla in a large skillet. A flat round skillet for tortillas or crepes is the best for this. They are ready when each one is soft & warm without being too hot to the touch.
** You can also warm the tortillas carefully over the open flame of a gas stove burner (that is our favorite way!) Or in a microwavable tortilla warmer pouch that also keeps them warm.
Place the warm tortilla on a flat surface or plate. Line up each ingredient in the center of the tortilla, leaving the outer edge empty.
Down the middle of each flour tortilla, drop 2 tablespoons of sour cream, ¼ cup of cheese, ¼ cup of refried beans, ⅓ cup of rice, and slices of avocado.
Finish it off with a half cup of shredded pork carnitas. If you have added or omitted some ingredients there may be less room for the carnitas.
Hint: DO NOT overstuff and add too much filling. This will cause the tortilla to split or break.
4 - Roll the Burritos & Serve
To roll the carnitas burrito, fold in the sides along the edge where all the ingredients are lined up. Next, gather the tortilla on the carnitas edge and roll it down toward the middle covering the other ingredients as it is rolled.
For the final step fold up the last edge where the sour cream is and overlap it with the top part. Roll until it holds together and all the filling is incased by the tortilla. Do not press or roll too tightly or a hole may form and filling will start to spill out.
Once rolled up, enjoy the carnitas burrito. It is best eaten right away while fresh. Serve with your favorite hot sauce, cilantro, chips, etc.
Substitutions & Variations
Try a recipe option with these variations and ingredient swaps. Modify, add, exclude, or replace to create a delicious recipe catering to a variety of cultural, dietary, health, or personal nutritional needs & tastes.
Substitutions
Tortilla - use fun flavors like spinach or tomato large tortillas for variety and added color.
Refried Beans - use your favorite type of bean instead; try whole or mashed black beans, or pinto beans, or omit them for a bean-free burrito.
Cheese - instead of shredded cheddar try a Mexican blend, cheddar & jack combined, queso fresco, nacho cheese, or cotija.
Mexican Rice - instead of making homemade restaurant-style Mexican rice, use a store-bought package or white rice with chicken broth.
Use your favorite gluten-free burrito-sized tortilla for a carnitas burrito without the gluten.
Variations
Spicy - add your favorite hot sauce or jalapenos.
Veggie Deluxe - add your favorite vegetables; try salsa, onions, cilantro, tomatoes, lettuce, sauteed squash or mushrooms, and peppers.
Kid-friendly - adjust it to be plain if you have a picky eater; carnitas, rice, & cheese are the most popular ingredients for children.
Low-Carb Carnitas Bowl- omit the tortilla & serve in a bowl plus omit the rice or substitute with riced cauliflower, add lettuce & cilantro. Think of it as a copycat Chipotle Carnitas Bowl!
Breakfast Burrito - Scramble eggs with the carnitas to start the day off right.
Recommended Tortilla Warmers
Either of these kitchen tools are the best for heating up tortillas. Both are my top choices for rming up large tortillas when making burritos. They are inexpensive, easy to use, and worth it.
The Short Order Cook is a participant in the Amazon Services LLC Associates Program. As an Amazon Associate, I earn from qualifying purchases. Clicking on links and making purchases may earn me a commission, supporting the blog's operational expenses. Thank you for your support!
Storing & Reheating
Wrap the assembled burrito in foil. Store in the refrigerator for up to 2 days. I do not recommend freezing premade or leftover super carnitas burritos since the sour cream and avocado do not freeze well. Freezing leftover tortillas by themselves is safe, recommended, and easy to do.
To reheat, warm in the microwave for 1 minute or place in a 350° oven/toaster oven for 10 minutes.
TIP: The burrito is best enjoyed immediately once assembled. If you plan to have leftovers, store the individual ingredients separately. This way you can reheat some ingredients without making other items like the avocado or sour cream hot.
You can make homemade carnitas ahead of time. Leftovers taste great the next day, reheated in a pan to crisp up.
Top Tips
All of these great tips are shared in the post. But these are so good and important they are worth mentioning again so you don't miss them.
Prep all the items before you are ready to roll up your burritos.
Do not overload the tortilla or it will break/cause a blowout when you begin rolling it up.
Enjoy while fresh & warm.
Store leftover ingredients separately versus burritos that are fully assembled. Freezing is not recommended.
FAQ
Is al pastor and carnitas the same?
Both are amazing flavorful styles for cooking pork. Carnitas is a slow-cooked pork roast. The meat cooks with spices for hours and shreds easily.

Al pastor is traditionally roasted on a vertical spit with pineapple and other flavors. It is then thinly sliced and is a great substitute for carnitas in any dish.
What goes in a burrito?
Well to be honest, anything can go into a burrito. Most start off with a filling of rice, beans, and a meat of choice. This recipe uses carnitas as the meat of choice and then adds a ton more items for a supreme version. Other tasty ingredients in burritos include guacamole, lettuce, tomatoes, onions, peppers, & pico de gallo.
What to Serve with Carnitas Burritos
A burrito is a full meal wrapped in a tortilla. You don't need a side dish but an appetizer or cocktail pairs well. These are my favorite ideas to serve with carnitas burrito: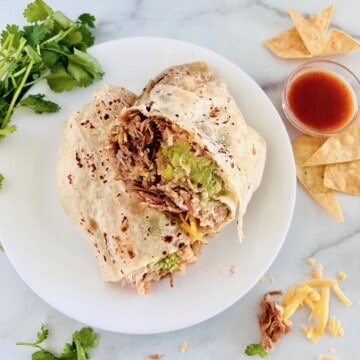 Carnitas Burrito
This easy recipe for making a carnitas burrito at home is better than any restaurant. It's loaded with cheese, red rice, beans, & all your favorites. The star is the tender & crispy shredded pork carnitas. A homemade Mexican rice recipe is included or use a store-bought package like Rice-a-Roni. It's rolled up in a large flour tortilla for a super burrito de carnitas packed with meat, frijoles, queso.
Ingredients
6

flour tortillas

large 10' or 12" size

1

pound

pork carnitas

store-bought or ready made

2

cups

Mexican rice

see post for recipe link or packaged mix

1.5

cups

refried beans

canned or homemade

1.5

cups

shredded cheese

cheddar, jack, or Mexican blend

⅓

cup

sour cream

2

ripe avocado

hot sauce/salsa, cilantro, lime juice, etc

optional
Instructions
Cook or warm the hot ingredients per package instructions or a recipe: pork carnitas, Mexican rice, & refried beans.

Link for homemade rice is shared in the post above.

Warm the tortilla on each side for 30-45 seconds in a hot skillet. It should be soft, pliable, & warm (not too hot to touch) when it is ready. *

Place the warm tortilla on a flat surface or plate. Line up each ingredient in the center of the tortilla, leaving the outer edge empty.

Down the middle of each flour tortilla, drop 1-2 tablespoons of sour cream, ¼ cup of cheese, ¼ cup of refried beans, ⅓ cup of rice, slices of avocado & ½ cup of shredded pork carnitas.

Add any additional other ingredients such as hot sauce, salsa, cilantro, lime juice, etc.

To roll the carnitas burrito, fold in the sides along the edge where all the ingredients are lined up. Next, gather the tortilla on the carnitas edge and roll it down toward the middle covering the other ingredients as it is rolled.