If you want to enjoy a tasty smoothie without yogurt, these dairy-free recipes are for you. There are over a dozen easy ideas for making a homemade smoothie at home in just minutes. If you want something with fruit, vegetables, chocolate, or even peanut butter, this list is the best lactose-free smoothies. Just don't drink some of these cold smoothies too fast - ouch, brain freeze!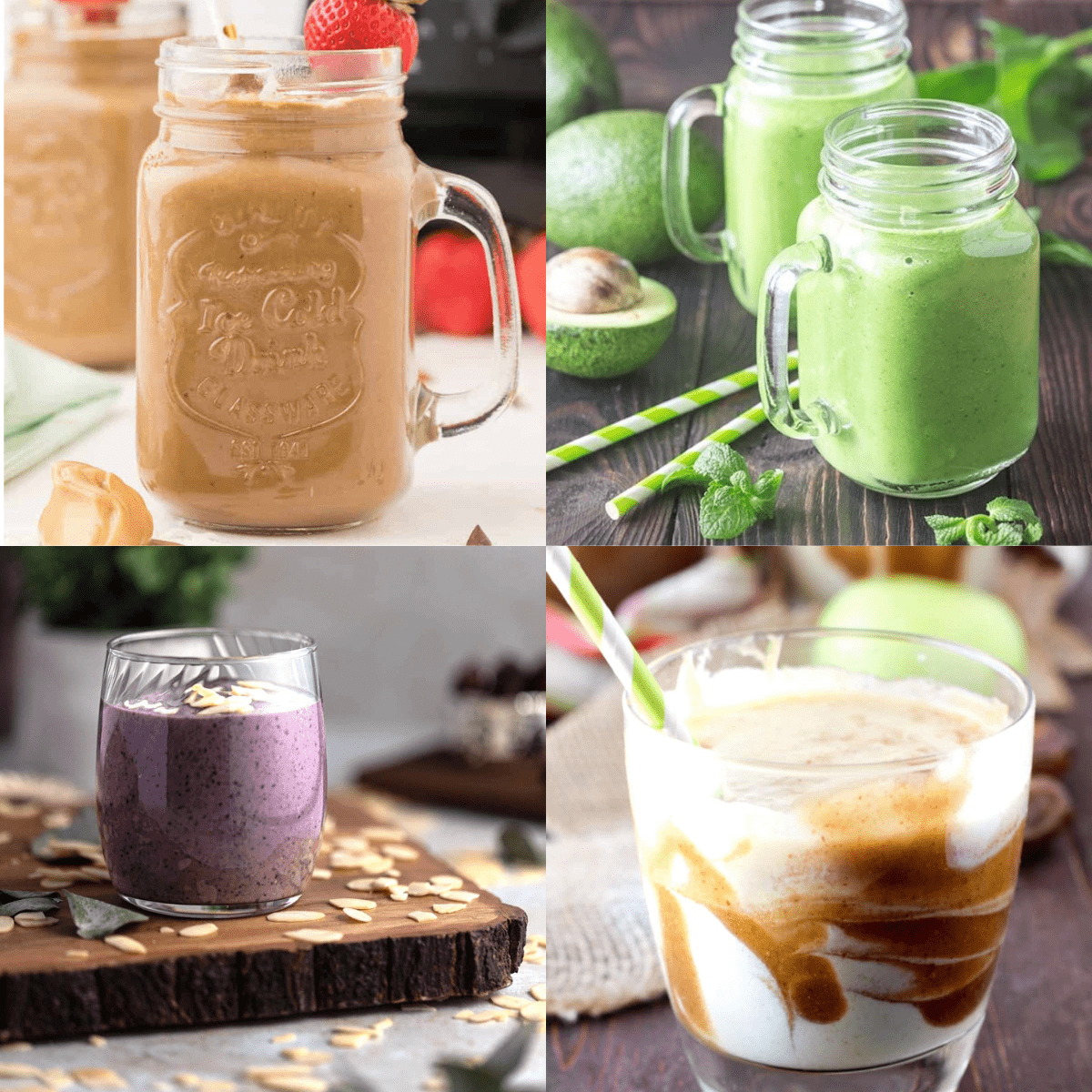 Many are packed with healthy ingredients that are good for you. Kids and adults will enjoy these non-dairy blended drinks. The key to a great smoothie is a blend of fruits & vegetables, along with a liquid, and add-ins like protein powders and healthy fats. So grab your mixer and a few ingredients to blend up a new favorite concoction.
What I love about all these recipe ideas is that they are fantastic any time of day. Smoothies are not just good for breakfast. Blend up a smoothie without yogurt or any dairy for lunch, snacks, dinner, dessert, or whenever you have a craving. If you use plant-based yogurt, I recommend using some to substitute for the greek yogurt in my delicious 4-ingredient Mango Pineapple Smoothie.
Jump to:
Types of Smoothies without Yogurt
To help you find just what you are looking for, I have broken down these recipes into different smoothie categories. So if you want something fruity or protein-packed, these are the best smoothies without yogurt. They are all gluten-free and dairy-free.
Here are the categories to get you started. Enjoy one or more of these smoothies without yogurt.
Almond Milk Smoothies
Fruit & Vegetable Smoothie Recipes
Keto/Low-Carb Smoothie Recipes
Healthy Low-Calorie Smoothie Recipes
High-Calorie & High-Protein Smoothies
Almond Milk Smoothie Recipes
These easy-to-make smoothie ideas are rich and creamy thanks to the addition of almond milk. With quick recipes like these, you cannot go wrong. Two of them only use 3 ingredients that you may already have in your kitchen. So get blending and enjoy something yummy.
CHAI SMOOTHIE - If you love a chai latte like me, this decadent smoothie is for you. All the lovely spices that make chai amazing are in this recipe. The cinnamon and tea flavors make it wonderful for breakfast or dessert.
THREE-INGREDIENT STRAWBERRY BANANA SMOOTHIE - Almond milk makes this fruity smoothie creamy and dreamy. Who knew 3 simple ingredients blended up could be so good - it sure is?
THREE-INGREDIENT ORANGE CREAMSICLE SMOOTHIE - Crave-worthy! Everything that a creamsicle should be; tart, creamy, & cool. Naturally sweetened and uses oranges and not just orange juice for full flavor and all the nutrition.
KALE, PINEAPPLE, & ALMOND MILK SMOOTHIE - This is the first kale smoothie recipe I ever tried, and oh boy was it good! It is a Martha Stewart recipe that is simple. No tastier way to get your kale fix.
Fruit & Vegetable Smoothie Recipes
CARAMEL APPLE PROTEIN SMOOTHIE - Apples aren't just for fall. Enjoy this apple smoothie all year long - it is that good. Caramel apple flavor with over 20 grams of protein is a tasty addition to your day.
BEST GREEN SMOOTHIE - Avocado and spinach give this smoothie its lovely green color. They blend beautifully with mango and pineapple for a great fruit and veggie combination. A few more ingredients and all you need is your favorite glass to enjoy this one.
HIDDEN VEGGIES SMOOTHIE FOR KIDS - This green smoothie is toddler and kid-approved. Kids and adults will love the combination of banana, mango, avocado, & spinach. Rolled oats, nut butter, and almond milk help thicken it up too for a milkshake-like texture no one can resist.
BLUEBERRY TAHINI SMOOTHIE - This gorgeous smoothie includes a unique ingredient to ensure it is creamy, tahini. The nuttiness the tahini brings to this blueberry smoothie is unforgettable.
Keto/Low-Carb Smoothie Recipes
These recipes include smoothies that are less than 13 net carbs each. They also have healthy fats to keep you full, satisfied, and in ketosis. But most importantly they are beyond delicious.
STRAWBERRY AVOCADO KETO SMOOTHIE - This high-fat/paleo-friendly smoothie is only 4 ingredients. It's sweetened with monk fruit for a drink that is dessert worthy. 7 grams of fat and only 7 net carbs.
PEANUT BUTTER KETO/LOW-CARB SMOOTHIE - Peanut butter cup fans rejoice. This blended drink has all the taste you love without the carbs. With 28 grams of fat, 10 grams of protein, and 6 net carbs - enjoy without any guilt!
KETO GREEN SMOOTHIE - This low-carb smoothie blends up avocado & spinach for this bright green recipe. It's creamy and refreshing with a bit of mint for a lovely flavor. Only 12 net carbs and loaded with 54 grams of fat to help keep you in ketosis.
Healthy Low-Calorie Smoothie Recipes
For a smoothie that is under 150 calories, look no further. These low-sugar recipes are tasty without adding too many calories to your diet. No one likes to drink all their calories, right? They make for a great quick snack or small dessert to help curb your hunger.
SKINNY BERRY SMOOTHIE - 36 calories! Not a typo - yes only 36 calories for this refreshing drink. You won't believe the secret ingredient in this recipe!
3-INGREDIENT GREEN SMOOTHIE - Tons of flavor but only 98 calories. Mango, spinach, & kale never tasted better. The spinach and kale are loaded with Vitamin A, Vitamin C, and iron.
LOW-CALORIE BERRY SMOOTHIE - Coming in at 100 calories, this smoothie is just the thing for a small refreshing drink. It is 3 ingredients for a sweet-tart berry combination that is pretty & tasty.
High-Calorie & High-Protein Smoothies
These recipes are for people on a high-protein diet or who need to gain weight. They are all easy to make and have the calorie or protein intake your diet may need. These recipes for smoothies without yogurt range from 500-1000 calories. For some smoothies with yogurt, you can also check out these 15 Recipes for High-Calorie Smoothies for Weight Gain.
CHOCOLATE PEANUT BUTTER SMOOTHIE - Who can resist the perfect combination of chocolate with peanut butter? I know I sure can't. 500+ calories never tasted better. It is rich and velvety.
TROPICAL WEIGHT GAIN SMOOTHIE - This smoothie will take you on an island vacation with each sip. Pineapple, coconut milk, and bananas are simply amazing. Add a cocktail umbrella and pull up a lounge chair to sip away on this delightful smoothie.
WEIGHT-GAIN CHOCOLATE SMOOTHIE - Packed with protein, this ultimate weight-gain smoothie comes in at over 1000 calories. It has over 45g of protein in this creamy rich chocolatey delight.
Best Blenders for Smoothies
For smoothie making, you need a really good quality blender. I have a Ninja blender and it is amazing. It blends in seconds and even when using ice, there are no chunks left behind. I get a smooth drink every time. Whether you need a full blender bowl or a small individual serving blender, these have the most reviews and customer satisfaction.
Here are my recommendations for the best cheap & high-end blenders for making smoothies. Plus some nice wide straws to get the thick luscious smoothies through them easily. Anything to make it easier to make and drink, I am up for.
The Short Order Cook participates in the Amazon Services LLC Associates Program. As an Amazon Associate, I earn from qualifying purchases. If you click on a link and make a purchase, I may earn a small commission on the sale at no additional cost to you. This helps with the costs of running the blog. Thank you!
15+ Smoothies without Yogurt (Non-Dairy)
The best recipes for homemade smoothies without yogurt. These blended drink ideas are packed with so much flavor from a variety of ingredients. So much to love about all these recipes. So if you want fruit, vegetables, healthy, low-calorie, keto, high-calorie, or kid-friendly smoothies, this list is for you. All are gluten-free and dairy-free plus great for breakfast, snacks, & desserts.
Ingredients
Green Smoothie

Skinny Berry

Orange Creamsicle

Caramel Apple

Chai Smoothie

Peanut Butter Keto

Strawberry Avocado
Instructions
Gather needed ingredients.

Blend in a blender until smooth.

Pour into a glass or glasses. Add a straw and enjoy!