The best way to reheat chicken wings is in the air fryer. It is so quick & easy to warm up leftover wings while making sure they are juicy & do not dry out. So if you have chicken wings, both flats or drummettes, that need reheating, air frying is hands-down my favorite way to cook them.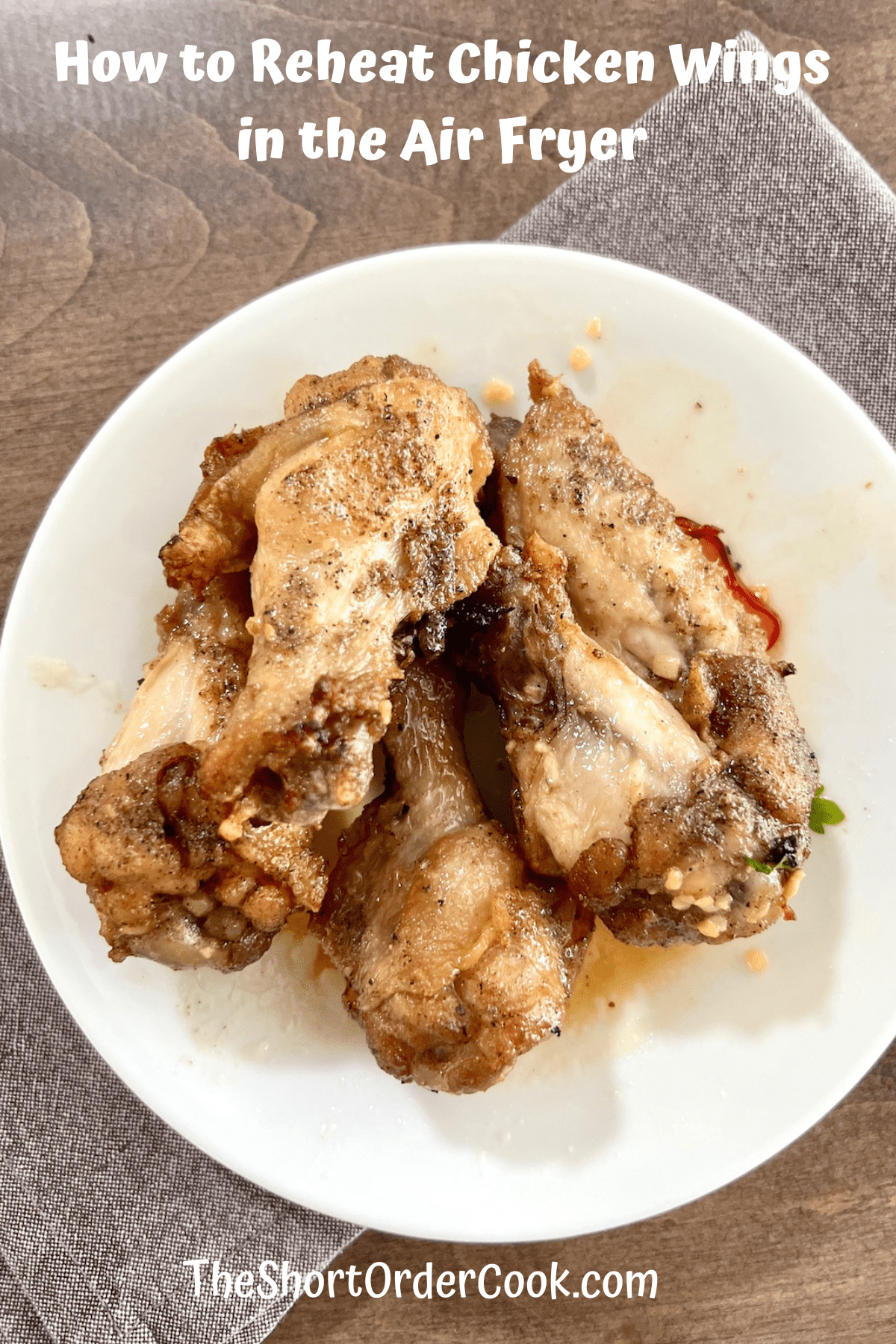 Learn how to reheat chicken wings in the air fryer easily with the recipe I share here today. I have done this many times and all sorts of homecooked recipes & fast food chicken. Air frying works great on spicy wings like my deep-fried hot honey & lemon pepper wings or on mild garlic butter wings.
Jump to:
Best Way to Reheat Chicken Wings
Warming up leftover wings in the air fryer is the way to go. If you are wondering why I recommend this method for the best way to reheat chicken wings, here is my list of reasons why.
Quick & easy
Wings come out hot & crispy
Wings do not get chewy, soggy, or dried out
Works for boneless & bone-in wings
Easy cleanup & minimal mess
My top reason for loving this method is that I can cook two things at once if I need to. If your model is big enough like my Breville Smart Oven Air Fryer, I like to throw in some frozen crinkle fries in the air fryer first. Then when they are almost done, add the wings to reheat. Viola - lunch or dinner is ready!
So the next time you want to rewarm a few or a large batch of wings, use the air fryer. I do not recommend microwaving them since they come out rubbery. The oven takes longer, so air frying it is!
Ingredients
When reheating food, all you really need most of the time is the leftovers. In this case, you will need whatever chicken wings you want to warm up and eat. No avocado oil spray or other items are needed.
This method works on any leftover chicken wings. You can reheat breaded, plain, sauced, boneless, bone-in, skinless, skin-on, & gluten-free wings in the air fryer. Homemade, store-bought cooked frozen wings and those from your favorite restaurant (Buffalo Wild Wings, Church's, Wingstop, & KFC) all are best reheated in the air fryer.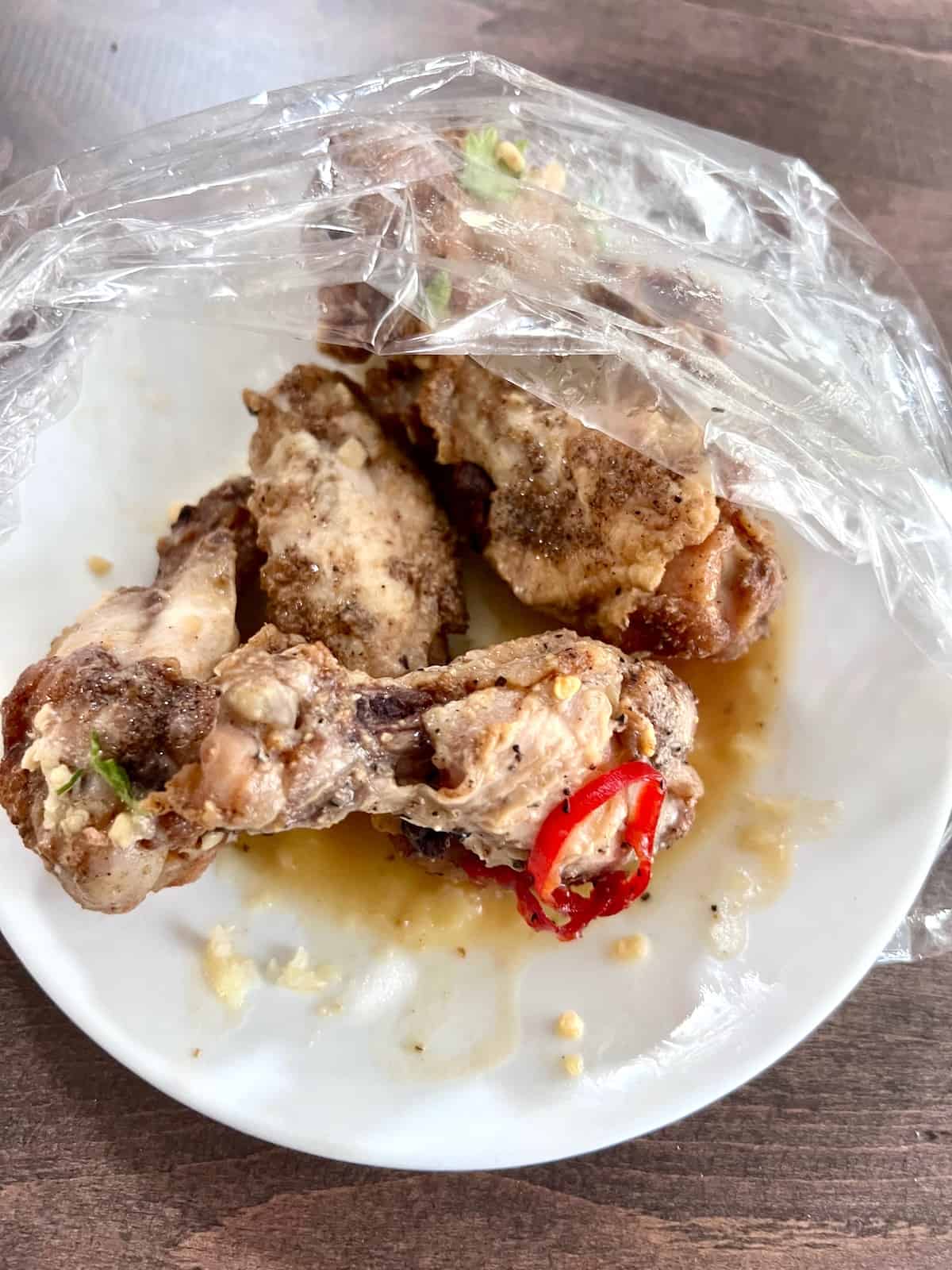 How to Reheat Chicken Wings in the Air Fryer
Ok, now that you are convinced air frying is the only way to go when it comes to reheating chicken wings, let's get cooking. Below I will outline the ideal cooking times & temperatures for warming up all kinds of wings. Check out the categories below to find exactly what you need.
If you want to ensure your air fryer clean-up is easy, here is my air fryer accessory - liners! Use paper liners to help with clean-up, especially if your wings are sticky and saucy. They work great in basket-type air fryers and in those with square or rectangular trays. NEVER PUT A LINER IN AN AIR FRYER WITHOUT FOOD ON IT TO HOLD IT DOWN - that is a fire hazard.
Time & Temperature
Below are the ideal times and temperatures for reheating wings & drummettes. Preheat your air fryer to 365°. Set the timer for 5 minutes, on your air fryer. This is based on average-sized hot wings with bones, similar in size to the ones in my photo below.
Once it is ready, add the wings to warm them. Make sure to not overcrowd your basket or tray. You want the air to move around all surfaces of the wings so they can cook and crisp up evenly.
HINT: For extra-crispy skin or breading on your wings, reheat at a higher temperature, 380°. Watch carefully so nothing burns. We love ours extra crispy on certain thick-breaded chicken.
Boneless vs Bone-in Wings
Here are the recommended cooking times for reheating boneless & bone-in wings. The temperature is the same for both, but the times are a bit different. Bone-in wings that have a light batter or are plain I find reheat faster than boneless ones.
Boneless wings are typically chunks or nuggets with a thick batter, breading, or coating. Reheating through that crunchy batter I find takes a few minutes more. This is why I recommend these times for air-frying leftover boneless vs bone-in wings.
BONELESS WINGS - 8-12 minutes
BONE-IN WINGS - 5-7 minutes
Also, keep in mind the size of your wings, some may be smaller or larger than average. Please adjust up or down by 2-3 minutes if needed. All cooking times are
Check Chicken for Doneness
When reheating chicken you still want to make sure you are not eating undercooked meat that isn't reheated to the right temperature. For safety reasons you want the chicken to always be at a safe temperature. Check interior meat temperature to be sure it is 165°.
Keep in mind that chicken that was cooked, cooled, stored, & then reheated does still have a chance to carry bacteria according to the CDC. Just because it was cooked to the right temperature the first time does not mean it is forever safe. Always cook, store, & reheat chicken safely.
FAQ
Reheating wings is super easy. But if you are new to air frying, reheating food, or cooking in general, here are answers to some common questions. I hope you find what you need but if not, you are always welcome to send me a comment and I will get back to you.
Can I reheat wings that have sauce on them?
This recipe for reheating wings works for any kind. That includes those with sauce on them. If you have breaded or wings without batter but they have any kind of sauce on them, the air fryer can warm them up. The cooking times and temperatures in the recipe card below will work. Keep in mind, some sauces may burn, especially those with a high sugar content so watch them carefully.
Can I reheat frozen leftover wings or defrost them first?
If you cooked up some wings or had leftovers from a restaurant, you may have frozen them to enjoy later instead of right away. I recommend defrosting them first and then air-frying them according to the recipe below.

However, if you are in a pinch and want to cook them from frozen, you can do so in the air fryer. I recommend preheating the air fryer at a lower temperature, 350° when cooking from frozen. This allows the heat to get through the solid layers without burning the exterior. The wings will take between 15-20 minutes. Check interior meat temperature to be sure it is 165°.
Do I need to spray the wings with oil first?
Since you are reheating wings, I will assume there is some sort of fried/baked breading or coating on the skin. The natural fats from the chicken meat or skin should help with the air frying. Therefore, you should not need to spray your leftover chicken wings before reheating them.
Top Tips
All of these great tips are shared in the article. But these are so good and important they are worth mentioning again so you don't miss them.
Preheat the air fryer so that your timing is precise.
Do not overcrowd the air fryer so that even cooking and crisping can occur.
For saucy wings & easy clean-up, use paper liners.
Make a meal and try these sides paired with wings, some can go in the air fryer too.
Check to be sure the chicken reaches an internal temperature of 165°.
Equipment Needed
Here are the tools that make air frying easy. I recommend these items to help cook in & clean up the air fryer.
The Short Order Cook is a participant in the Amazon Services LLC Associates Program. As an Amazon Associate, I earn from qualifying purchases. If you click on a link and make a purchase, I may earn a small commission on the sale at no additional cost to you. This helps with the costs of running the blog. Thank you!
How to Reheat Chicken Wings in the Air Fryer 
The best way to reheat chicken wings is in the air fryer. It is so quick & easy to warm up leftover wings so they are juicy & do not dry out. This works on leftover homemade, store-bought, or restaurant favorites like WingStop, Buffalo Wild Wings, or KFC. Reheating information for boneless, bone-in, breaded, plain, sauced, & skinless chicken wings.
Ingredients
leftover chicken wings

any kind
Instructions
Preheat the air fryer to 365°. Set the time for 5 minutes.

(see Boneless vs Bone-In section above for alternate times)

Once the air fryer is preheated, add the leftover wings to warm them. Make sure to not overcrowd your basket or tray.

Flipping or tossing them is not needed in a short amount of time. But if you wish to flip them, do so when they are halfway done cooking.

Once the timer ends, the wings are reheated. They should be hot and crispy. Check to be sure the internal temperature of the meat is 165°.

Use tongs to carefully remove the hot wings to a plate. Serve and enjoy.

ALL TIMES ARE AVERAGE AND BASED ON MEDIUM-SIZED BONE-IN AND BONELESS WINGS (FLATS AND DRUMS)