Wondering what size air fryer is best for a family of four, here is all the information to help you buy one that is perfect for your home kitchen. All of these air fryers are big enough for cooking four servings or more. These brands are easy to use, have great customer reviews, offer a wide range of features, & are of great value.
So if you are ready to buy a new air fryer, these are the best to purchase for the money. These larger capacity air fryers are big enough for a family to cook, reheat, and more all in one easy-to-use kitchen appliance. In no time you will be making delicious air-fried french fries, air fryer pork belly, or reheating ribs.
Air fryers are a simple way to fry, cook, & reheat food. It is a healthier option in most cases. Cooking in an air fryer not only uses less oil but often makes for easier cleanup. No matter why you want to buy and use an air fryer, you cannot go wrong with purchasing one of these quality brands.
Jump to:
What is an Air Fryer?
An air fryer is a countertop cooking appliance that produces crispy on the outside and tender on the inside food without all the oil like traditional frying. Air fryers work via a combination of a traditional heating element like in standard ovens and a powerful fan to circulate hot air, similar to a convection oven. Thus the name air fryer.
Many call them mini convection ovens. But there are differences between an air fryer and a convection oven. The high-heat cooking not only crisps the outside of foods but also cuts down on cooking times for most recipes. The speed, ease of use, less oil, and flavor that foods from an air fryer have has made them very popular in home kitchens over recent years.
Pros & Cons of an Air Fryer
There are advantages & disadvantages to all kitchen appliances, including air fryers. Knowing all the facts about an air fryer can help you make a decision about owning one.
Below is a quick cheat sheet to help you see the advantages and disadvantages when air frying foods. The infographic below shows the pros and cons of an air fryer.
Many of these appliances can also bake, broil, defrost, dehydrate, or even microwave. Check out my buying guide for the top-rated microwave air fryer combs to see if one may be right for you.
The Short Order Cook is a participant in the Amazon Services LLC Associates Program. As an Amazon Associate, I earn from qualifying purchases. If you click on a link and make a purchase, I may earn a small commission on the sale at no additional cost to you. This helps with the costs of running the blog. Thank you!
Best Basket Air Fryers
Here are my recommendations for the top basket-style air fryers. You cannot go wrong with either of these great models. But one of these and start making homemade crispy fries, wings, & more in no time.
This Ninja Foodi model is the top air fryer with baskets on the market. The large capacity allows families to cook a lot but two things at once as well. With two baskets your fries and chicken tenders are done all at once for a full meal that is ready, hot, & delicious in minutes. The two zones also allow you to reheat in one and air fry in another all at once. With 6 functions: air fry, roast, broil, bake, reheat, & dehydrate this Ninja does almost everything.
This is an inexpensive air fryer, under $100, with a large-capacity basket. 8 quarts will allow your family to cook plenty - 3 pounds of fries or wings for example! It is ideal for a beginner with 100 presets for cooking almost anything; including presets for air frying, broiling, reheating, roasting, & more!
Best French Door Air Fryers
Air fryers with French doors tend to be ideal for families. These large model air fryers are often big enough to hold 2 pizzas, large batches of wings, or any of your other favorites. Here are my top 2 picks for the best French door air fryers to buy for a family of four.
This 10-in-1 countertop air fryer is a toaster oven combo that handles a lot of your cooking needs. This model has a fast preheat function as well as 10 cooking options: Bake, Air Fry, Toast, Slow Cook, Dehydrate, Broil, Roast, Warm, Pizza, and Turbo Convection. It is large enough to hold a whole chicken or two 16" pizzas. Makes this one of the best air fryers for homemade family pizza night!
For a great-priced air fryer with french doors that won't break the bank, this model by Luby is a customer favorite. For less than $200 this large air fryer countertop model is big enough for a 20-pound turkey. It's easy to use with simple dials. Two racks are great for making several things at once. With about 5K great reviews, this is a win.
Best Air Fryer & Toaster Oven Combos
If you want one kitchen appliance that does more than one thing, an air fryer toaster oven combination is for you. This is what I have personally for my family of five and wouldn't have it any other way. With a small kitchen and big family, one countertop model that can air fry, toast, bake, roast, reheat, & more is a lifesaver!
TOP PICK!!! This is the model I have and I LOVE IT, so do 8K customer reviews! It is great for a family of 4 or more. The capacity can cook a 14-lb turkey, bake 12 muffins, toast 8-10 slices of bread, or air fry up to 6 pounds of chicken wings. The two racks and tray option also means you can cook more than one thing at once. There are 11 functions (see image below) and easy-to-use dials and digital display. We use ours daily and for almost everything!
This model is a bit smaller than the Breville Pro. It can toast up to 6 slices of bread, bake a 13" pizza, or a 5-lb chicken. You can bake, toast, air fry, dehydrate, and more with this model. Cosori makes several models bigger or smaller so you can quickly find the model perfect for your family.
Best Air Fryer & Pressure Cooker Combos
For a kitchen tool that is great for air frying and pressure cooking, these products will have you cooking with speed in no time. Whether you want to air fry some french fries or pressure cook some ribs, these are the best brands you can buy. All are big enough to feed the whole family.
This 8-quart deluxe Ninja Foodi model is great for pressure cooking. It includes a crisper insert that holds up to 5 quarts. So for a great Ninja Foodi that does it all in one, this is for you. This 12-in-1 model can also sear, make yogurt, dehydrate, steam, & more. Easy to clean and use will ensure this is your new favorite way to cook.
Instant Pot is a top brand for electric pressure cooking so no wonder why everyone also loves it for air frying. The crisper & pressure cooker due is a 9-in-1 kitchen tool that can make just about anything - steam rice, pressure cook meats, slow cook soups, make homemade yogurt, or air fry some chicken nuggets.
Best Brands of Air Fryer
There are many models that are perfect for a family of four. All of these are the top brands of air fryers for good reason. Customer satisfaction, ease of use, value for the money, & quality of the cook makes these the best brands of air fryers that money can buy.
Here are the top recommended air fryers on the market. They all have a big enough capacity for a family of 4. They are broken down by the top companies making air fryers.
There are several Ninja air fryer products shared on this page. There is a great 2-basket air fryer and one that is a pressure cooker combo. However, the best Ninja Foodi Air Fryer is an appliance that is the toaster oven combination. 10K great customer ratings cannot be wrong and it can fit 2 pizzas. This counter top model is the ultimate convection toaster/air fryer kitchen appliance - Ninja DT201 Foodi 10-in-1 XL Pro Air Fry Digital Countertop Convection Toaster.
This is also my top model above under the air fryer/toaster oven category. I personally own this Breville Pro model. It has a large capacity for up to 3# of french fries, dozens of wings, or a large pizza. It toasts, bakes, reheats, slow cooks, broils, air fries, bakes, and even has a cookie mode - heaven! Breville Pro Air Fryer Toaster Oven is a best buy.
This XL capacity air fryer made by Cosori is one of the best money can buy. This inexpensive model has a large 5.8 quart square basket large enough for a 5-pd chicken. This Cosori air fryer is great for a family of four. Plus it has a dishwasher-safe basket for easy cleaning. This basket COSORI Pro Air Fryer Oven Combo, 5.8QT Max XL is a best buy.
Current Prices, Reviews, & Info
The Short Order Cook is a participant in the Amazon Services LLC Associates Program. As an Amazon Associate, I earn from qualifying purchases. If you click on a link and make a purchase, I may earn a small commission on the sale at no additional cost to you. This helps with the costs of running the blog. Thank you! Â
Easy Air Fryer Recipes for Beginners
Once you get your new air fryer set up in the kitchen, it is time to get cooking. Here are some simple recipes that are great for beginners. These quick and easy air fryer recipes are delicious & will be a family favorite. Easy air fryer recipes from the best food bloggers, plus these below will get you started.
Air Fryer Frozen Crinkle French Fries
For an easy foolproof method for cooking frozen crinkle-cut french fries in the air fryer, try this recipe. They will be hot, crispy, and yummy with just the right amount of time to cook in the air fryer. Plus delicious dips and seasonings to add for the best air fryer french fries.
Air Fryer Crinkle Fries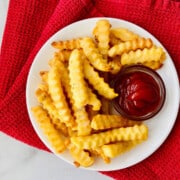 Air Fryer Frozen Coconut Shrimp
The best hot and crispy air fryer frozen coconut shrimp, try this easy recipe. In just a few minutes your favorite appetizer or seafood meal will be cooked to perfection. Great for parties, game day, or dinner.
Air Fryer Coconut Shrimp
Air Fryer Green Beans
In just 10 minutes, this recipe for crispy air fryer green beans is the best. This simple side dish with few ingredients is quick & easy.
Air Fryer Green Beans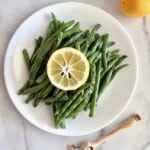 Air Fryer Broccolini with Lemon & Parmesan
Broccolini is crispy thanks to the air fryer. It is all dressed up with fresh lemon & parmesan. This garlicky recipe is savory, salty, & bright with a punch of citrus.  You'll love this Italian-inspired fresh vegetable side dish or appetizer.
Air Fryer Broccolini with Parmesan
Air Fryer Homemade Croutons
These garlic-seasoned air fryer homemade croutons are so easy to make. In just a few minutes they are hot, crispy, and crunchy. Great for salads, soups, casseroles, & snacking. Made with olive oil & herbs for a healthy vegan option.
Air Fryer Croutons