In just 10 minutes you will be enjoying the most delicious crispy air fryer green beans. Follow this recipe for seasoned green beans with a burst of fresh lemon juice for an irresistible side dish.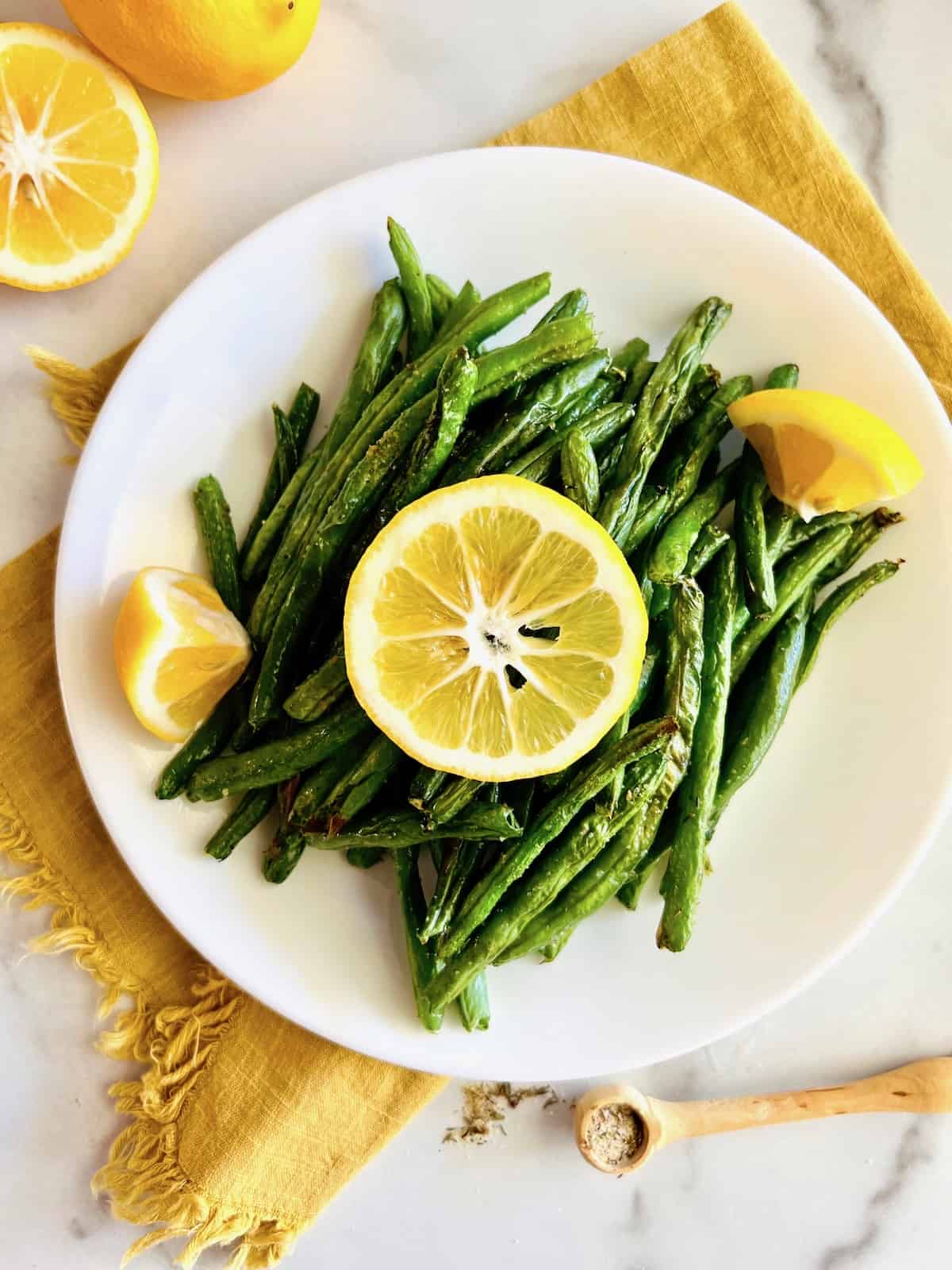 These beans are so good the whole family will love them. It's a kid-friendly recipe that is great served with baked mac & cheese or chicken nuggets.
This was inspired by a green bean seasoning recipe on this site. If you have a large air fryer this pairs well with air fryer fish filets for a yummy meal.
Jump to:
Why Air Frying Beans is Amazing
Looking for a quick and easy way to cook green beans? Try making them in an air fryer! Here is why this is the best way to make blistered crunchy green beans.
Saves time - only takes 10 minutes!
Healthier version than frying or sauteeing in oil.
Crispy on the outside & tender on the inside.
Ingredients
Here is all you need to make this air-fried green beans recipe.
Fresh Green Beans - I love using traditional fresh green beans that are hearty for crispy skin but also have a nice snap inside. See substitution notes regarding French-cut or haricot verts.
Seasoning for Green Beans - is a recipe for a blend of 5 herbs & spices.
Avocado Oil Spray - the best oil for high-heat cooking in an air fryer.
Lemon - the citrus juice & zest adds a blast of freshness & brightness that sets this recipe over the top.
See the recipe card for quantities.
How to Make Air Fryer Green Beans
This simple recipe takes only a few steps. Begin by washing, drying, & trimming the fresh green beans. If you have kids, you may also want to cut the beans into shorter pieces - makes it so much easier for those little mouths to bite.
If you bought them prepacked as I did, they are ready to go and a big timesaver. Add the green beans to a large bowl. Next, spray with the avocado oil, and toss to coat.
Combine all spices in a small bowl and mix thoroughly.
Sprinkle the seasoning blend on the oiled green beans. Use your hands or tongs to toss & coat.
What Spices are Best?
Here is what is needed to jazz up green beans & make them taste better. Add these ingredients to a small bowl & combine.
¼ teaspoon salt
¼ teaspoon garlic powder
⅛ teaspoon black pepper
⅛ teaspoon onion powder
⅛ teaspoon dried thyme
Time & Temperature to Air Fry Green Beans
Now that the beans are seasoned, they are ready to go into the air fryer. Preheat the air fryer to 375°. Set the timer for 8 minutes.
Once the air fryer is preheated, add the seasoned beans to the tray or basket. Make sure they are in a single layer. For easier cleanup, place a disposable parchment liner down immediately before adding the beans.
I have an air fryer/toaster oven combo model. It is large and the tray holds the full recipe. This may not be the case if you have a small model or basket.
Hint: If you have a small air fryer, you may need to cook these in two batches. You can cook them stacked up instead of a single layer but they may not get as crispy on all sides. Stir to rotate the beans halfway through cooking and add 2 minutes to the cooking time if you have a large batch.
How To Serve Air Fryer Green Beans
Once the timer is done, the green beans have finished air frying. They should have blistered skin with dark shriveled edges. The beans will be fork-tender, hot, & crispy.
Using tongs, plate the green beans. Slice the lemon into wedges. Squeeze fresh lemon juice over the cooked green beans.
Garnish the plate with additional wedges. Serve & enjoy immediately!
Substitutions & Variations
Here are some great recipe variations & ingredient substitutions that can be made. These may help you enjoy this recipe even with dietary, health, or personal nutritional preferences.
Green Beans - use tender haricot verts instead of regular string beans. For thin French-style beans the cooking time will be shorter.
Avocado Oil - instead of spraying avocado oil use olive oil.
Seasoning Blend - use a store-bought spice blend instead of the homemade recipe shared here.
Spicy - sprinkle on ¼ teaspoon cayenne pepper.
Deluxe - add a variety of different colored beans instead of just green string beans - like wax or purple beans.
Extra-Crispy - cook at 400°.
This recipe is already dairy-free, gluten-free, & nut-free. It is a healthy way to eat green beans that is both vegetarian & vegan.
See this other recipe for green beans roasted in the oven on my website for another amazing way to enjoy string beans!
Equipment
The right ingredients, supplies, & equipment help recipes taste amazing & turn out well. Here are recommendations for products that are needed for making this recipe. Shop this recipe & buy these top-rated items today.
The Short Order Cook participates in the Amazon Services LLC Associates Program. As an Amazon Associate, I earn from qualifying purchases. If you click on a link and make a purchase, I may earn a small commission on the sale at no additional cost to you. This helps with the costs of running the blog. Thank you!
Storing & Reheating Leftovers
These store well in the refrigerator. Place leftovers in an air-tight container with a tight-fitting lid. They will keep fresh for up to 5 days.
The cooked green beans can also be frozen. Store in a freezer Ziploc bag or container for up to 30 days. Defrost in the refrigerator before reheating.
To reheat leftover air-fried green beans, place them in the air fryer at 380° for 3 minutes or microwave for 1 minute.
Top Tips
All of these great tips are shared in the post. But these are so good and important they are worth mentioning again so you don't miss them.
Buy fresh beans that are already cleaned & trimmed to save time.
Be sure to use avocado oil since it holds up to the hot temperature.
Cook green beans in a single layer so they cook evenly & get crispy.
Finish with a squeeze of fresh lemon juice for added flavor.
FAQ
Here are answers to some common questions. I hope you find what you need but if not, you are always welcome to send me a comment and I will get back to you.
Can I air fry canned or frozen green beans?
Yes, you can cook any type of string bean in the air fryer. For canned beans, I recommend draining the liquid & cooking for only 3-4 minutes. For frozen green beans, the time & temperature will be the same since frozen beans are typically blanched before freezing.
How long to cook air fry green beans at 400°?
If you want to speed up the process a bit you can cook them at 400°. Cook them also for 8 minutes if you want them extra crispy. Or cook them for only 6 minutes for al dente green beans with a bit of a snap but also with blistered skin.
How many carbs & calories are in air-fried green beans?
This recipe uses a bit of avocado oil for fat which adds some calories. But it is still a good low-carb, low-fat, & low-calorie side dish. Each serving is 49 calories & has only 5.3 net carbs.
Pairing
These are my favorite main dishes to serve with this simple recipe for air-fried green beans: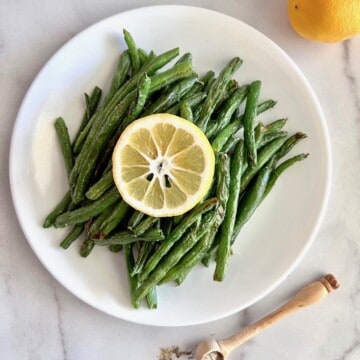 Air Fryer Green Beans
In just 10 minutes, this recipe for crispy air fryer green beans is the best. This simple side dish with few ingredients is quick & easy.
Ingredients
1

pound

fresh green beans

washed, dried, & trimmed

avocado oil spray

Seasoning for green beans

see recipe link below in notes

1

lemon

cut in wedges
Instructions
Preheat the air fryer to 380° and set the timer for 8 minutes.

Wash, dry, & trim the ends off the fresh green beans, if needed. Use a packaged prewashed & trimmed bag to save time.

In a large bowl, add the beans. Spray with avocado oil. Toss with your hands or tongs to coat all sides.

Sprinkle on the seasoning blend. Toss to coat.

Once the air fryer is preheated, add the seasoned green beans to the tray or basket. Keep the beans in a single layer so they will cook evenly & the hot air will be able to circulate around all surfaces.

Let the beans cook for 8 minutes on the timer. Once it is done, use tongs to remove the beans carefully to a serving plate.

Squeeze fresh lemon juice on the beans. Garnish with lemon wedges & enjoy immediately.
Notes
Try my SEASONING FOR GREEN BEANS RECIPE LINK -
The nutritional information for the seasoning & beans is - 
Nutrition Facts
Servings: 4
Amount per serving
 
Calories
49
% Daily Value*
Total Fat 1.2g
2%
Saturated Fat 0.1g
1%
Cholesterol 0mg
0%
Sodium 155mg
7%
Total Carbohydrate 9.5g
3%
Dietary Fiber 4.2g
15%
Total Sugars 3.6g
 
Protein 2.2g
 
Vitamin D 0mcg
0%
Calcium 43mg
3%
Iron 1mg
7%
Potassium 19mg
0%
*The % Daily Value (DV) tells you how much a nutrient in a food serving contributes to a daily diet. 2,000 calorie a day is used for general nutrition advice.