For a side dish with so much flavor, air fryer broccolini with lemon and parmesan will blow your mind. Crisp stalks of tender broccolini come out slightly charred when air frying. The seasoned broccolini is not just garlicky but also has a salty nutty taste thanks to ribbons of shaved parmesan cheese. This broccolini is perfectly seasoned and finished with fresh lemon that really smacks your taste buds.
Air frying gives vegetables a simple complexity with little effort. To singe the ends until they are toasty is so amazing and it is ridiculously easy to do. This is one of the best ways to elevate ordinary vegetables into something extraordinary. Once you try this recipe you will want to air fry every fresh vegetable and I don't blame you. It is also a healthy way to cook broccolini but no one needs to know this yummy recipe is also good for you.
What I love about this recipe is that it was inspired by the tasty broccolini served in many Italian restaurants. You can find crisp, fresh, & flavorful broccolini on many menus in Italy under the contorni section. It is a lovely side to serve with your favorite Italian recipes. I love it with my Low-Carb Keto Lasagna or Lobster Ravioli.
The addition of acidic lemon juice & flavorful zest is a common way to dress vegetables in Italy. And of course, the parmesan on top is the perfect final step to take my tastebuds back to Italy. So what are you waiting for, get your air fryer ready and enjoy what will likely become your favorite way to cook broccolini.
Jump to:
Ingredients
This easy vegetable side dish recipe call for several fresh ingredients and a few pantry staples. Like many recipes for making fresh vegetables, having fresh ingredients is key. This is very true for this healthy broccolini recipe.
For this recipe fresh tender broccolini is key. You want small slender stalks and not large big thick stalks of broccolini. This is key to making sure this cooks without it burning on the outside and being hard and raw on the inside. If you have broccolini that is large, broccoli rabe, or you are using regular broccoli florets, see the substitutions section for how to cook this properly.
Along with the broccolini, fresh lemon, parmesan, and garlic round out the remaining ingredients. This recipe uses shaved ribbons of parmesan. Do not substitute it with finely grated parmesan, it will not add the flavor that you want in this delicious combination. Then you need good oil for air frying, avocado oil spray. Finally, the seasonings add the finishing touch that brings it all together.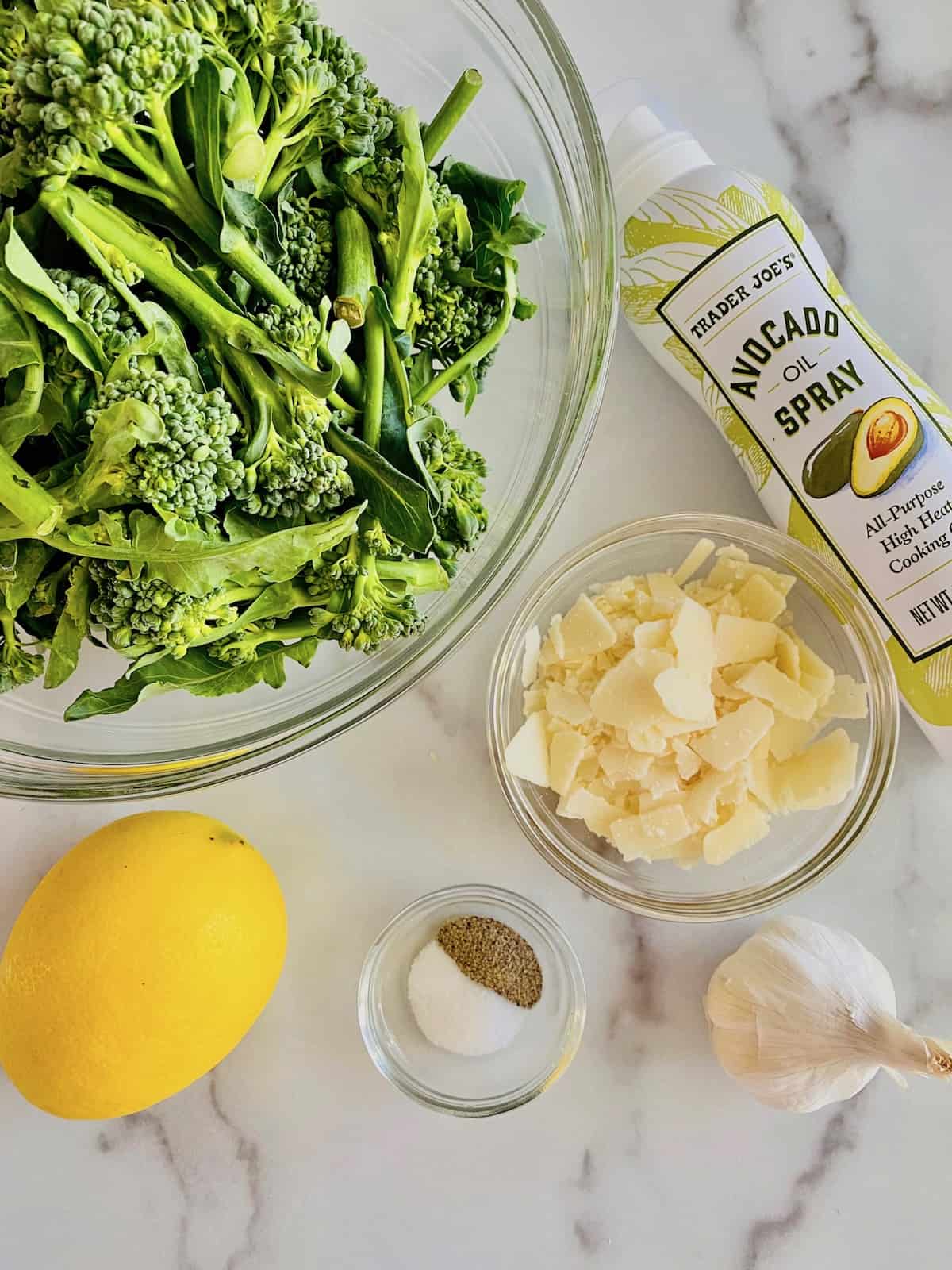 Broccolini
Lemon
Garlic Cloves
Avocado Oil Spray
Shaved Parmesan
Salt & Pepper
See the recipe card for quantities.
Instructions
Begin by prepping the broccolini and lemon. Wash and thoroughly dry the young broccolini stems. Add it to a large mixing bowl. Lightly spray with the avocado oil and toss or flip over & spray again. You want both sides to have a light dusting of oil. Add the crushed garlic and toss to coat. Next, add salt and pepper. Toss to coat.
How Long to Air Fry Broccolini
Once the broccolini is ready, set the air fryer and the timer. For the best temperature to cook broccolini in the air fryer, set it at 375°. Next, set the air fryer cook time for 7 minutes for small broccolini.
To the basket or tray of the air fryer, add the broccolini pieces. Make sure they are in a single layer and not overcrowded. No need to preheat, let the broccolini sit in the air fryer during the preheat and cooking time. This will take about 10 minutes total depending on your air fryer model.
While it is cooking, you can prep the other ingredients. Shave the parmesan if you didn't buy it that way. Also, zest and juice the lemon.
I did not find a need to flip the pieces over in my air fryer with a tray. If you have a basket and find you need to flip food to air fry properly, you may flip it halfway through cooking.
Once the broccolini is done with air frying, carefully remove it from the air fryer to a serving platter. Arrange it in a single layer.
Drizzle the lemon juice evenly over the broccolini. Sprinkle on the lemon zest. Finally, sprinkle on the shaved parmesan. Using tongs, toss to coat or serve as is with salty nutty slices of shaved parmesan on the top.
In 15 minutes you have not only a quick and easy broccolini recipe, but it tastes fantastic. No one will believe this fancy side dish takes little effort to make & only a few simple ingredients. The pop of citrus from the lemon zest and juice is so refreshing in contrast to the sharp parmesan and earthy broccolini. Just thinking about it makes my mouth water.
Hint: Shaved parmesan works best for this recipe. To taste the sharp cheese against the hearty broccolini you need bold big pieces like you get when shaving it. Grated parmesan just doesn't stand a chance so make sure to use large shavings. You will thank me.
Substitutions
Here are a few substitutions you can make to ensure it fits your liking or dietary preference. As mentioned above, if you cannot find small broccolini and you have thick stems on your broccolini or you are using broccoli florets instead, please see the notes below.
Large Broccolini - substitute the crushed garlic for ¼ teaspoon of garlic powder. Larger broccolini will take longer to cook and fresh garlic will burn.
Broccoli Florets - if using regular broccoli florets, cut them into small 1" pieces so that they can cook in the short 7 minutes.
Broccoli Rabe - you can use this too but since it is smaller than broccolini, cut the cooking time down to 4-5 minutes in the air fryer.
Low-Sodium - omit the salt and let the cheese be the only salty component. See the nutrition information below to determine if this is low-salt enough for your diet.
Vegan/Paleo/Whole30 - use nutritional yeast instead of the shaved parmesan.
This recipe is already gluten-free, vegetarian, low-fat, and low-carb.
Variations
Air fryer broccolini is a tasty simple side dish or appetizer recipe. You can jazz it up or make small changes to get a variety of other tasty ideas. Here are a few suggestions to make some great vegetable sides.
Spicy - add ½ teaspoon chili pepper flakes while cooking to add heat to the dish.
Cheesy - add a variety of Italian cheeses along with the parmesan such as gorgonzola or mozzarella. Or omit the parmesan and add a soft and creamy cheese like goat cheese, brie, or boursin.
Lemon - if you don't like lemon you can drizzle olive oil at the end for some brightness & help add moisture.
What to Serve with Broccolini
Broccolini made in the air fryer is a quick recipe that goes with so many main meals. This fancy vegetable can be served as either a wonderful vegetarian first course or as an appetizer. I have been to gourmet pizza restaurants that offer broccolini as a small plate and I always order it. So whether you serve air fryer broccolini as an antipasto or as a side dish, you will love it.
It is amazing with anything from pasta to steak. For some great recipes that go well with broccolini, try some of these. There are vegetarian, gluten-free, keto, and hearty meat dishes so there is surely something to please everyone. One of my favorites is serving it with Smoked Beef Short Ribs - a great summer meal!
Equipment
For this recipe, you need an air fryer. Whether you have a basket style or a toaster oven combination with a tray as I have, this broccolini recipe comes out fantastic. I love doing vegetables as they get a little charred or crispy which adds so much flavor. One of my favorites is an easy appetizer or side dish recipe for Air Fryer Shishito Peppers - they are addicting so you have been warned.
If you are shopping for a new air fryer model, here are some I recommend. Whether you want a small one or a large one to feed a big family (like mine), there is something to love. Also here are some great air fryer accessories that help my air fry cooking.
The Short Order Cook is a participant in the Amazon Services LLC Associates Program.  As an Amazon Associate, I earn from qualifying purchases.  If you click on a link and make a purchase, I may earn a small commission on the sale at no additional cost to you. This helps with the costs of running the blog. Thank you!  
Storage
This recipe makes 4 servings. If you have leftover broccolini, it stores well in the refrigerator. Place it in an air-tight container and store for up to 5 days. Reheat broccolini in the microwave or air fryer.
Cooked broccolini can be frozen as well. To store leftover broccolini in the freezer, place it in an air-tight container or ziplock bag. It can be frozen for up to 30 days. To defrost, place frozen broccolini in the refrigerator for 1-2 days to thaw. Defrosted cooked broccolini will not be as crisp and may lose some of its moisture but is still safe to eat.
Top tip
Wondering if you can eat broccolini that has started to flower? Do not throw it away, keep that loved broccolini and the flowers too. They are perfectly edible, tasty, and pretty. So yes you can eat broccolini, broccoli, or broccoli rabe that has flowers on it.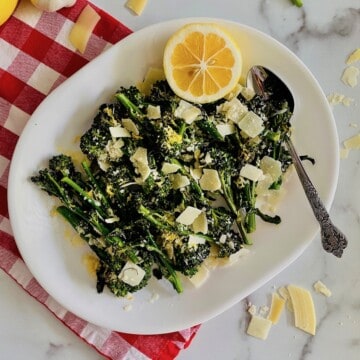 Air Fryer Broccolini with Lemon & Parmesan
Broccolini is crispy thanks to the air fryer. It is all dressed up with fresh lemon & parmesan. This garlicky recipe is savory, salty, & bright with a punch of citrus.  You'll love this Italian-inspired fresh vegetable side dish or appetizer.
Ingredients
1

pound

small broccolini w thin tiny stalks

** see notes above if using thick broccolini or regular broccoli florets

avocado oil spray

3

cloves

garlic

minced or crushed

1

tablespoon

lemon zest

2

tablespoons

lemon juice

¼

teaspoon

salt

⅛

teaspoon

black pepper

⅓

cup

shaved parmesan cheese
Instructions
Wash & dry the broccolini.   Add broccolini to a large mixing bowl. 

Spray with avocado oil & toss with hands or tongs to coat.

If using tender baby broccoli, sprinkle with the fresh garlic & toss to coat.  Add salt & pepper & toss again.

** If using thicker large broccolini or florets, add only salt & pepper now, no fresh garlic at this time.

Place seasoned broccolini on the rack or in an air fryer basket.  Make sure it is in a single layer.

No need to preheat.  Set the air fryer to 375° for 7 minutes (for small tender stalks).

NOTE: Set it for 10 minutes for larger/thicker stalks or large broccoli florets; fresh garlic will burn in 10 minutes so if using larger broccoli, add garlic midway through cooking or use ¼ teaspoon garlic powder instead. 

When done, carefully place air-fried broccolini on a platter. Drizzle on the lemon juice & zest.

Top with shaved parmesan.  Add more salt & pepper to taste. 

ENJOY IMMEDIATELY!   

Store leftovers in an air-tight container in the refrigerator for up to 5 days.
Notes
Nutrition Facts
Servings: 4
Amount per serving
 
Calories
52
% Daily Value*
Total Fat 2.4g
3%
Saturated Fat 1.6g
8%
Cholesterol 8mg
3%
Sodium 217mg
9%
Total Carbohydrate 4.2g
2%
Dietary Fiber 1.3g
5%
Total Sugars 1g
 
Protein 4.5g
 
Vitamin D 0mcg
0%
Calcium 117mg
9%
Iron 0mg
2%
Potassium 163mg
3%
*The % Daily Value (DV) tells you how much a nutrient in a food serving contributes to a daily diet. 2,000 calorie a day is used for general nutrition advice.