For the best toaster ovens, you can buy under $100, pick one of these inexpensive models. Reviews for big or small quality toaster ovens. Depending on capacity, functions, and what you want to cook, these toaster ovens have it all at a great budget-friendly price. So whether you want to make toast, reheat pizza, or make Toaster Oven Baked Potatoes, these countertop kitchen tools have it all.
The Short Order Cook is a participant in the Amazon Services LLC Associates Program. As an Amazon Associate, I earn from qualifying purchases. If you click on a link and make a purchase, I may earn a small commission on the sale at no additional cost to you. This helps with the costs of running the blog. Thank you!
For models with special features like air frying, super convection, and reheating, there are toaster ovens with that too. If you want an air fryer toaster oven combination under $100, the best ones to buy are shared here.
Buying kitchen appliances or gadgets can be overwhelming. I have done the research and outlined the pros & cons of many toaster oven brands and models to come up with the best ones to buy for under a hundred dollars
What Can You Cook in a Toaster Oven?
There is nothing better than using a smaller appliance when you can. It saves on energy for one. But in the summertime, it really saves your house from heating up too. Toaster ovens are not just for making toast or frozen waffles these days.
I love baking cookies or even making grilled cheese in them. Here are some recipes exclusively for toaster oven cooking.
Toaster Oven Peanut Butter Cookies
The best toaster oven peanut butter cookies are an easy & delicious recipe. This small batch recipe makes a dozen cookies that bake up perfectly in your toaster oven. Great for college students in dorms, RVs, small kitchens, and more.
Toaster Oven Cookies
Toaster Oven Bacon
For the best toaster oven bacon, try this quick & easy recipe. It is a great way to make a small amount of bacon. Whether you want 1-2 servings of bacon for burgers, sandwiches, or breakfast, this is the foolproof way to cook it.
Toaster Oven Bacon
Toaster Oven Baked Potato
Making baked potatoes in the toaster oven is an easy and delicious way to cook this classic side dish. The skin turns out crispy and the inside is soft and fluffy. If your toaster oven has a convection setting, this baked potato recipe is super quick
Toaster Oven Baked Potato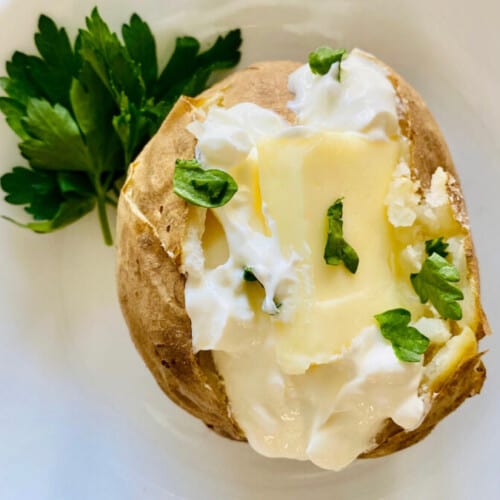 Best Toaster Ovens Under $50
For the best budget-friendly toaster ovens, check out these models that are all under $50. These are all wonderful options for anyone who wants a cheap-priced toaster oven that is anything but cheap. They all have great reviews and are made by companies that are well-known and have been around for a long time making kitchen appliances.
This small toaster oven is big on cook space. The two-track design can cook multiple things at once. The rack is big enough for 4 slices of toast. All for less than $50 - this is the best deal for a quality toaster oven! 7k great reviews too.
This compact model is a cheap toaster with 700+ good reviews. Spend a little and you can get a lot of years of use with this Elite Gourmet toaster oven. This toaster is my top pick for small spaces like dorm rooms & RVs.
Best Toaster Ovens Between $50-$100
If you have a bit more to spend on a new toaster oven, these models between $50 and $100 are all great. For a bit more money you will get a bigger model and/or one with more features. For a toaster oven that can hold 6 slices of bread or frozen waffles, one of these models will be just what you are looking for.
There are two Hamilton Beach models. One with a roll-top model that can fit up to a 12" pizza and up to a 9"x11" pan. The other toaster oven can fit a 9" pizza but has other features like an auto shut-off and an air fry option - yeah! You can also back a 12" pizza in the Black & Decker model. This one goes on sale at times for around $75 which is a great price for a toaster with over 8000 4 ½-star ratings.
Best Compact/Small Toaster Ovens
All of these small toaster ovens are not just compact but they have a small price tag too. They all cost less than $100. They are great for your budget but also perfect for small areas. These are the best toaster ovens for apartments, college students in dorms, small kitchens, and even RVs like motor homes & travel trailers.
Check them out and find what is right for your situation. Some have wonderful features like an auto shut-off option which dorm rules may require. All have great reviews and come in a range of prices for anyone's budget.
Best Large Toaster Ovens
For those who have a big family (or one that eats big), one of these large-capacity toaster ovens is right for you. These models are also great for office break rooms, or hotel breakfast rooms. They too all have great ratings and are under $100 when on sale (which is often).