Making toaster oven bacon is the best way to get hot & crispy bacon in no time. If you ever wondered, if can you cook bacon in a toaster oven, you are not alone. I have had a few friends personally ask me over the years and I am always happy to answer - yes! The best way to cook bacon when you only need a few slices is in the toaster oven.
In just a few minutes your breakfast side dish will be ready. What I love about making bacon this way is that it is perfect for making only 1 or 2 servings of bacon at a time. So whether I need a fast keto breakfast or want a few slices for a BLT for lunch, cooking bacon in the toaster oven is my go-to recipe.
This article has links to products/services that may make us a commission. #ad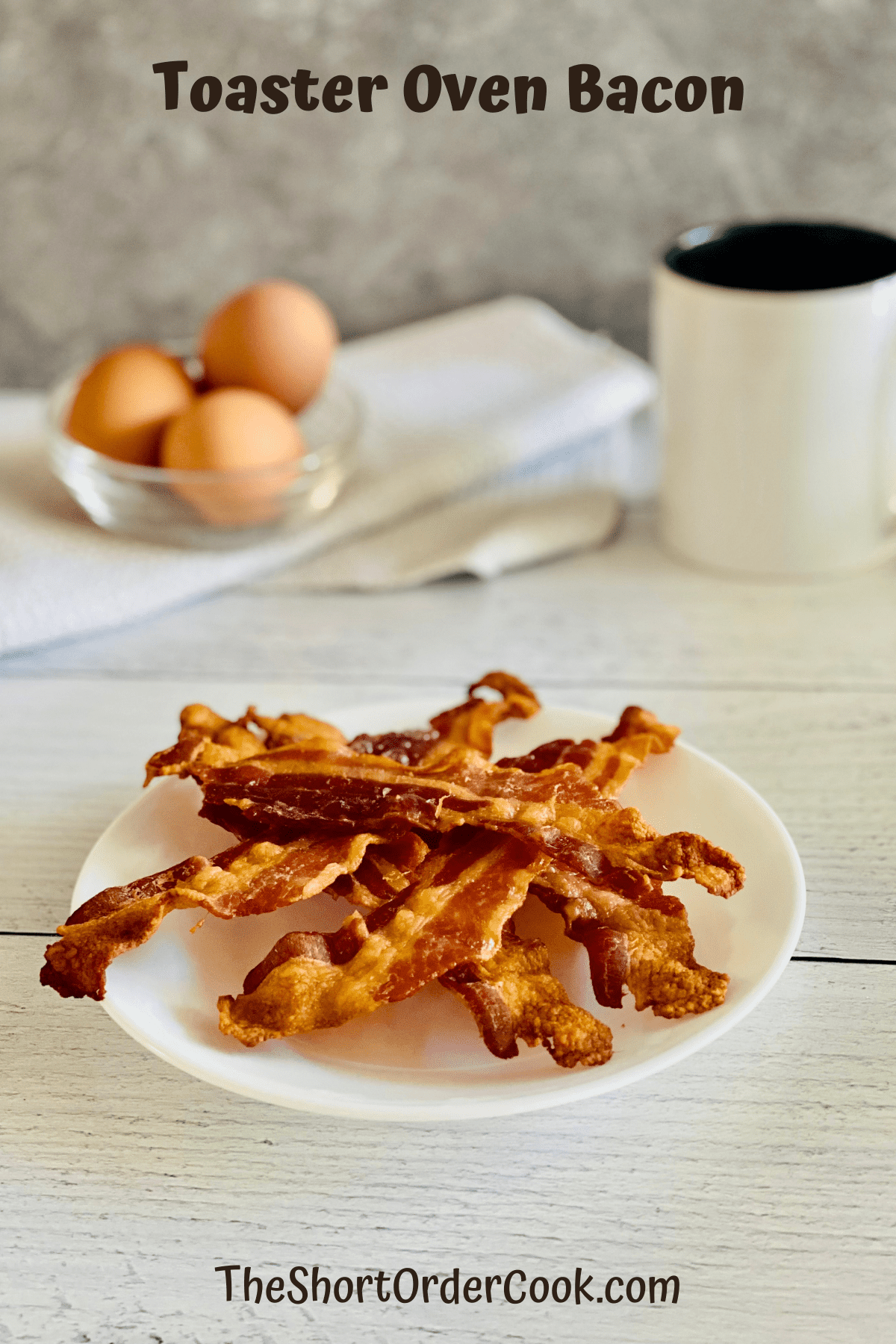 Benefits of Toaster Oven Cooking
Why is cooking bacon in a toaster oven so wonderful? Beyond it coming out tasty and crisp, it also is less messy. Instead of grease splattering in a frying pan, the toaster oven is a cleaner way to cook bacon. It also uses less energy than turning on a full-sized regular oven. I also find that it cooks things more evenly than when in the microwave.
Therefore, when you only need a few slices of bacon for one serving or to add to a meal, this recipe is perfect. A great way to cook up some bacon for cheeseburgers or Baked Macaroni & Cheese with Caramelized Onions and Bacon. I also love getting out the waffle iron for some homemade mochi waffles to serve with this.
Jump to:
Ingredients
Making bacon in your toaster oven is not so much a recipe as it is a way to cook it. However, there is still an important ingredient - BACON! Cooking it in a toaster oven is great when you only need about 6 or fewer slices and not the entire package cooked. The small sheet pan that fits into my large toaster oven/air fryer, fits 6 slices maximum for cooking.
How Many Slices in a Pound of Bacon?
A package of bacon typically has about a pound of bacon. The Kirkland Low-Sodium bacon I used here had 16 slices to it. Depending on the brand or kind of bacon, there is a bit of difference in the number of slices in each package. For a typical one-pound package of regular sliced bacon, there are about 16-20 slices. If it is thick-sliced, there are fewer and only about 12-15 slices.
For smaller packages that are under a pound, there may be fewer slices. I get a free package of bacon (for life!) in my monthly Butcher Box subscription. Yeah for free bacon. It's uncured, nitrate-free, and sugar-free which is ideal for those on a keto or low-carb diet. Each package has about 9-10 slices in the 10oz package.
Different Kinds of Bacon
As shown, I am cooking regular pork bacon in the toaster oven. But you may be wondering, can I cook turkey bacon or vegan bacon in the toaster oven too? Yes, you can. Keep in mind they will need different cooking times and temperatures to be cooked correctly.
For reference, this recipe calls for regular-cut pork bacon. For information about thick-cut bacon, turkey bacon, and other kinds of bacon, see the substitution section below.
How To Cook Bacon in the Toaster Oven
Bacon needs to be cooked in a pan that will fit in your toaster oven. Simply placing it on a rack will not suffice - what a mess that fatty & slippy bacon will make. If you do not have a pan that came with your toaster oven, you can use another oven-safe rectangular pan. I suggest lining the bottom of the pan with foil, clean-up is so much easier.
I also suggest using a rack that fits into the small pan. Having the bacon elevated out of the bacon drippings helps to crisp it up more. If you do not have one, that is ok and it will cook just fine but may not be as crispy. See my recommendations below for great toaster oven accessories like pans, racks, and more.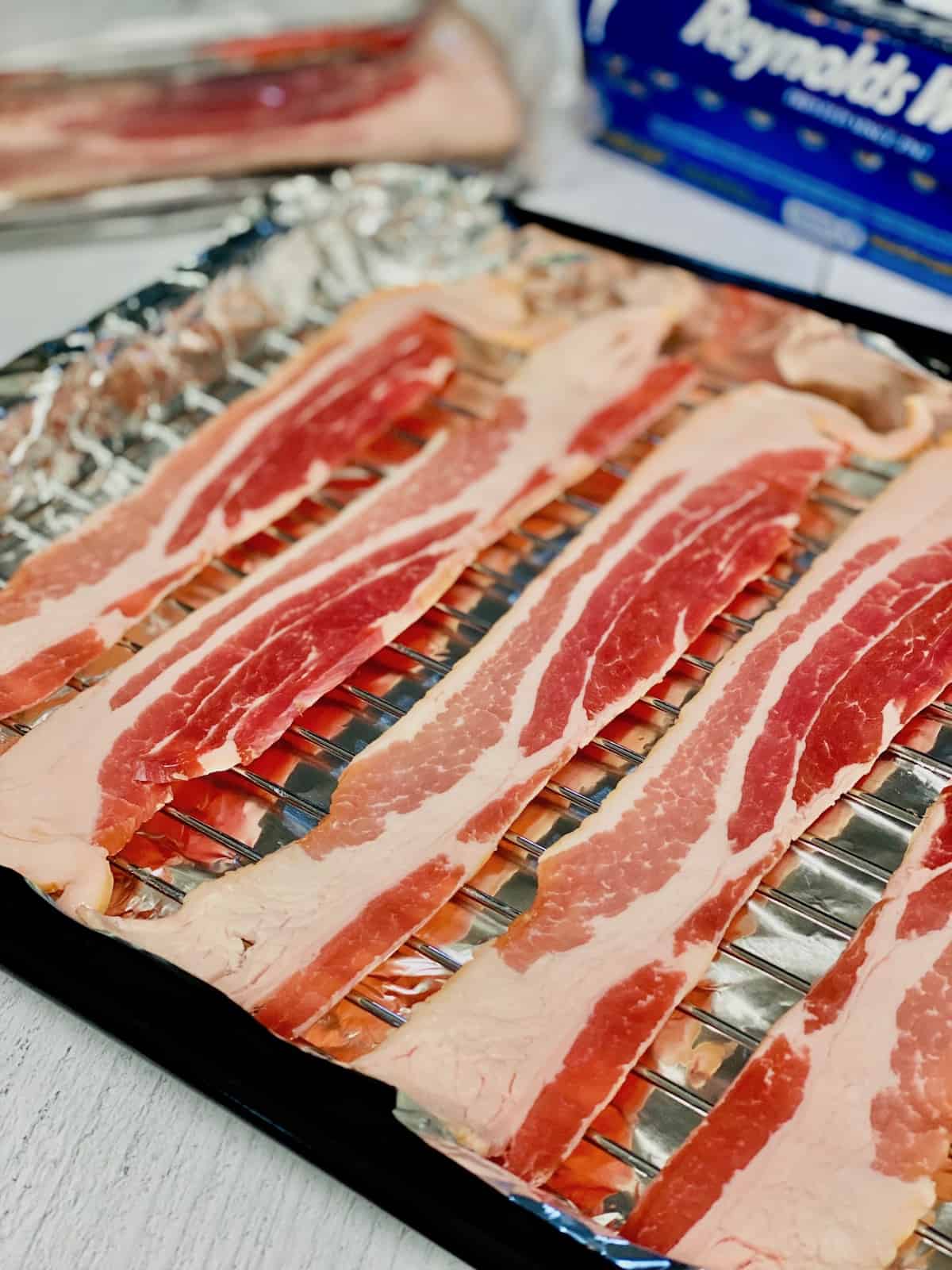 Depending on the size of your bacon and your pan, you should be able to fit up to 5-6 slices.
Hint: If your bacon is frozen, you can quickly defrost it in the microwave for a few minutes on defrost. Remove it from the package and place the packaged bacon on a microwave-safe plate. This may take about 3-5 minutes on the defrost mode. It will require the bacon to be flipped and moved around as needed.
Temperature & Cooking Times
Chewy, crisp, or extra crispy is a common debate on how people like their bacon. No matter how soft or well-done you like your bacon, cooking it in the toaster oven makes it come out perfect. The key is making sure you cook it at the right temperature and for the right amount of minutes.
The best temperature to cook bacon in your toaster oven is to set it on bake at 425°. If you have a convection oven mode on your toaster oven, you can use that to cook bacon too. Since convection cooking cooks faster than a regular oven temperature, set your temperature to 400° when making bacon in a convection toaster oven.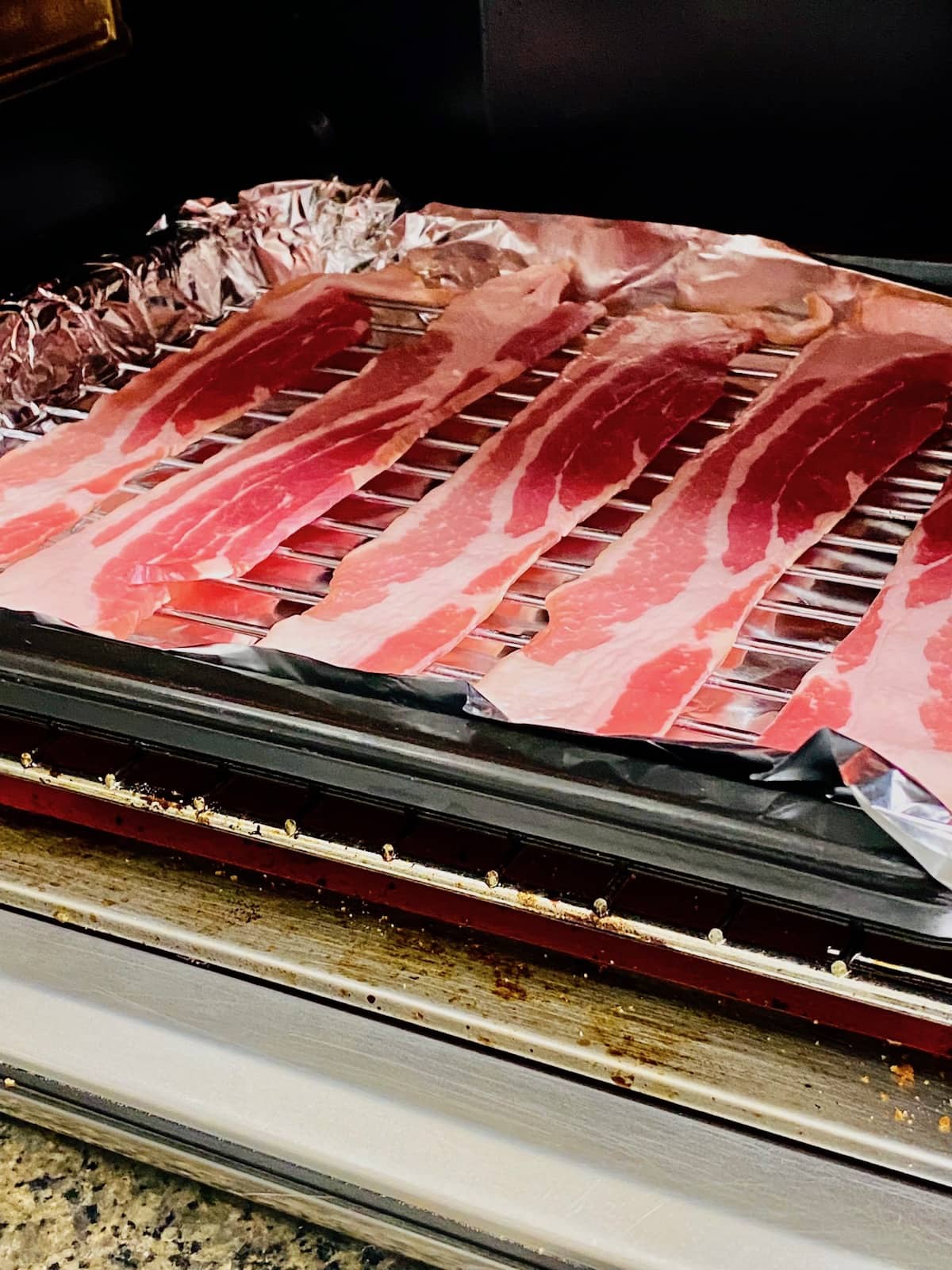 How Long to Cook Bacon in a Toaster Oven
Below is all the information on baking bacon in the toaster oven. Here are the temperature and baking times need to get bacon the way you like it. Once you get the bacon on the baking pan rack, preheat the toaster oven to 425°. Set the timer for 12-18 minutes depending on how you like your bacon.
Soft & Chewy - 12 minutes
Crispy - 15 minutes
Extra Crispy - 18 minutes
Bacon Cooked for 12 Minutes
Here is what the bacon will look like after 12 minutes in the toaster oven.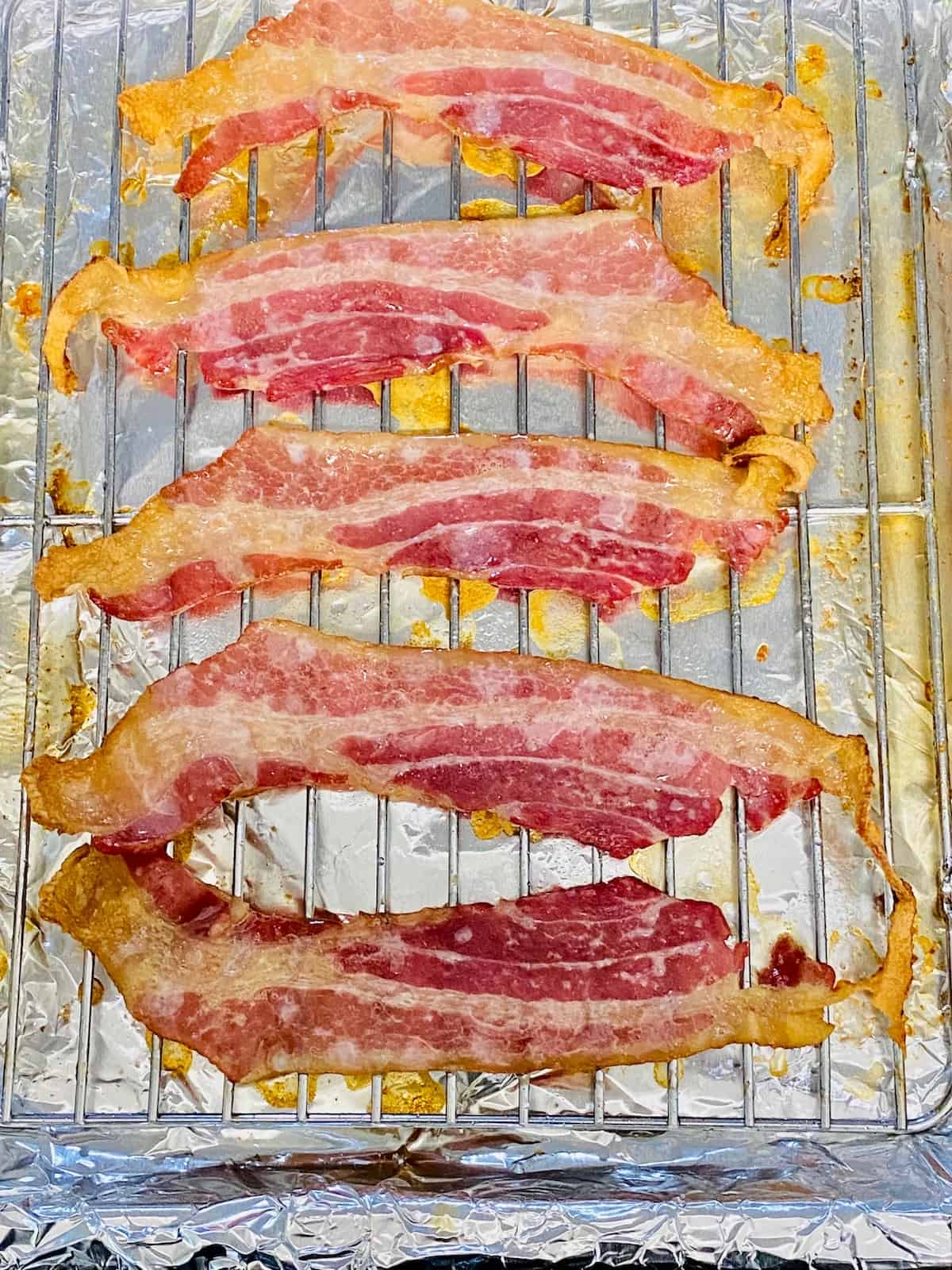 Bacon Cooked for 15 Minutes
Here is what the bacon will look like after 15 minutes in the toaster oven.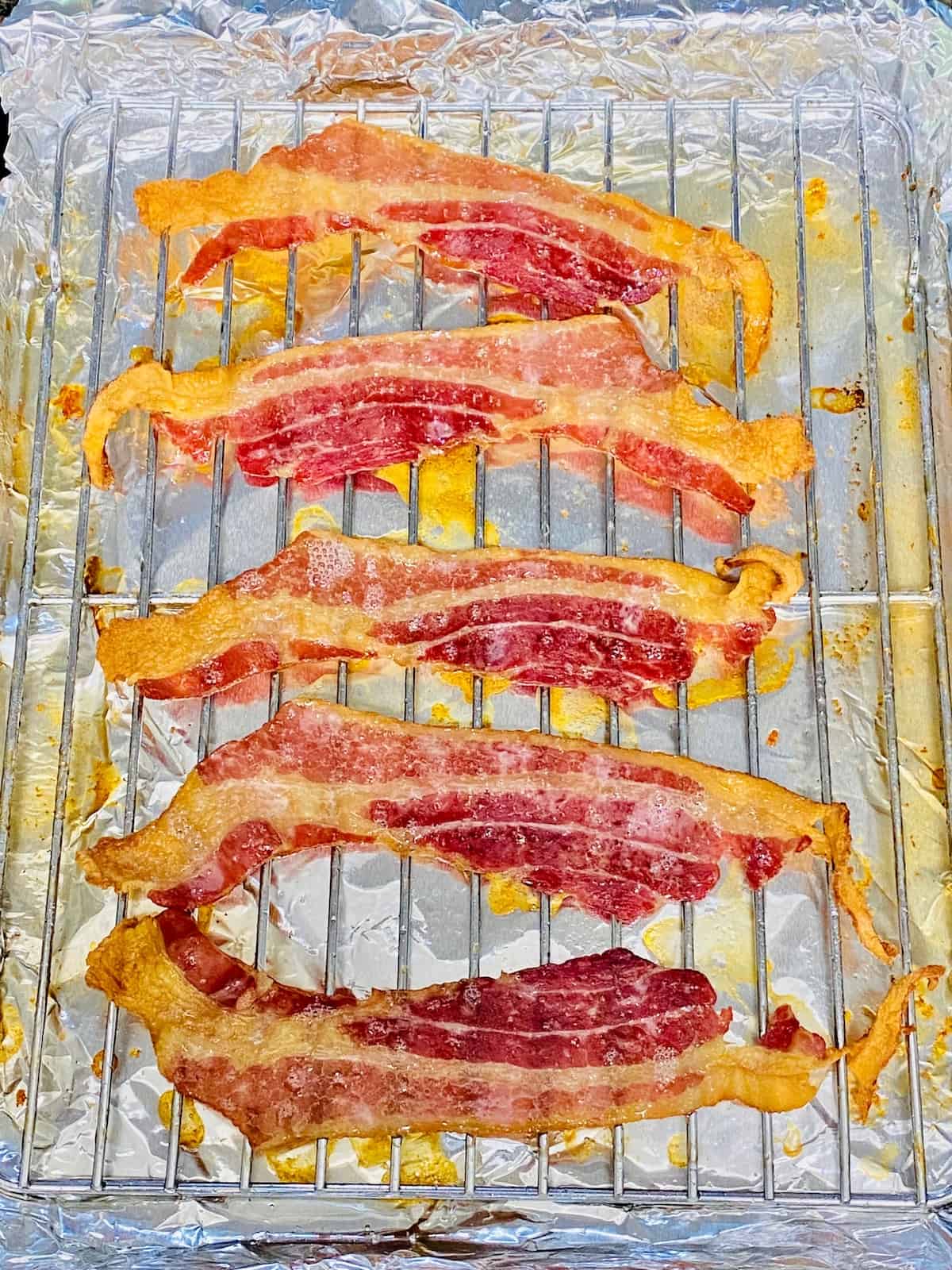 Bacon Cooked for 18 Minutes
Here is what the bacon will look like after 18 minutes in the toaster oven. It is extra crispy. This is how our family likes it. This is also best for making bacon bits to crumble on soups, salads, chili, and casseroles. Also great in recipes like my Brussels Sprouts with Bacon & Blue Cheese.
For turkey bacon lovers, you may also want to try making it in the microwave oven or regular oven.
Once the bacon has been cooked to your liking, remove the pan carefully from the toaster oven. Use a good quality oven mitt and be careful as bacon grease is very hot and may pop. Using tongs, remove the cooked bacon from the baking tray. Place cooked slices on a plate that has been lined with paper towels.
Substitutions
For a quick guide on cooking other kinds of bacon in a toaster oven, see the information below. I have only tested the turkey bacon cooking temperature and times in the toaster oven. However, the other information comes from other tasty blogs that have made different kinds of bacon for eating.
Cooking Different Kinds of Bacon
The time ranges shared below will result in soft bacon for the lower end of the range to extra crispy at the high end. Making bacon to your liking has never been easier. Use these cooking times and temperatures for baking bacon alternatives.
Turkey - 400° for 8-13 minutes
Thick-Cut Bacon - 425° for 15-20 minutes
Vegan Bacon - best to follow the package instructions for baking but drop the temperature by 25° and cook for 1-3 minutes less. (small toaster ovens tend to cook quicker than full-sized ovens)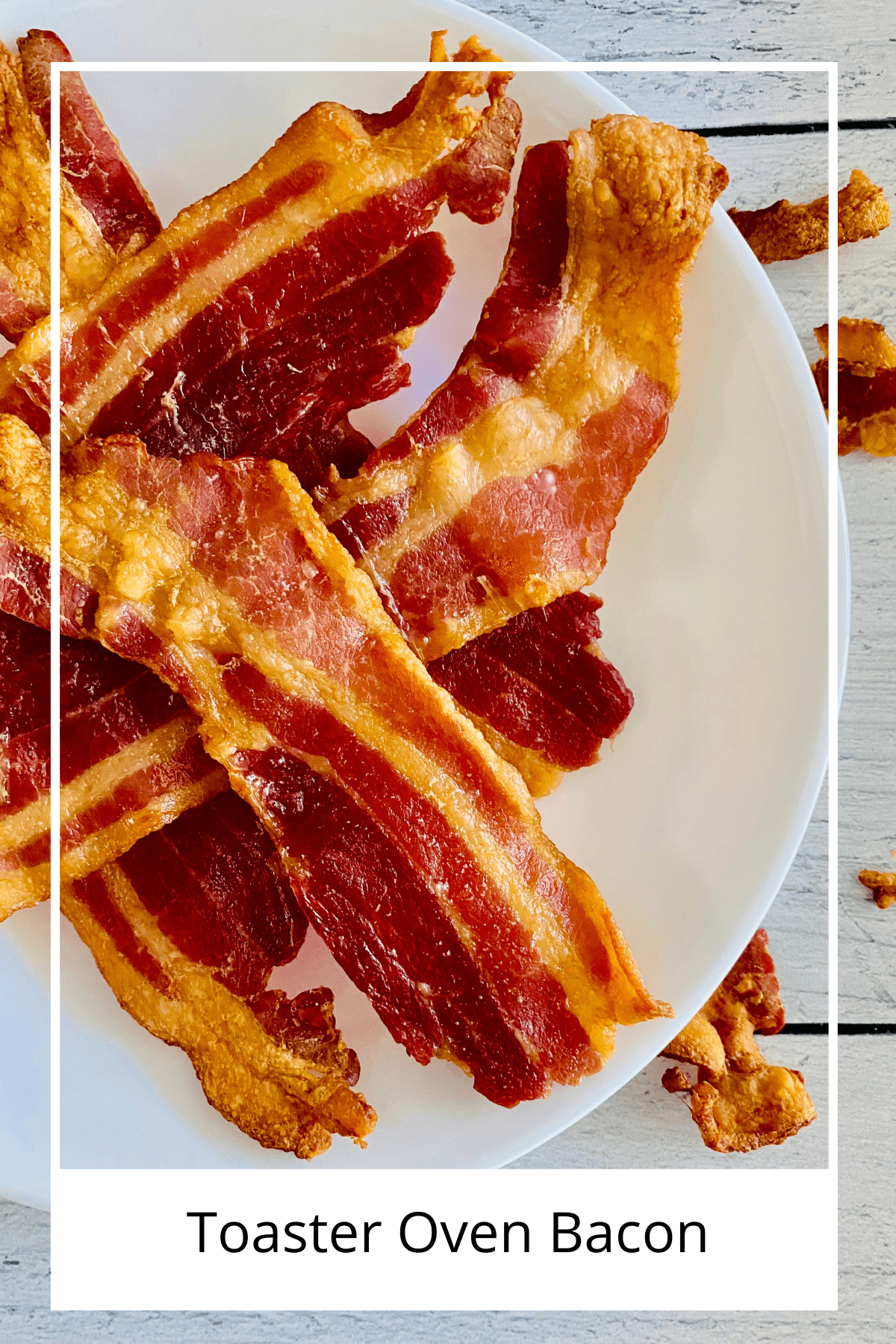 Equipment
This recipe calls for a toaster oven and a few accessories. I like to make my bacon on a rack over a baking pan, as seen above. If you do not have a rack, that is ok too but your bacon may not be as crispy. I recommend getting one for the next time you put bacon in your toaster oven. They are reasonably priced and relatively small so they don't take up too much cupboard space.
Whether you want a small or large toaster oven to fit under the counter, here are the Best Toaster Ovens Under $100. What I love about many of these is that they do more than toast or bake. Several also have air frying, dehydrating, and pizza-baking functions. A great way to have one appliance do so many things. That is ideal for any home, dorm room, office, or RV.
Here are a few top-quality models and equipment that I recommend for this recipe and so many other tasty things you can make in a toaster oven. I own the Breville model and absolutely love it - toast, bake, air fry, pizza making, broil, & more!
The Short Order Cook is a participant in the Amazon Services LLC Associates Program. As an Amazon Associate, I earn from qualifying purchases. If you click on a link and make a purchase, I may earn a small commission on the sale at no additional cost to you. This helps with the costs of running the blog. Thank you!
Storage
If you have leftover cooked bacon, you are like a rare unicorn. Seriously, we never have leftover bacon in our house. However, if you find yourself with leftover bacon, it can be stored in the refrigerator. Wrap it up in foil or plastic wrap or place it in an air-tight container or ziplock bag. Place it in the refrigerator for up to 3 days.
Top tip
Leftover cooked bacon can also be stored in the freezer. Store in an air-tight container for up to 30 days. You can also refreeze any uncooked bacon. This is handy since with this recipe you are only cooking part of the full package.
Toaster Oven Bacon
For the best toaster oven bacon, try this quick & easy recipe. It is a great way to make a small amount of bacon. Whether you want 1-2 servings of bacon for burgers, sandwiches, or breakfast, this is the foolproof way to cook it.
Equipment
toaster oven

Baking pan & rack
Instructions
Preheat the toaster oven to 425°.

Line your baking pan with foil. Be sure to use an oven-safe baking pan that fits into your toaster oven. Optional - top the pan with a baking rack.

Place 1-6 slices of bacon on the baking rack.

Place the bacon in the toaster oven when it is preheated. Set the timer for how many minutes you want to cook your bacon. See the chart above for how the bacon will turn out between 12-18 minutes of cook time.

Once the bacon is cooked to your liking, using oven mitts, carefully remove the pan from the toaster oven. Using tongs move the cooked bacon to a plate that has been lined with paper towels. This will help absorb any bacon fat still on the slices.
Notes
The nutritional information for this recipe will vary based on the size and type of bacon used. See the package you are using for this information.