Philly cheesesteaks are easy to make and can be assembled quickly to enjoy them anytime.  Ever since Trader Joe's starting carrying freshly shaved beef in the refrigerator section, I have been making these at home about once a month.   The shaved beef is sliced perfectly thin and cooks up so fast, which is exactly what you want in a Philly cheesesteak sandwich.  Grab your provolone cheese, canned easy cheese, or cheese whiz, and dinner is ready.  Of all the recipes for shaved beef steak, this is the best. Who needs a local cheesesteak shop when these are so simple and economical to make at home using ready-sliced Trader Joe's shaved steak?
Tender thin-sliced beef, melted cheese, sauteed sweet onions, hoagie roll, and ----   Oh sorry, I drifted off in a daydream about these sandwiches again.  Of all the food towns, Philadelphia I think has the most iconic item. I do not know anyone who can say cheesesteak without adding "Philly" to the name.  Philly cheesesteaks recipes have been replicated at home for decades for good reason, the sandwich is pretty amazing! It is easy to make an authentic Philly cheesesteak at home by following this simple recipe.There are many questions asked when making or ordering a Philly Cheesesteak sandwich.
Wit or Wit-out (onions)?
Whiz or Provolone?
Pat's or Geno's?
No matter what your answers are, you cannot go wrong with this cheesesteak recipe. It is not only effortless to make but results in that amazing tender meat and cheesy goodness that makes these sandwiches so popular.  This recipe is the classic recipe but many folks even enjoy additional ingredients such as:
Sauteed mushrooms
Sauteed bell peppers
Pizza sauce
Banana or jalapeno peppers
Combinations of more than one of the above
This recipe calls for the traditional hoagie roll.  Some people, myself included, do not eat traditional bread products due to gluten sensitivities or celiac disease. You can substitute the rolls for any bread substitute you would like.  The best part of this recipe for me is that I make a low-carb Philly cheesesteak by making my homemade fat head keto rolls.
Gluten-Free rolls
Grain-Free homemade rolls like my recipe for FAT HEAD KETO ROLLS
Romaine or iceberg leaves to enjoy as a lettuce wrap
Making the Best Philly Cheesesteaks with Trader Joe's Shaved Beef
When I first found shaved beef at my local Trader Joe's store in the refrigerator section, the obvious first thought was to make cheesesteaks so I made sure I bought all the other necessary ingredients that day also. We are a family that likes it "wit onions" and we like both whiz and provolone so that is what I got.  We also love the canned spray "easy cheese" to be honest.
Sautee Onions for the Cheesesteaks
The first step was to dice the onions and saute them until soft and translucent.  Once ready, remove from the pan and set aside.
How to Cook Shaved Steak
The shaved beef comes already very thin and ideal for cheesesteaks. I chop up the Trader Joe's shaved steak into smaller pieces before cooking in the skillet because my husband likes his cheesesteak meat to be in small pieces.  We find that we get better meat to cheese ratio in our cheesesteak sandwiches this way too.   We like our sandwiches cheesy!
It only took about a minute for the meat to brown and be tender. You do not want to cook it too long and make it tough.  The only ingredients we added to the meat was salt, pepper, and a splash of Worcestershire sauce.  I then add the already cooked onions back into the meat.
Get the Rolls Ready for the Philly Cheesesteak Meat
Right before adding the cheese whiz to the pan to stir, assemble the rolls with the sliced provolone and get it under the broiler until the cheese just melts. We are not a big "processed food like food" family but this is the one time that little red labeled jar makes its way into our home. There is something about two kinds of cheese that are better than one when it comes to making homemade cheesesteaks. Or should I say Double-Cheese Cheesesteaks!
Add Cheese to the Cooked Meat
Stir to pan off so it is not too hot,  then add the processed cheese to the cooked meat and onions. Stir to combine.  Then spoon mixture onto the prepared rolls with melted provolone cheese. The results were great!
Two kinds of gooey cheese along with the tender and slightly salty meat is very comforting.  The sweet onions add that little bit of aromatic flavor that keeps this classic without the need for other vegetables or sauces.  I have to admit I am a purist when it comes to some things (like I LOVE vanilla ice cream) and these cheesesteaks are simply perfect this way.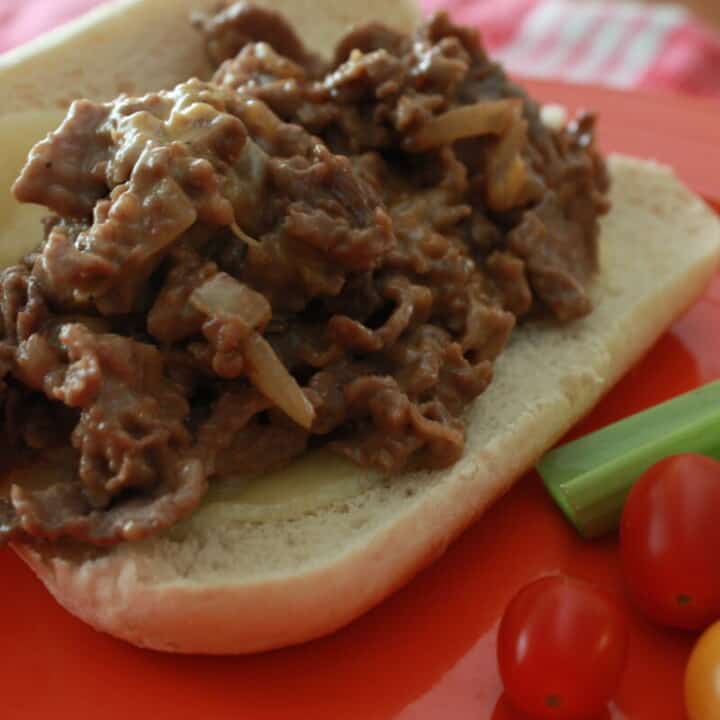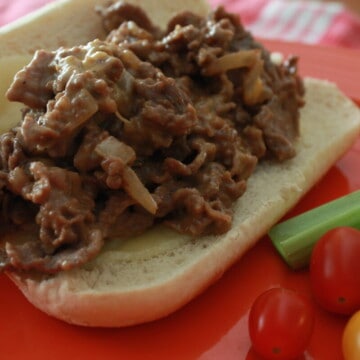 Classic Homemade Philly Cheesesteak Sandwich
Tender beef and melty cheese are delicious in this iconic sandwich, easy enough to make at home.
Ingredients
1

pound

thinly sliced beef

Trader Joe's shaved beef

1

TB

olive oil

½

large sweet onion

diced

salt & pepper

1

teaspoon

Worcestershire sauce

6

slices

provolone cheese

⅔

C

Cheez Whiz

about ⅓ of a 15oz jar

4

hoagie sandwich rolls
Instructions
Heat pan on medium with olive oil. Saute onions until soft and just starting to get golden. Remove onions from the pan and set aside.

Add beef to the pan and stir to separate the slices to ensure they cook quickly and evenly. Add Worchestershire, salt, and pepper. Beef is ready when there are no more pink pieces. (about 3 minutes) Reduce heat to low to keep it warm.

Meanwhile, put the broiler on low.

Arrange 4 hoagie rolls opened up on a baking sheet. Top each roll with 1 &  ½ slices of provolone along the roll to cover most of it. Melt cheese on the rolls under the broiler.

Once rolls are ready, add onions and Cheez Whiz to the beef. Stir to melt and combine evenly.

Top each prepared roll with ¼ of the cheesesteak mixture.
Did you make this The Short Order Cook Recipe?
Tag @theshortordercookblog (Instagram & Facebook) or @shortorder_cook (Twitter). 
I would love to see your latest creations and kitchen adventures.