The best Philly cheesesteak sandwich is made with Trader Joe's shaved beef steak. The thin meat is cut perfectly for the classic sandwich. With little prep, this easy recipe is hot & ready in just minutes. Take a bite of this gooey, cheesy, hearty, & comforting sandwich & fall in love.
Ever since Trader Joe's started carrying freshly shaved beef steak in the refrigerator section, I have been making these at home about once a month. They are that good. The beef is also great in so many other recipes like my Philly Cheesesteak Pasta Skillet Casserole.
Jump to:
Why are Cheesesteaks so Iconic?
If you are from Philadelphia you just know. You may pick sides - Pat's or Geno's? You may like it "wit or wit-out" (onions). Plus there is always the cheese debate - Whiz or Provolone. There is a long history to the Philadelphia cheesesteak sandwich.
No matter how you order it at a sandwich shop, you make it your own. The beauty of the cheesesteak is that it starts with an amazing fresh roll, topped with tender seasoned beef that's thinly sliced, & loads of cheese. How you add on to it can only make it better. See the variation section below for how to step up your cheesesteak game!
Ingredients
When I first found shaved beef at my local Trader Joe's store in the refrigerator section, the obvious first thought was to make cheesesteaks. Here are the other ingredients needed to make this simple & quick recipe.
Trader Joe's Shaved Beef Steak
Olive oil
Onion
Worcestershire Sauce
Cheez Whiz
Provolone Cheese
Salt & Pepper
Hoagie Rolls
See the recipe card for amounts and full instructions.
How to Make Philly Cheesesteaks
Here are the simple steps for this recipe for Philadephia cheesesteak sandwiches with Trader Joe's shaved beef steak. Begin by gathering all your ingredients & a large skillet. Then follow these easy steps.
Prep the Ingredients
Saute the Onions
Cook the Shaved Beef Steak
Prep the Rolls
Assemble the Cheesesteaks
Prep the Ingredients
Begin by prepping the onions & shaved beef. I recommend finely chopping the shaved beef steak. This ensures the meat is in small pieces that are so easy to bite & mix well with the cheese later. Also, dice up the onions.
Saute the Onions
In a large skillet, add the olive oil and heat on medium until warm. Add the onions and saute until soft & slightly golden brown on the edges. Once ready, remove from the pan and set aside.
Cook the Shaved Beef Steak
Next, add the chopped-up Trader Joe's meat to the hot skillet. It only took about a minute for the meat to brown and be tender. You do not want to cook it too long and make it tough.
To the meat add salt, pepper, and a splash of Worcestershire sauce. Add the onions back to the skillet and stir to combine. Heat through for another minute and then turn the skillet to low. This will keep it warm while you prep the rolls and cheese.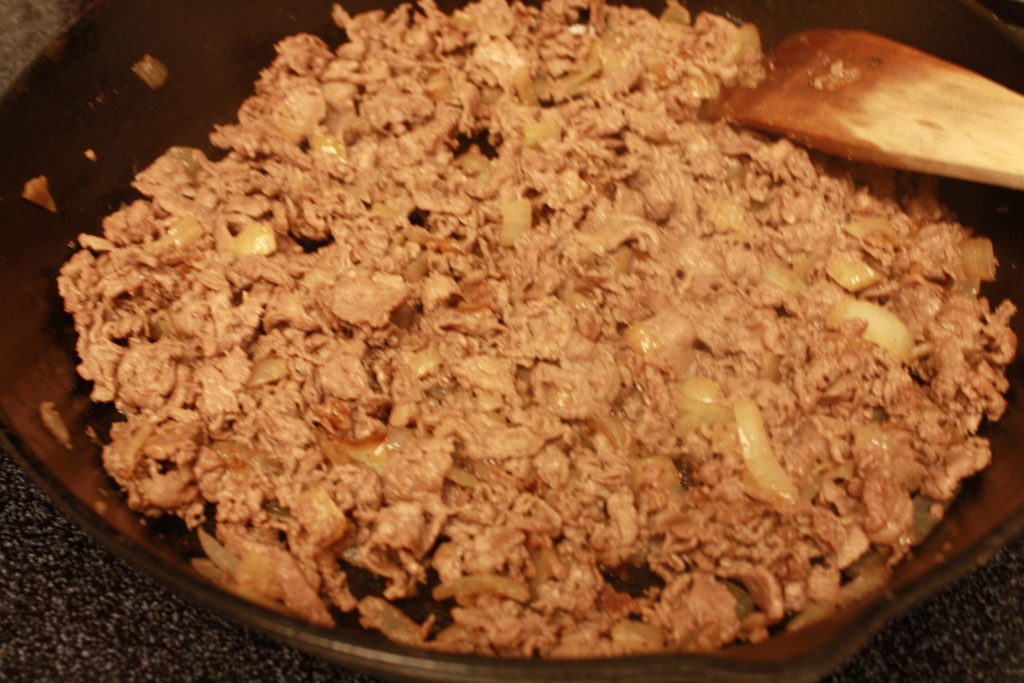 Prep the Rolls
Place the open rolls flat in a single layer on a baking sheet. Top each roll with 1 & ½ slices of provolone along the roll to cover most of it. Melt cheese on the rolls under the broiler.
Assemble the Cheesesteaks
To the pan of meat, add the processed cheese Whiz. Stir to combine. Then spoon the mixture onto the prepared rolls with melted provolone cheese. The results were great!
Two kinds of gooey cheese along with the tender and slightly salty meat are very comforting. The sweet onions add that little bit of aromatic flavor that keeps this classic without the need for other vegetables or sauces.
Sides & Serving Suggestions
This hot sandwich is best enjoyed when it is hot and fresh. So make sure you have all your sides ready to go once that bubbling cheese is melted & the Philly cheesesteak is done. There are many sides that go with sandwiches that are perfect to complete this meal too. Some of my favorites are:
Substitutions & Variations
Here are some great recipe variations & ingredient substitutions that can be made. Add, omit, or use one of these alternatives for other delicious recipe ideas. These may help you enjoy this recipe even with dietary, health, or personal nutritional preferences.
DELUXE - add sauteed mushrooms and/or bell peppers.
SPICY - add jalapenos or banana peppers
EXTRA CHEESY - add more Cheez Whiz on top
PIZZA - add pizza sauce & mozzarella cheese
GLUTEN-FREE - use gluten-free hoagie rolls instead of regular
KETO - enjoy as a lettuce wrap or over mixed greens for a salad
DAIRY-FREE - use your favorite dairy-free cheese
This is a classic recipe with beef but you can swap out the protein if that is your preference. Use thin sliced & chopped boneless skinless chicken breasts instead of steak. You can also use ground beef, chicken, or turkey if in a pinch.
FAQ
Here are answers to some common questions. I hope you find what you need but if not, you are always welcome to send me a comment and I will get back to you.
What if I don't have a Trader Joe's near me?
If you are not able to buy the shaved beef used in this recipe, you can use a substitute. Rib eye steak that is sliced thinly is the best alternative. That cut of the meat is what is typically used to make a Philly cheesesteak. Either cut it thin yourself or ask your local butcher to do it.
What is the best bread for a Philly Cheesesteak?
Soft white rolls such as hoagie, submarine, or hero roll are the traditional choice. You can also use whole wheat or a gluten-free option if you desire.
What is the best cheese for a Philly Cheesesteak?
Cheez Whiz, provolone, & white American cheese are the top 3 choices. Any one of these or a combination is so good.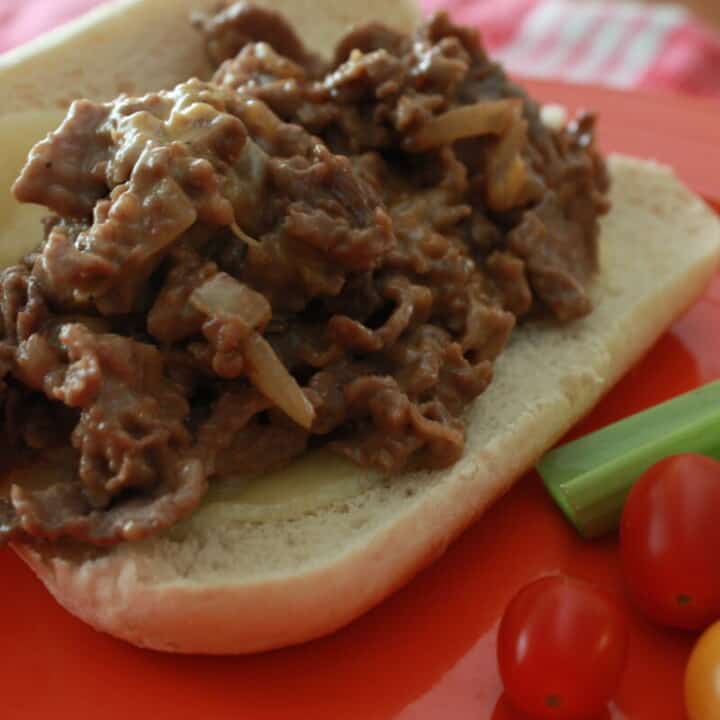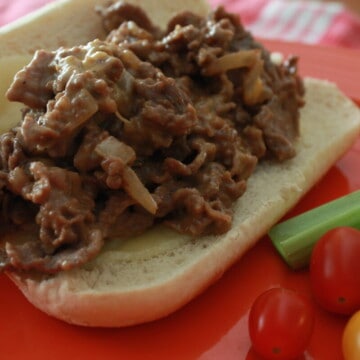 Philly Cheesesteak with Trader Joe's Shaved Beef
Tender beef and melty cheese are delicious in this iconic sandwich, easy enough to make at home. This is the best Philly Cheesesteak using Trader Joe's Shaved Beef Steak.
Ingredients
1

pound

thinly sliced beef

Trader Joe's shaved beef

1

TB

olive oil

½

large sweet onion

diced

salt & pepper

1

teaspoon

Worcestershire sauce

6

slices

provolone cheese

⅔

C

Cheez Whiz

about ⅓ of a 15oz jar

4

hoagie sandwich rolls
Instructions
Heat pan on medium with olive oil. Saute onions until soft and just starting to get golden. Remove onions from the pan and set aside.

Add beef to the pan and stir to separate the slices to ensure they cook quickly and evenly. Add Worchestershire, salt, and pepper. Beef is ready when there are no more pink pieces. (about 3 minutes) Reduce heat to low to keep it warm.

Meanwhile, put the broiler on low.

Arrange 4 hoagie rolls opened up on a baking sheet. Top each roll with 1 &  ½ slices of provolone along the roll to cover most of it. Melt cheese on the rolls under the broiler.

Once rolls are ready, add onions and Cheez Whiz to the beef. Stir to melt and combine evenly.

Top each prepared roll with ¼ of the cheesesteak mixture.
Did you make this The Short Order Cook Recipe?
Tag @theshortordercookblog (Instagram & Facebook) or @shortorder_cook (Twitter).
I would love to see your latest creations and kitchen adventures.