This recipe for collard greens seasoning is simple and fantastic. Really good southern-style greens need a kick from a savory and spicy spice blend. And this one sure has it. The spices in this collard greens seasoning are so good. It adds enough flavor that you can even make it without the meat, especially for vegans or vegetarians, and agree it is damn good.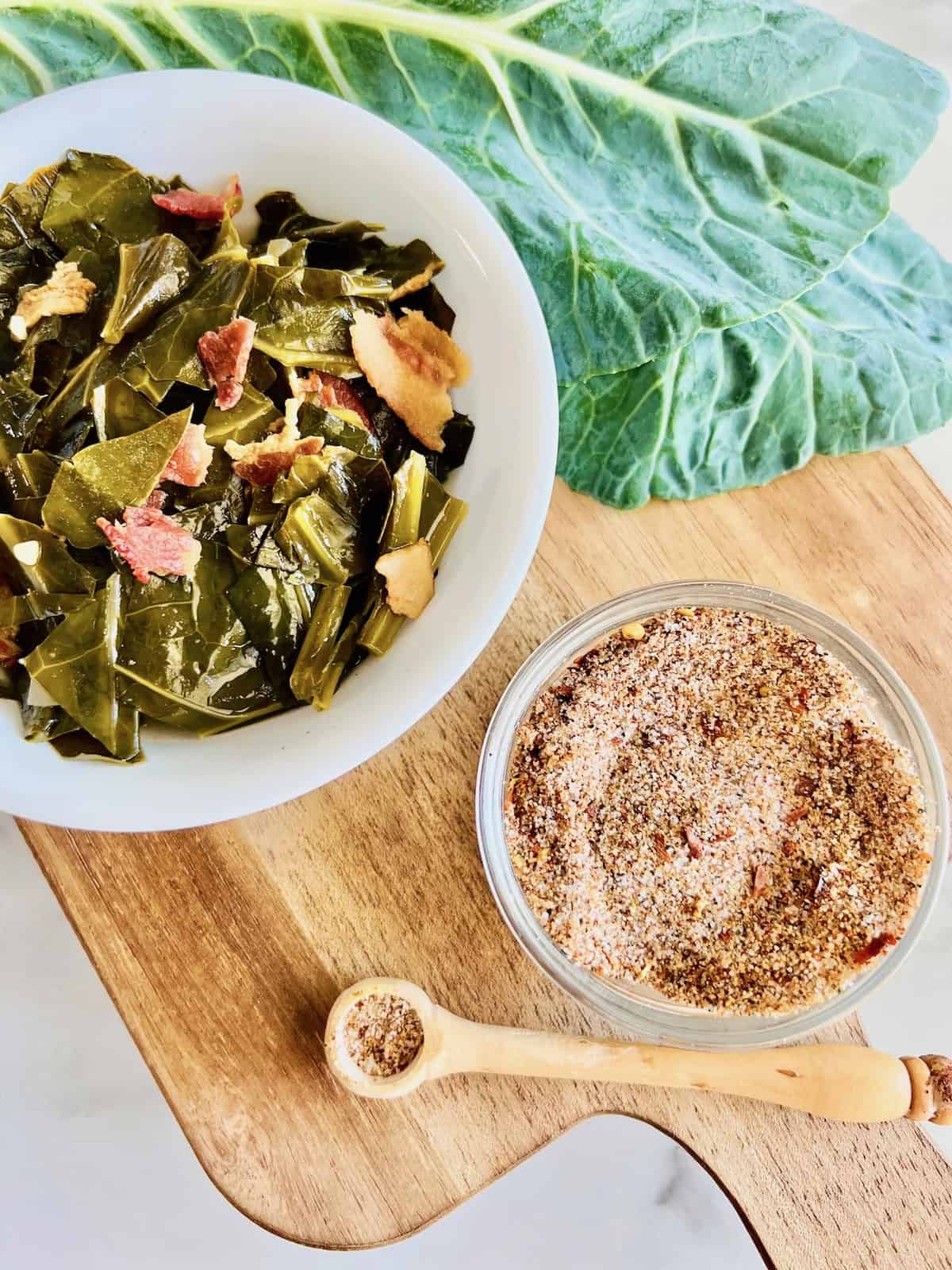 For the best seasoning for your collard greens, mix up this combination of spices. Once you try this, you will never buy premade seasoning mixes or packets from the store again. Control the ingredients and heat level, and even make it organic with this recipe. There is no better way to doctor up collards!
Jump to:
Why This Seasoning Is So Good
Collard greens are a Southern staple. My grandma often made them with fried catfish or fried chicken. I grew up eating them and love this soul food classic. This recipe is great any day of the year. But it is special for New Year's Day when you enjoy collard greens with your black-eyed peas. It's also fantastic for Thanksgiving and every cookout all summer long.
I was inspired to come up with my own recipe after having a hard time finding it in stock at the store or online. The shortages on so many things lately have been frustrating. But when you can make your own, go for it. Plus I got to use organic spices and control the heat & sweetness.
Ingredients
If you ever wondered what is in greens seasoning, here is a list of the ingredients I use for this homemade blend. We start with a lot of salt, it may seem like way too much but it is needed to help cut through the bitterness of the collard greens.
Then we add a bunch of bold seasonings that have strong flavors. This too helps mellow the sharp pungent nature that greens have. Put these all together and the aroma and essence are divine.
There is no MSG when you make it yourself. Most store-bought greens seasonings, like Badia, Keith Lorren's, and others all have MSG. MSG has had conflicting health data so making this homemade is way better for you. Plus you can guarantee it is gluten-free, soy-free, and dairy-free.
Salt
Black Pepper
Garlic Powder
Onion Powder
Smoked Paprika
Crushed Red Pepper Flakes
Brown Sugar
See the recipe card for quantities.
How to Make Collard Greens Seasoning
This simple spice blend is a combination of all the best spices for a great collard greens recipe. Once you gather all the ingredients, measure them out and add each one to a small bowl.
Once all the spices are in the bowl, stir. Combine them evenly so that the spices are distributed throughout. You want to make sure the brown sugar has no clumps. Also, make sure that all the red pepper flakes are not together. That may lead to a really spicy spoonful later or one without pepper will be bland.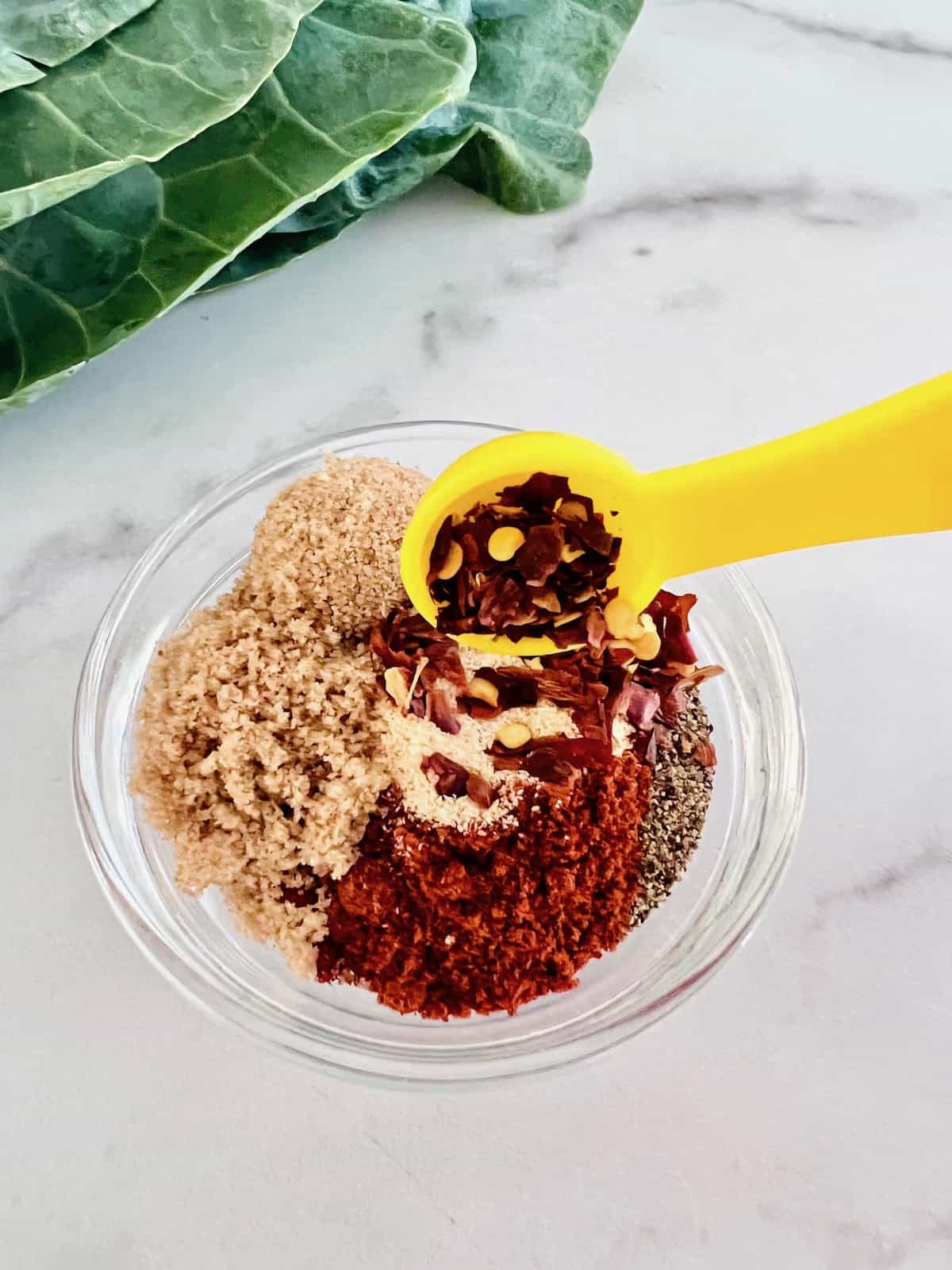 Use this spice blend to season your greens the next time you cook a batch. This seasoning is what I use when making my easy & delicious Slow Cooker Collard Greens. Just a bit goes a long way & flavors it perfectly.
Hint: measure with your heart and your taste buds later when you use this for cooking. If you like something spicy, add more when you cook your greens. If they are still bitter, add more salt. This is a base seasoning that I have used many times and have yet to do any adjustments. But the taste of greens and everyone's preference can vary.
Variations
Here are a few changes you can make to customize this collard greens seasoning to fit your taste or dietary needs. The original recipe is so simple but these three ideas are what I would suggest.
Spicy - double the chili pepper flakes
Meaty - if you want a meaty flavor without adding meat to your greens, add 1 Tablespoon of poultry seasoning
Low-Sodium- omit the salt and use a combination of Mrs. Dash and nutritional yeast for a savory blend that is not salty.
If you love making spice blends at home, try my recipe for Seasoning for Green Beans. Another great way to add a ton of flavor easily to vegetables.
Storing the Spice Blend
This recipe makes a large batch. It will be more spices than you need for a single batch of homemade greens. The best way to store your spices for collard greens is in an air-tight container. A small-sized container with a tight-fitting lid is perfect.
Store the container in a cool dry place for up to 6 months. When ready to use, give it a stir and it is ready to go. The brown sugar may clump up a bit but the stirring should help that.
These ingredients don't stand up well to freezing. I don't recommend freezing this spice blend.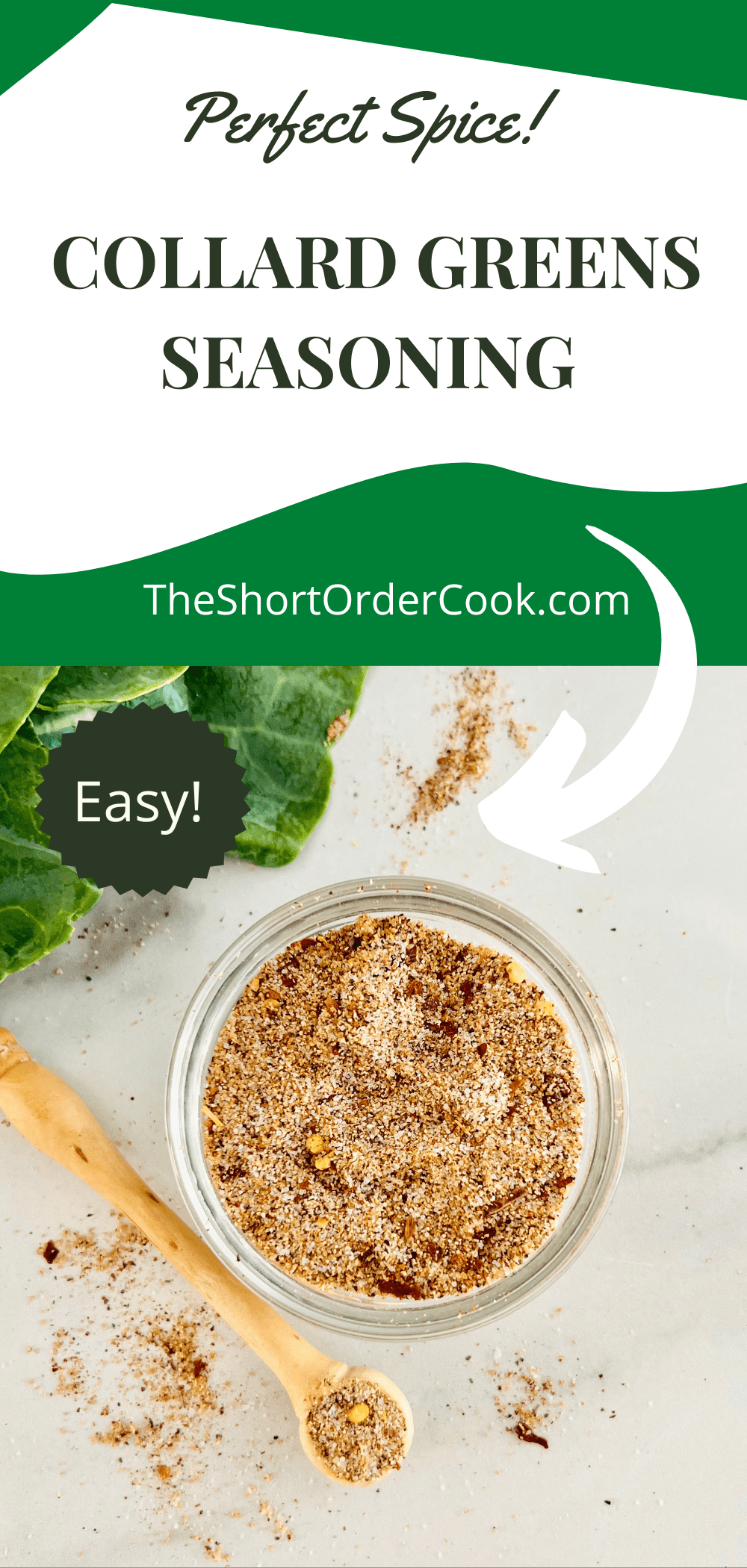 Recommended Spice Containers
I make many spice blends homemade. Therefore, I always want to make sure I store them properly so they keep well. Here are some of my favorite containers that have tight-fighting lids and are easy for storing seasonings. I also recommend using organic spices and here are my favorite brands.
Top tip
Always store spices away from heat and light. I suggest a kitchen cupboard, drawer, or in your pantry. Ensure the lid is tight fighting. Never store them next to the stove or oven or on a windowsill. The change in temperature and moisture can make them clump, lose flavor, or go rancid.
FAQs
Can I use this seasoning on other greens?
The mixture of salt, pepper, sweetness, and aromatics makes this a great spice blend for many things. That absolutely includes other hearty greens you may be cooking. Use this seasoning on kale, chard, beet, mustard, and turnip greens. All will taste yummy with these spices.
How much seasoning do I use when making greens?
Each recipe and the amount you are making will lend to how much you will want to use. I estimate about 2 teaspoons for every large bunch of greens. That is what I use when making my greens and it comes out delicious.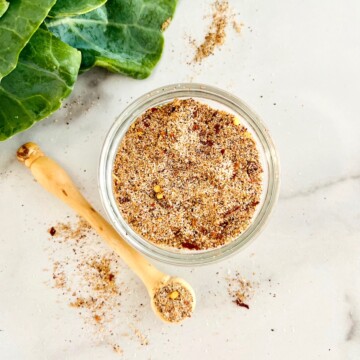 Collard Greens Seasoning
This recipe for collard greens seasoning is simple & easy. Use this for amazing southern-style greens with a salty, savory, & spicy kick.
Equipment
spice container or small air-tight container
Ingredients
1

tablespoon

table salt

2

teaspoons

black pepper

2

teaspoons

brown sugar

packed

1

teaspoon

garlic powder

1

teaspoon

onion powder

1

teaspoon

sweet or smoked paprika

½

teaspoon

crushed red pepper flakes
Instructions
In a small mixing bowl, add all the ingredients.

Stir to combine so the spices and sugar are distributed evenly.

Transfer the seasoning blend to a spice jar or other air-tight container. Store for up to 6 months.
Notes
This recipe makes about ¼ cup of seasoning. I find it is enough for 8 batches of collard greens - each one being a large bunch before being cooked down. It is not 8 individual servings but batches cooked.