Tender slow cooker collard greens are perfectly seasoned for a delicious southern side dish. This comfort food classic is easy to make & satisfies the soul. Transform the bitter greens that are an American staple into a rich, less bitter, and slightly nutty recipe that pairs well with just about any protein. This collard greens recipe is loaded with bacon for a meaty punch that makes it irresistible.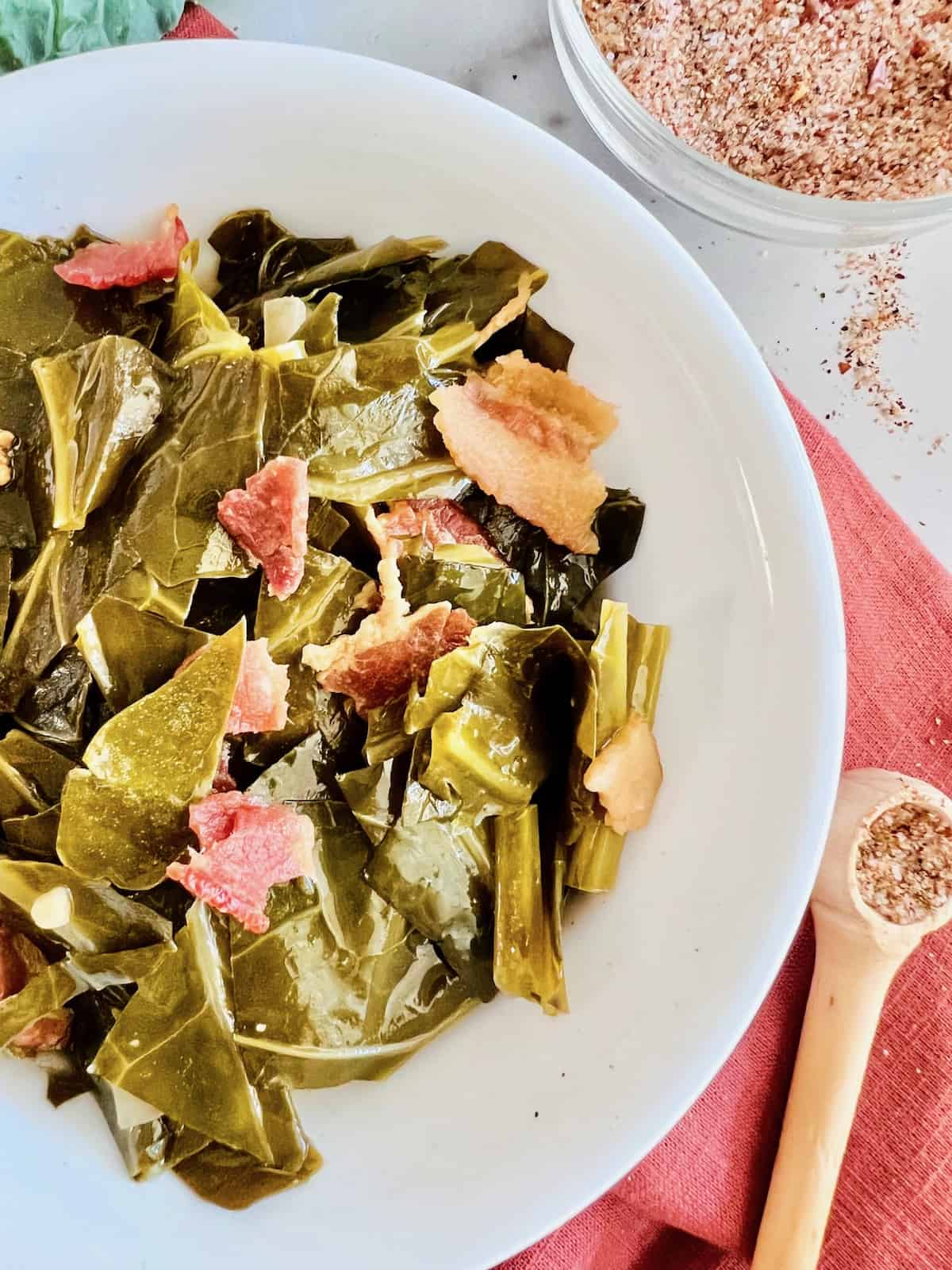 Cooking collard greens in the Crock-Pot takes little effort and results in tender leaves that soak up all that flavor. The hearty chicken broth plus bacon ensures that the potlikker is liquid gold. It's not only good for you but please do not waste a single drop of the delicious cooking liquid, aka pot liquor.
What I love about this recipe is there is no need to watch over your greens and to keep stirring. Traditional collard greens recipes call for braising or boiling them in a pot for an hour or more. This recipe is more of a slow simmer that needs no attention. For a complete easy meal, pair it with some Air Fryer Pork Chops & Bacon Fried Corn.
Jump to:
Ingredients
This recipe for collard greens with bacon calls for just a few ingredients. All are likely in your pantry. Along with a large bunch of fresh collard greens, there is a homemade spice blend, some garlic, onion, vinegar, & broth.
When making greens, it is important to remember the rule of threes. You need something salty, spicy, and acidic. In this recipe, the bitter greens get cooked with plenty of salt, two kinds of pepper, and some vinegar. This mixture is the marriage that makes this so good.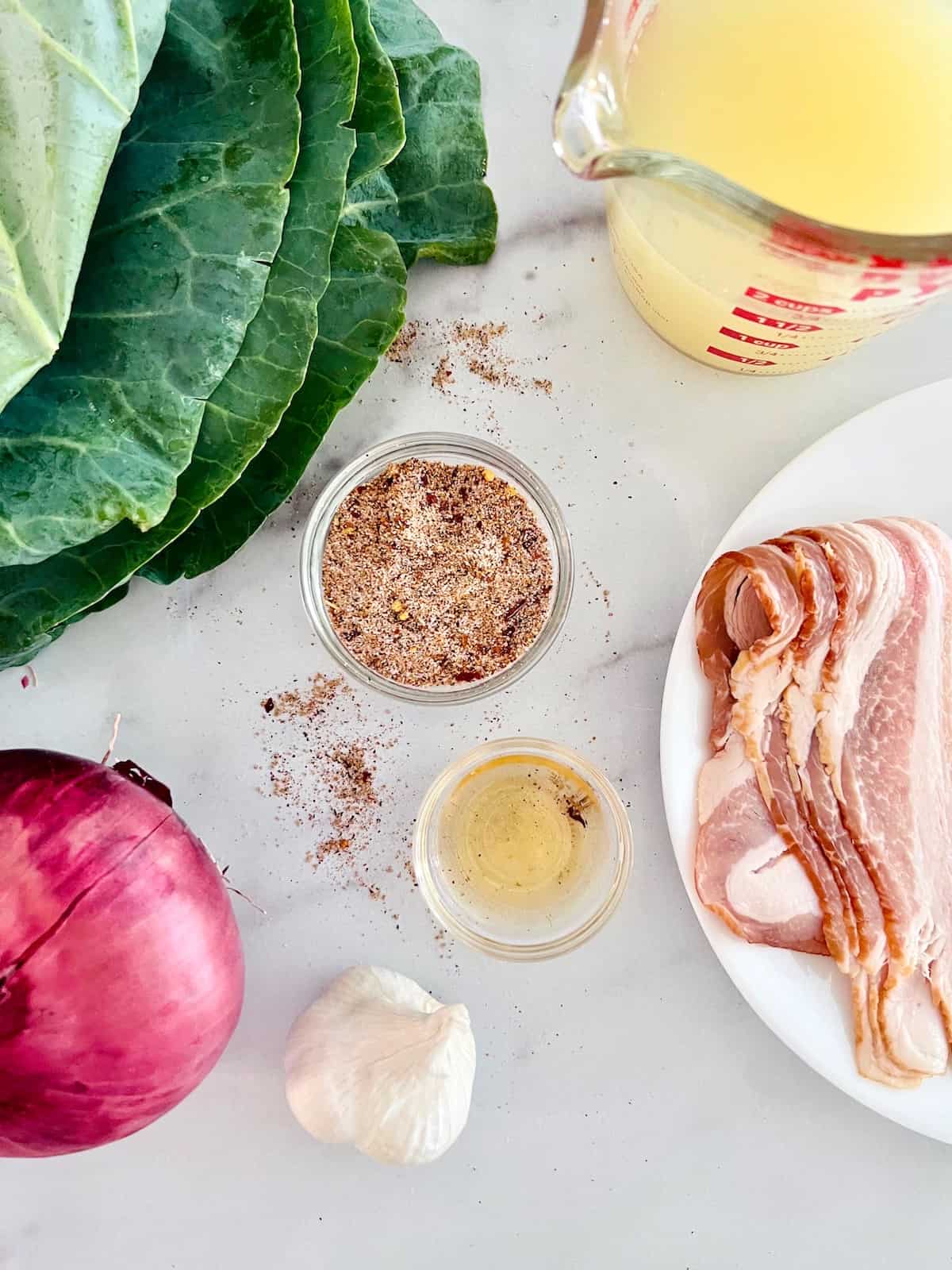 Collard Greens
Chicken Broth
Bacon
Red Onion
Garlic
Apple Cider Vinegar
See the recipe card for quantities.
How to Clean & Prep Collard Greens
The leaves of collard greens are a hearty, thick, and deep green color. The stems and spines/ribs of greens are edible but do not cook down as well as the leaves do. Therefore, it is best to remove them before cooking greens.
Begin by washing and drying the large collard leaves. Once they are dry it is time to start prepping and cutting.
Remove the leaves from the stems and spine down the centers of the leaves. Discard the ribs and stems.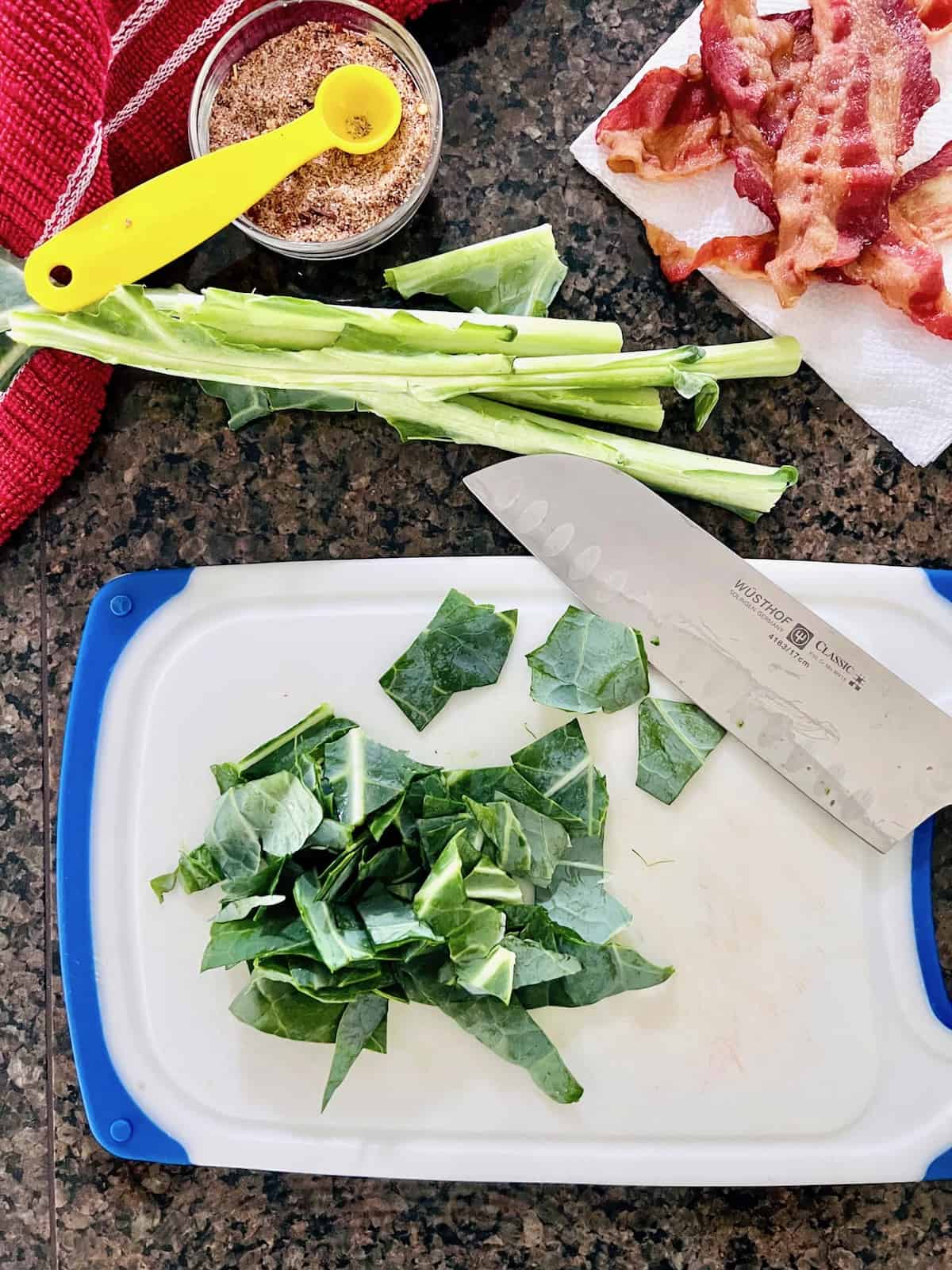 Chop the leaves into large pieces. I aim for about 1"x2" sized squares as seen here.
How to Cook Collards in the Crock-Pot
Once the greens are prepped, cook your bacon. I cook mine in the oven but cook whichever is your favorite and make sure you are able to retain the bacon drippings. Drain the cooked bacon on a paper towel-lined plate. Save the bacon grease.
Chop the garlic and onion. Set it aside. Measure out the chicken broth. If you are using water and a bouillon cube, make that at this time. Now begin adding the ingredients to your slow cooker insert.
Add the greens to the slow cooker. Top with bacon grease. Crumble up 2 pieces of bacon to add to the greens.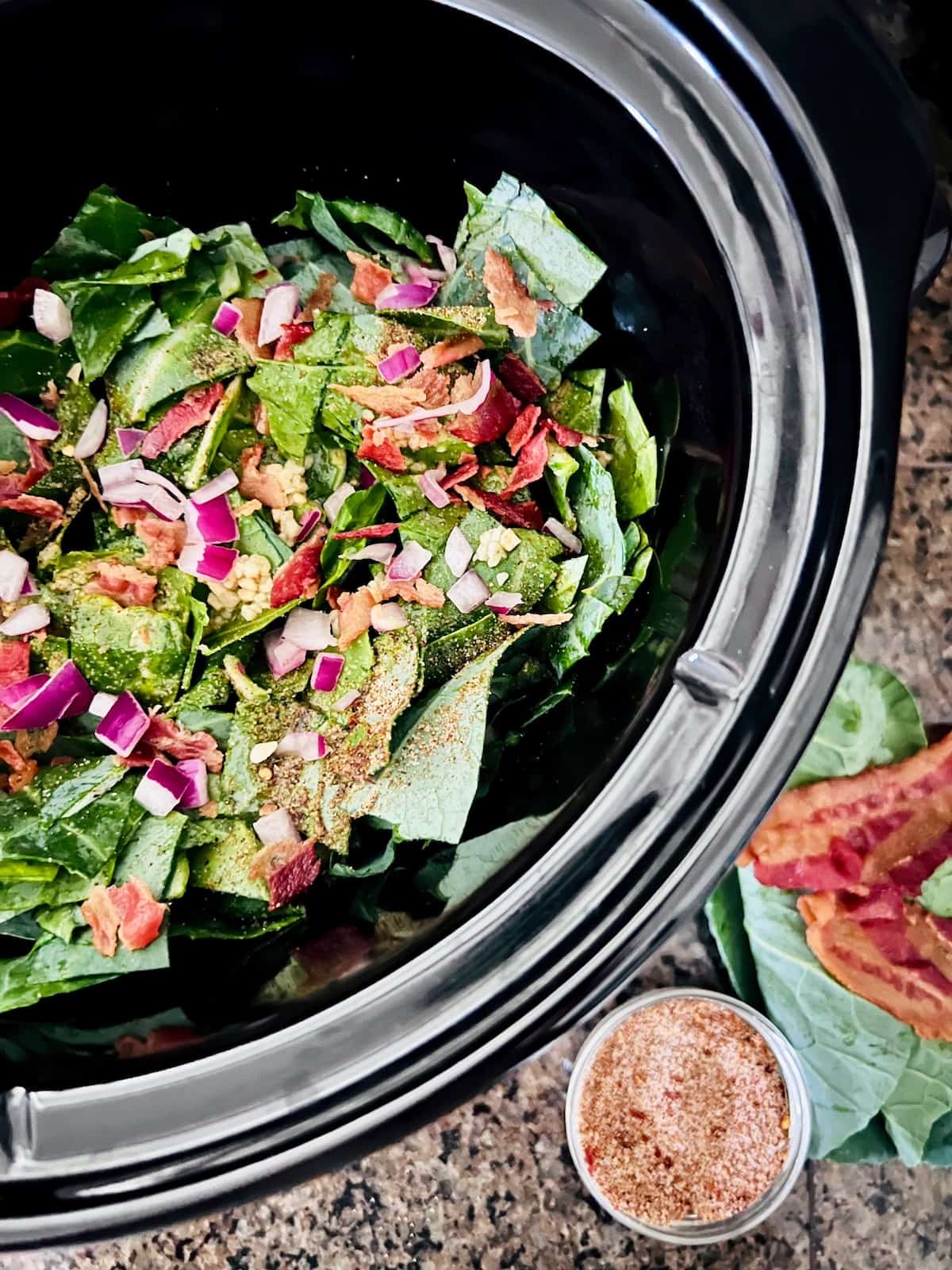 Next, add the chopped onion, broth, apple cider vinegar, & seasoning blend.
How Long to Cook Greens in a Slow Cooker?
Collard greens are pretty forgiving. They can cook all day low and slow and still be fantastic. So whether you have a few hours or all day, this is the recipe for you.
I set my Crock-Pot to high for 4 hours. However, you can also cook this on low for 8-10 hours. These greens also hold well for hours on the warm function of your slow cooker.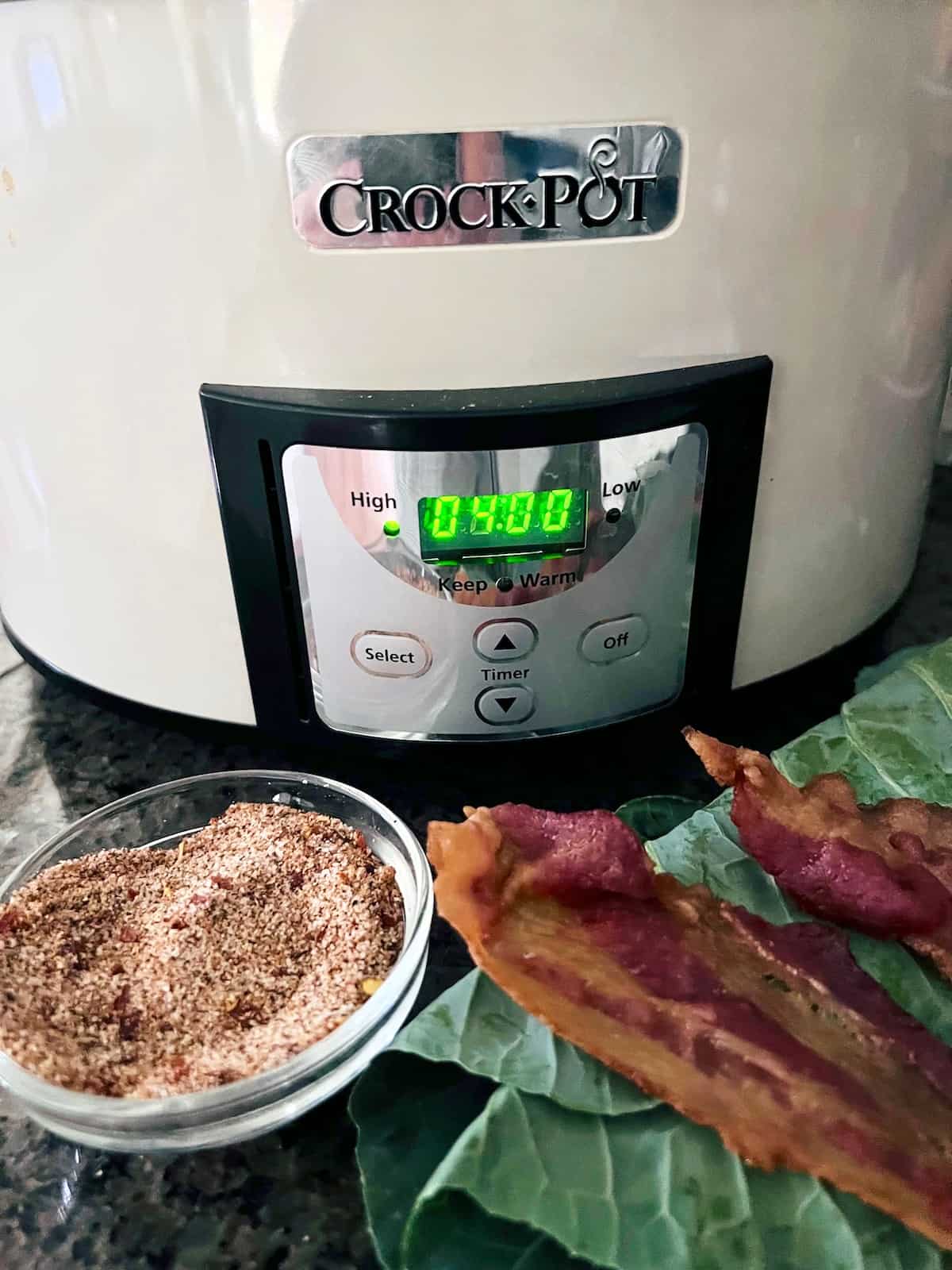 Hint: Taste your greens about 75% way through the cooking process if you can. It will let you know if you need more seasoning or if they are just right. I check at the 3-hour mark. Once I had a really bitter batch and it needed a bit more to calm it so I added ⅛ more of the spice blend, stirred it in, and it came out great.
How to Tell if the Greens are Ready?
The best way to test if collard greens are done is a good old-fashioned taste test. If they are tender and flavorful, they are ready. They will still be slightly bitter but you should taste the other flavors in the recipe. The onion will be soft and cooked.
The greens will be a deep dark green. The leaves will be limp and tear easily. Also, most of the liquid will be absorbed there should still be some liquid. I think about ¼ of the pot liquor will still be in the slow cooker when the collard greens are ready. They should look like this and smell aromatic.
When you are ready to serve and eat them, now is the time to add the remaining bacon. Crumble the other two pieces and stir them into the collard greens. Spoon greens and some potlikker into individual serving bowls.
Top tip
Saving half the bacon to add at the end is key. I find it adds texture with the bacon bits still holding some of their crunchy crispiness. It also ensures that not all the bacon has been cooked down transferring most of its flavor to the rest of the ingredients. This way you still get rich fatty pork goodness in the cooking liquid but also crispy bacon as you take bites.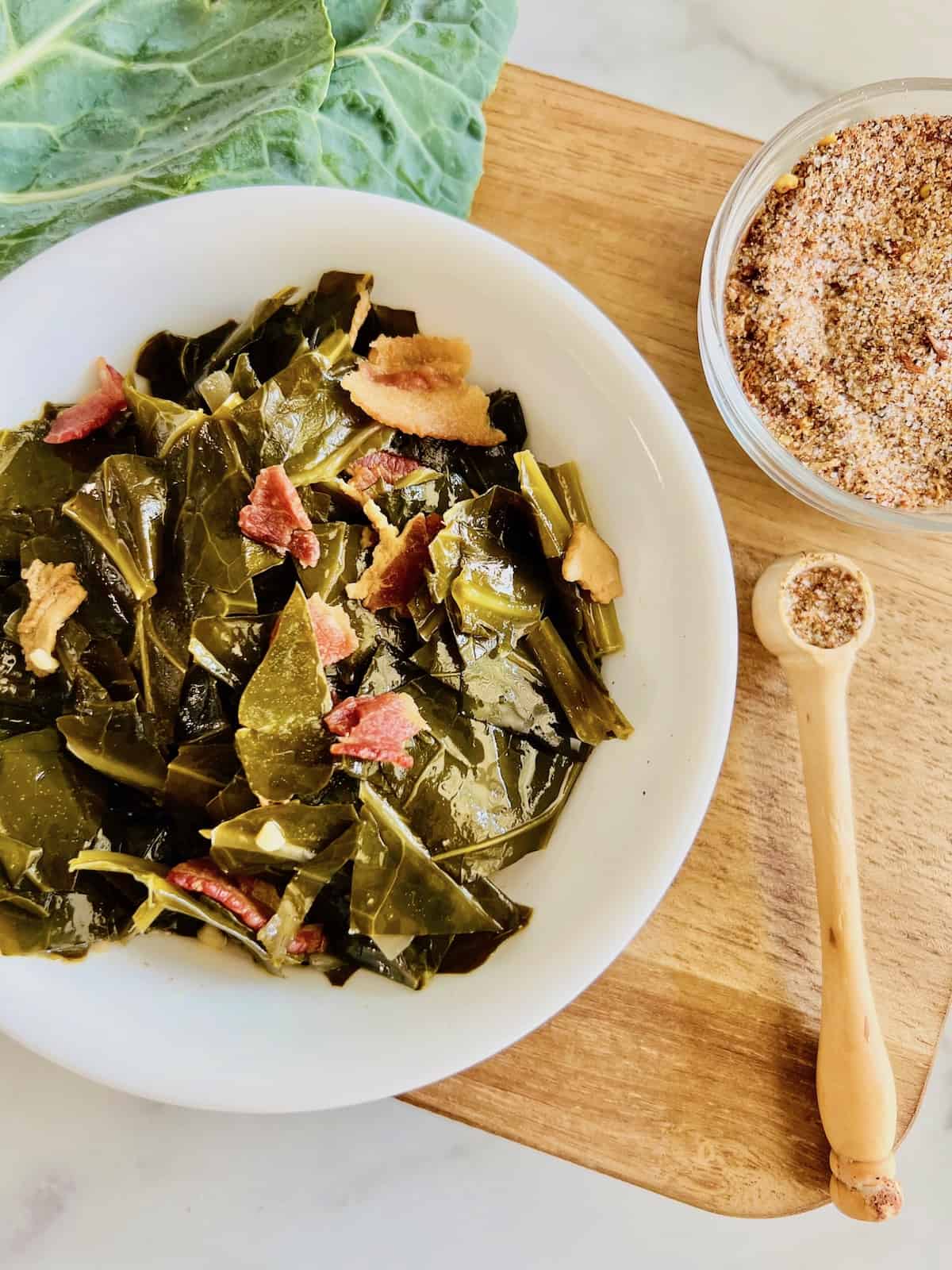 Substitutions
This recipe is pretty traditional. It is nothing fancy and is often enjoyed for its simplicity. But if you have dietary needs or allergies, here are a few substitutions you can make and still enjoy some lovely southern-style greens.
Bacon - instead of pork bacon, you can use turkey if you want to make greens without pork. You can also use cooked leftover smoked turkey or ham as a replacement.
Collard Greens - use a combination of greens and not just collard; try kale, mustard, or beet greens for a great combo.
This recipe is already gluten-free, dairy-free, nut-free, low-calorie, and low-fat. It's also great for those on a keto, low-carb, or diabetic diet.
Variations
If you wish to enjoy a collard greens recipe without meat, I have shared a few changes you can make for a vegan option. Here are some other variations that can be made to make these greens just how you and your family like them.
Spicy - add ⅛ chili pepper flakes while cooking to add more heat than the regular seasoning already has.
Italian-Style - use pancetta instead of bacon & grated fresh parmesan on the top when serving.
Meatless/Vegan/Vegetarian - omit the bacon and use mushroom broth instead of chicken broth.
What to Serve with Collard Greens
This southern staple is a wonderful side dish to so many types of protein. You really cannot go wrong with serving this with any number of fried, braised, smoked, or grilled meats. However, here are some of my favorite main courses, sides, & desserts that go well with seasoned southern greens.
Equipment
This recipe is done in a slow cooker so that will be needed to cook these greens. If you do not have one, here are the models I recommend. You need a pot at least 4-quart in size but anything larger than that will work.
I always suggest buying one with a timer versus a dial. Those that can be set and has a warm option when food is done cooking are the best. This keeps food safe and warm which is great for long work days when away from the house and may need to cook for longer than 8 hours.
The Short Order Cook is a participant in the Amazon Services LLC Associates Program. As an Amazon Associate, I earn from qualifying purchases. If you click on a link and make a purchase, I may earn a small commission on the sale at no additional cost to you. This helps with the costs of running the blog. Thank you!
Storage
Store any leftovers in an air-tight container. Place in the refrigerator for up to 7 days. I suggest adding the final bacon at the time of eating. But it is ok to store it all together. Reheat in the microwave or in a pot on the stove until hot.
Collard greens that are cooked also freeze well. Place in an air-tight container and freeze for up to 3 months. Defrost in the refrigerator before heating up to enjoy the leftovers.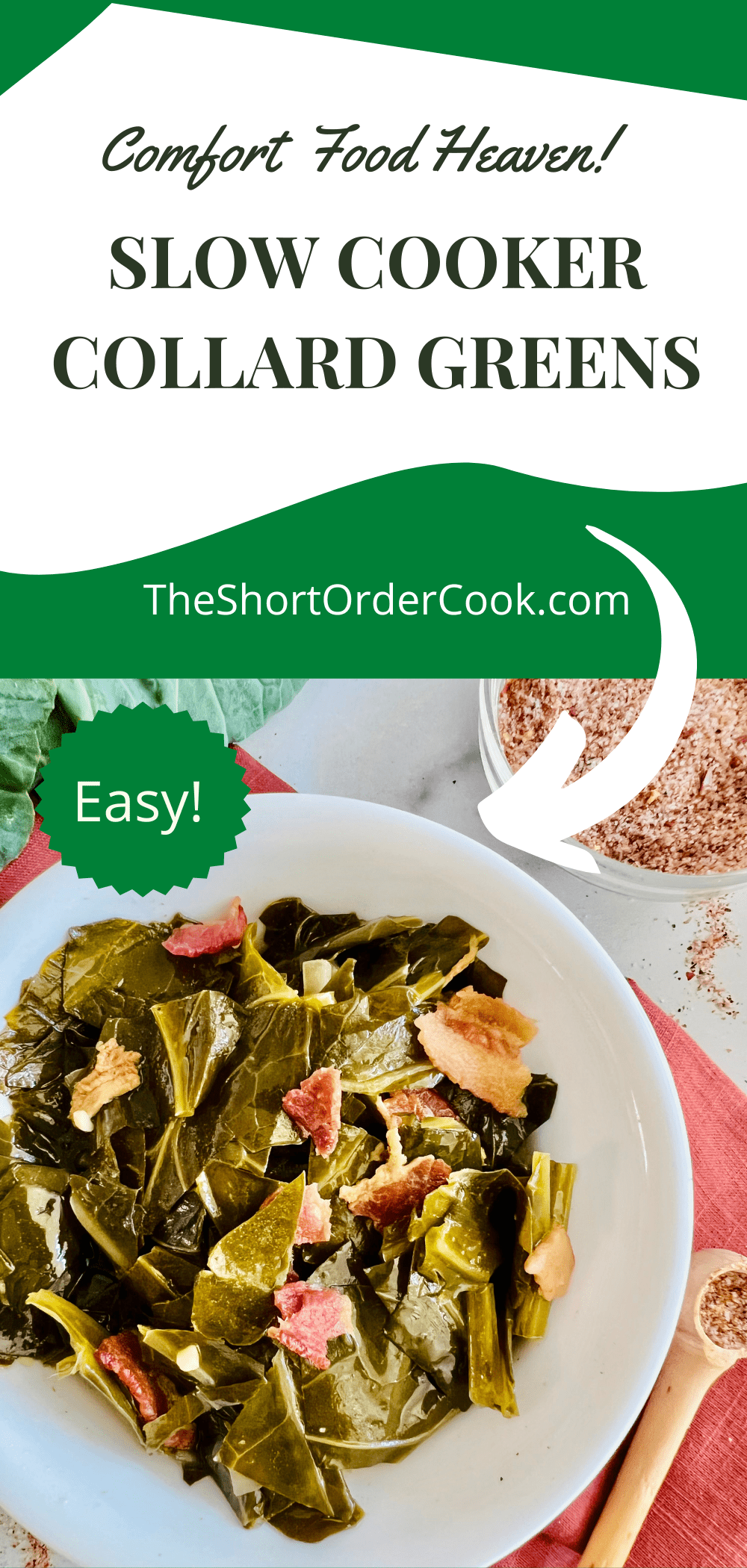 FAQ
What do collard greens taste like?
As mentioned, collard greens are a bitter leafy vegetable. They have a bit of nuttiness and pungent undertones when cooked. These hearty leaves really soak up the flavors they cook with which makes this recipe a wonderful cohesive dish.
Why do you remove the stems and ribs from greens before cooking?
The stems and spines that go up the middle of the collard green leaves are tough. These thick parts of the plant are edible but they are great for cooking and eating. Most of the flavor and nutrients are in the leaves so there is no need to eat the other parts.
Why do you add vinegar to make collard greens?
Greens are a bitter vegetable. When adding acid to them during the cooking process, that bitterness breaks down. Vinegar is the perfect ingredient to help greens become more mellow.
Can you cook collards without meat?
Traditional recipes for cooking greens include some sort of meat. It is usually a ham hock or pork bones. In this recipe, I am using bacon since it is a common ingredient in most households and stores.

The meat adds richness to the broth and flavor to the recipe. However, greens can be made without meat. I have included variations in the section above on how to make meatless greens.
Are collard greens healthy?
Collard is from the same family of vegetables as cabbage and broccoli. All of these green vegetables are healthy and include many vitamins and minerals. They are a great source of Vitamin A, Vitamin K, and Vitamin C.

Collard greens are also a great source of calcium making them a great source for those on a dairy-free or vegan diet. Fiber also is great for dietary health.
Are kale and collards the same?
They come from the same family of vegetables, similar to cabbage. However, they are different. Visually collard leaves are smooth and often larger and wider in size. Kale often has curly or wavy leaves that are more slender and long. Both are great served cooked and typically made without steams and ribs.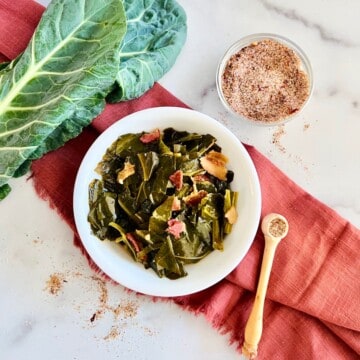 Slow Cooker Collard Greens
Tender slow cooker collard greens are perfectly seasoned for a delicious southern side dish. These bacon-cooked greens are tender, rich, and full of flavor. There is no easier recipe.
Instructions
Wash & dry the greens. Next, remove the ribs/stems. Chop roughly into about 1-2" pieces. 

Mince the garlic and onion.

Cook the bacon and chop it into large pieces. Reserve the bacon grease. 

If you are using bouillon to make broth, do that now. Otherwise, measure out your chicken broth.

To the slow cooker add the collard greens and ½ of the cooked bacon.  Reserve half for adding back in later. 

Add the remaining ingredients.  Stir to combine.

Put the lid on the slow cooker and set it to HIGH for 4 hours or LOW for 8 hours.  

Once it is done cooking, leave it in a warm setting if your slow cooker has one. 

Add the remaining crispy bacon to the greens & stir in.  Serve the greens with the pot liquor/pot likker, cooking broth. 

Serve in individual bowls. Spoon both the greens and some cooking liquid.

Enjoy!
Notes
Nutrition Facts
Servings: 4
Amount per serving
 
Calories
136
% Daily Value*
Total Fat 9.7g
12%
Saturated Fat 3.1g
15%
Cholesterol 17mg
6%
Sodium 811mg
35%
Total Carbohydrate 5.6g
2%
Dietary Fiber 2.4g
9%
Total Sugars 0.6g
 
Protein 7.4g
 
Vitamin D 0mcg
0%
Calcium 85mg
7%
Iron 0mg
2%
Potassium 157mg
3%
*The % Daily Value (DV) tells you how much a nutrient in a food serving contributes to a daily diet. 2,000 calorie a day is used for general nutrition advice.
Did you make this The Short Order Cook Recipe?
Tag @theshortordercookblog (Instagram & Facebook) or @shortorder_cook (Twitter).
I would love to see your latest creations and kitchen adventures.