I have been making a version of this much-beloved tomato basil bruschetta for decades.  Long before it was a popular appetizer in Italian restaurants, I have been preparing this at home for all sorts of parties (and sometimes just for myself when I crave it).  This is my favorite way to make it and it is super simple.  The traditional tomato basil mixture is stepped up just enough with some pungent and salty capers to add a kick of flavor to balance the sweet tomatoes.
Sometimes I drizzle balsamic vinegar over the tops after assembling them but overall, this is my go-to recipe, and my friends and family always completely annihilate the bowl - which makes it super easy to clean! This is a great appetizer any time of year but I have to admit, it is best in summer when tomatoes are in season.
Which Tomatoes are Best for Bruschetta
If you grow your own tomatoes, then you know there is nothing like a fresh picked tomato that is still warm from the sun, so juicy and fragrant, and unlike anything from the store.   I am spoiled here in California and we grow tomatoes every year and often 3+ different varieties. When they are at their peak, the tomatoes really shine in this recipe as they should.   They aren't called the "love apple" for nothing. They really are a beloved fruit (yes fruit, not a vegetable).
Roma tomatoes are also known as plum or Italian tomatoes.  They are great for canning, making sauce, and for this flavorful recipe. Roma tomatoes work best on this since they are easy to seed and dice. They are also pretty hearty and stand up to the chopping and mixing.  Their thick walls and meaty texture allows them to still remain in nice small diced bites versus getting too soft and mushy. Other tomatoes will work but try and stay away from overripe or tomatoes that are "watery".
How to Make Tomato Basil Bruschetta
As I mentioned this recipe for tomato bruschetta is super easy, simple, and does not require a bunch of ingredients.  The importance is to use fresh ingredients to ensure this is as great as it can be.  You will need ripe Roma tomatoes, fresh basil, fresh garlic, jarred pickled capers, really good olive oil, and a hearty thick baguette or ciabatta loaf of bread.  This recipe is for homemade bruschetta without balsamic or other kinds of vinegar so it is great for those that do not want the tart taste of vinegar.
Pictured below is a wide baguette I buy locally.   It is somewhere in the middle of a skinny baguette and the wider ciabatta loaves you can find in most markets.   I like this because it yields toasts that are more substantial than a crostini and more like a true bruschetta but not as difficult to hold and eat.  Each one is about 2 bites.
Crostini vs Bruschetta
What?  Crostini?  Bruschetta?  There is a difference and they are not just synonyms for one another. As I understand it, the size of the toasted bread is different.  Crostini is typically small slices of round toasted bread. It is typically served bite-size and an appetizer portion for one would be maybe 4-5 small bites.  For bruschetta, the toast is larger and from a wide rustic loaf and the typical portion is 2 large slices topped with various ingredients.
So what would mine be called if they are bigger than a crostini but smaller than a bruschetta -  a Croschetta?!    Should I trademark that now?
Slicing and Toasting the Bread
Using a sharp bread knife, cut round slices.   Ensure the slices have the same thickness. This will help in evenly browning all the pieces and they will all be the same distance from the broiler.  This makes for the best Italian bruschetta-like toasts that are oven-baked.
Once sliced, place them in a single layer on a baking sheet.  You can brush them with a little bit of olive oil or leave them plain.  I have a refillable spray bottle filled with olive oil that I use. But I have done them plain before when I needed to make them the night before and they stay crisper that way and are just as good once the topping is added.
Toast a few minutes on each side under a low broiler. They are ready when both sides are golden brown and toasted evenly. They are ready immediately.
The bruschetta is great served with other appetizers that have a variety of flavors. I like to make this as a vegetarian option when I have cold cuts, cheeses, and crackers.  This also shares the table with my party perfect deviled eggs, as seen below, on a lot of party tables.  You can find that recipe here.  https://theshortordercook.com/party-perfect-deviled-eggs/.  They are also a great bite-sized party food for any event.
Alternatives to add to this simple recipe can be done to create additional tasty recipes.  You can add mozzarella to this recipe too but dicing some fresh mozzarella into very small dice to have a Caprese bruschetta.  You can also add anchovies for a salty tomato topping that I find so addicting once added to the crunchy toasted bread.
PIN THIS RECIPE FOR SAFEKEEPING & SHARING!
Product Recommendations for this Recipe:
The Short Order Cook is a participant in the Amazon Services LLC Associates Program.  As an Amazon Associate, I earn from qualifying purchases.  If you click on a link and make a purchase, I may earn a small commission on the sale at no additional cost to you. This helps with the costs of running the blog. Thank you!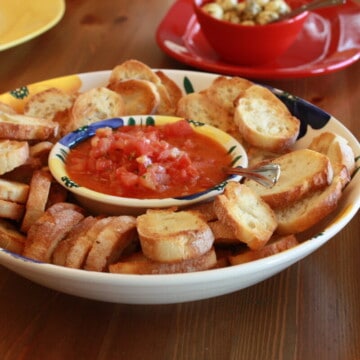 Easy Tomato Basil Bruschetta
This traditional bruschetta combines the perfect flavors of fresh Roma tomatoes, sweet basil, salty capers, and pungent garlic.
Ingredients
4

Roma tomatoes

seeded & diced small

3

garlic cloves

minced

2

TB

fresh basil leaves

chopped

1

TB

capers

¼

C

olive oil

½

teaspoon

salt

¼

teaspoon

black pepper

1

large wide baguette or ciabatta bread
Instructions
In a medium-size serving bowl, combine all ingredients except the baguette.

Refrigerate at least 1 hour to help infuse the flavors together- aka marinate.

When ready to use, let the tomato mixture come to room temperature while you prep the bread toasts.

Slice the bread in equal thickness pieces, they should be thin enough to easily bite and eat but thick enough to hold the topping. I suggest about ¼-1/2″ thick depending on the sturdiness of your loaf.

Arrange slices in a single layer on a baking sheet and toast in the broiler on low. Each side should be light brown.

Once all the bread is ready, arrange it in a large serving bowl and serve it alongside the tomato-basil mixture.
Did you make this The Short Order Cook Recipe?
Tag @theshortordercookblog (Instagram & Facebook) or @shortorder_cook (Twitter). 
I would love to see your latest creations and kitchen adventures.