This Hocus Pocus kid-friendly punch is a great mocktail for Halloween or while watching the Sanderson sisters and their witchy ways. This sparkling punch is a sweet drink that makes a great non-alcoholic drink for any costume party, school or church function or Halloween event.
If you love the movie and the new Hocus Pocus 2 in 2022, you will love this drink too. It takes only a few ingredients to brew this tasty potion. Sip, enjoy, and try not to create havoc in your town when enjoying this. After all, once you make this the kids will come running and the place will "reek of children!"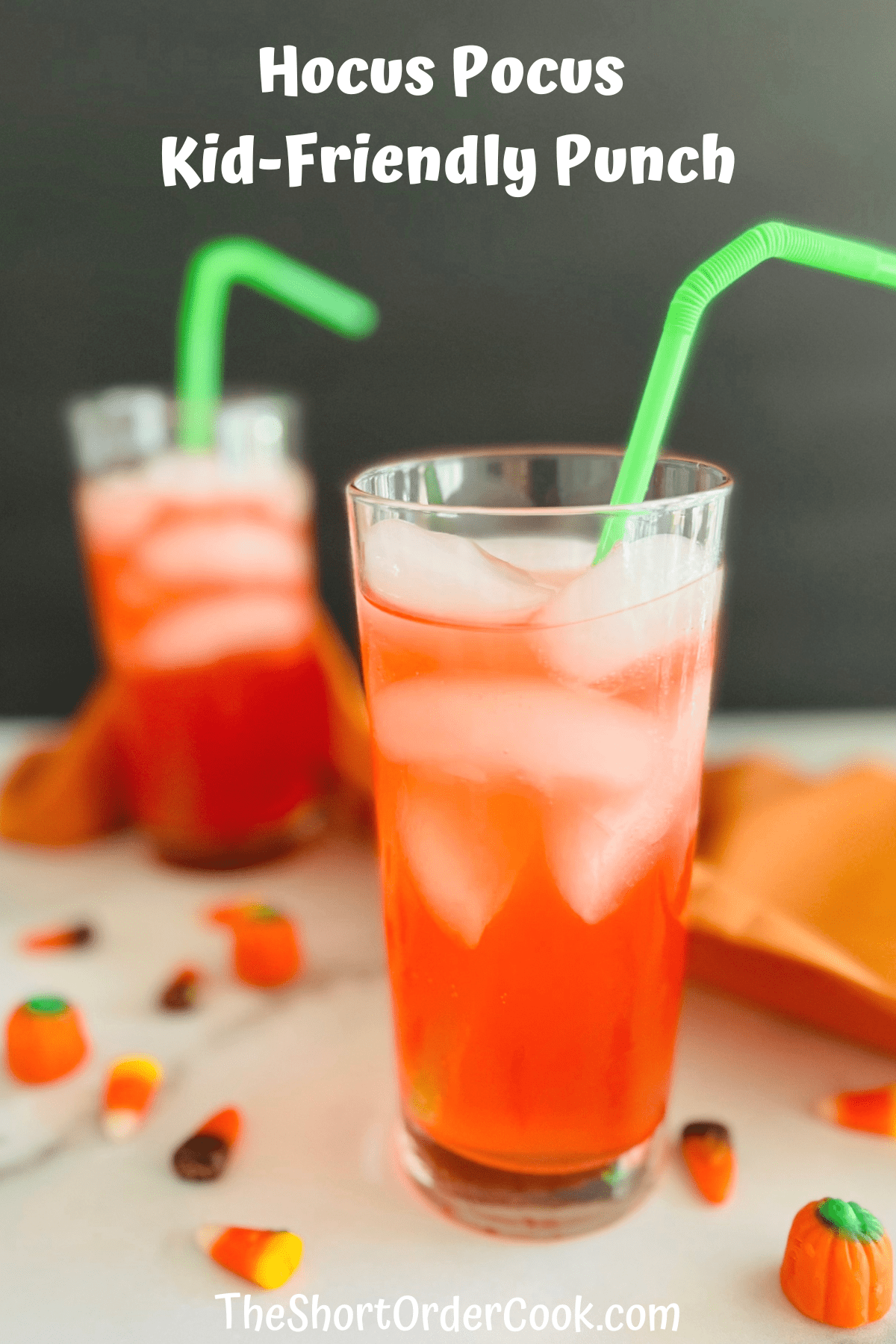 Of course, this drink is perfect for Halloween. But it is also delicious to serve at any birthday, party, or event with a red color scheme. Great also for when you want to serve something special for kids and those that do not drink alcohol. Think of it as a Shirley Temple meets Hawaiian Punch. Two great tastes come together in this party drink.
This was inspired by my adult-only Hocus Pocus Cocktail. It's a tasty spiced rum cocktail with dry ice. The eerie fog the drink has from the dry ice makes for a fantastic Halloween drink. Do not miss making this treat with a trick for those 21 and over! If you want to set out the kids drinks with an eerie fog display see below but do NOT use dry ice in this punch recipe.
Jump to:
Ingredients
This sparking punch drink only needs 2 ingredients. I used our favorite fruit punch concentrate. I also used a lemon-lime soda, 7-Up. These two combine for a bubbly fruity concoction that is a treat for the kids. After all, you do need something fizzy & frothy in a good witch's brew. But at least this "bubble, bubble, I'm in trouble" is tasty trouble!
This recipe is made without ice cream or sherbet. It also does not have any alcohol which makes it kid-friendly. It tastes great which makes it kid-approved.
Fruit Punch
7-Up Lemon Lime Soda
optional - orange wedges or maraschino cherries for garnish
See the recipe card for quantities.
Instructions
Since this drink is only 2 ingredients, this recipe is pretty simple. I am not sure you can get an easier mocktail recipe. If you are using a fruit punch concentrate, mix it according to the directions on the label.
Begin by filling two tall glasses with ice. I am using two high balls or Collins glasses. I filled them about ⅔ of the way with ice cubes.
Add enough punch to fill the glasses ⅔ of the way up. Next, top off the fruit punch with enough lemon-lime soda so the glass is almost full.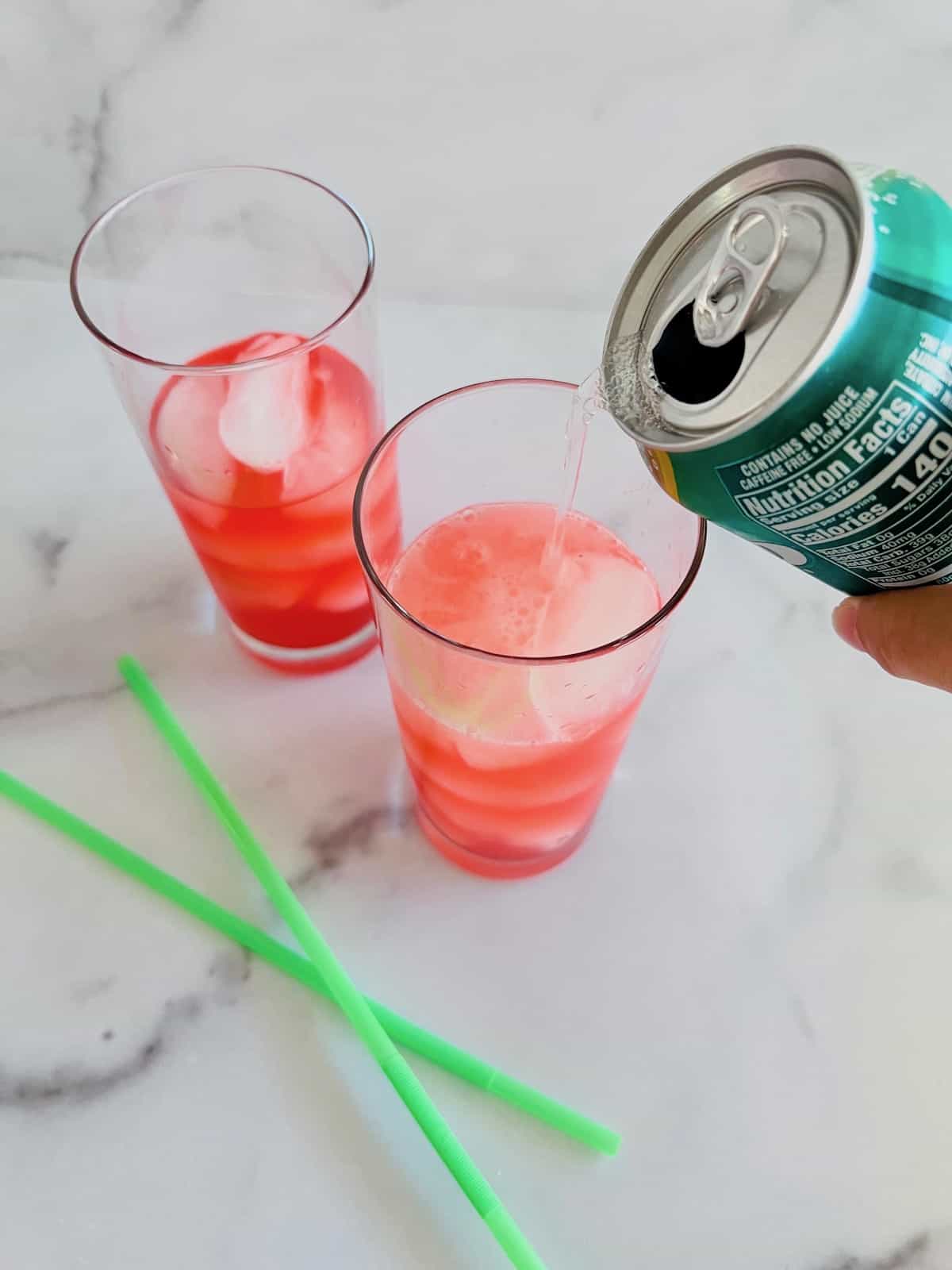 Add a straw and swirl together to stir. Garnish with an orange wedge or add a maraschino cherry.
Substitutions & Variations
This is a quick and easy carbonated punch recipe. You can make a few changes in case you need to make a substitution. Here is what I recommend for this recipe.
7-Up - use another lemon-lime soda like Sprite or Sierra Mist.
Punch - use any juice blend that is red in color
Dry Ice Fog Display & Safety
Since carbonation and dry ice result in quite the explosion - think volcano science experiment! You do not want to add dry ice to these drinks. But if you want to offer a spooky feel to your party, here is what I suggest. Dry ice for displays at Halloween are fun - just be safe!
You can display the drinks or other snacks and munchies on a table with dry ice displays. Find shallow dishes like ramekins. Using tongs, add a few small pieces of dry ice.
Slowly pour in a little bit of warm water and see it activate. Fog will develop immediately and billow out of the dishes. It will flow on the table around the drinks and snacks.
The dry ice fog effect will not last long. You may want to tend to it every so often. Also make sure you keep hands and kids away from the table. Do NOT TOUCH the dry ice.
DO NOT CONSUME DRY ICE! USE TONGS TO MOVE DRY ICE!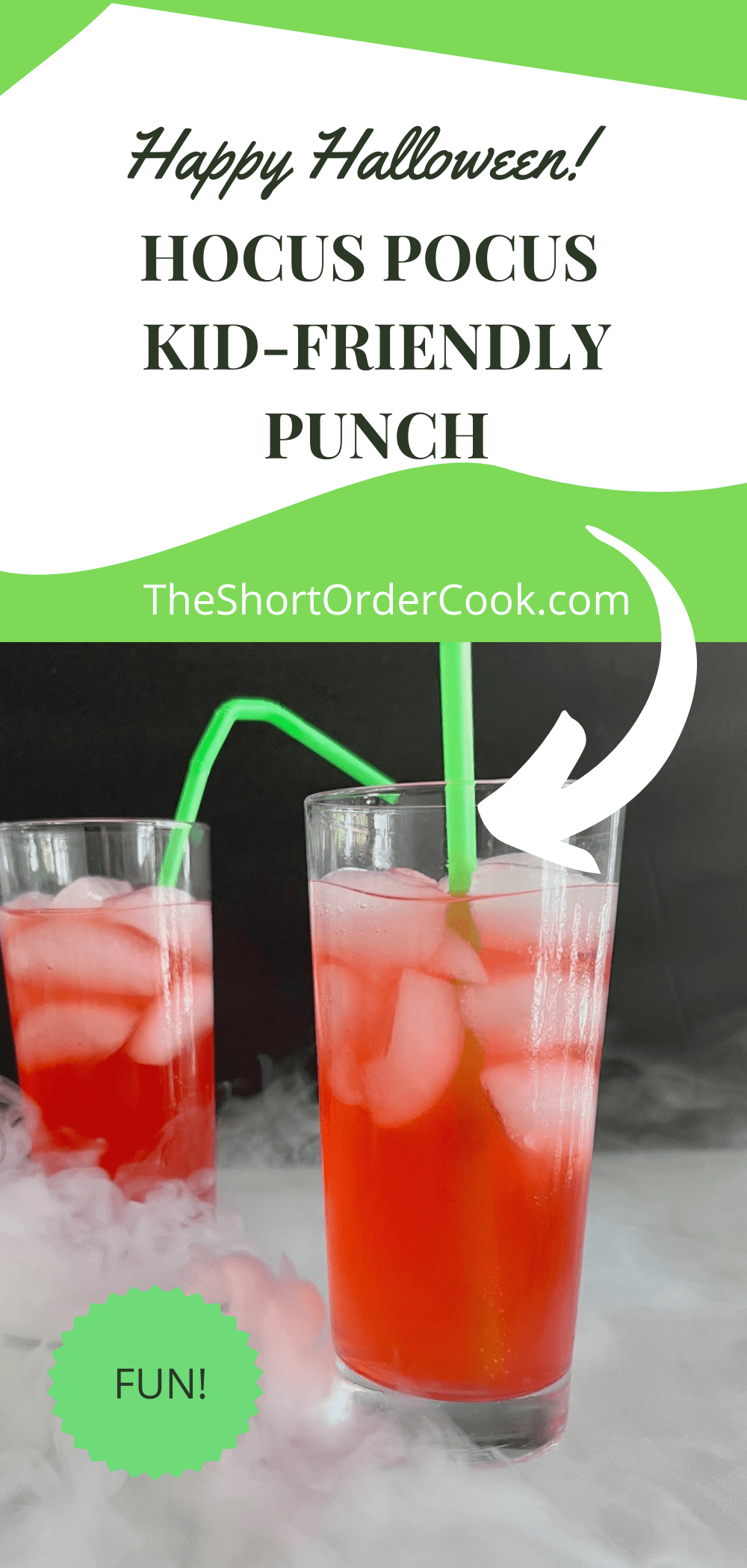 Equipment
For this recipe, you need drinking glasses, some fun straws, and the two ingredients. Here are some fun ways to jazz up this Hocus Pocus drink and make it more festive for Halloween.
The Short Order Cook is a participant in the Amazon Services LLC Associates Program.  As an Amazon Associate, I earn from qualifying purchases.  If you click on a link and make a purchase, I may earn a small commission on the sale at no additional cost to you. This helps with the costs of running the blog. Thank you!  
What to Serve with Halloween Punch
Here are some yummy treats to serve with this Hocus Pocus Halloween punch. These are the best sweet & salty recipes to complete your kid-friendly holiday or costume party.
Hocus Pocus Kid-Friendly Punch
This Hocus Pocus kid-friendly punch is a great mocktail for Halloween This alcohol-free drink is so easy to make and it's bright, sweet, bubbly, & tasty. Only 2 ingredients makes this treat a holiday and costume party favorite.
Ingredients
1

can

Fruit punch frozen juice concentrate

1

can

7-Up Lemon Lime Soda
Instructions
Prepare the fruit punch per the instructions on the can of frozen concentrate.

Fill 4 glasses ⅔ of the way up with ice cubes. It is about 8 ounces.

Pour enough fruit punch in each glass to fill ⅔ of the way up.

Open the can of lemon-lime soda. Pour enough into each glass to now fill the glass almost to the top.

Add a fun straw and serve. Enjoy.
Notes
The calories will vary based on the juice used - also if you use zero-sugar soda it will change. 
Nutrition Facts
Servings: 4
Amount per serving
 
Calories
264
% Daily Value*
Total Fat 0g
0%
Saturated Fat 0g
0%
Cholesterol 0mg
0%
Sodium 80mg
3%
Total Carbohydrate 68g
25%
Dietary Fiber 0.3g
1%
Total Sugars 39.2g
 
Protein 0.2g
 
Vitamin D 0mcg
0%
Calcium 10mg
1%
Iron 0mg
1%
Potassium 32mg
1%
*The % Daily Value (DV) tells you how much a nutrient in a food serving contributes to a daily diet. 2,000 calorie a day is used for general nutrition advice.