If you are trying to figure out what to serve with falafel for lunch or dinner, this list is exactly what you are looking for. All of these sides go well with the fried little garbanzo bean balls. Sometimes they are made with broad beans too (favas) and equally as delicious. All of these sides pair well with the seasoned fritters.
Add one or two of these recipes to complete your meal. Whether you want a salad, vegetables, baked goods, or potatoes, we have you covered with so many choices on what to make. There are middle eastern classics, healthy salads, fried veggies, low-carb, keto, gluten-free, vegetarian, vegan, and keto sides.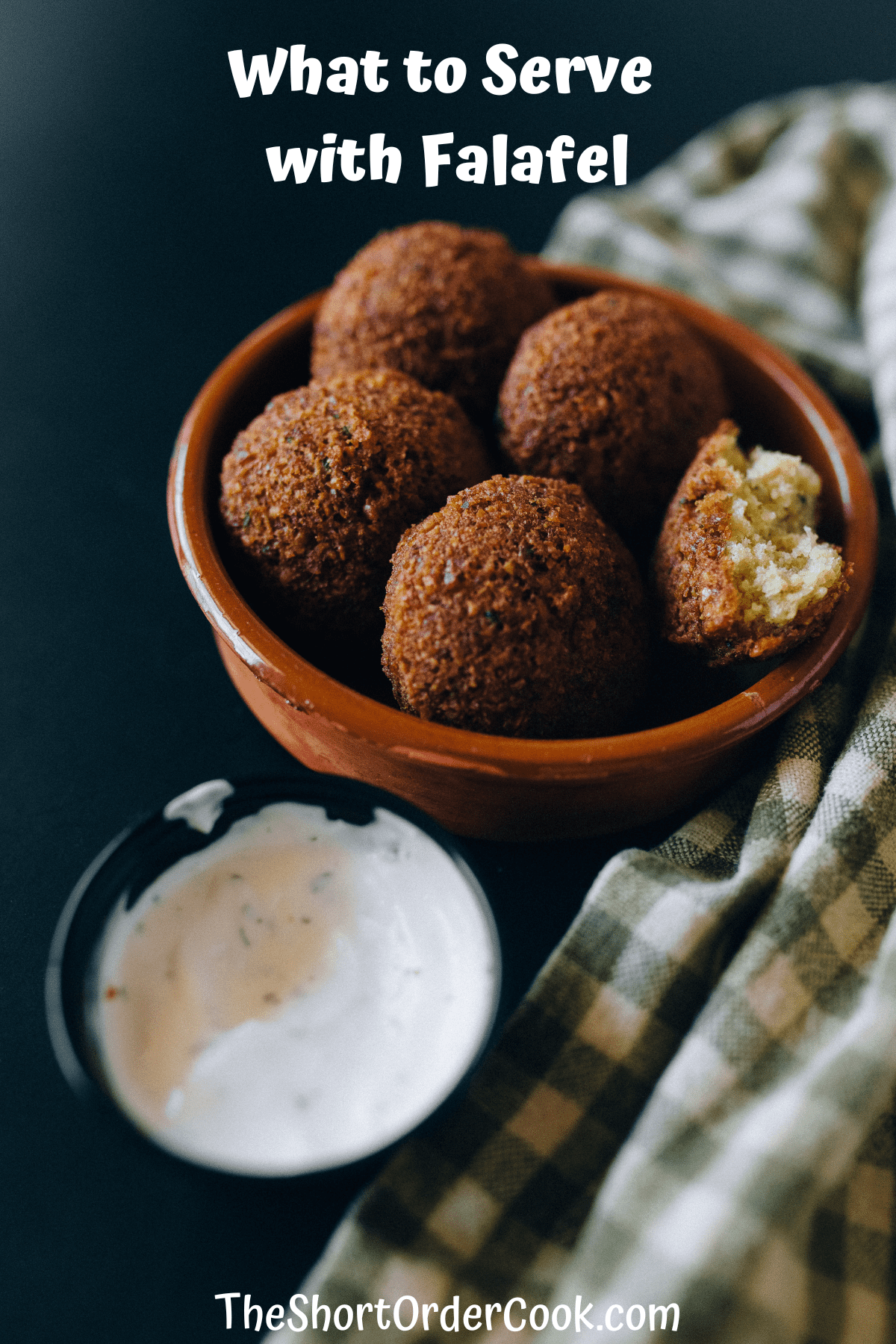 The vegetarian fried balls of chickpea goodness are sometimes spicy but always comforting. The traditional sides are often middle-eastern in nature but we love falafel with so many side dish recipes. Falafel sandwiches are amazing and served in a pita pocket or wrapped in flatbread. I also love it as a salad with my homemade Ranch Dressing without Mayo. But no matter how you enjoy it, all these recipes for side dishes and sauces are the perfect accompaniment.
This is a tasty list of what to serve with any homemade, restaurant take-out, or store-bought falafel.  To help you decide what to offer, I have broken down the list into some subcategories. So based on your mood, preference, or diet, there is something for everyone.  This recipe roundup of what to make with falafel includes the following:
Jump to:
My Favorite Falafel Sides
Here are recipes from my blog that are great to eat with falafel. These sides are not only delicious and easy to make but they fill you up. You will find vegan, keto, and gluten-free sides as well as classic recipes. I love an appetizer plate with falafel balls served with these recipes for baked artichoke hearts & sweet potato fries.
Classic Middle Eastern Recipes
Here are some recipes for traditional middle eastern ideas to serve with falafel. There are vegan, vegetarian, and those with something meaty to please anyone's tastes.
Salads & Vegetables
These salads and vegetable dishes are a great addition to your meal. All of them pair well with crispy fried falafel balls. These healthy recipes have so much flavor that you cannot go wrong with any one of them.
Rice & Potato Sides
These high-carb recipes all go well with falafel. So if you want some fries, pilaf, or something else, all these recipes are right up your alley. Topping fluffy rice with falafel and a drizzle of tzatziki is just so satisfying, simple, and comforting.
Sauces & Dips
Fried or baked falafels in my opinion can be a bit dry. I find that adding a sauce is just the thing to turn the savory little garbanzo balls into something magical. I suggest a combination of two sauces to have something creamy and something spicy. But whatever you decide, all of these sauces, dips, or dressings are wonderful for serving with falafel.
Small Bites & Condiments
Here are some lovely bite-sized ideas to serve with falafel. I love these when putting out a buffet or even making a charcuterie board with falafel. Grab a large platter and pile with wedges of pita bread & pita chips. Then add 2-3 sauces/dips from the list above and 4-5 of these fun condiments.
Pickled Onions & Carrots
Mediterranean Kalamata & Greek Olives
Roasted Red Peppers & Eggplant
Sliced Tomatoes & Cucumbers
Fresh Parsley Sprigs
Lemon & Lime Wedges
What to Serve with Falafel
For all the best sides to serve with falafel, try these yummy recipes. Many have traditional Middle Eastern or European flavors that go so well with a falafel pita sandwich. Also the best dressings and sauces for dipping falafel balls into. Included are vegetables, salads, rice, potatoes, vegan, gluten-free, keto, & healthy recipes - all 100% amazing!
Ingredients
Saffron Rice

Baba Ganoush

Feta Fries

Tahini

Batata Harra

White Bean Hummus

Couscous Salad

Tabbouleh Salad

Roasted Eggplant

Fava Rice Salad
Instructions
Make your homemade falafel.

Pick 1-2 recipes to serve with it.