For crispy & crunchy wings that fall off the bone, there is no better way to cook them than in a deep fryer. If you have ever wondered how long it takes to deep fry chicken wings, the good news - it is so easy.
So get out your deep fryer, some cooking oil, & raw chicken wings - you are in for something amazing. Plate them up and add a few sides that pair well with wings for a complete meal.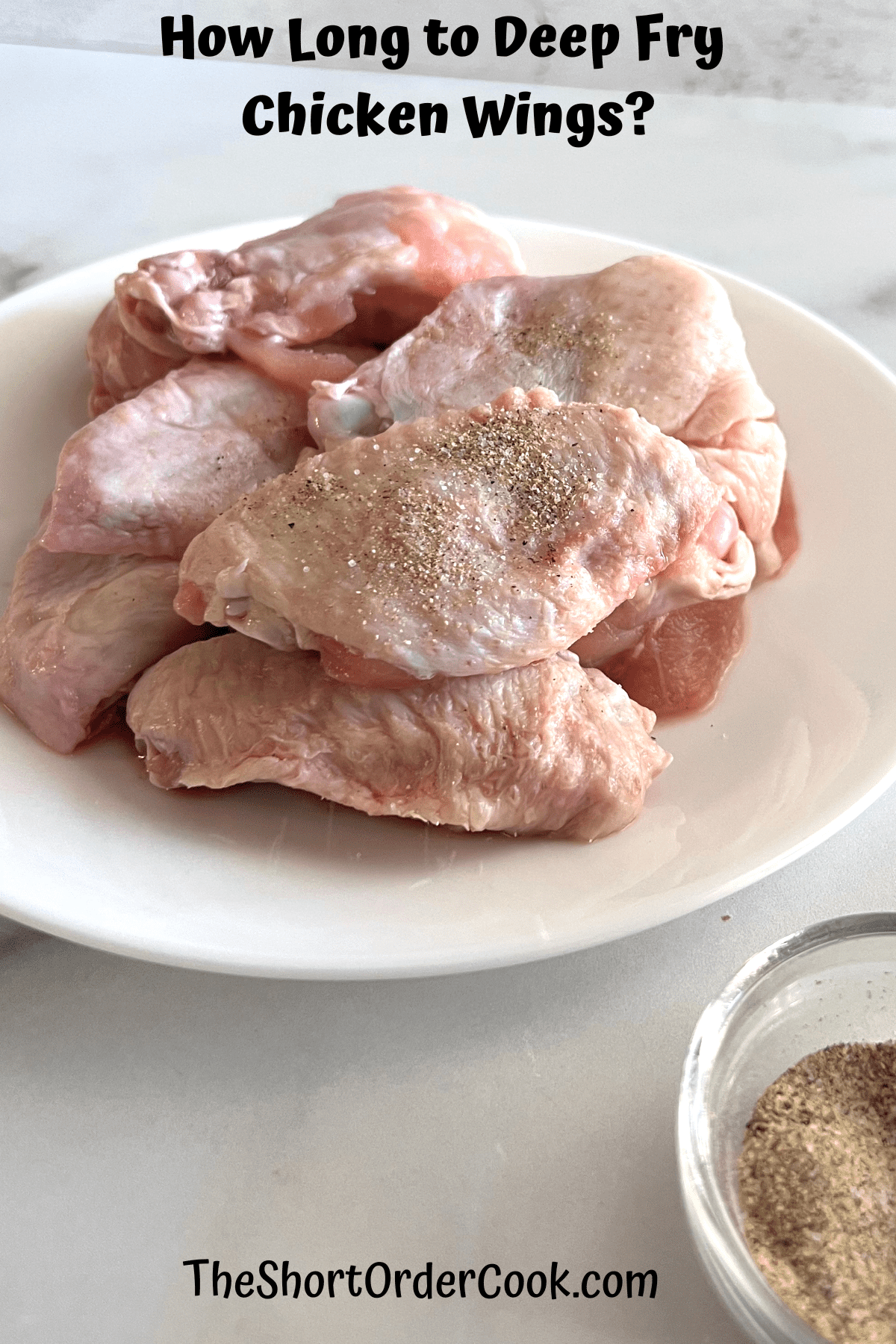 Deep frying wings without breading or coating is the best way to make the skin crispy and crunchy. Fry them up in minutes and toss them in your favorite hot sauce for a quick appetizer. Or try a tasty mild wing recipe with a tasty garlic butter sauce. Or heat things up with sweet & spicy honey lemon pepper chicken wings.
Jump to:
What is a Deep Fryer?
A deep fryer is a kitchen appliance used for deep frying foods. They are large or small options that have a heating element that warms oil. Many deep fryers have time & temperature controls. There are many safety features such as auto shutoff options, detachable plugs, & lids with windows to see through them.
There are large commercial types you may see at restaurants or fast food places. But there are also small home kitchen models that are easy and safe to use. Here are the best deep fryers for making chicken wings at home.
Why Deep Fry Chicken Wings?
I love deep-frying chicken wings for many reasons. The best-tasting chicken wings are always deep-fried. Here are more reasons why frying is the best way to cook up wings.
Crispy crunch outer skin
Tender juicy meat
Fast cooking time
Ease of cooking
Simple time & temperature to follow
Best Temperatures & Times
When frying chicken wings you want to make sure the oil temperature is just right. If the oil is too cool or too hot the wings will not cook properly. The best temperature for deep-frying wings is between 350° - 375°.
Here is more on why this is my recommendation. When wings are fried at either 350° or 375°, the optimal cooking temperature is reached. At this temperature, they will come out crispy on the outside while also being juicy & cooked correctly on the inside.
Perfect deep-fried wings every time! See the RECIPE CARD below for exactly how long to deep fry chicken wings; including time, temperature, & tips.
Oil That is Too Hot or Cold
Be sure to monitor the oil level and temperature when frying. This will ensure the wings are not overcooked or soggy. If the cooking oil is too hot or too cold, it will spoil the taste & texture of your chicken wings.
Wings fried at too low of a temperature will not come out crispy. When the temperature of the oil is too low the food will start to absorb it, becoming soggy and overly greasy. Do not fry wings in oil that is 275°, 300°, or 325° for this reason.
On the flip side with oil that is too hot, the wings will burn on the outside before they are fully cooked on the inside. Do not fry at any temperature of 400° or greater.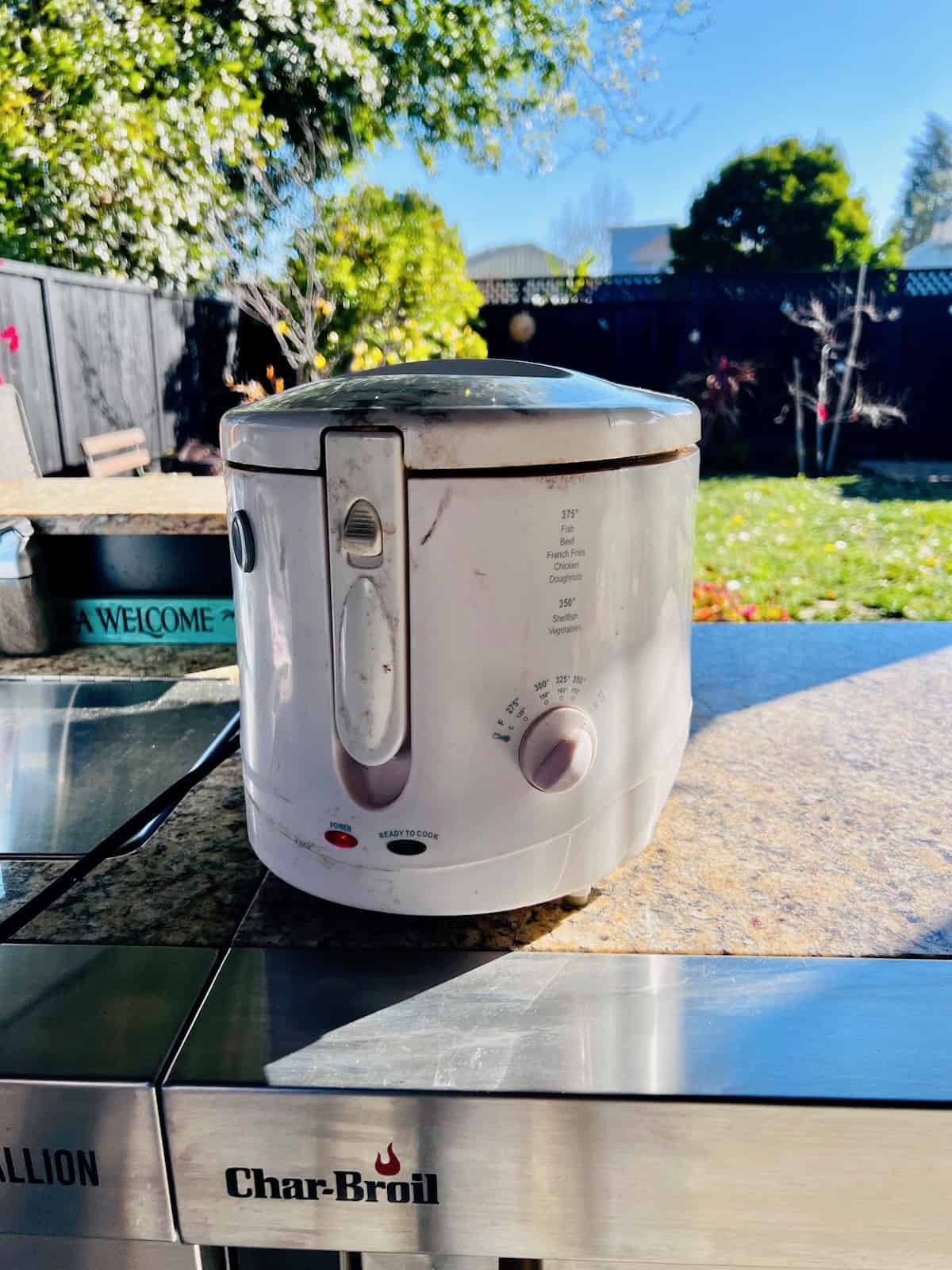 Deep-Frying at 350°
Chicken wings should take about 10 minutes to fry in 350° oil. You want to leave the wings in the oil until they are golden brown. Use a digital meat thermometer to check the internal temperature of the wings. They should register 165° when the wings are cooked to a safe temperature.
Deep-Frying at 375°
Chicken wings should take about 8 minutes to fry in 375° oil. The wings should fry in the oil until they are golden brown. Use an instant-read thermometer to check the internal temperature. They should register 165° when the wings are cooked to a safe temperature.
Best Oils for Deep Frying Chicken Wings
The best oils for frying chicken have a high smoke point, offer good flavor, are cost-effective, & easy to find at your local store. Here are the top 3 kinds of oils I recommend for frying chicken.
Vegetable Oil - has a smoke point of 450° and has a mild/neutral flavor that doesn't overpower the wings.
Peanut Oil - has a smoke point of 450°, adds a lovely nutty flavor, and is often priced lower than other oils.
Sunflower Oil - smoke point can go as high as 500°, is free of GMOs, and has a neutral flavor.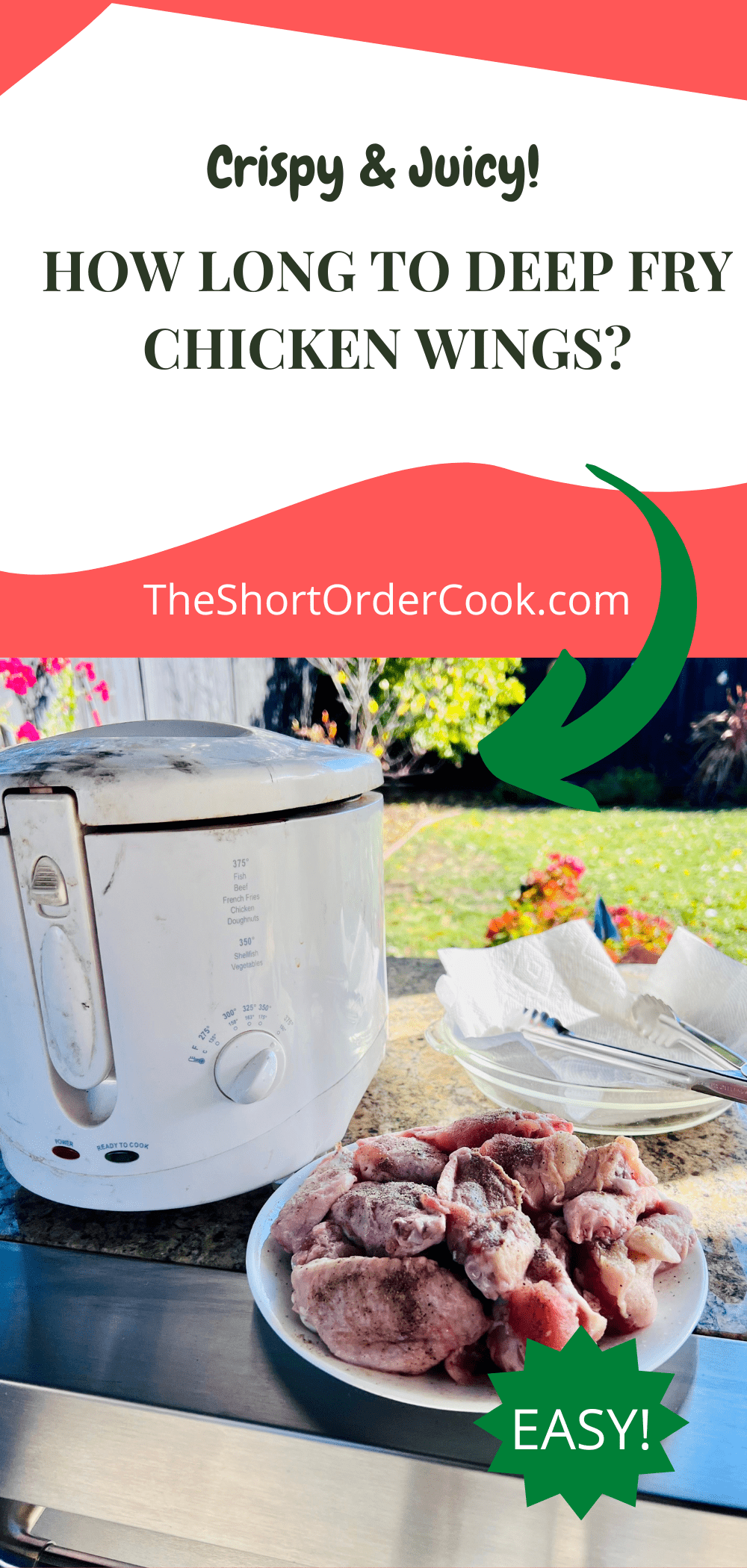 Recipes for Deep-Fried Wings
Here are two of my favorite recipes for wings. Both start with wings that are fried in a deep fryer. They are then tossed with some tasty sauces. Whether you want something mild & rich or wings that are sweet & spicy, either of these is fantastic.
Hot Honey Lemon Pepper Wings
Crispy chicken wings in hot honey lemon pepper sauce are sticky, sweet, & spicy. This recipe for deep-fried wings in a hot flavorful sauce is easy to make. Perfect for appetizers, snacks, lunch, or dinner. These wings are gluten-free without breading bust still so crispy.
Check out this recipe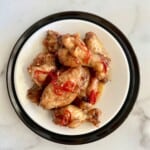 Garlic Butter Wings
Crispy garlic butter wings are fantastic.  Seasoned chicken wings are deep-fried and tossed in a garlic butter sauce that is rich & pungent. Loaded with garlic and crispy skin makes these wings an appetizer favorite. The best mild wings for game day, parties, or a crowd. Also low-carb, gluten-free, & keto-friendly.
Check out this recipe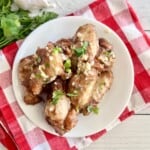 FAQ
If you have never fried wings before, these tips and tricks will help you out. I hope the answers to these questions ensure your recipes turn out delicious.
Do deep-fried chicken wings float when done?
When the wings are done they will begin to float. As long as they are not overcrowded in the pot or deep fryer, the wings should start to float to the top of the oil. Wings that are down at the bottom are not done - also make sure the oil is at a high enough temperature to bubble & cook the wings properly.
Should the oil be smoky?
Using oil that is smoking or smoky is not recommended. The oil should not be smoky. Smoking oil means that it is either too hot (400° or higher) or that it is dirty. Dirty oil that has food parts or residue in it will burn, causing the oil to smoke. Try in clean oil only.
Can you cook frozen wings in a deep fryer?
Wings that are frozen have added moisture to the surface and in the meat. That added ice/water is not good for deep frying. Oil and water will splatter and is unsafe. I recommend that you only deep fry wings that are defrosted.
What are other ways to cook wings?
If you are still not ready to begin deep-frying some chicken wings, you can cook them in other ways. Air-frying, oven-roasting,and grilling are all good options.

If you own a pressure cooker, you can also make Chicken Wings in the Instant Pot. They will be tender and if you want to crisp them up, just place them under the broiler for a few minutes. Yummy!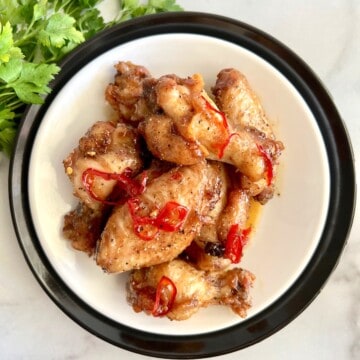 How Long to Deep Fry Chicken Wings?
This recipe makes the best crispy and juicy wings. Knowing how long to deep fry chicken wings at the right temperature and time is easy. Follow these steps to make yummy chicken wings in the deep fryer.
Ingredients
1

pound

chicken wings

oil for frying

see recommendations above

½

teaspoon

salt

¼

teaspoon

black pepper
Instructions
Make sure the deep fryer has enough oil, based on your model's instruction manual.

Preheat the deep fryer until the oil comes to heat, 375°.

While the oil is coming to heat, prepare the chicken wings. Pat dry the chicken pieces. Sprinkle the salt and pepper on all sides of the wings.

Once the oil is hot, 375°, carefully place the chicken wings in the deep fryer basket. Submerge in the oil and fry for 8-10 minutes.

The wings are ready when the skin is brown and crispy and the internal temperature of the chicken is 165°. Remove them from the deep fryer with tongs. Place them on a plate lined with paper towels.

Enjoy as is or with your favorite sauces and dips.