Whether you are cooking for one or feeding a crowd, find out how much pasta per person to make. With so many kinds of pasta, it may be hard how to measure enough pasta to cook so everyone gets a hearty meal. Below I will share common guides, tips, and tricks for cooking the right amount of pasta.
My Italian family is known for making a lot of pasta & we love our leftovers. Having leftovers is a great thing if you will eat them and do not have them go to waste. I purposely make extra spaghetti so we can have enough to make fried spaghetti with eggs for breakfast, brunch, or lunch. But if you don't want leftovers, follow the information below.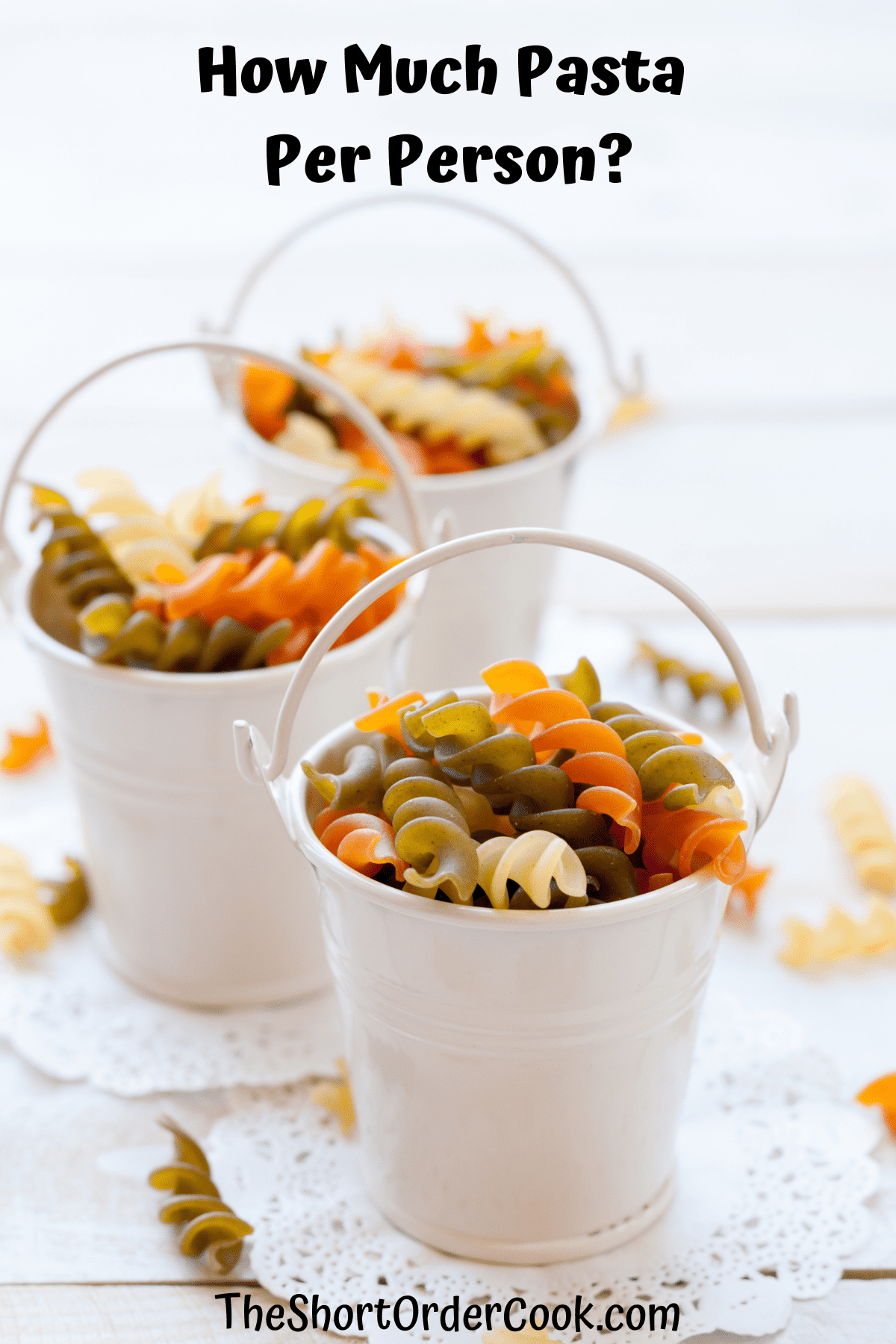 All the measurements shared here today will amount to an average-size serving of pasta. This is not a neverending pasta bowl like at Olive Garden. On average the dry or fresh pasta amounts will result in about 1 ¼ cups of cooked pasta.
Serving the proper portion size can be tricky. When pasta is your main course served without any fish, meats, or other proteins, you will want to serve more than usual. However, an American classic plate of spaghetti and meatballs calls for a single serving of pasta per person.
Jump to:
Pasta Servings in Italy vs America?
The portion sizes in America are known to be large and are often made fun of or mocked by other countries. Cultural differences do tend to come into play when deciding how much pasta to cook per person. Understanding the differences between how Italy vs America serves pasta will help.
Typically, Italian guidelines suggest the following amounts of uncooked pasta per person:
60-90g of dried pasta
70-100g of fresh pasta
120-140g of filled pasta such as ravioli
If you are American, these amounts may seem small. Keep in mind that Italians eat pasta as part of a complete meal and is not the star oftentimes. Pasta is traditionally served as a primo (first course), with a meat or seafood course called a secondo that is often served with a contorni as the main course.
In American homes and restaurants, pasta is often the entire meal. Therefore, the portion sizes are larger. Since most of my readers live in the USA, I will lean towards amounts that are a bit larger than typical Italian portion sizes but not so large that the portions are unhealthy & overindulgent. For Americans, I suggest the following amounts.
If you're having pasta as your main meal, we'd suggest the following quantities:
100g of dried pasta per person
120g of fresh pasta per person
150g of filled pasta per person such as ravioli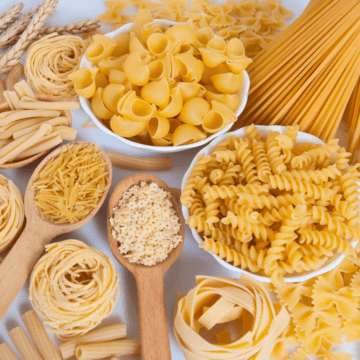 How Many Cups of Pasta?
When figuring out how much pasta per person to make, start from this point and then make less or more depending on who you are feeding. Adults and growing teens will eat more than small children for example.
Measuring pasta by cups is done by volume vs weight, keep that in mind. It will be less accurate than measuring by grams or ounces, see the next section.
DRY PASTA = 1 cup dry pasta per person
FRESH PASTA = 1 ¼ cups of fresh pasta per person
FILLED PASTA = 1 ½ cups of filled pasta per person
This is based on general terms. Keep in mind that different types of pasta and shapes may need different amounts per person. See below for a more accurate amount of pasta for boiling based on the type you are cooking per person.
How Many Grams or Ounces of Pasta?
Weighing your pasta will give a more precise measurement. When you scoop or pour pasta into a measuring cup, the air/space around each piece can create inaccuracies. For that reason, I like to use grams or ounces for deciding how much pasta to make.
DRY PASTA = 3.5 ounces or 100g of dry pasta per person
FRESH PASTA = 4.2 ounces or 120g of fresh pasta per person
FILLED PASTA = 5.3 ounces or 150g of fresh pasta per person
Pasta Shapes & Per Person Amounts
The pasta shape may alter how much you make per person. For example, a fine noodle, such as angel hair, may feed more people than an open tube shape like rigatoni. I have broken pasta down into three sub-categories to make it easy to find the kind you are cooking.
Not all will be here but the most popular shapes or at least ones that may have a similar size and shape. For all the shapes below, the recommendation is to start with 3.5 ounces or 100g of dry pasta per person. This will yield 1 ½ - 1 ¾ cups of cooked pasta per serving.
Long Thin Pasta Shapes
Angel Hair
Bucatini
Capellini
Egg Noodles
Fettuccine
Linguini
Spaghetti
Tagliatelle
Vermicelli
Short Pasta Shapes
When you measure them out in cups, they will yield a lot of empty space so I suggest for tube-shaped pasta, you use weight measurements. For all the shapes below, the recommendation is to start with 3.5 ounces or 100g of dry pasta per person. This will yield 1 ¼ - 1 ½ cups of cooked pasta per serving.
This is not a large amount for someone that is a hearty eater. Keep in mind who you are cooking for when calculating. If you have a family of 6 with 2 toddlers, those small children will eat less. But if you have a group of teenagers over after a football game, you may need to make a lot more for those hungry young men.
Cavatappi
Conchiglie
Ditalini
Elbow Macaroni
Farfalle
Fusilli
Gemellini
Orecchiette
Pappardelle
Penne
Radiatori
Rigatoni
Rotelle
Rotini
Ziti
Other Pasta Shapes & Sizes
Here are a few others types of pasta that didn't fit into the categories above. They are super tasty and cooked frequently at home. So when you are trying to decide how many lasagna noodles or gnocchi you need per person, check out this guide.
For all the shapes below except the filled kinds (ravioli & tortellini), the recommendation is to start with 3.5 ounces or 100g of dry pasta per person. This will yield 1 ½ - 1 ¾ cups of cooked pasta per serving. For ravioli and tortellini make 5.3 ounces or 150g of fresh pasta per person to yield 1 ¾ - 2 cups cooked.
Cannelloni Tubes
Gnocchi
Lasagna Sheets
Manicotti
Orzo
Pastina
Ravioli
Tortellini
Free Printable: Imperial & Metric Amounts
Here is a quick cheat sheet on know how much pasta to make per person. It includes both imperial and metric measurements. So whether you are making dry, fresh, or filled pasta, you will always know exactly how much to make. Free Printable for Pasta Per Person Measurements is a handy tool for any kitchen.

How Much Pasta Are 4 Servings?
The easiest rule of thumb for making pasta for a family of 4 is to make a pound of pasta. Each pound of pasta will yield roughly 4 ounces of dry pasta per person. That will result in on average 8 cups of cooked pasta. If pasta is your main meal, this is a good amount to make.
If you plan to have your pasta as a first course, make ½ pound of dry pasta for 4 servings. Then serve your cooked pasta along with fish, beef, sausage, meatballs, or whatever other main courses you are offering.
How Much Pasta for a Crowd?
Making large quantities of pasta for a crowd can be difficult to measure and figure out. First off you need a very large pot or several bit pots. You want to make sure you have a lot of salted water to ensure large quantities of pasta do not stick together.
Follow these guidelines for cooking pasta for a large group, big family, party, spaghetti feeds, or other events. These numbers are based on pasta as being part of a complete meal and not the main course. For example, a buffet or dinner also offers salad, vegetables, bread, meat or fish, and dessert. For this, it comes to 2 ounces of dry pasta or 1 cup of cooked pasta per person (8 servings per pound).
25 people = 3 pounds of dry pasta
50 people = 6 pounds of dry pasta
100 people = 12 pounds of dry pasta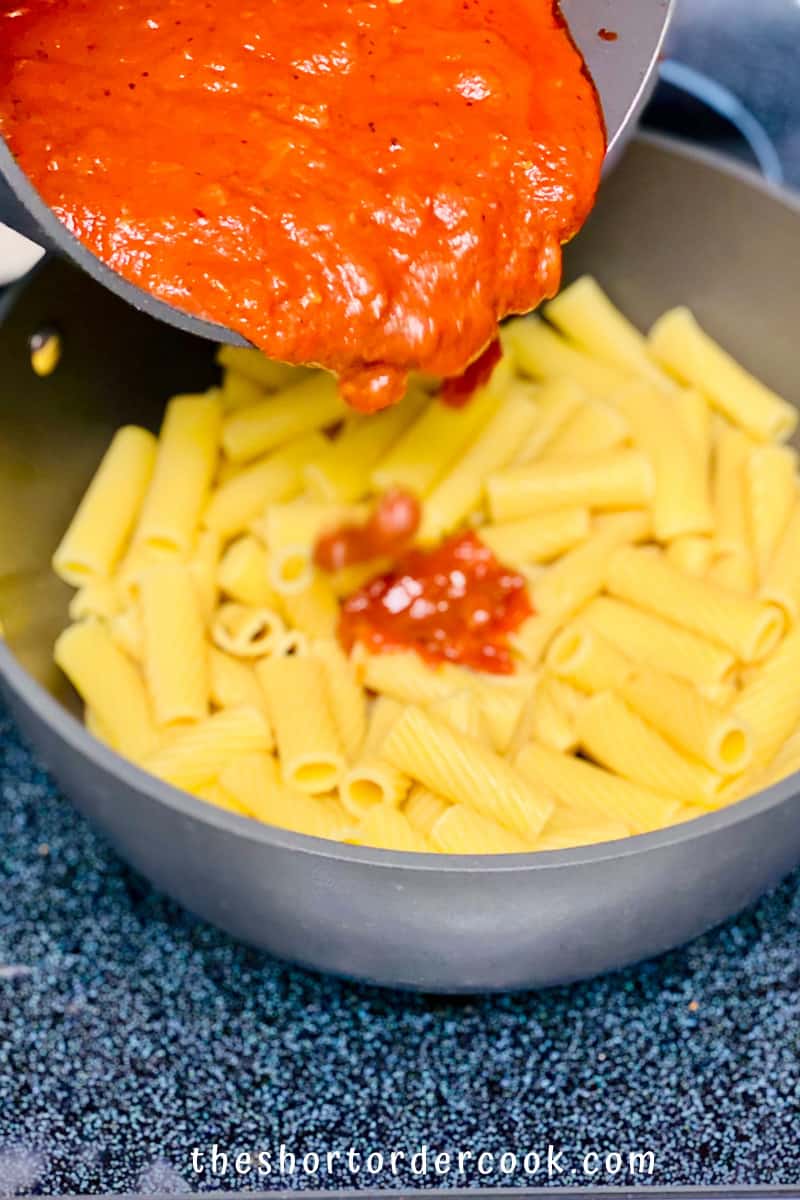 Dry & Fresh Pasta FAQs
What sauce goes best with the pasta I am cooking?
This is a very big question and a good one. Kinds of pasta pair well with certain sauces. For a comprehensive review, uncover information on dozens of pasta shapes and how to use them.

For an endless amount of amazing ideas for all things pasta, Jacqui at The Pasta Project shares the best recipes.
How much sauce do I need per cup of cooked pasta?
Every pasta shape and type of sauce is different. There are no easy guidelines for this. In addition, the sauce is thought of as an accompaniment. In Italy pasta is lightly sauced and not drowned in it as some Americans are used to.

How I like to sauce my pasta is in a large skillet with a little bit of starchy pasta water. I then add the cooked pasta to the large pan and toss it to coat. I go with about ¼ cup of pasta water for a pound of pasta.

Next, I add a small bit of sauce and toss using tongs or a spoon. I then add more and toss until all the pasta is lightly coated. I do not like it swimming in a sauce so this is what I suggest.
How long can you store fresh pasta in the refrigerator?
Store-bought fresh pasta can be stored in the refrigerator for 2-3 days. Homemade fresh pasta should be cooked the same day it is made. If you dry it out overnight, that works too and can be cooked the next day.
Does dry pasta go bad?
Dry pasta is very shelf-stable and can last a long time if stored properly in your pantry or cupboard. Though it doesn't tend to expire and go bad, it will lose some quality over time. Dates that are "best by" or "sell by" are not expiration dates.

Dry pasta should last about 2 years if stored properly and the original packaging has not been opened or compromised in any way. If you have an opened box or have stored your pasta in a container, it will some quality faster. I give it about a year and then the pasta may need to be tossed out.

It is hard to tell if dry pasta has gone bad because, well simply put, it is dry. Without any moisture bacteria and harmful contaminants have little chance to grow and multiply.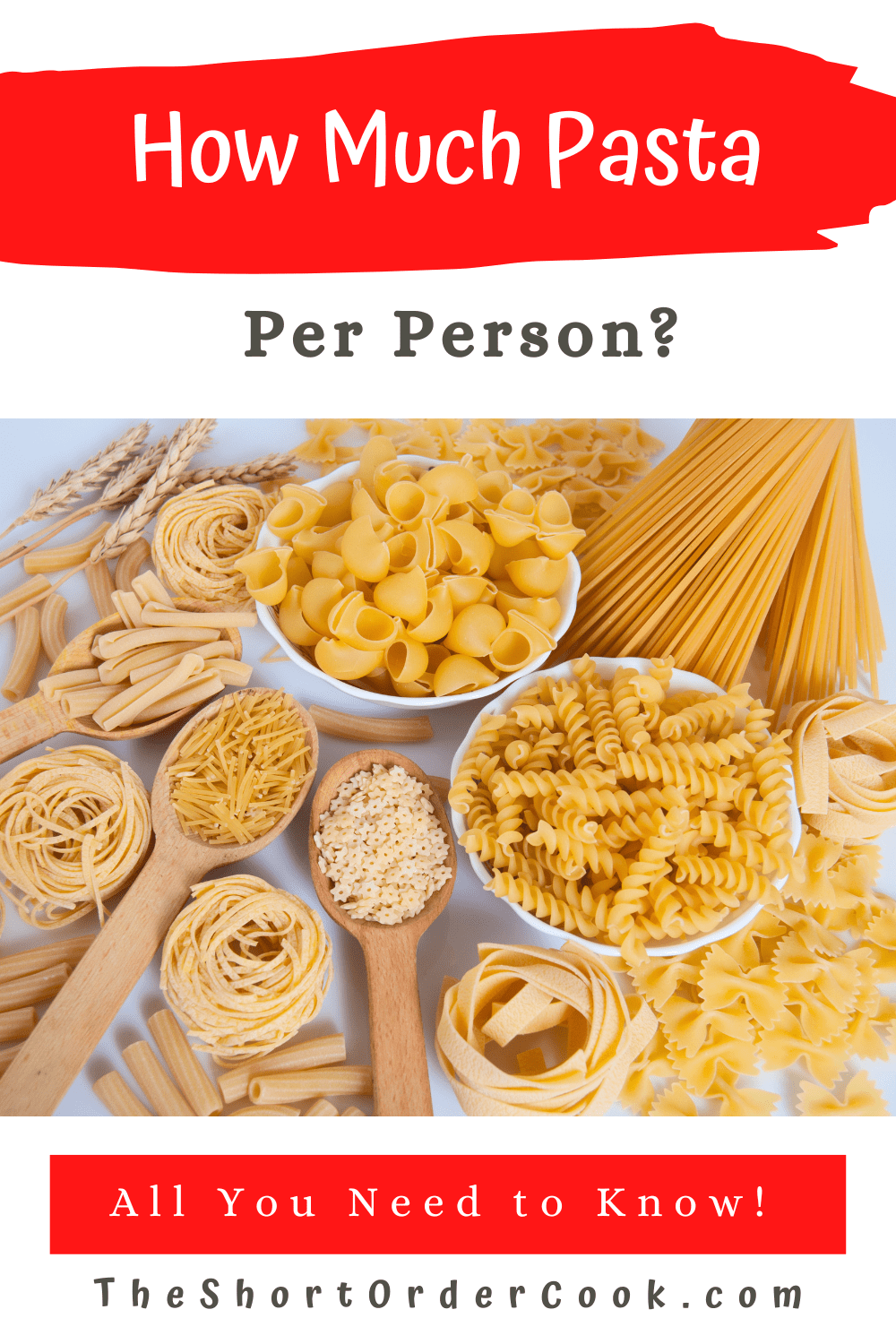 Favorite Pasta Recipes
Here are some great recipes from the blog that features delicious pasta. I hope you find something new to make and love.