This pepperoni spaghetti is a pasta dish you will crave all the time. It is rich, hearty, spicy, & loaded with all sorts of goodies. This chunky pepperoni spaghetti sauce is ready in 30 minutes & a family and kid favorite. So if you wonder if pizza and spaghetti go together - heck yeah they do!
If you love pepperoni pizza and spaghetti run, do not walk, to make this dish. This was inspired by my chicken & spaghetti recipe and pairs well with a salad, or homemade ciabatta.
Jump to:
Ingredients
This simple but spicy homemade pepperoni spaghetti sauce only needs 6 ingredients plus some herbs & spices. This recipe uses budget-friendly staples & items commonly found in any grocery store. This is not a traditional Italian recipe but it's oh so yummy.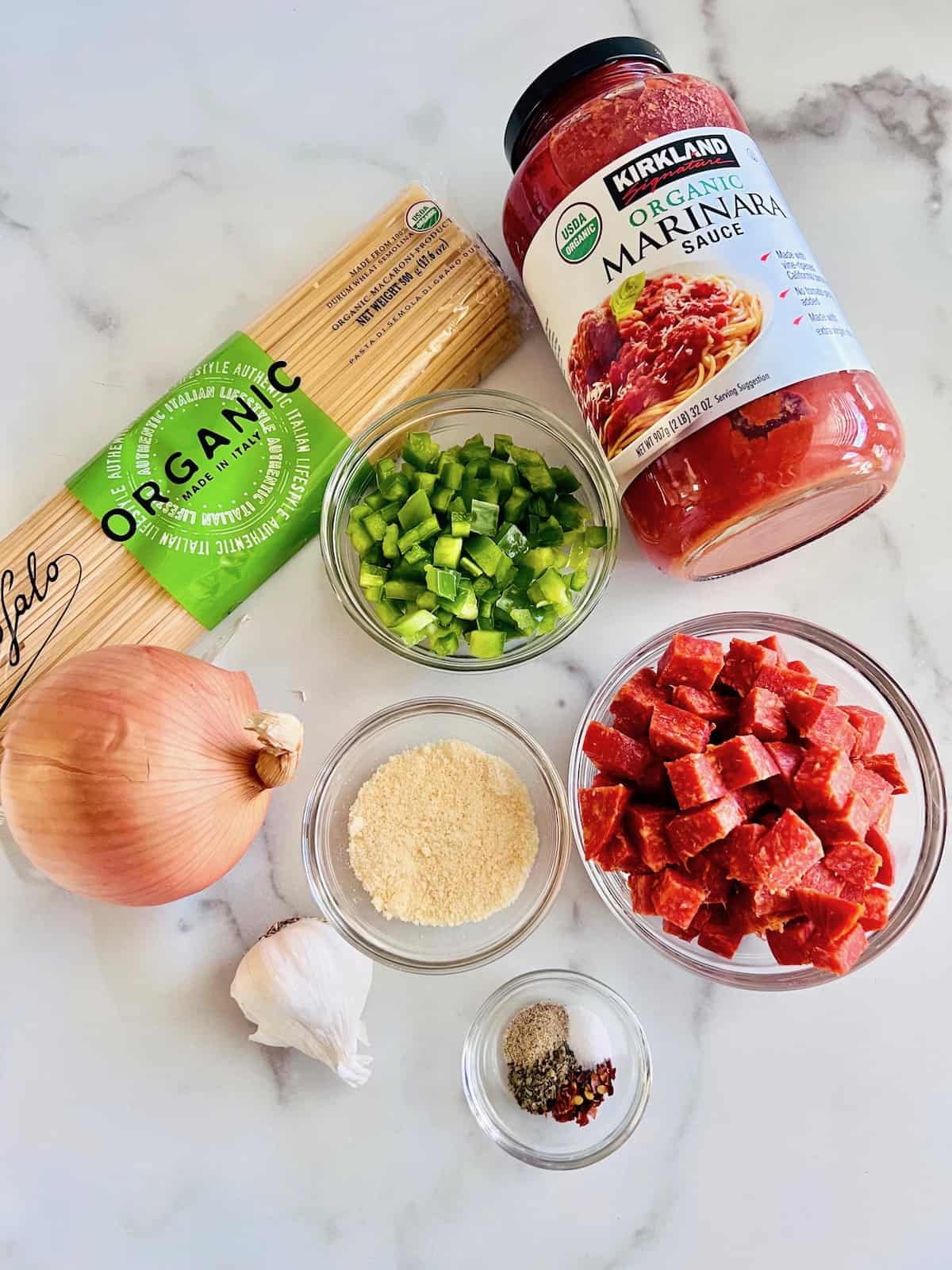 Pepperoni
Jarred Marinara Sauce
Bell Pepper
Onion
Garlic
Salt
Black Pepper
Dried Basil
Red Pepper Flakes
Parmesan Cheese
Spaghetti
See the recipe card for quantities.
How to Make Pepperoni Spaghetti
Here are the easy step-by-step instructions for making this recipe for pepperoni sauce served with spaghetti. It is quick to make this in just two pots on the stovetop. Purchase store-bought precut items like pepperoni sliced or chunks, diced onions, or diced peppers to save time.
Here is a summary of how to cook this.
Cut pepperoni, onion, & bell pepper
Sautee pepperoni & vegetables
Add sauce & simmer
Boil spaghetti
Plate spaghetti & top with sauce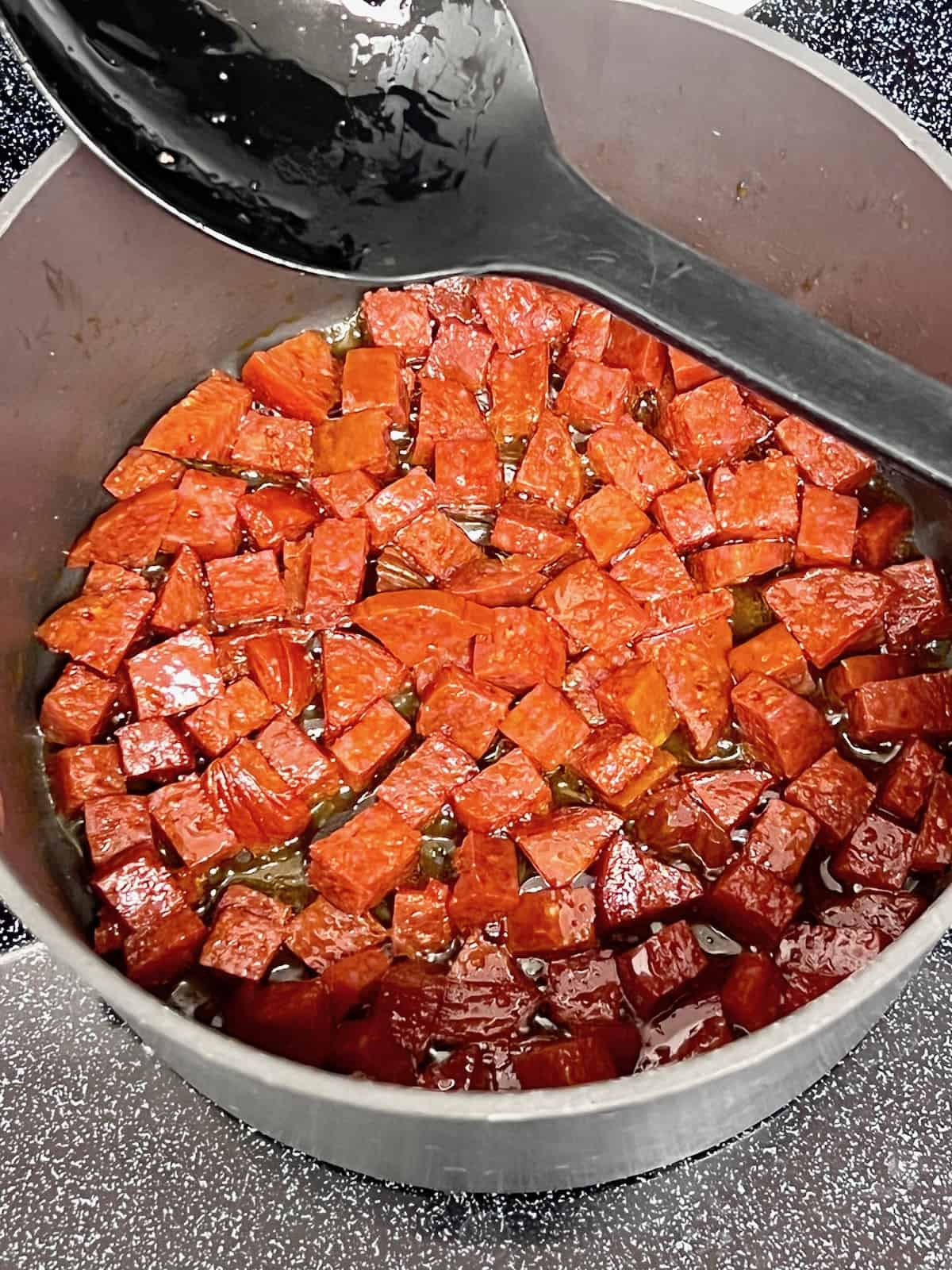 To a medium-sized sauce pot, add the pepperoni chunks. Cook over medium heat for 5 minutes.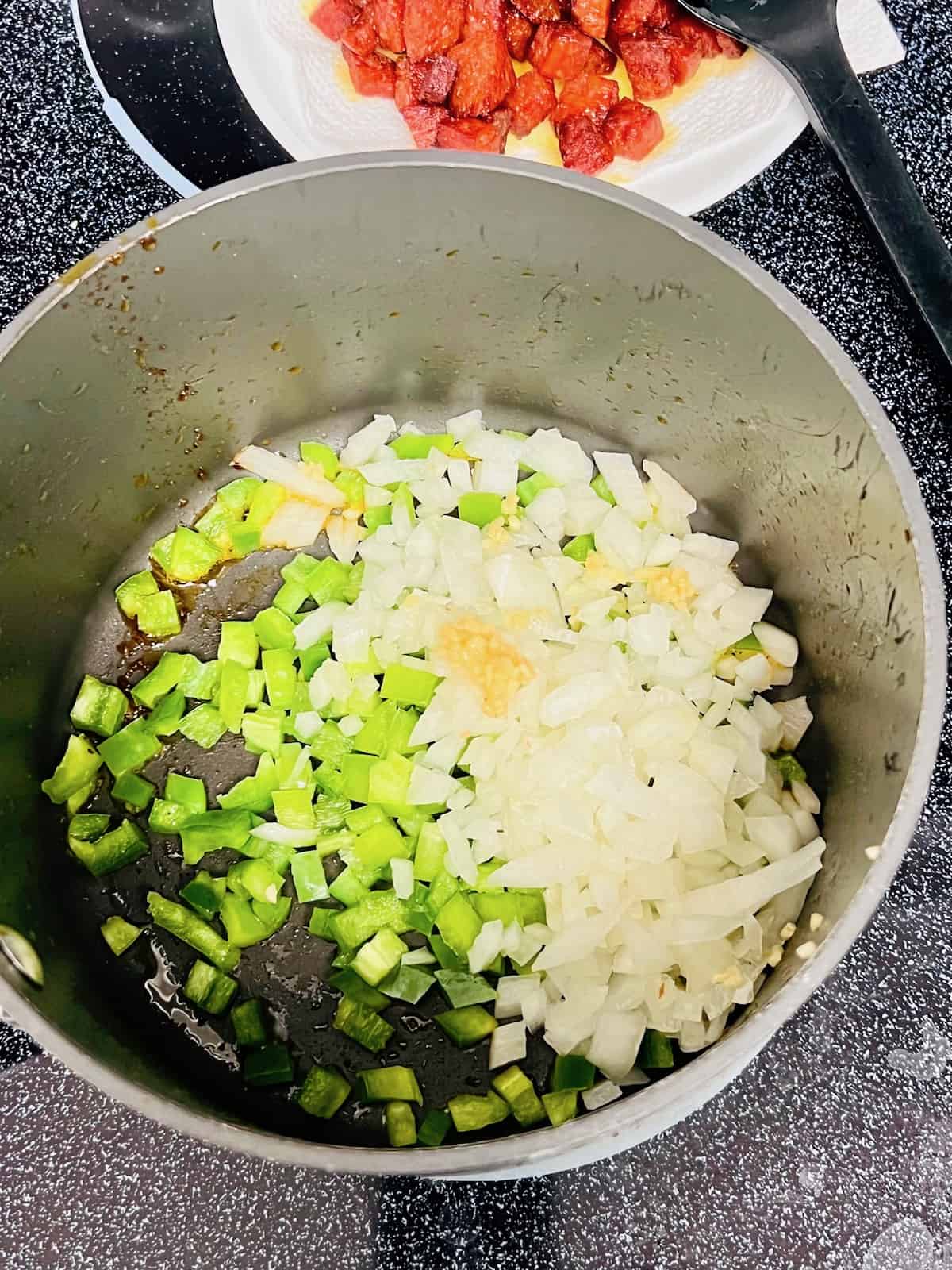 Remove the pepperoni and set it aside on a plate lined with paper towels. Add vegetables and garlic to the pot with the leftover pepperoni drippings.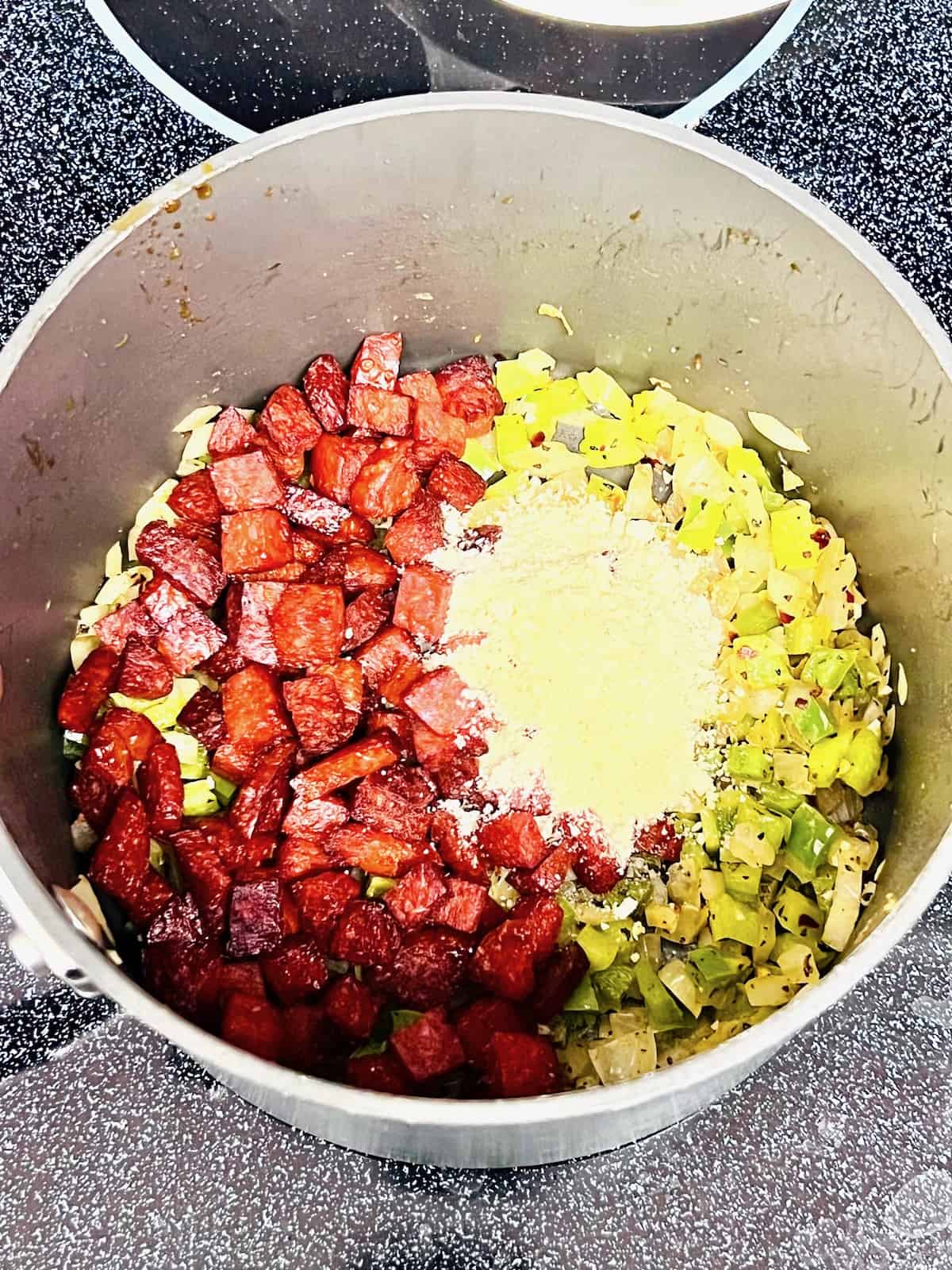 Cook the vegetables over medium heat for 5 minutes. Stir in the herbs, spices, parmesan, & pepperoni.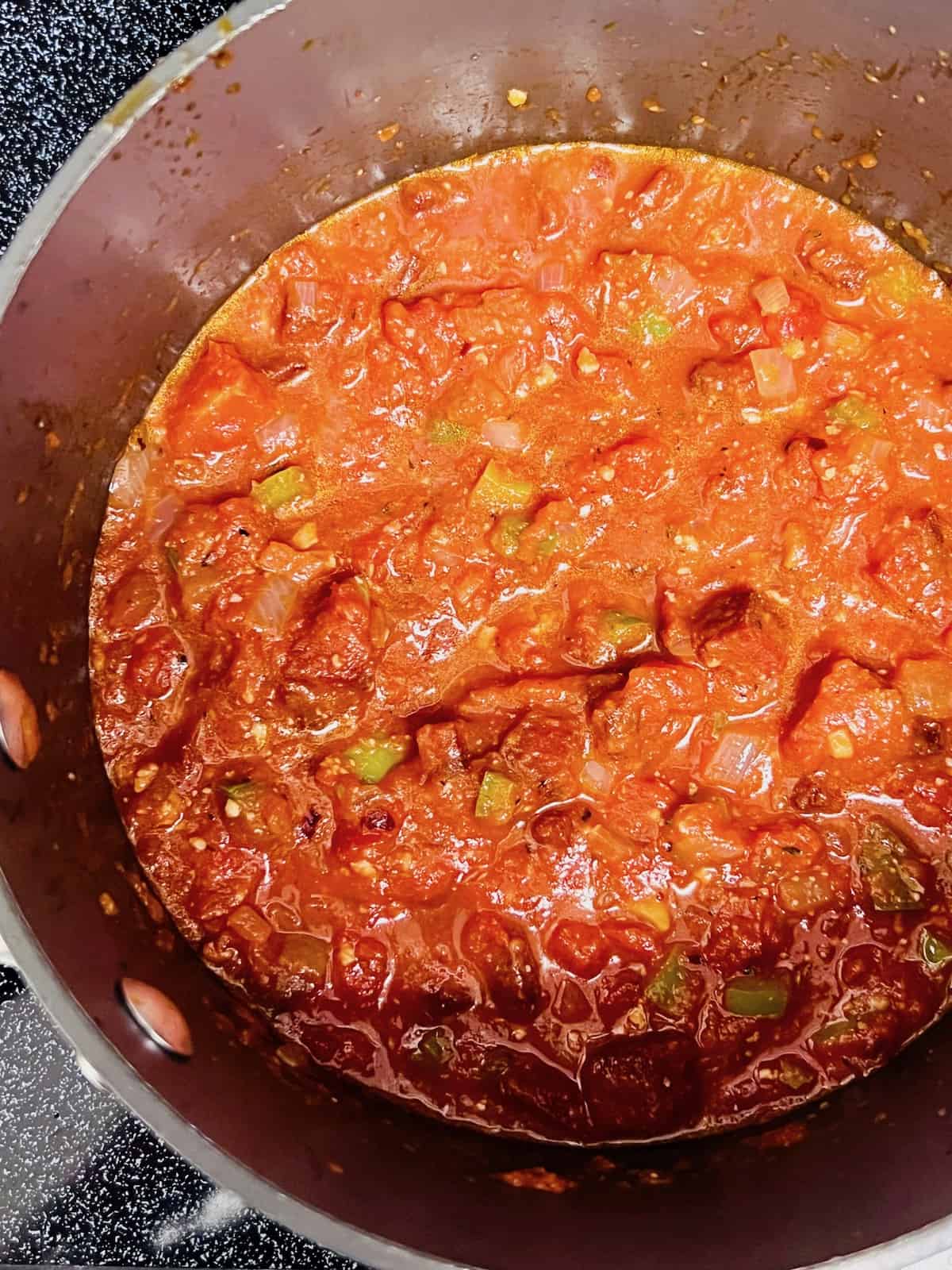 Add the jarred marinara sauce to the pot and stir. Simmer on medium-low for 15 minutes.
While the pepperoni spaghetti sauce is cooking, it's time to cook the pasta. In a large pot of boiling water, add the spaghetti. Cook until al dente.
Hint: You can also make this in the slow cooker once the pepperoni has been cooked. Add all the ingredients (except the spaghetti) to your CrockPot and cook on low for 4-5 hours.
Top Tips
All of these great tips are shared in this post. But these are so good and important they are worth mentioning again so you don't miss them.
Buy store-bought pepperoni that is already diced to save time.
Cook the pepperoni so add crispiness to it & extract oils from it.
Sautee the veggies in the pepperoni drippings - no other oil is needed.
Store leftovers in the refrigerator in the jar from the store-bought sauce to ensure your bowls or containers don't stain from the red sauce.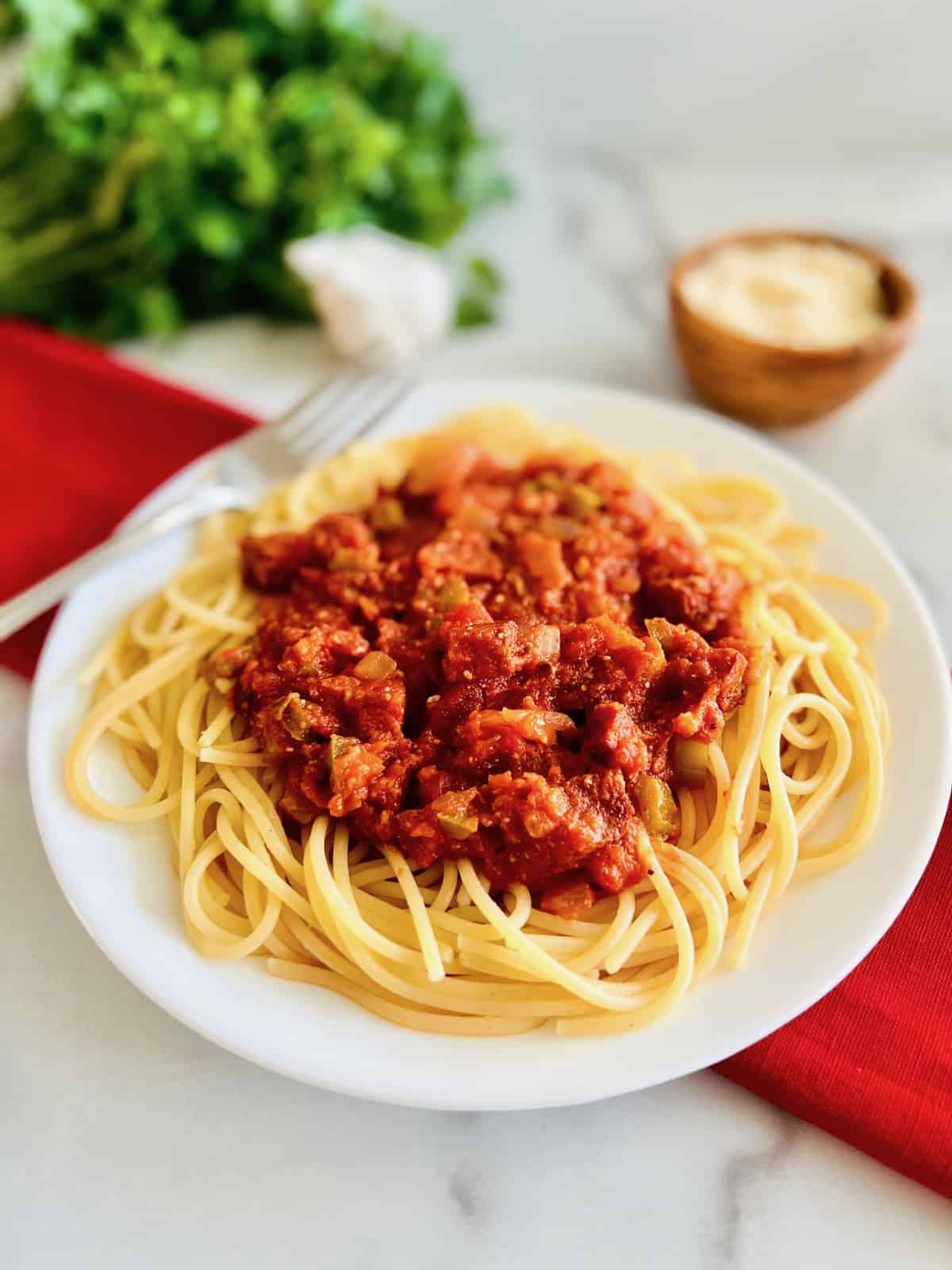 How to Serve Pepperoni Spaghetti
Once the spaghetti is ready, top it with pepperoni tomato sauce. Sprinkle on some additional parmesan cheese. You can also spice it up with more red pepper flakes.
This hearty pasta dish goes well with many vegetables, salad, & bread sides. Here are my recommendations for sides that all go well with this spaghetti recipe.
You will enjoy the combination of spicy pepperoni and savory tomato sauce. It makes for a tasty meal that will please even the pickiest eaters. With its simple ingredients and quick preparation time, this recipe is perfect for busy weeknights or lazy weekends at home.
Substitutions & Variations
Here are some great recipe variations & ingredient substitutions that can be made. Add, omit, or use one of these alternatives for other delicious recipe ideas. These may help you enjoy it even with dietary, health, or personal nutritional preferences.
Pepperoni - use a plant-based sausage instead for a vegan or vegetarian version.
Spaghetti - use any pasta shape you like such as penne, linguini, or rigatoni.
Jarred Marinara Sauce - use your favorite homemade marinara sauce recipe instead of store-bought brands.
Parmesan - omit for a dairy-free version.
Low-Carb/Keto - serve over spaghetti squash, zoodles, or Palmini instead of regular spaghetti.
This sauce is already gluten-free, so serve it with gluten-free pasta for a great meal for those with celiac disease or wheat sensitivities.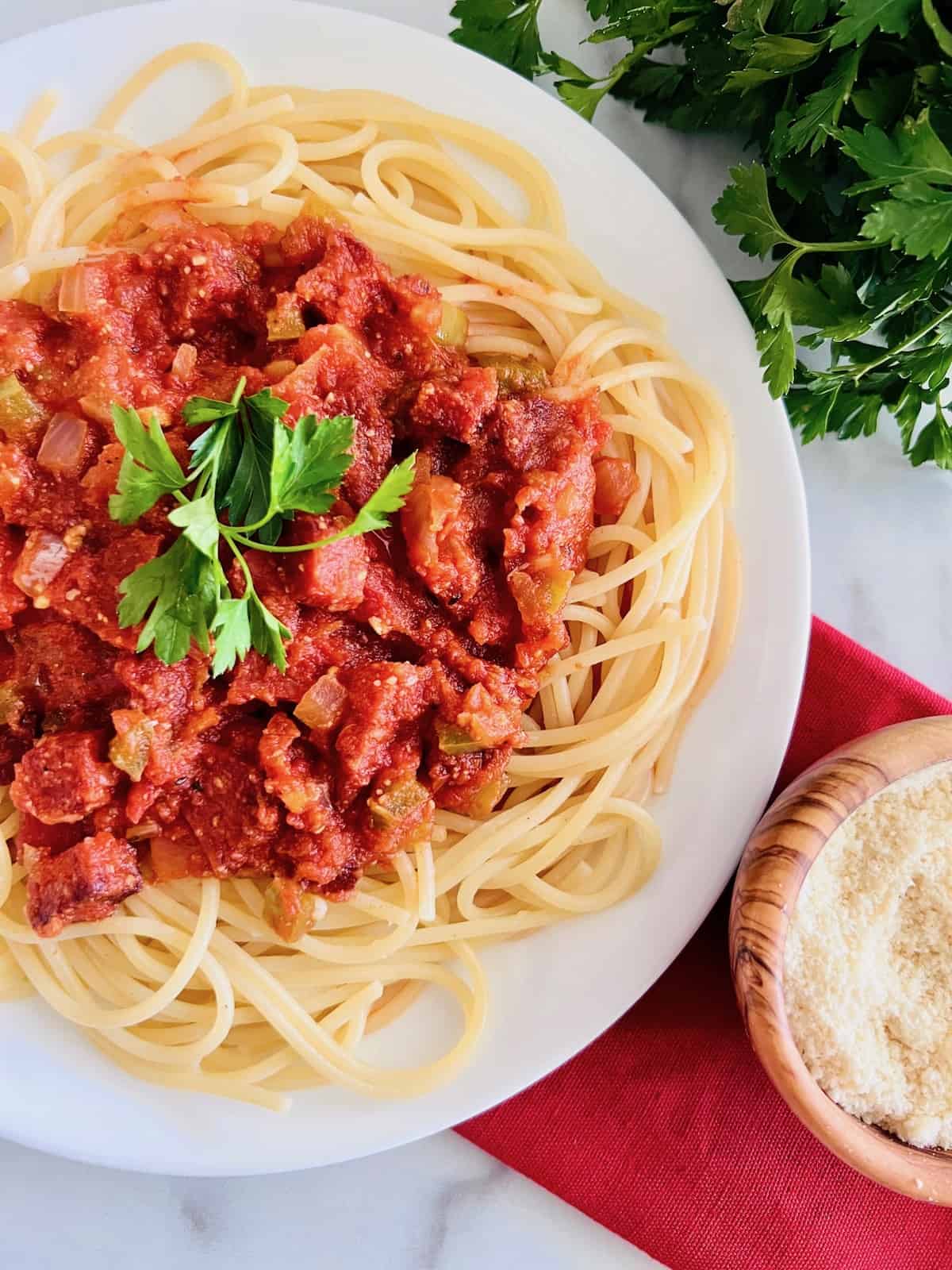 Equipment
The right ingredients, supplies, & equipment help recipes taste amazing & turn out well. Here are recommendations for products that are needed for making this recipe. Shop this recipe & buy these top-rated items today.