While reading an Italian menu, you may have wondered what does contorni mean? It is not the most common part of a restaurant meal like antipasto or dolce. The quickest English translation to remember would be that contorno is a side dish. So an Italian restaurant may have a section on the menu that includes sides to enjoy with your meat, seafood, or pasta.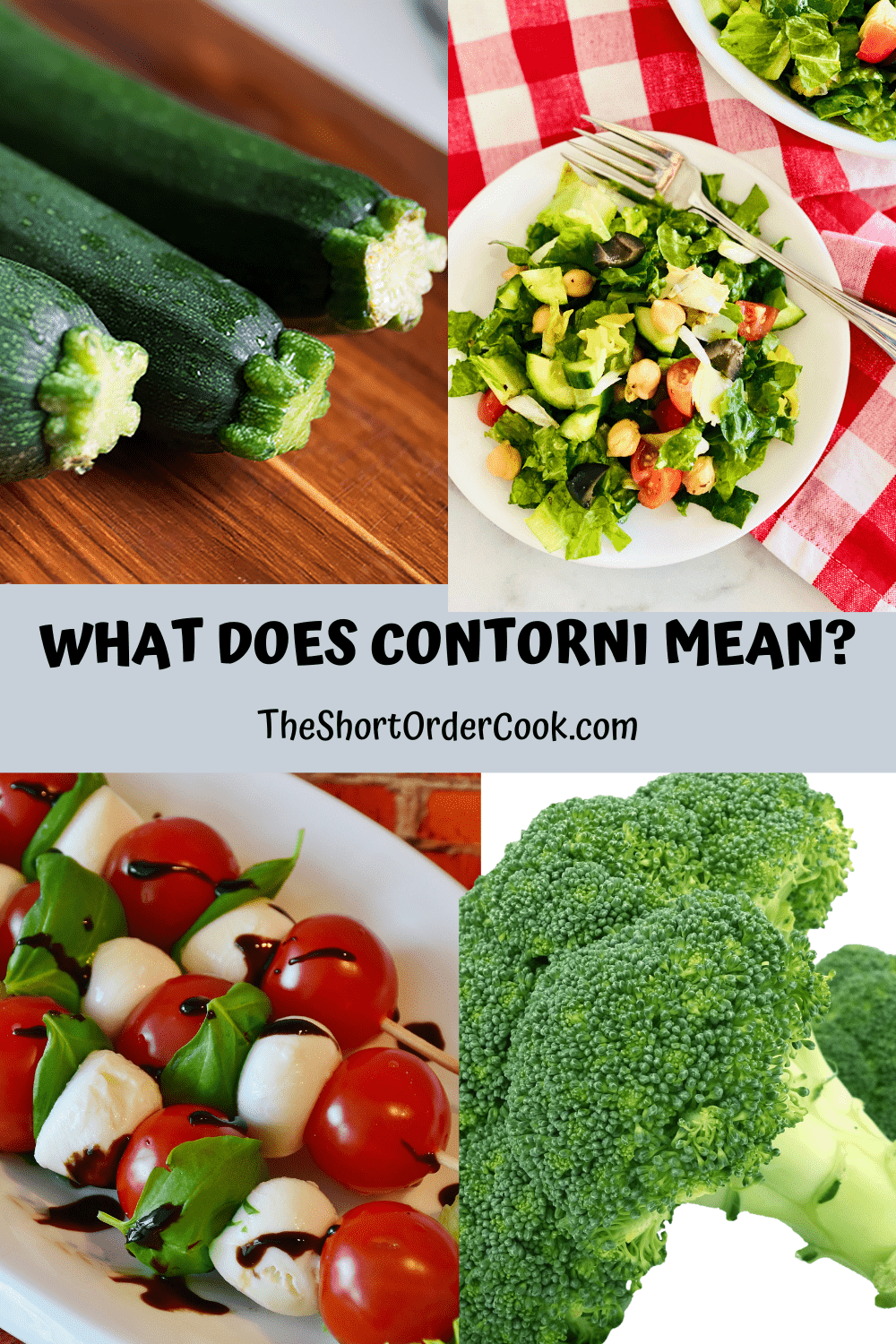 When it comes to food, contorni means a side dish such as a salad or vegetables that are typically served with the main course. In an Italian restaurant, the primi or secondi courses are not served with side dishes. You often need to order them separately.
Jump to:
Examples of Contorni
The most common items you may find in this section of the menu are steamed or grilled vegetables, salads with Italian ingredients, or potatoes. They go great with your favorite Italian recipes like cheesy low-carb lasagna or easy homemade chicken cacciatore.
Some of these may be similar dishes you will see on a spuntini menu, snacks or bar eats. Salads, savory bites, & salumi are all examples of both.
Contorni Meaning & Definition
Contorno is a word that is used in several languages. Though I am mostly referring to it as a food, recipe, and dining situation here in this article, it does have other meanings. Though for the most part in Italian, it means vegetables on the side, it can vary slightly from one country to the next.
Below are the most common meanings and definitions based on the most popular languages that use the word contorno.
Contorno (Italian) - a side dish served with the main meal; vegetables (noun); contorni for plural
Contorno (Spanish) - girth, boundary, or outside line/outline of a space or figure (noun)
Now make sure you can pronounce contorni correctly when you are ordering or visiting Italy.
Italian Side Dish Vegetables
When it comes to contorni's meaning for food, it is time for a side dish that may be healthy & delicious. A contorno menu will likely list vegetables you are familiar with but you may not be familiar with the Italian language.
Here are some quick English translations of the potato and vegetable dishes of Italy. This is a list of the best traditional, classic, and often healthy Italian ristorante items you may find listed on the menu as a vegetable or salad side dish. Do not skip these sides, they may seem simple but Italians really know how to cook vegetables so they are fresh and amazing.
Asparagi - asparagus spears are popular when fresh and are usually served blanched or pan-roasted.
Broccolini - tender broccoli stalks or broccoli rabe sauteed with olive oil and garlic.
Caprese - a fantastic salad of fresh tomatoes, hand-torn basil leaves, fresh silky mozzarella, and a drizzle of olive oil.
Carciofi Ripieni - translates to stuffed artichoke which is an amazing Italian side dish of steamed whole artichokes with seasoned breadcrumb stuffing added to each open leaf for a fantastic taste with each bite.
Insalata Mista - the meaning translates to mixed salad in English and can be just about any recipe depending on how they present a house salad but often has fresh greens, tomatoes, and an olive oil and vinegar dressing.
Fava beans - also called broad beans in America, these hearty beans are an Italian staple and may be served cold in salads or warm as a side dish.
Peperonata - roasted sweet Italian peppers.
Patate al latte - thick slices of potatoes that are cooked in milk, strained, and then seasoned with salt, pepper, & nutmeg and often topped with grated Parmigiano-Reggiano - amazing!
Spinachi - lovely fresh spinach cooked with olive oil, and garlic, and maybe topped with freshly shaved cheese or a bit spicy with red pepper flakes.
Zucchine- the popular zucchini squash may be sauteed, stuffed, or sauced.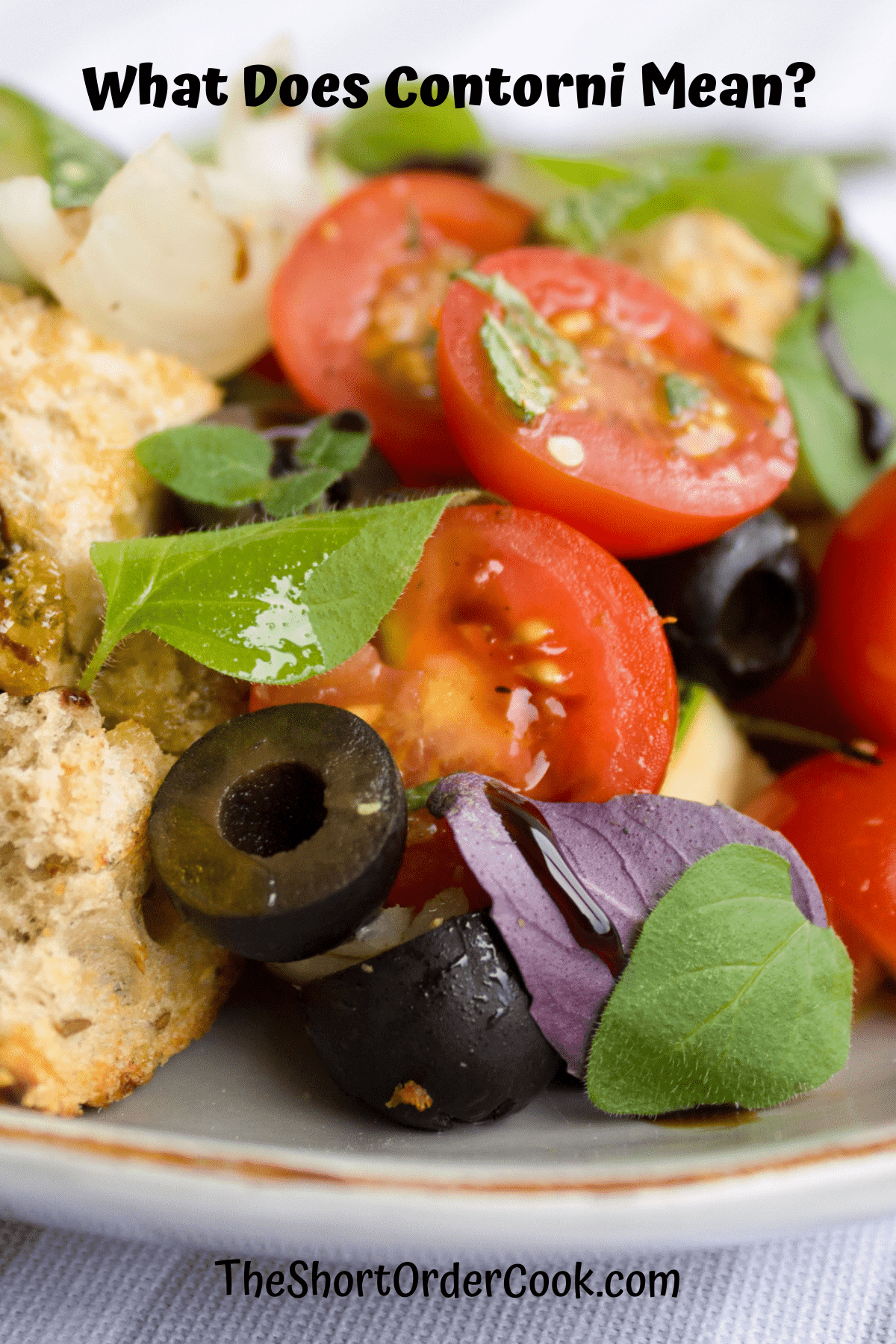 Contorni Recipes
Here are some fresh vegetables that would be great to serve the next time you are ready to enjoy some tasty contorno at home. For the full list of contorni on my blog check out SIDE DISHES . But here are a few of my favorite side dish recipes Italian-style.
Contorni vs Contorno
One last quick note, the meaning of contorni is the same as the meaning of contorno. Both of these Italian words translate to side dishes in the English language. Contorni is simply the plural for contorno.
Next time you see this on the menu, do not skip this section of lovely things to eat. These are often surprisingly amazing recipes hidden as a vegetable side dish. There is never anything boring on the menu at any restaurant in Italy. Try something new and fall in love.