Pasta al Forno is a baked pasta casserole everyone will love. This easy recipe for baked rigatoni has tomato sauce, cheese, and more for a great dinner.  It is a comfort food Italian classic dish.
The pasta is tossed in a homemade garlic basil tomato sauce that is rich and comforting. Pasta al forno is then layered with creamy melty mozzarella and topped with nutty sharp parmesan.  It all bakes in the oven to come together into one gooey cheesy pasta recipe that is pure magic.
The Best Baked Rigatoni
Whether you call this baked rigatoni, pasta al forno, pasta alla forno, or pasta casserole, this recipe is an Italian staple.  It is best to make this with rigatoni as it is a thick hearty pasta with ridges that works great baking and holds the sauce and cheese.
However, you could in a pinch also make it with other pasta shapes and try pasta al forno with penne, fusilli, mostaccioli, bowties, or other macaroni.  I think spaghetti or angel hair al forno would work too but I would be very careful to cook the pasta al dente and bake it in the oven for a shorter amount of time as it may get too mushy. Try a new shape of pasta from all these Types of Pasta from A-Z. 
Ingredients for Pasta al Forno
Traditional Italian ingredients are what it takes to make this baked pasta dish.  Pasta al forno is made with a thick hearty tube pasta like rigatoni.  Here is what else you need for this easy Italian rigatoni bake.
Olive Oil
Diced Onion
Diced Celery
Diced Carrots
Garlic Cloves
Dried Basil
Crushed Red Pepper
Crushed Tomatoes
Rigatoni
Shredded Mozzarella Cheese
Grated Parmesan Cheese
Salt & Pepper
Optional - Fresh Parsley
This is a meatless pasta dish so added vegetables help add flavor and variety to the dish.  Lastly, you need the mozzarella for that cheesy bubbly layer that is the magic of pasta alla forno. This baked rigatoni is made without ricotta but is still cheesy and comforting.
Many traditional al forno recipes include meat but this is a vegetarian version. The tomato sauce is cooked with garlic and vegetables to add texture and heartiness for a satisfying baked pasta casserole.   No one will miss the meat and you can always serve it with sausage, meatballs, or chicken if you want.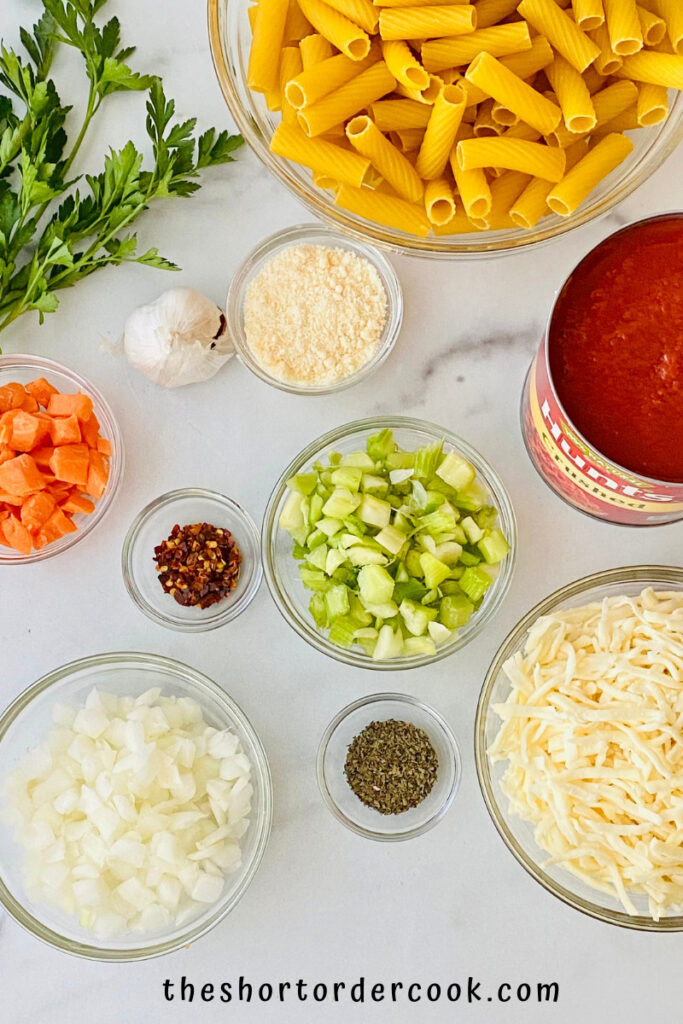 How to Make Pasta al Forno
To make pasta al forno you will need to do a few steps.  The key to making this recipe is making the tomato sauce, cooking the pasta, and then layering it all together.  To start gather your ingredients and then begin by making the homemade tomato sauce.
Make the Vegetable Tomato Sauce
In a medium-sized pot heat the olive oil over medium heat. Add the onion, carrots, and celery. Cook for about 5 minutes. Add the garlic and cook everything until the vegetables are soft and cooked, for 10 more minutes.
Next, add the spices and stir to combine. Gently pour in the crushed tomatoes and bring to a low simmer over medium heat. Turn the sauce down to low to simmer. Let this cook down while the pasta cooks and the oven preheats.
Cook the Rigatoni
Heat water on high heat in a large stockpot to cook the pasta in. Once it is boiling, add the rigatoni to the water and turn to medium to cook. Cook the pasta until al dente. You do not want to overcook the pasta since it will cook again while baking. You do not want mushy pasta. Drain pasta when ready and set aside.
Once the pasta is cooked and the tomato sauce is ready, preheat the oven to 350°.  Next, grate the mozzarella into shreds. Also, grate the parmesan over a fine grater.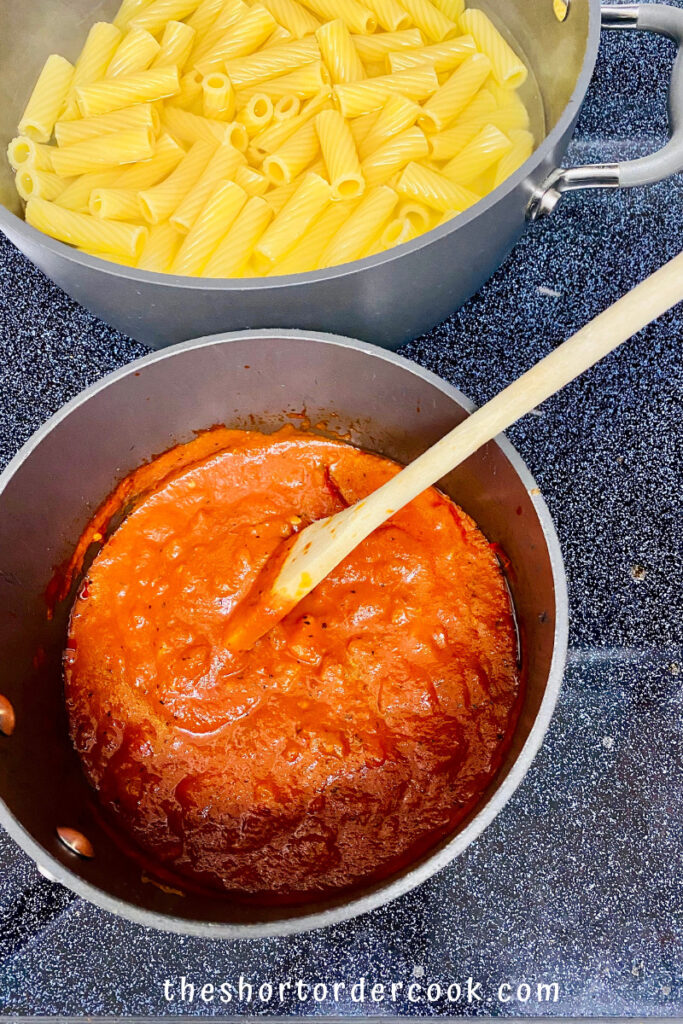 Add the tomato sauce mixture to the pasta. Stir to combine.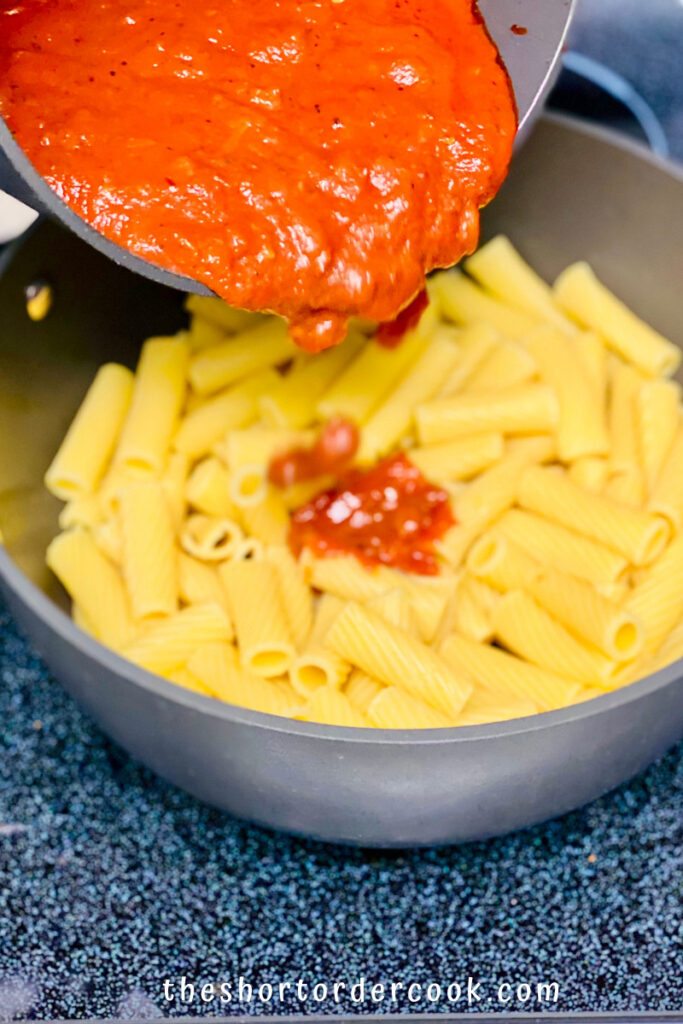 Layering and Baking Pasta al Forno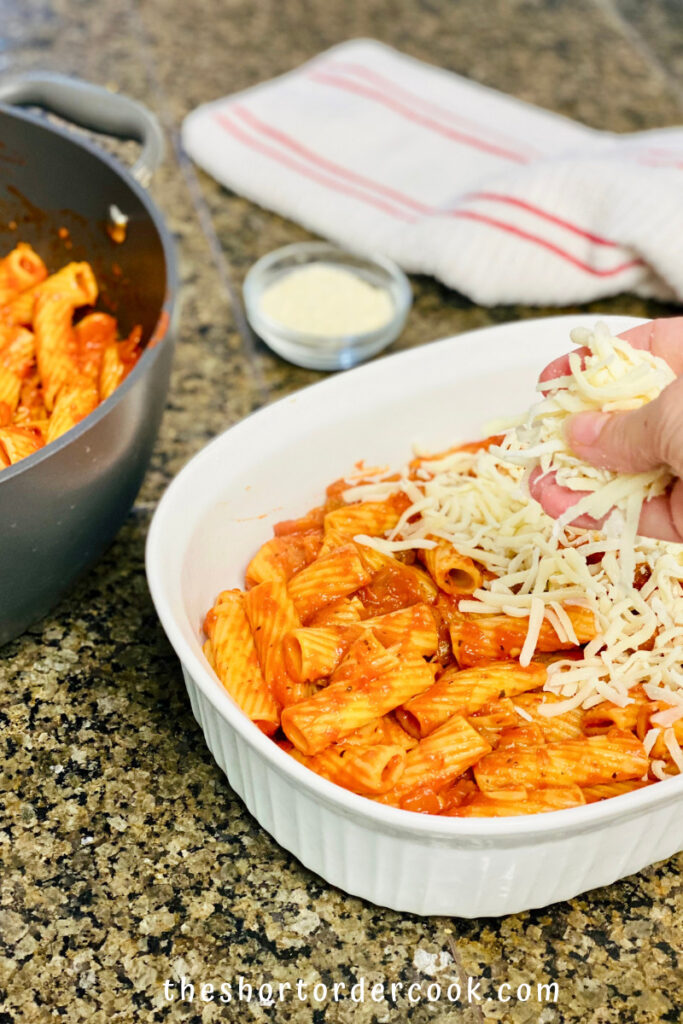 How Long to Bake Pasta al Forno
Bake in the oven uncovered for 30 minutes. Remove carefully from the oven. Let the pasta rest for a few minutes so the cheese is not too hot when you bite into it.  Sprinkle with fresh parsley and additional parmesan if desired. Serve in pasta bowls. Enjoy!
The garlic and basil sauce should be warm and tangy. The pasta will be firm and soft but still, have plenty of firmness. All held together perfectly with the creamy melted mozzarella and topped with nutty parmesan.  Pasta al forno really is the perfect bite of pasta.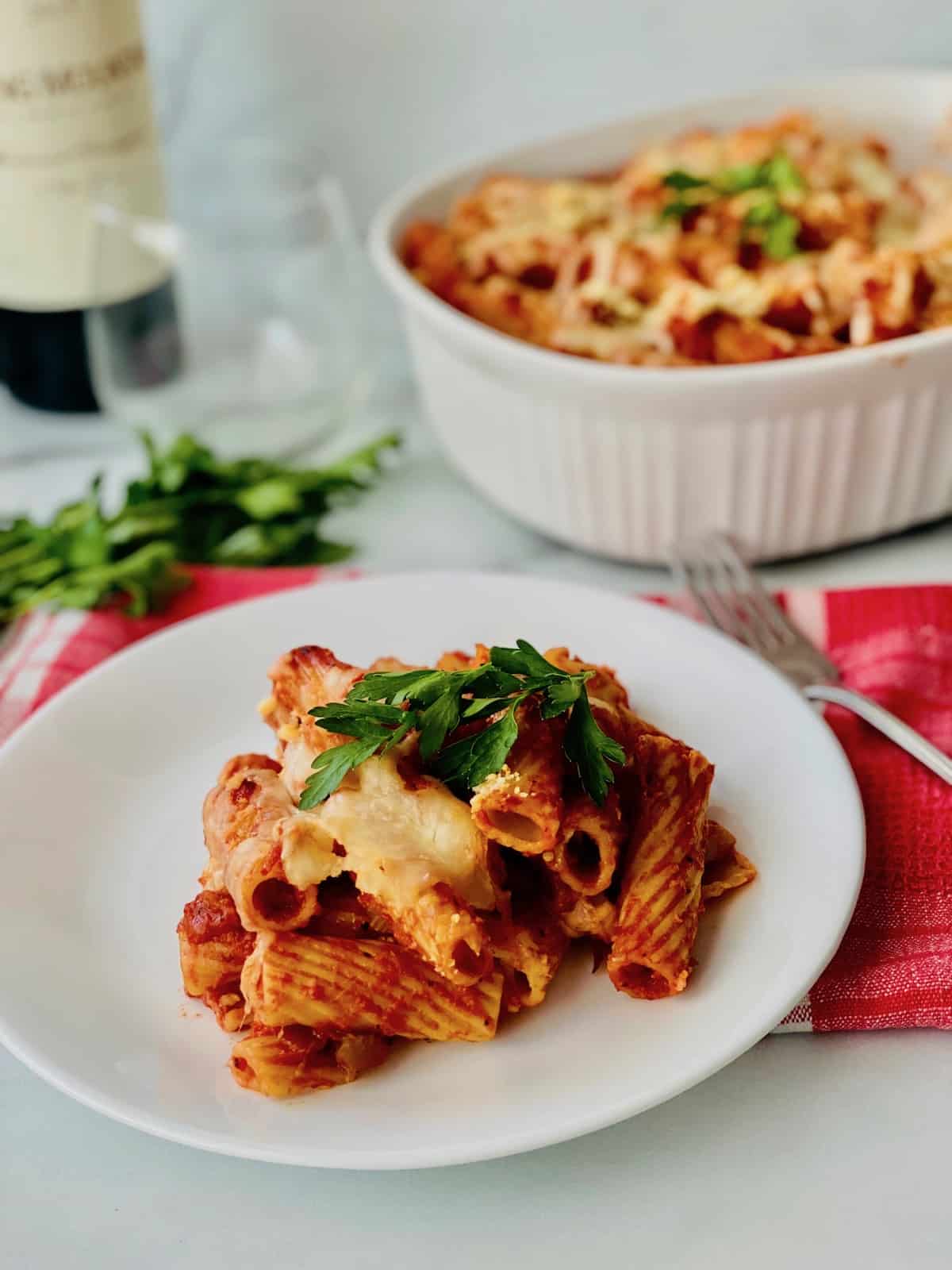 What to Serve with Pasta al Forno
These Italian recipes all go well with pasta.  If you want a side dish, fresh-baked bread, or a meat entree, all of these recipes are great to serve with pasta al forno.  I love to start this mean with a great glass of red wine and a classic Italian street food, taralli.  I highly recommend my Taralli Italain Black Pepper Cookie recipe. They are a savory flakey cracker-like cookie with floral olive oil and a little spice of black pepper.
Is Pasta al Forno a Good Make-Ahead Recipe?
Pasta al forno is a great make-ahead meal.  You can assemble this pasta casserole and bake it layer. Store it in the refrigerator for up to 48 hours before cooking.  If baking pasta al forno later, add 10-15 minutes to the original cook time since it will be cold from the fridge.
This baked pasta dish is great for meal planning. It is wonderful also to prepare ahed of time to give to someone like new moms, neighbors, those not feeling well, or potlucks. Anyone that would love a vegetarian home-cooked meal, pasta al forno is a lovely casserole to gift them.
Can you Freeze Baked Pasta?
This pasta al forno dish can be frozen. It freezes well both before or after baking.  You can freeze pasta al forno by wrapping the casserole dish tightly with plastic wrap. Then add an extra layer of foil or the lid that comes with your casserole dish.  It can be frozen for up to 2 months.
Before warming up to eat later, defrost in the refrigerator for 2 days.  Then bake at 350* for 30 minutes if at room temperature or for 40-45 minutes if chilled from the fridge.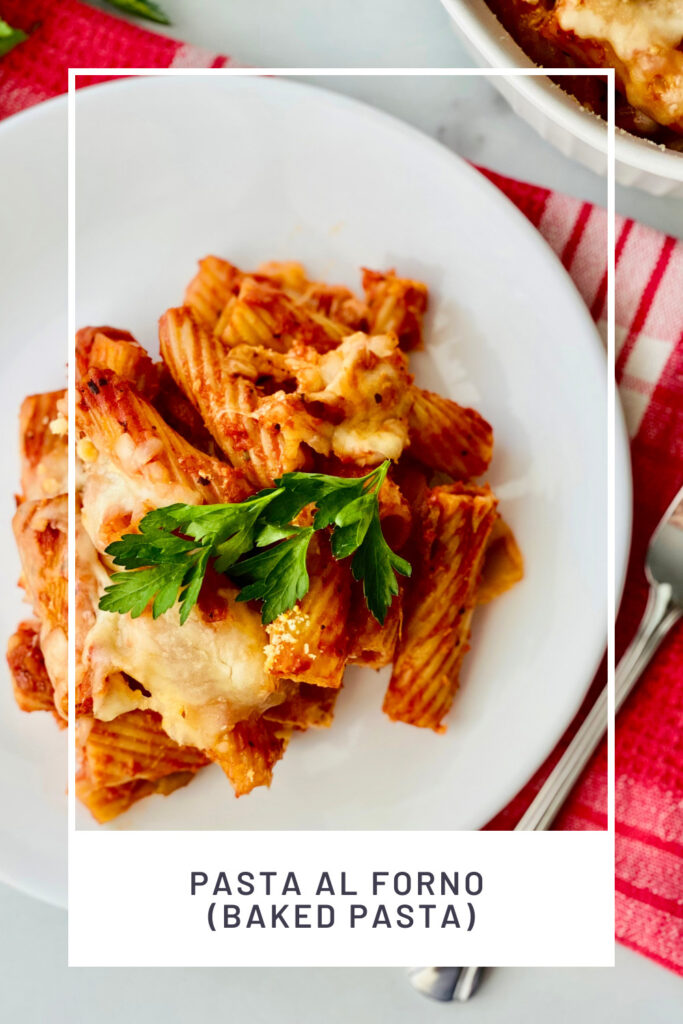 PIN FOR SAFEKEEPING & SHARING!
Product Recommendations for this Recipe:
The Short Order Cook is a participant in the Amazon Services LLC Associates Program.  As an Amazon Associate, I earn from qualifying purchases.  If you click on a link and make a purchase, I may earn a small commission on the sale at no additional cost to you. This helps with the costs of running the blog. Thank you! 
Did you make this The Short Order Cook Recipe?
Tag @theshortordercookblog (Instagram & Facebook) or @shortorder_cook (Twitter). 
I would love to see your latest creations and kitchen adventures.