If you want a tasty ranch dressing that is low carb and has no mayonnaise, this recipe is for you.  On the flip side, if you like mayo, you will still love this recipe. The creaminess of sour cream and the tang of buttermilk makes this ranch dressing amazing.  No one, not even my mother, who will eat mayo straight off a spoon, will miss the mayonnaise.
Ranch dressing is popular in salads and as a condiment for a reason. It is creamy, cool, herby, and tastes good with many foods. Adults love it on salads and with hot wings.  Kids love it on chips and veggies, or even straight off a plate. It also seems to be a staple for gluten-free, keto, low-carb, and diabetic diets where ranch is a dip, dressing, condiment, and way of life.  This is the best recipe for all the ways you love to eat ranch.
Homemade ranch dressing is easy to make and tastes superior to store-bought. No one will miss the mayo since it this recipe is perfectly creamy and tangy.  By simply substituting the mayo with full-fat sour cream, this buttermilk ranch dressing recipe is the best.  No mayo needed.
Converting recipes into "no-mayo" versions is my kind of thing, especially when I start tinkering with making homemade salad dressings.  Ranch dressing was the first dressing I decided I needed to master and make deliciousness without mayo. I knew I wanted something creamy and tangy like ranch but is also fresh with the herbs and garlic that make ranch what it is.  And we like it garlicky in our household.  I am Italian, so garlic can be a noun, verb, adjective, and a way of life in my home.
How to Make Homemade Ranch
It is easy to make this recipe.  Use quality ingredients that you chop, scoop, and whisk together.
Homemade vs Store-Bought Salad Dressings
Okay, I know what you are thinking - why would I spend time making this from scratch when there are a dozen different kinds of ranch dressing just waiting for me in the grocery store condiment aisle.  It is so fast and convenient to just buy it.  Plus, I know that dressing will last several months and I won't worry about wasting food.
Yes, the bottled dressings out there have their pros but in my opinion, that convenience and shelf stability come at a price.  The reason it can be mass-produced and lasts a long time is the same reason why I don't like them. (spoiler alert - preservatives!)  To see all the "ingredients" in popular brands to compare, check out the list for Hidden Valley Ranch. 
Here is why I always suggest people make homemade salad dressings:
Ingredient control so you can exclude anything allergic or inflammatory oils
Fresher ingredients = more vitamins/minerals
Can use organic or homegrown ingredients
Typically more budget-friendly
You can store them in your own cute jars/containers
Tweak it to make it your own, like more garlic
TASTES SO MUCH BETTER!
LESS SUGAR!
NO PRESERVATIVES / CHEMICALS!
Do you need more convincing?  If so, just try this recipe and tell me if you are sold.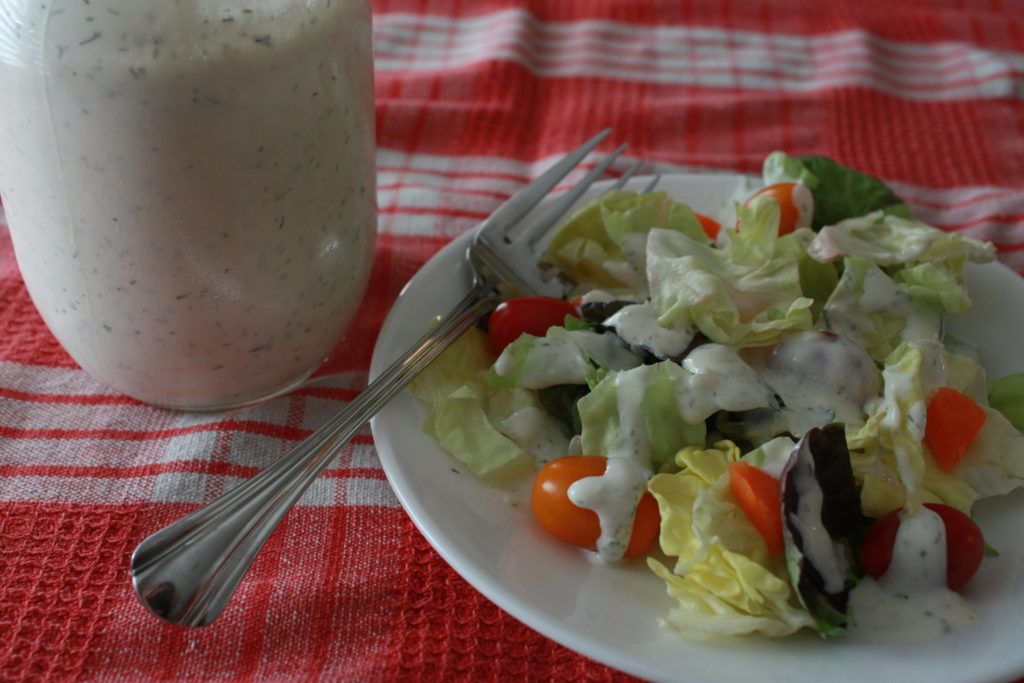 What to Serve with Ranch Dressing
This ranch dressing can be used on any of your favorite salads.  If you have a recipe you love and want to change up the taste, go for it.  My BROCCOLI APPLE SALAD WITH GREEK YOGURT DRESSING (NO MAYO) is delish but sometimes I swap out that yummy dressing for this equally as yummy one too.
This keto ranch is great for making low-carb egg, tuna, or chicken salads too.  Here are some great recipes that go well & are the best to serve with keto ranch dressing.
PIN FOR SAFEKEEPING & SHARING!
Product Recommendations for this Recipe:
The Short Order Cook is a participant in the Amazon Services LLC Associates Program.  As an Amazon Associate, I earn from qualifying purchases.  If you click on a link and make a purchase, I may earn a small commission on the sale at no additional cost to you. This helps with the costs of running the blog. Thank you! 
Did you make this The Short Order Cook Recipe?
Tag @theshortordercookblog (Instagram & Facebook) or @shortorder_cook (Twitter). 
I would love to see your latest creations and kitchen adventures.