This recipe for broccoli salad with apples and cheese is amazing. The creamy Greek yogurt dressing is low-fat and made without mayo. This easy homemade broccoli salad recipe is tangy, crisp, fresh, and sweet in every bite.
This easy broccoli salad is a great side dish but also a complete vegetarian lunch option. Broccoli salad with Greek yogurt dressing is my favorite make-ahead salad. It tastes great right after mixing but it actually tastes better if it sits in the refrigerator for about an hour and then served.
For that reason, it is the best broccoli salad for picnics, potlucks, parties, and barbecues when you want a salad that can be set out or premade.  This fresh broccoli and cheddar salad is even great as a leftover, unlike other salads that wilt.
Jump to:
Broccoli, Cheese, & Apple Salad Ingredients
This broccoli salad is vegetarian, light, and full of fresh ingredients.   It is also very colorful thanks to the combination of fruits and vegetables.  The star is the fresh raw broccoli. You can use any part of the broccoli, but the tender florets are best.
The broccoli, apples, carrots, raisins, and green onions bring a punch of flavor and nutrition, such as Vitamin C & A, to the salad. Use a crisp apple that is sweet and a little bit tart; Fuji or Honeycrisp are favorites.
The cheddar cheese and Greek yogurt add protein and calcium which completes this broccoli salad making it a wonderful side dish but also hearty enough for a meal all on its own.
Variations & Substitutes
Here are some fun alternate ingredients or additions you can make to this salad.
Golden Raisins - use regular raisins or dried cranberries instead.
Cheddar - dice up colby, jack, or swiss instead.
Apple - use your favorite kind: Golden Delicious, Granny smith, etc.
Optional Add-Ins for Broccoli Salad: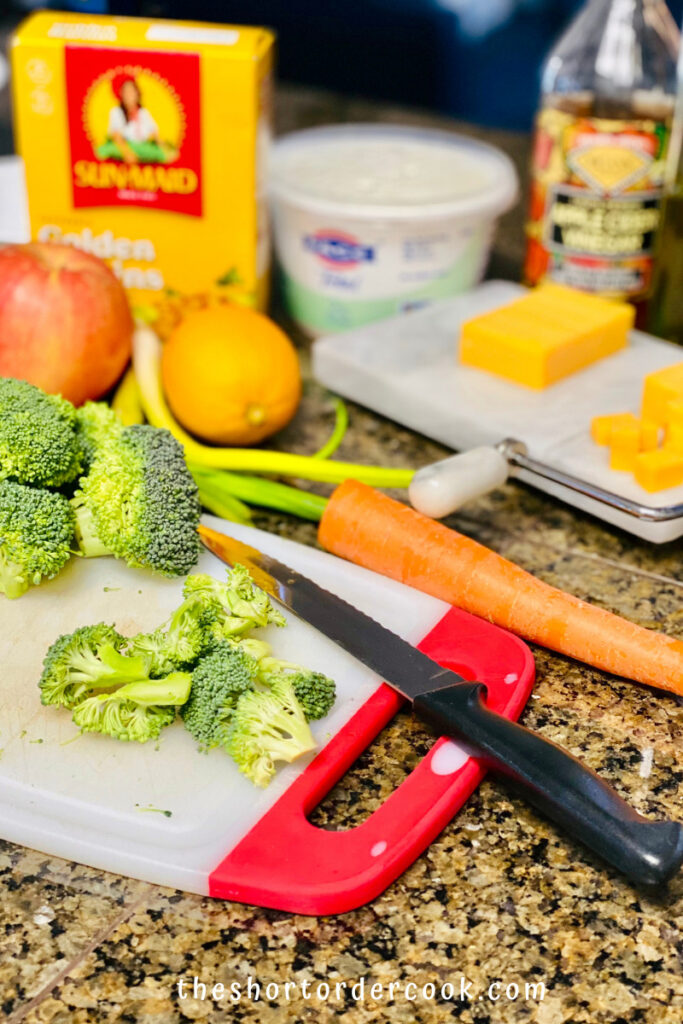 How to Make the Best Broccoli Salad
This is a quick recipe that only takes Here are the easy steps to make broccoli cheese salad:
Prep, Chop, & Grate
Mix the Greek Yogurt Dressing
Add Dressing & Toss
1 - Prep, Chop, & Grate
To make the salad, simply cut, dice, grate, and chop up the ingredients as listed below in the recipe card.   The apples, broccoli, and green onions should be washed, dried, & chopped. Next, grate the washed carrots with or without the skin.
Cut the cheddar into small cubes. Lastly, add in the raisins. Place them all in a large serving bowl.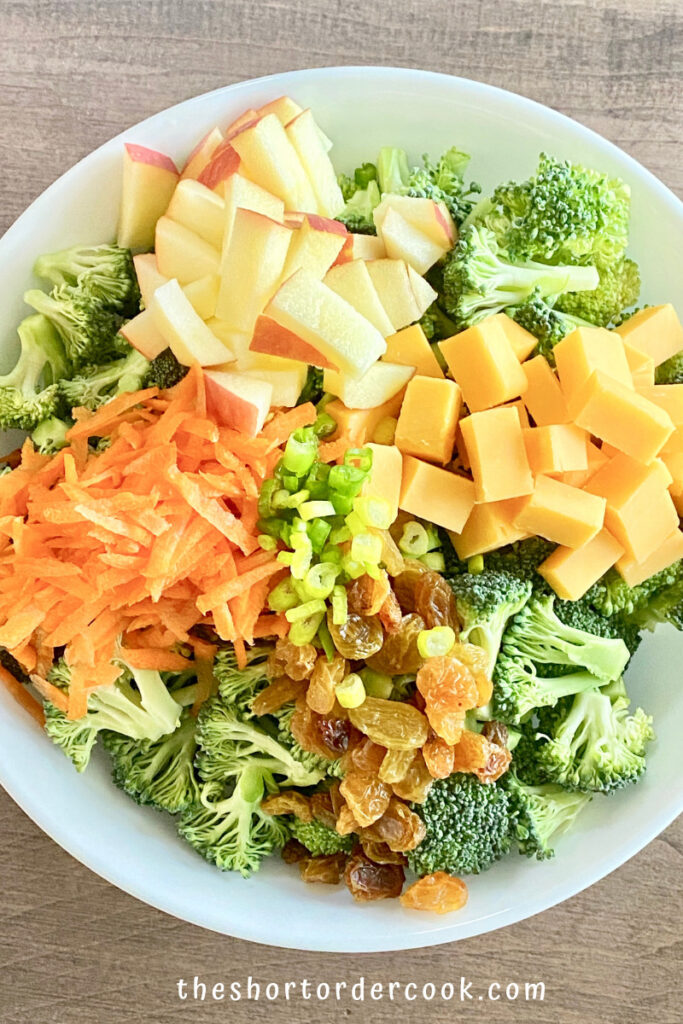 2 - Mix the Greek Yogurt Dressing
What's the best dressing without mayo for broccoli salad? This Greek yogurt dressing is the perfect creamy, sweet, and tangy recipe for any broccoli salad. 
The creamy texture is made using no mayo and instead is a combination of whisking together plain full-fat Greek yogurt, honey, olive oil, and apple cider vinegar.  You can add poppy seeds as an option, to make a sweet and tangy poppy seed dressing for your broccoli salad.
3 - Add Dressing & Toss
Once the dressing is whisked together and ready, pour over the salad ingredients. Using tongs or a large serving spoon, gently mix the salad. Stir until all ingredients are lightly coated with the Greek yogurt dressing.
It is ready to enjoy.  However, it tastes best if you chill it in your refrigerator for about an hour and allow the flavors to come together.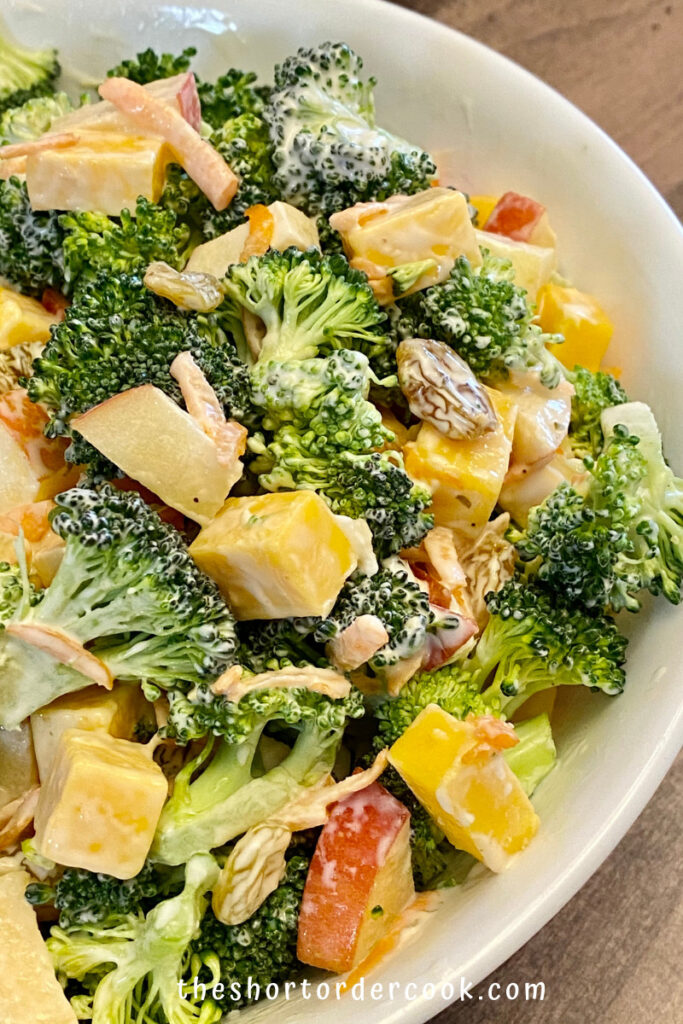 What to Serve with Broccoli Salad
Here are some great main dish recipes to serve with broccoli salad. These ideas are all easy to make & go well with this fresh crisp salad. One of our family favorites is a baked rigatoni & cheese casserole, Pasta al Forno.
Storing Broccoli Salad
How Long Does Broccoli Salad Last? If you store this raw broccoli salad properly it will last for 3 days in the refrigerator. Since the ingredients are hearty, even with the dressing it will remain crisp & delicious. Store broccoli salad in an air-tight container.
I do not recommend freezing this salad.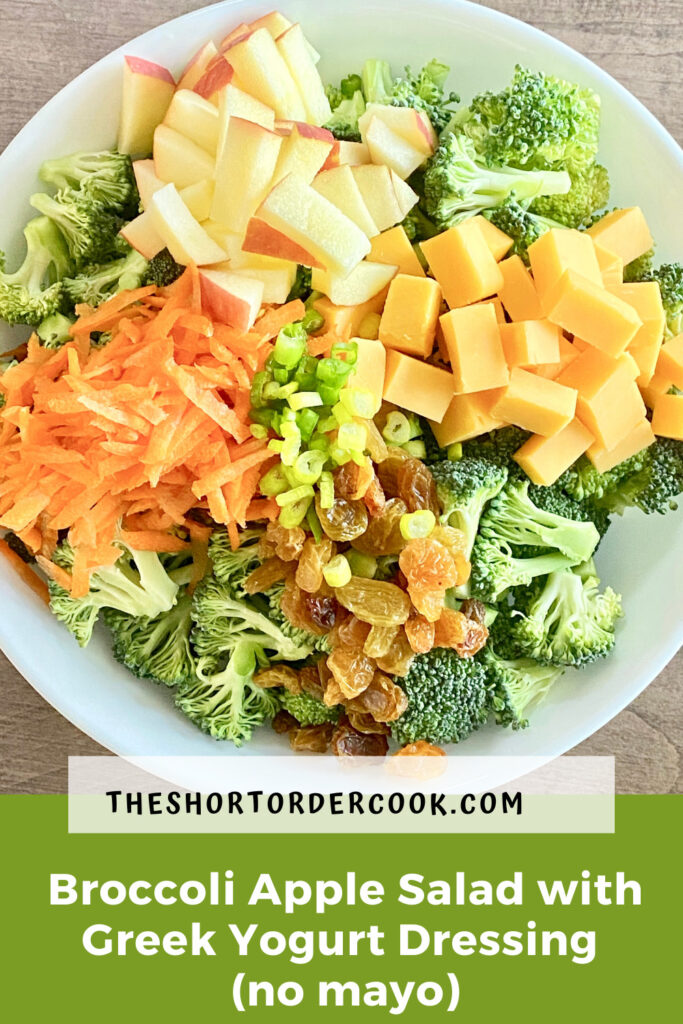 Broccoli Apple Salad with Greek Yogurt Dressing (no mayo) PIN[/caption]
Product Recommendations for this Recipe:
The Short Order Cook is a participant in the Amazon Services LLC Associates Program. As an Amazon Associate, I earn from qualifying purchases. If you click on a link and make a purchase, I may earn a small commission on the sale at no additional cost to you. This helps with the costs of running the blog. Thank you!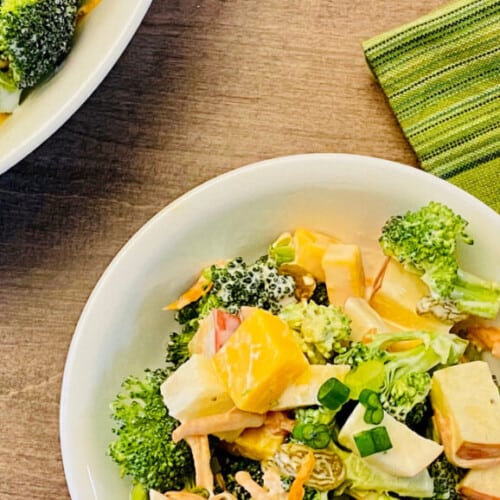 Broccoli Salad with Apples & Cheese
This healthy broccoli salad with carrots, raisins, apples, and cheese is amazing. The creamy greek yogurt dressing is low-fat and made without mayo. It is tangy, crisp, fresh, and sweet in every bite. It holds up great for potlucks and barbecues. It is even great as a leftover, unlike other salads.
Ingredients
4

C

fresh broccoli florets

cut into bite-sized1 pieces

1

C

cheddar cheese

cut into small chunks

1

medium apple

cored & cut into small chunks

1

small carrot

grated

¼

C

green onion

green & white parts thinly sliced

⅓

C

golden or regular raisins

1

TB

lemon juice

¼

C

sunflower seeds or diced cashews

OPTIONAL
DRESSING INGREDIENTS
1

C

plain Greek yogurt

full fat is best

⅓

C

olive oil

2

TB

apple cider vinegar

1

TB

honey

¼

teaspoon

salt

⅛

teaspoon

black pepper

2

teaspoon

poppy seeds

OPTIONAL
Instructions
Cut and prepare the ingredients as listed above.

To a large serving bowl add all the salad ingredients.

In a small mixing bowl add all the dressing ingredients. Whisk together to combine.

Drizzle the dressing over the salad ingredients. Using tongs or a large spoon, gently combine the dressing with the salad ingredients.

It is ready immediately but actually tastes better if the salad is tossed ahead of time. It is best when refrigerated for about an hour so the flavors can come together.

This salad stores very well. Place in an air-tight container and store in the refrigerator for up to 3 days.
Notes
Nutrition Facts
Servings: 6
Amount per serving
 
Calories
371
% Daily Value*
Total Fat 17.8g
23%
Saturated Fat 5.6g
28%
Cholesterol 20mg
7%
Sodium 319mg
14%
Total Carbohydrate 28.2g
10%
Dietary Fiber 3.1g
11%
Total Sugars 21.5g
 
Protein 28.1g
 
Vitamin D 2mcg
11%
Calcium 411mg
32%
Iron 1mg
6%
Potassium 643mg
14%
*The % Daily Value (DV) tells you how much a nutrient in a food serving contributes to a daily diet. 2,000 calorie a day is used for general nutrition advice.
Did you make this The Short Order Cook Recipe?
Tag @theshortordercookblog (Instagram & Facebook) or @shortorder_cook (Twitter).
I would love to see your latest creations and kitchen adventures.