This quick & easy recipe for Gochujang Pasta is the spicy noodle dish you will love. In just 20 minutes this flavor-packed Korean pasta dish is ready to devour.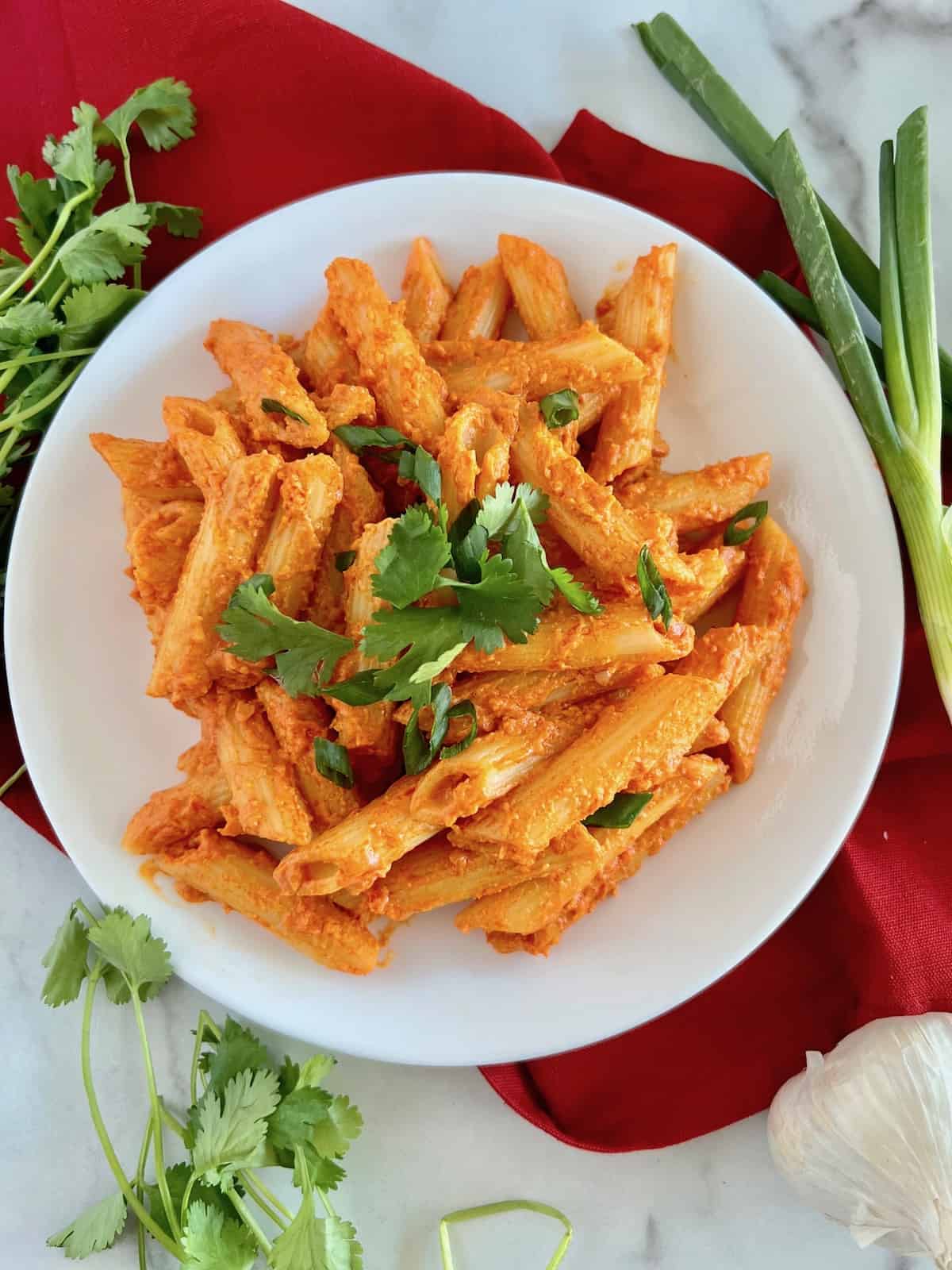 This pasta recipe is a fusion of Italian and Asian flavors. Spicy red chili paste pairs well with garlic and parmesan cheese. The final touch of cream cheese to balance the heat results in a creamy velvety texture that is comforting & addicting.
This was inspired by my recipe for pizzaiola pasta. Both are simple, savory, sweet, spicy, & sensational. My favorite two pastas that are ready in under 30 minutes.
Jump to:
What is Gochujang?
You may be asking yourself what is gochujang and what does it taste like? To start, gochujang is a spicy condiment or sauce that is popular in Korean cooking. It is typically made with brown rice, red chili peppers, fermented soybeans, and/or tapioca.
Wondering how spicy hot gochujang is? The thick red paste packs a punch. It is sweet, spicy, savory, tangy, & umami all in one. Think of it as a combination of two flavors you may be familiar with; sriracha and miso. You can use a little or a lot to make a dish with the spice level you enjoy.
Ingredients for Gochujang Pasta
This recipe is a fusion of Korean and Italian ingredients. Other gochujang pasta recipes use spaghetti or noodles. I prefer penne rigate. The ridges cling to the sauce and nestle in the grated parmesan into every bite.
This gochujang pasta recipe is made without cream. However, it is still creamy by using cream cheese instead. I find it results in a thicker and richer sauce that pairs perfectly with the fermented paste.
Here is what you need to make pasta with a creamy gochujang sauce:
Pasta - a short pasta with ridges like penne rigate is best other shapes like penne or mostacioli.
Gochujang - the thick Korean paste brings the heat and the gorgeous red hue.
Olive Oil - for warming the garlic to start making the pan sauce.
Garlic - fresh minced garlic is infused with olive oil to start the quick pasta sauce.
Cream Cheese - this full-fat dairy item brings richness and creaminess while thickening the sauce.
Pasta Water - the starchy liquid helps create the sauce that will cling to the pasta perfectly.
Green Onion - chopped scallions a pungent pepper taste plus some crunch & freshness.
Cilantro - optional, the fresh herb adds a pop of green & citrus undertones.
See the recipe card for quantities.
How to Make Creamy Gochujang Pasta
In less than half an hour gochujang pasta will be plated and ready to eat. It's great for a busy weeknight meal or use leftover plain pasta for a 5-minute quick luck. The no-fuss recipe deserves a spot in your regular meal-planning rotation.
Here are the easy steps for making Korean Gochujang Pasta:
Start the Pasta
Make the Gochujang Pasta Sauce
Add Pasta to Sauce
Serve & Add Toppings
Gochujang Pasta Recipe Video
1 - Start the Pasta
To a large stockpot add water and salt. Turn the heat to high to bring it to a boil. I recommend 1 teaspoon of every 6 cups of water.
While waiting for it to come to a rolling boil, let the cream cheese come to room temperature on the kitchen counter.
Once the water is boiling & add the penne pasta. Stir so they do not stick and reduce the heat to medium.
Let the penne cook until al dente, 10-12 minutes. While the pasta is cooking, start the quick pan sauce. It only takes 5 minutes to make the sauce so time it so it will be ready just at the same time as the penne is done boiling.
2 - Make the Gochujang Pasta Sauce
This pasta recipe has a pan sauce. To be able to fit all the pasta in with the sauce, use a large skillet. I recommend a 14" skillet with deep sides for best results.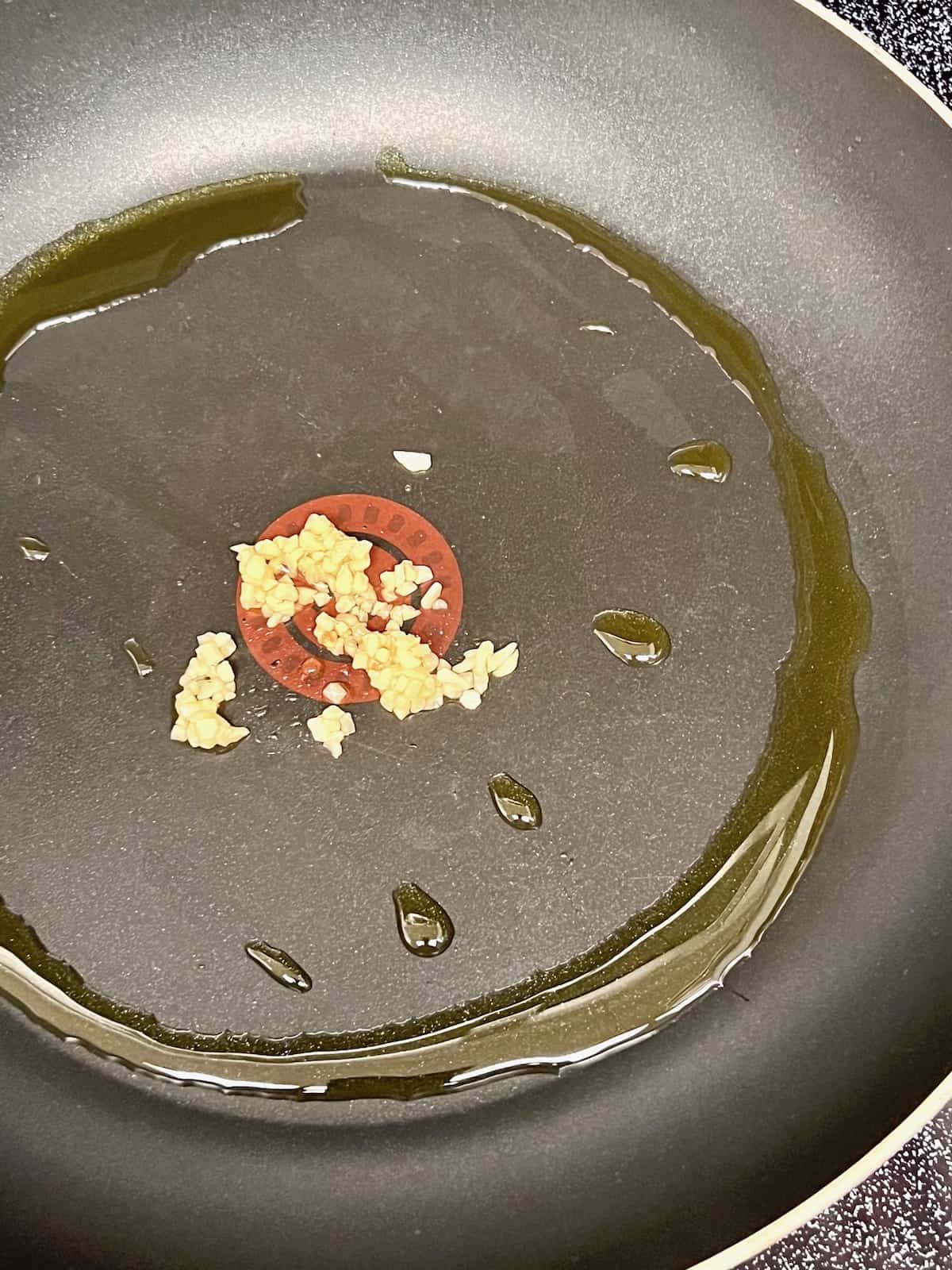 Over medium, add the olive oil and minced garlic. Infuse the two together by cooking for 2-3 minutes. The garlic should be soft but not brown.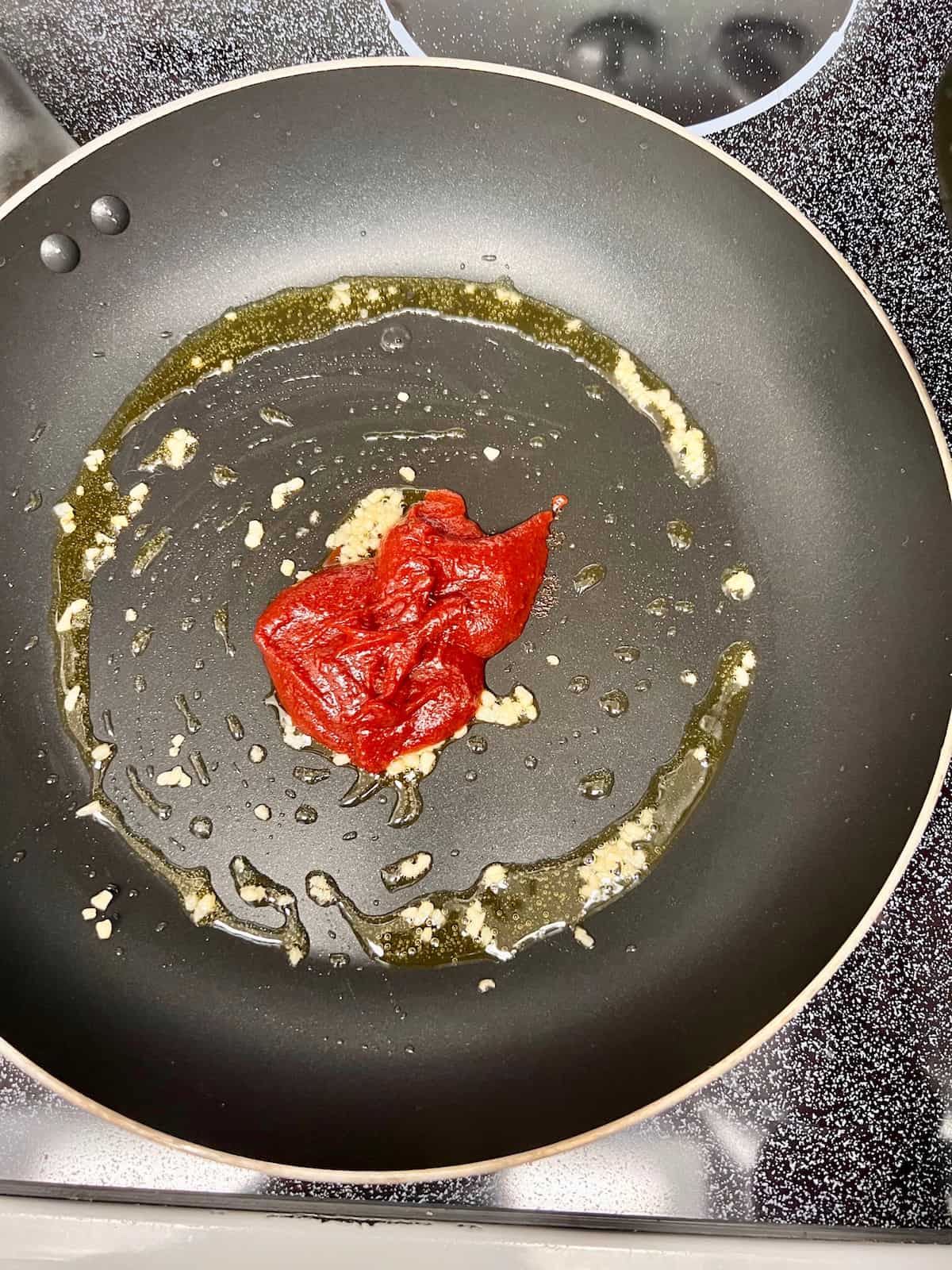 Add the gochujang paste to the pan & whisk to combine.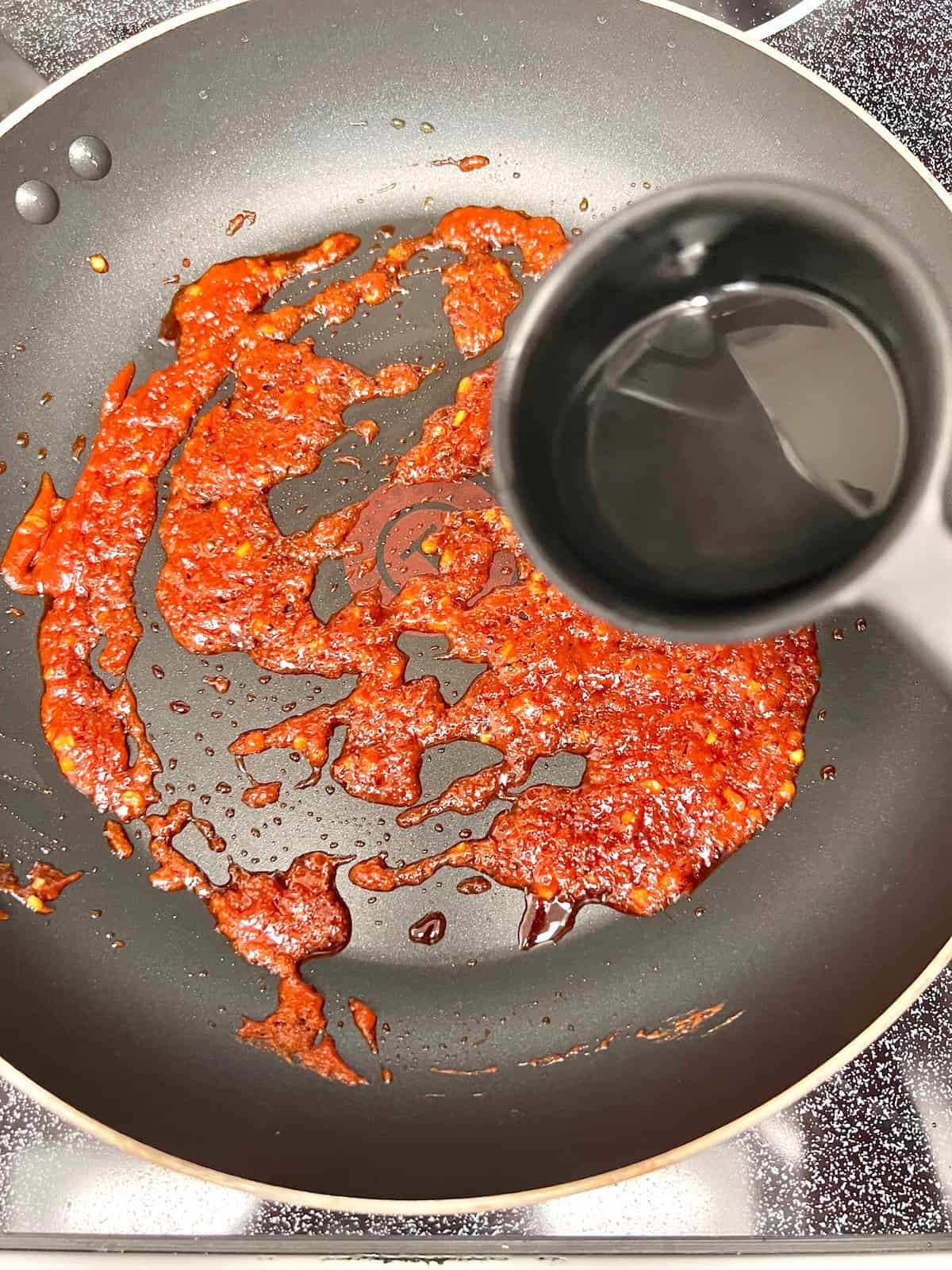 Reduce the heat to low and carefully add ⅓ cup of starchy pasta water. Whisk to combine and make a smooth sauce.
Finish off by adding chunks of room-temperature cream cheese.
Whisk the cream cheese into the gochujang garlic sauce. It will be thick and the color will turn orange-red. Add a tablespoon of pasta water if it is too thick - it should look as shown above.
3 - Add Pasta to Sauce
As soon as the penne pasta is al dente, it is time to add it to the pan with the sauce. Do not drain in a colander, use a slotted spoon or pasta/spaghetti spoon with teeth instead.
Hint: It is fine if a little more pasta water gets added as you scoop the pasta into the pan.
Stir the pasta to combine with the sauce. This is not a heavily sauced recipe - it will not be swimming in a ton of sauce.
4 - Serve & Add Toppings
Turn off the heat and remove the pan from the stove. To finish off the dish, add all the fun & tasty toppings.
Sprinkle parmesan over the pasta & toss to coat. The tiny ridges on the pasta will hold onto the grated cheese perfectly.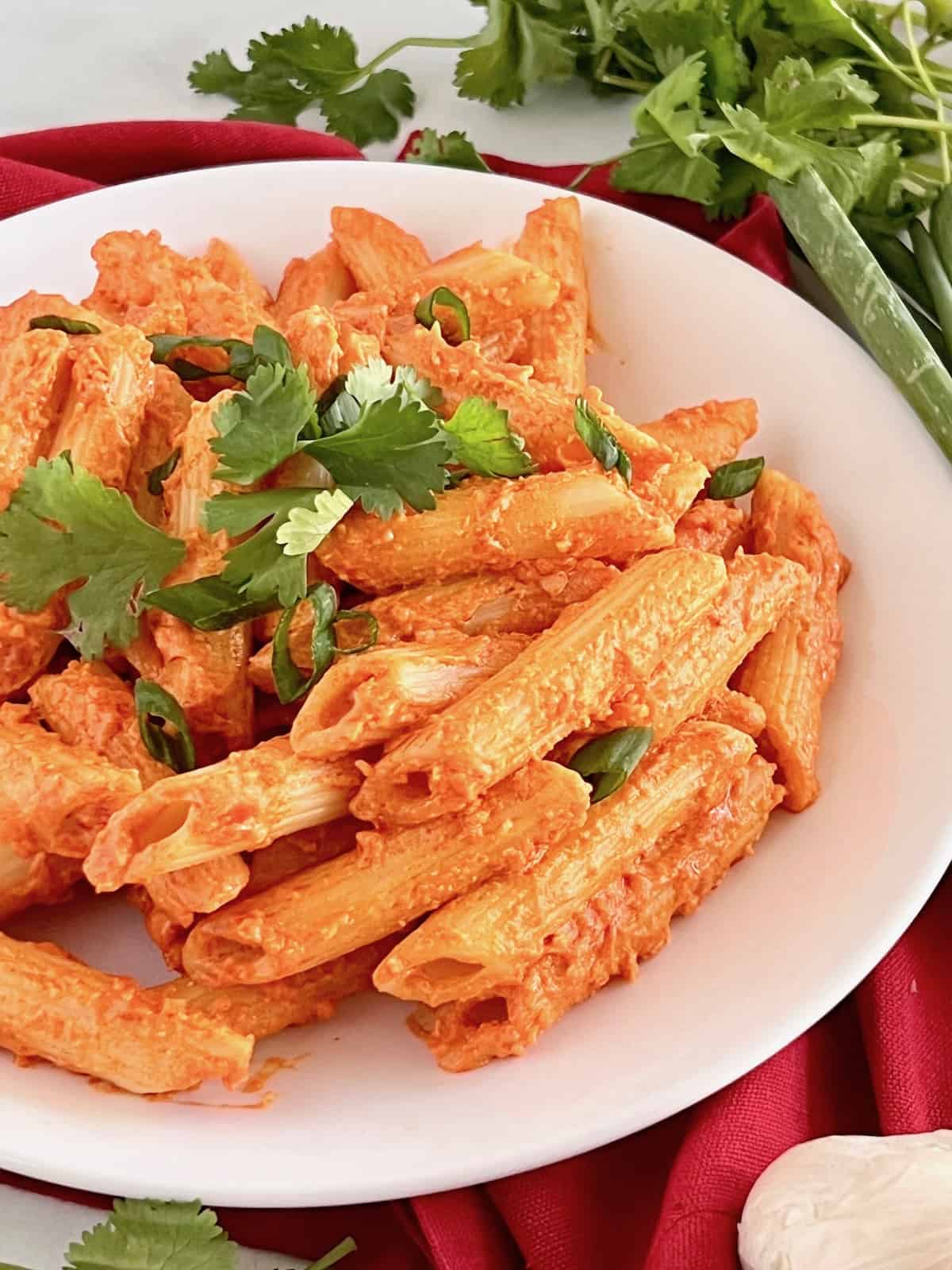 Top with minced fresh cilantro & chopped green onions. Serve & enjoy immediately.
Substitutions & Variations
Try a recipe option with these variations and ingredient swaps. Modify, add, exclude, or replace to create a delicious recipe catering to a variety of cultural, dietary, health, or personal nutritional needs & tastes.
Substitutions
Gochujang - this is the STAR of the recipe and there isn't an ideal replacement but if you are desperate the best substitute is a 3:1 ratio of Thai chili garlic sauce with tomato paste.
Regular Penne - use gluten-free pasta instead to make this gluten-free
Variations
Extra Spicy - add chili pepper flakes while cooking the garlic in olive oil (and/or add extra gochujang)
Buttery - just before serving, add 2 tablespoons of butter at the end to melt into the pasta.
Kid-Friendly & Mild- use only 1 tablespoon of gochujang.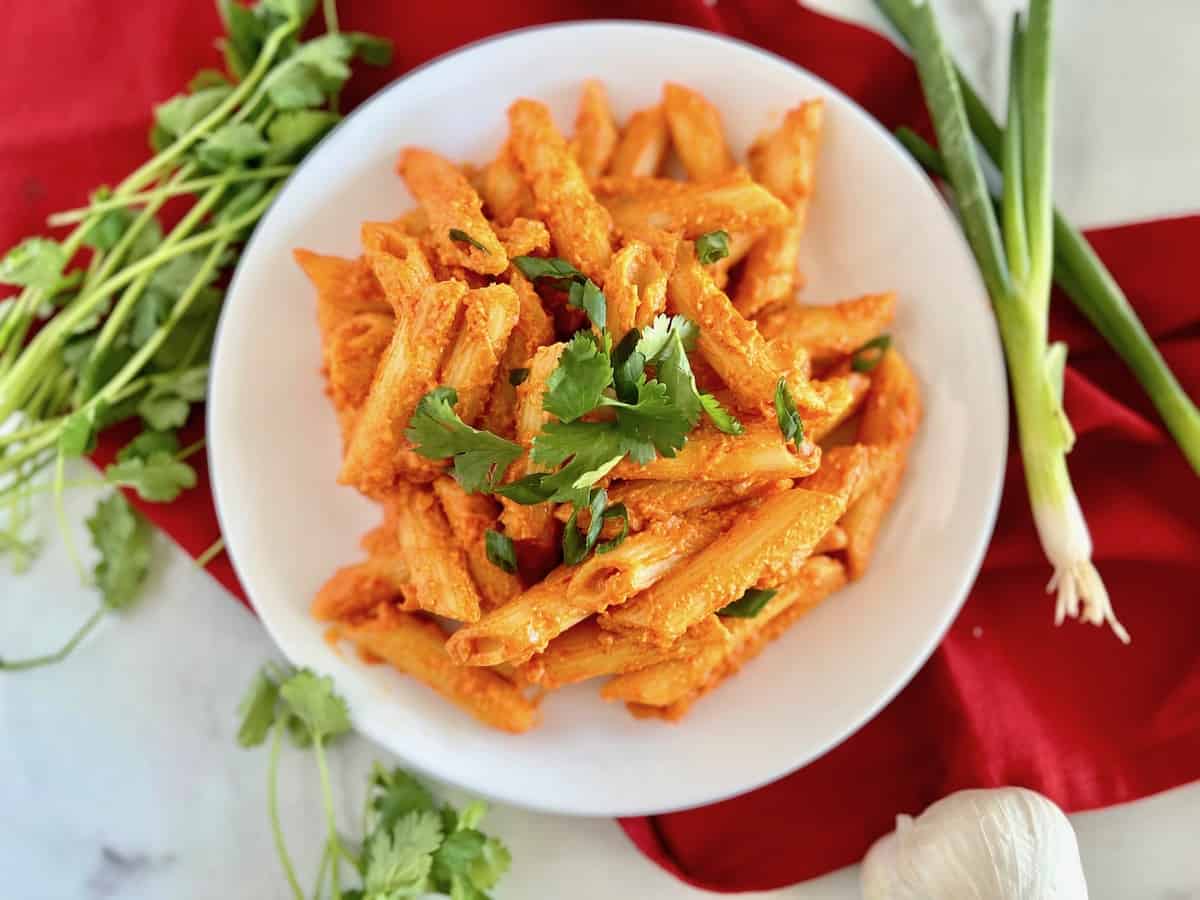 Equipment Needed
The right ingredients, supplies, & equipment help recipes taste amazing & turn out well. Here are recommendations for products that are needed for making this recipe. Shop this recipe & buy these top-rated items today.
The Short Order Cook is a participant in the Amazon Services LLC Associates Program. As an Amazon Associate, I earn from qualifying purchases. Clicking on links and making purchases may earn me a commission, supporting the blog's operational expenses. Thank you for your support!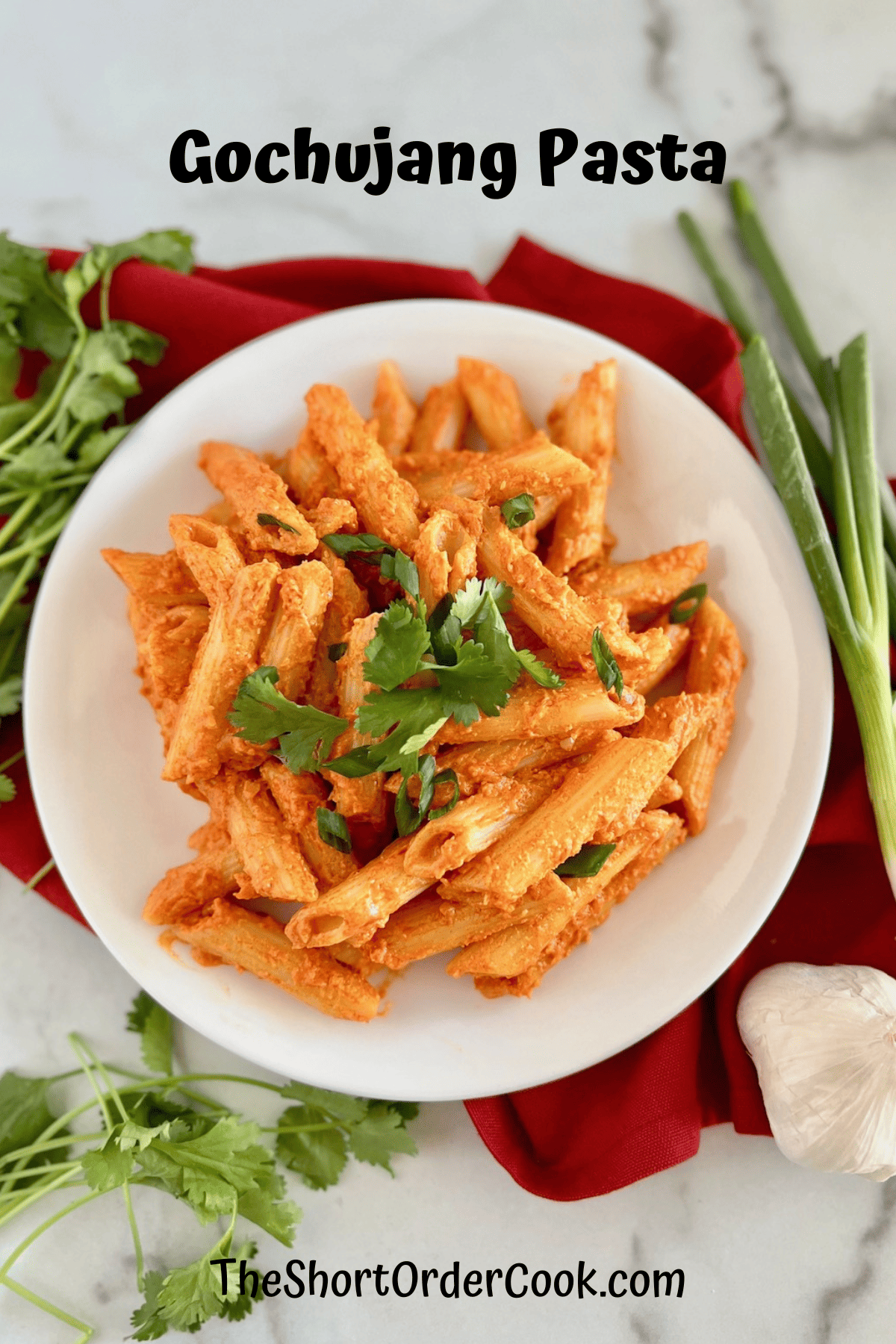 Storing & Reheating
This pasta dish is best enjoyed immediately. If you do have leftovers, store them in the refrigerator in a container with a lid for up to 3 days.
The sauce will separate upon reheating. To reheat, warm in a pan and add a bit of cream or more cream cheese to make it creamy again.
I do not recommend freezing this dish. Pastas with dairy do not freeze or defrost well.
Top Tips
All of these great tips are shared in the post. But these are so good and important they are worth mentioning again so you don't miss them.
Use a short pasta with ridges, like penne rigate, for the sauce to stick to.
While waiting for the pasta water to boil, bring the cream cheese to room temperature so it melts into the sauce easily.
Time the sauce to be done just as the pasta is ready; the pasta takes 10-12 minutes to boil and the sauce takes 5 minutes to make.
Save the starchy pasta water, it is an ingredient in the sauce.
Cook the penne al dente so it is not mushy & holds its shape.
Serve, top, and enjoy immediately while fresh and hot.
FAQ
What is a good substitute for gochujang ? 
The paste or sauce is a spicy Korean condiment. The best replacement is Thai chili garlic sauce mixed with some tomato paste. It will be thick & spicy like gochujang. Or in a real pinch, sriracha makes a good alternative. e
Does gochujang need to be refrigerated?
Once a container or jar of gochujang has been opened it is best to store it in the refrigerator. The fermented paste can spoil and turn rancid once opened & exposed to warm temperatures. If stored properly in the refrigerator it can last for up to 3 months.
How to tell when pasta is al dente?
Al dente means "to the tooth". How that translates into results when cooking is easy but can take some time to master. Timing is everything and you want the center of the pasta to have a bit of a snap/resistance when you bite it. It should not be crunchy (undedone) or chewy (overcooked).

So when do you take a bite to test the pasta? Here is my trick, over the years I have noticed that most of the starches are released from the pasta before it is done cooking. Those starches are released as tiny bubbles on the surfaces or sometimes a foamy/starchy slick on top. Just as those bubbles seem to be slowing and almost done - the starches are almost done releasing.

The pasta is ready so take and bite and see what you get. Does it have a bit of give as your teeth bite into it? Can you see a tiny bit of white on the inside? If so - the pasta is now cooked to a perfect al dente texture!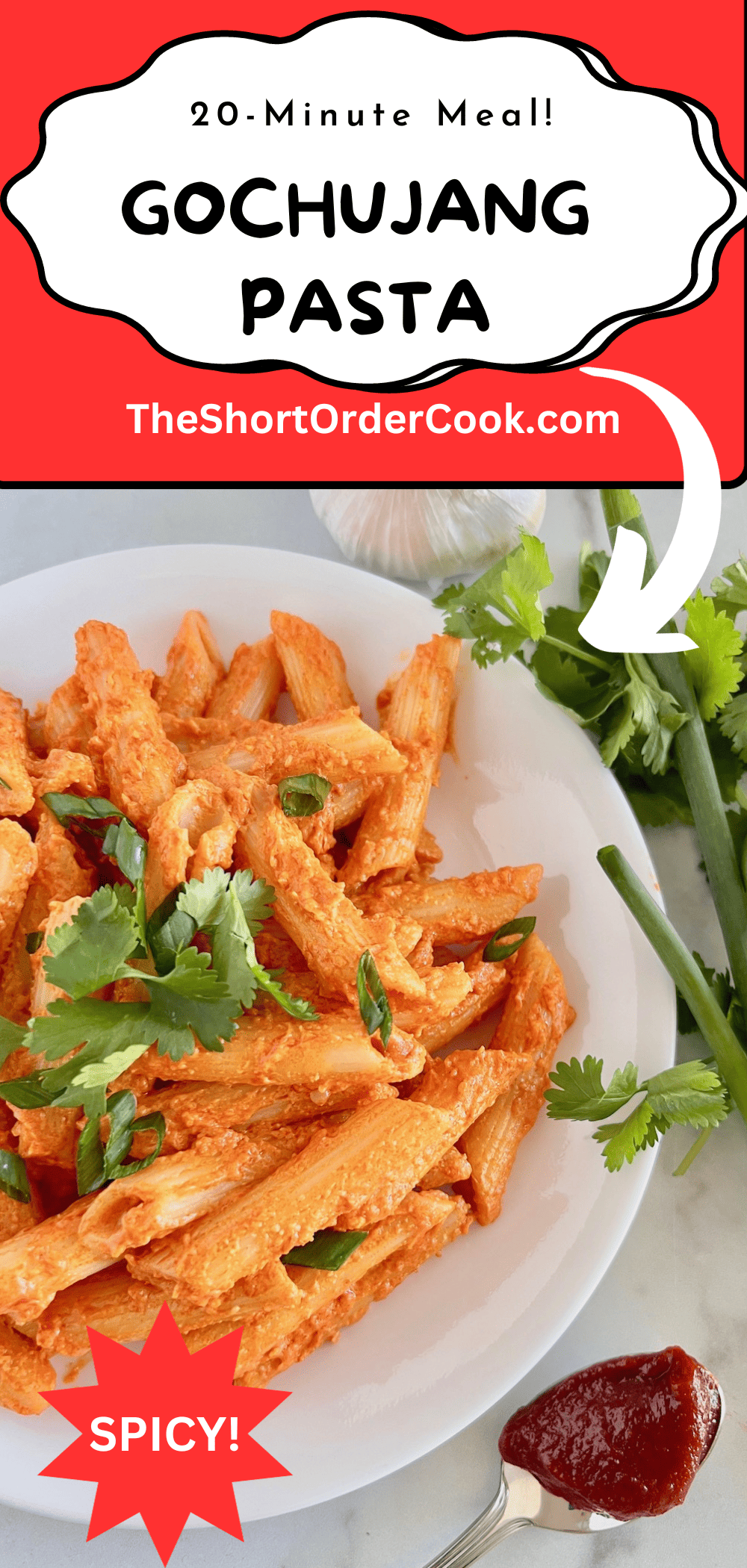 What to Serve with Gochujang
If you are new to this flavor you may not know what to serve with this pasta recipe. These are my favorite sides, proteins, dishes, and ideas that pair well with gochujang: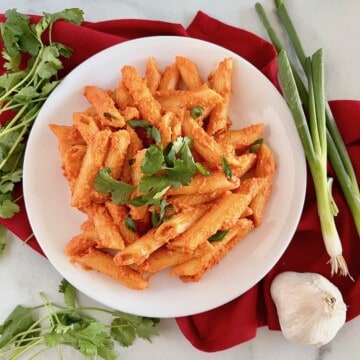 Gochujang Pasta 
This quick and easy 20-minute recipe for Gochujang Pasta is spicy, creamy, & addicting. The Korean & Italian fusion penne dish has a simple pan sauce with garlic, red chili gochujang paste, & parmesan. The simple recipe is a great weeknight meal or fast lunch.
Equipment
pasta or large stock pot

large skillet
Ingredients
1

pound

penne pasta

reserved pasta water

( about ⅓ cup)

3

tablespoons

olive oil

3

cloves

garlic

minced

3

tablespoons

gochujang paste

6

ounces

cream cheese

¼

cup

grated parmesan cheese

3

tablespoons

green onion

finely sliced

3

tablespoons

fresh cilantro

minced - optional
Instructions
Bring a large stockpot of salted water to a boil. Once at a rolling boil, add the pasta and stir to separate.

The penne will take 10-12 minutes to cook & become al dente. While it is cooking, start the sauce.

In a large skillet with deep edges (14" is best) make the spicy pan sauce. Over medium, add the olive oil and minced garlic. Infuse the two together by cooking for 2-3 minutes. 

Add the gochujang paste to the pan & whisk to combine.

Reduce the heat to low and carefully add ⅓ cup of starchy pasta water. Whisk to combine and make a smooth sauce. Finish off by adding chunks of room-temperature cream cheese & whisk until the sauce is smooth yet thick.

As soon as the penne pasta is al dente, it is time to add it to the pan with the sauce. Use a slotted spoon to add it to the sauce (do not drain, keep the pasta in case it is needed)

Stir to combine. If needed, add a tablespoon of pasta water at a time to thin out the sauce & help it cling to the pasta.

Turn off the heat and remove the pan from the stove. Sprinkle on the parmesan and toss to coat. Sprinkle on sliced green onions and cilantro - optional.

Serve and enjoy immediately while it is hot and fresh.
Notes
Nutrition Facts
Servings: 6
Amount per serving
 
Calories
429
% Daily Value*
Total Fat 20.6g
26%
Saturated Fat 8.8g
44%
Cholesterol 93mg
31%
Sodium 415mg
18%
Total Carbohydrate 47.5g
17%
Dietary Fiber 0.5g
2%
Total Sugars 4.6g
 
Protein 14.3g
 
Vitamin D 0mcg
0%
Calcium 150mg
12%
Iron 3mg
16%
Potassium 175mg
4%
*The % Daily Value (DV) tells you how much a nutrient in a food serving contributes to a daily diet. 2,000 calorie a day is used for general nutrition advice.

Recipe analyzed by 
See