Caramelized Brussel sprouts with brown sugar are a wonderful simple side dish. To make Brussel sprouts even more wonderful add bacon and blue cheese for a sweet, salty, creamy, and nutty delight. These sauteed Brussel sprouts are my favorite way to eat them. The flavor combination elevates these miniature cabbages into a gourmet appetizer, small plate, or side dish. Some people may think they taste bitter raw but for most people, Brussel sprouts are nutty and sweet once cooked and that is what happens in this easy recipe.
Some of my favorite restaurants have fantastic Brussel sprouts on their menus and I almost always order them. I finally started to try and replicate many of those yummy appetizers and small plates myself. This recipe for Brussel sprouts caramelized with brown sugar, bacon, and blue cheese is an easy side to make at home. The cast-iron pan really adds flavors to vegetables and this is especially true when cooking these. Brussel sprouts cooked in a cast-iron skillet get brown, crispy, and pan-fried for deep flavor.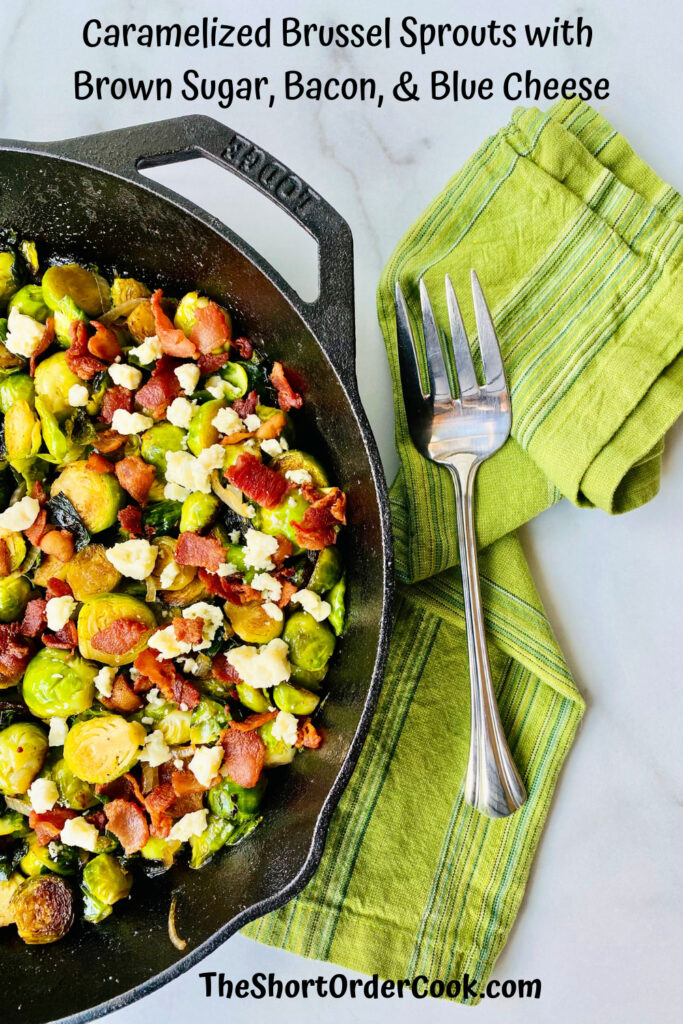 Ingredients for Caramelized Brussels Sprouts
To make this recipe, you will need fresh Brussel sprouts. Try and purchase sprouts that are similar in size so they cook evenly and are done at the same time. I aim for medium-sized Brussel sprouts.
You will also need bacon that has been diced up. There are also freshly sliced onions, brown sugar, crumbled blue cheese, and spices for this recipe.
How to Make Brussels Sprouts with Brown Sugar & Bacon
Begin by dicing the bacon and slicing the onion. Gather the rest of your ingredients including the crumbled blue cheese and the brown sugar. You will want to have everything within reach once you start cooking since this is a quick and easy Brussel sprouts recipe.
Cook the Bacon
First, you will want to cook the diced bacon. Heat the cast-iron skillet on the stove over medium heat. Once hot, add the bacon to fry. I like to use a screen splatter cover like show below. It helps keep you safe and clean from the possible bacon fat splatter that is common when cooking bacon on the stove.
Once the bacon is cooked to your desired likeness, remove it carefully and place it on a paper towel-lined plate, set aside. This should take 5-10 minutes. You may want your vent fan on as it may get smoky. Do NOT drain the bacon fat, keep that in the pan and the heat on medium. Scrape up any bits and remove them from the pan.
Saute the Brussel Sprouts & Onions
In the cast-iron skillet with the bacon grease, carefully add the Brussel sprouts. Saute over medium heat for 10 minutes, stirring occasionally to brown all sides.
Add the onion, salt, & pepper. Cook for another 5 minutes. The onion should be cooked and the sprouts should still be green with the edges caramelized and brown. If you pierce with a fork they will be tender.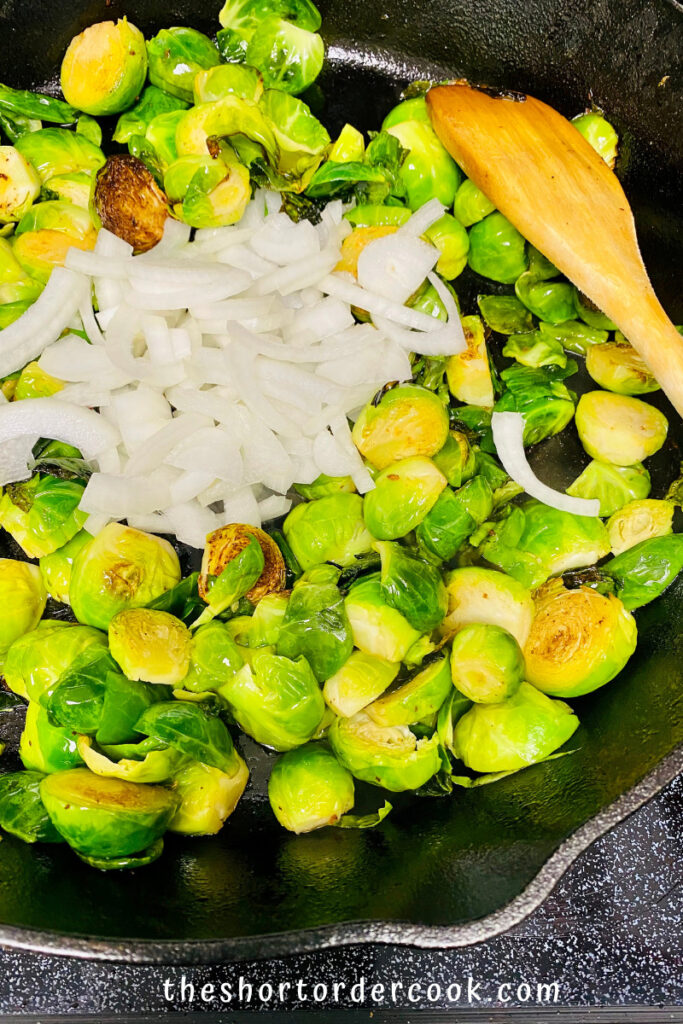 Add the Remaining Ingredients to the Cooked Brussel Sprouts
Once the Brussel sprouts and onions are cooked, the remaining ingredients are ready to go in pretty quickly. Turn down the stove to your lowest setting. Now add the brown sugar. Stir to combine and cook for 5 minutes. Be careful not to cook too long as the sugar can burn quickly. Stir as it melts and coats the vegetables; this will cook pretty fast, 5 minutes maximum.
Next, add the blue cheese and bacon to the cooked and seasoned vegetables. Stir gently so that it is incorporated but the blue cheese and bacon crumbles stay intact. Optional, drizzle with balsamic vinegar.
I like to add about 75% of the cheese and bacon to the pan. The rest I save on the side to add once I serve the Brussel sprouts and they are plated. This way there is some pop right on top.
What to Serve with Brussels Sprouts
Now the cast-iron skillet Brussel Sprouts sauteed and caramelized with brown sugar, bacon, and blue cheese are ready to eat. This recipe is a great appetizer at parties, dinners, holidays. and potlucks. It is also a wonderful side dish for any weeknight or special dinners like Thanksgiving, Christmas, Easter, or anniversaries. These Brussel sprouts with bacon and blue cheese are a family favorite and the best side dish for all your holiday meals.

Recipes Suggestions to Serve with Brussel Sprouts
I really love these Brussel sprouts with my WHIPPED SWEET POTATOES and chicken, as shown below. Here are some other great recipe ideas to cook and pair with Brussel sprouts. All these entrees and other side dishes go well with these sweet & savory caramelized Brussel sprouts and will complete your meal.
PIN FOR SAFEKEEPING & SHARING!
Product Recommendations for this Recipe:
The Short Order Cook is a participant in the Amazon Services LLC Associates Program. As an Amazon Associate, I earn from qualifying purchases. If you click on a link and make a purchase, I may earn a small commission on the sale at no additional cost to you. This helps with the costs of running the blog. Thank you!
Did you make this The Short Order Cook Recipe?
Tag @theshortordercookblog (Instagram & Facebook) or @shortorder_cook (Twitter).
I would love to see your latest creations and kitchen adventures.