Sink your teeth into this saucy & juicy Pulled Pork Burger and fall in love. The classic bun piled with tender smoked pork and barbecue sauce is one heck of an amazing hearty sandwich and all you need is 4 ingredients.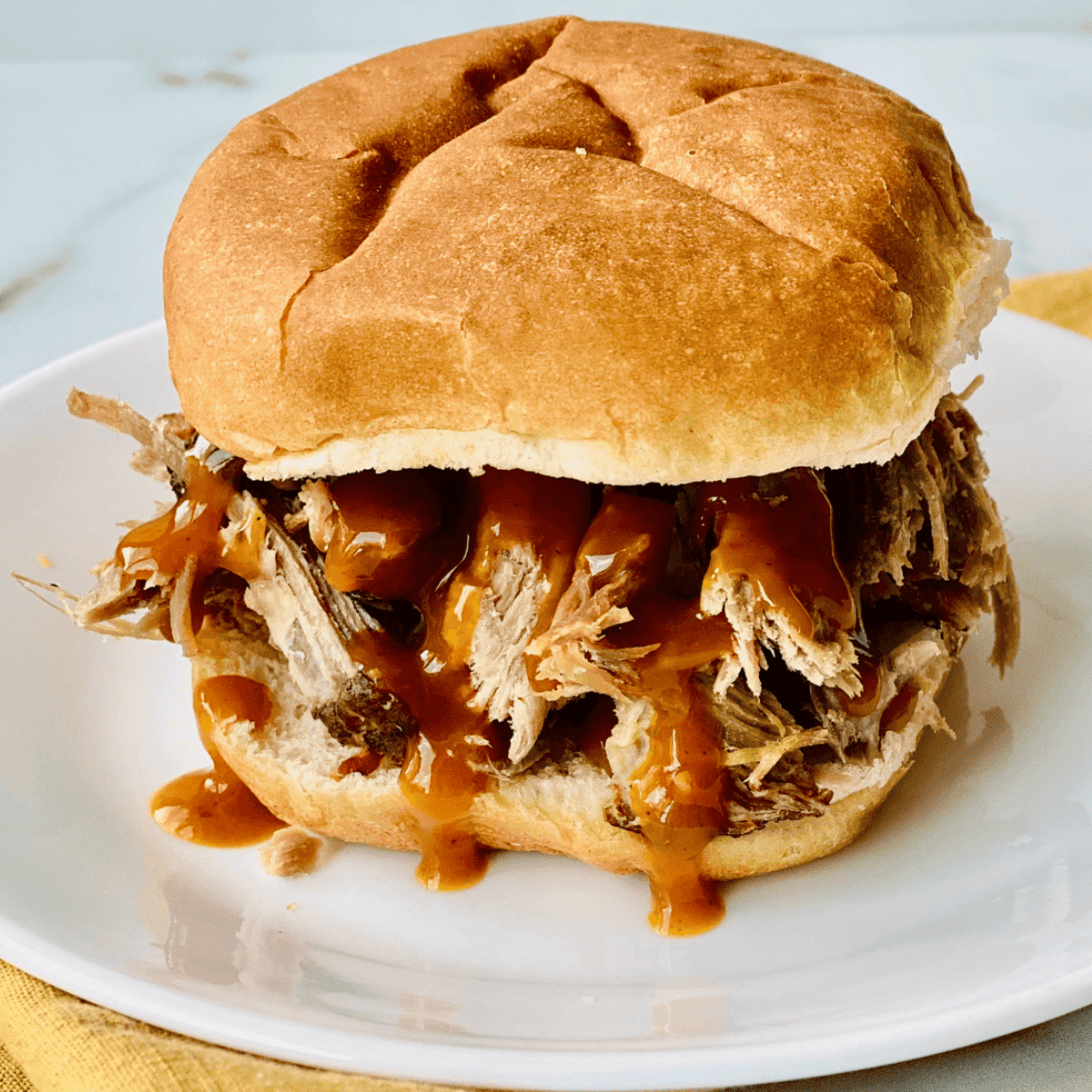 If his pork sandwich doesn't scream summer or fall football game day, I don't know what does. But trust me, this pulled pork burger is worthy of your dinner plate any time of year. Plus it is so easy to make!
Jump to:
Ingredients for Pulled Pork Burger
You only need 4 ingredients for this recipe. It starts with a pork roast and your favorite seasonings. Then grab your favorite soft burger buns and barbecue sauce from the store and you are ready to start cooking.
Here are the ingredients needed to make pulled pork burgers
Pork Butt - a bone-in or boneless 5-pound pork butt or pork shoulder makes for the most tender and juicy meat.
Seasoning Blends or Rub - I use a combination of 3 Kinder's seasoning and rubs: Butcher's All Purpose, Buttery Steakhouse, & Brown Sugar Rub.
Buns - any classic hamburger bun or round roll is perfect for pilling on the shredded pork.
Barbecue Sauce - use your favorite brand of ready-made store-bought BBQ sauce. Any flavors work including sweet, spicy, honey, Carolina, Kansas City, southern, mustard, smoky, or vinegar-based.
See the recipe card for quantities.
Pulled Pork Burger vs Sandwich
Wondering if there is a difference between a pulled pork sandwich and a burger? Simply put, there is nothing that makes one better or different from the other. A pulled pork burger is simply another term for a pulled pork sandwich.
The reason why I call this recipe a pulled pork burger is because it is served on a traditional round burger bun. Other sandwiches may come on a hoagie roll, sliced white bread, sweet slider rolls, or sourdough.
How to Make Pulled Pork Burgers
It takes time to smoke pork so it can shred for sandwiches. It is however, a lengthy process it is not difficult. Pulled pork is one of the easiest things to smoke.
Here are the easy steps for making pulled pork on a bun.
Prep the Smoker & Pork Butt
Smoke the Pork Butt
Pull & Sauce the Pork
Assemble the Pulled Pork Burgers
1 - Prep the Smoker & Pork Butt
The meat should be at room temperature before placing it in the smoker. I use charcoal and add wood later to the base of my Weber smoker. Now is the time to season it and get it out of the refrigerator while you prep the smoker.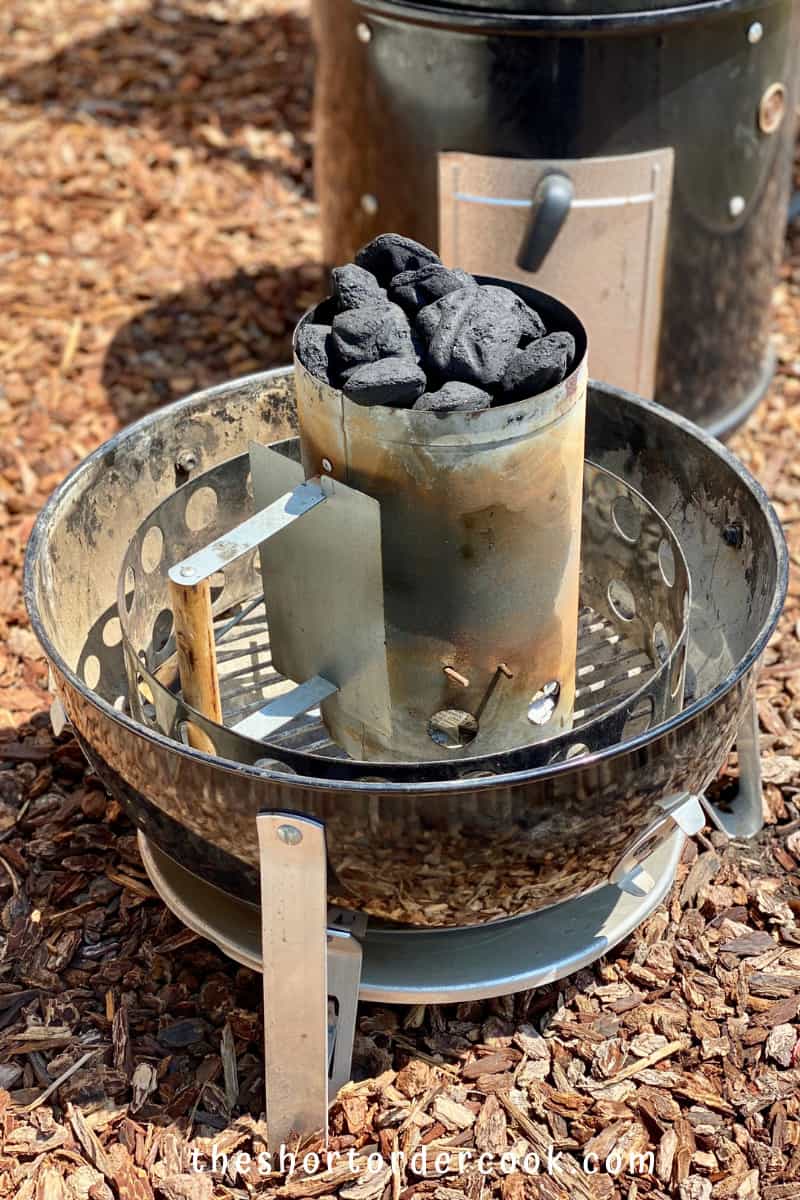 Prepare your coal/wood, electric, or pellet smoker. It typically takes about an hour to bring it up to the ideal temperature. The smoker needs to hold steady between 225-250° for smoking pulled pork.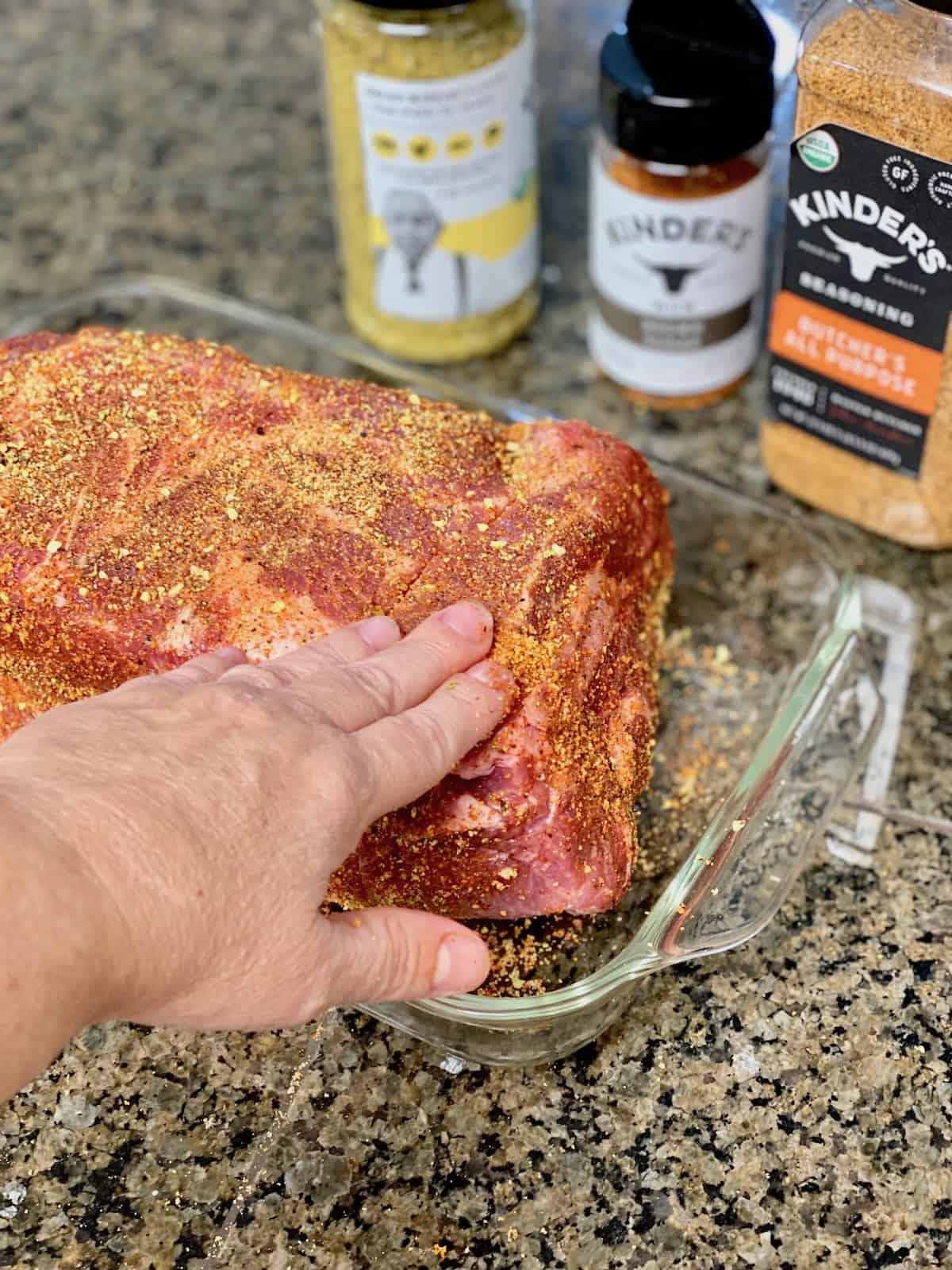 Liberally, sprinkle on the seasonings. You want a thick layer of the spice rub combinations. Press with your hands to get all that flavor to stick.
For a homemade blend of spices, try my dry rub for pork chops recipe, it is fantastic on any cut of pork.
2 - Smoke the Pork Butt
Once the smoker is at the right temperature (225°F-250°F) it is time to put the meat on the grate.
Over the next 4 hours let the pork cook in the smoker. Periodically check to make sure your smoker is maintaining the optimal temperature.
Once the pork reaches 160°F, it is about ⅔ done cooking. It is now time to wrap it up for the final step.
Place the pork butt in a disposable foil pan. Add the roast and seal with foil. This helps seal in the juices plus makes sure the meat doesn't stall (slows cooking). Place it back in your smoker for the final hours of smoking.
Let it cook for another 1.5 hours or until the internal temperature reaches 200°F. Do not remove the foil or move the meat from the pan. Let it rest covered in the foil pan for 30 minutes.
Throughout the entire pulled pork smoking process, the temperature should be between 225-250° (add coals/wood or open/close the vents to maintain the temperature).
The steps are simplified here for anyone that's already familiar with smoking meat. If you are a beginner, don't be intimidated, it is quite easy. For a detailed post and recipe including how to set up your smoker, temperature control, and making a rub, etc - check out my recipe for Smoked Pulled Pork Shoulder/Pork Butt.
3 - Pull & Sauce the Pork
Once the pork has rested, remove the foil from the pan. Using tongs or meat claws, shred the pork into tiny bite-sized pieces.
The pork will have a crust on the outside and be moist and flaky on the inside. Add your favorite BBQ sauce and toss to coat.
Hint: The juices (rendered fat) in the pan is added flavor and I keep it. I add the shredded meat back into the pan and toss to coat.
4 - Assemble the Pulled Pork Burgers
Pile the pulled pork onto the burger bun. Toast them if desired - softer hamburger or brioche buns do much better if they are toasted first.
Pour or drizzle on additional barbecue sauce. Enjoy immediatley.
Pulled Pork Sandwich Toppings
Want to jazz things up with something more than coleslaw? Try one or several of these best topping ideas for adding to your pulled pork sandwich:
Raw Onion or Fried Onion Strings
Pickles
Jalapeno Peppers
Shredded Cheese - Jack & Pepper Jack are favorites
Slice of Pineapple
Slices of Ham (think Cubano!)
Avocado or Guacamole
CrockPot & Instant Pot Cooking Options
Pork shoulders or butts can be made in any slow cooker or pressure cooker. For either alternate cooking method, you will also need 1.5 cups of liquid (beer, broth, etc) and I recommend cutting the pork into large chunks and searing them.

Place the pork pieces & liquid into the slow cooker & cook on low for 6-8 hours. For the Instant Pot, set it to High pressure for 40 minutes & let it naturally release (to retain moisture).
Like my yummy recipe for Slow Cooker BBQ Pulled Chicken, making the pork in a CrockPot or Instant Pot is easy & delicious.
Substitutions & Variations
Try a recipe option with these variations and ingredient swaps. Modify, add, exclude, or replace to create a delicious recipe catering to a variety of cultural, dietary, health, or personal nutritional needs & tastes.
Substitutions
Pork Butt - a pork shoulder is also great for cooking & shredding into burgers. You can also use precooked pulled pork from Costco, Trader Joe's, or any grocery store for a time-saver.
Buns - use gluten-free buns instead of white bread buns to make this gluten-free.
Variations
Spicy - use a spicy pork rub or spicy BBQ sauce. au
Southern - use a vinegar or mustard-based BBQ sauce.
Coleslaw - pile on some cool & creamy coleslaw on the pulled pork before adding the top bun.
Kid-friendly - add crushed potato chips to the burger.
Equipment Needed
The right ingredients, supplies, & equipment help recipes taste amazing & turn out well. Here are recommendations for products that are needed for making this recipe. Shop this recipe & buy these top-rated items today.
The Short Order Cook is a participant in the Amazon Services LLC Associates Program. As an Amazon Associate, I earn from qualifying purchases. Clicking on links and making purchases may earn me a commission, supporting the blog's operational expenses. Thank you for your support!
Storing & Reheating
Leftoverslasts for up to 3 days in the refrigerator. You can also freeze cooked pulled pork for up to 60 days in the freezer.
To reheat, warm pulled pork in a pan on the stove, in the oven, or in the air fryer for crispy texture.
Top Tips
All of these great tips are shared in the post. But these are so good and important they are worth mentioning again so you don't miss them.
Bring the meat to room temperature while waiting for the smoker to reach cooking temperature.
Near the end, cook the pork butt for the final bit in a foil-wrapped pan to retain juices & accelerate the smoking (no stalling the meat)
Let the meat rest before pulling it into shreds.
Use hearty rolls that can hold up to all the meat - lighter/softer rolls can use some toasting first to help them stay together.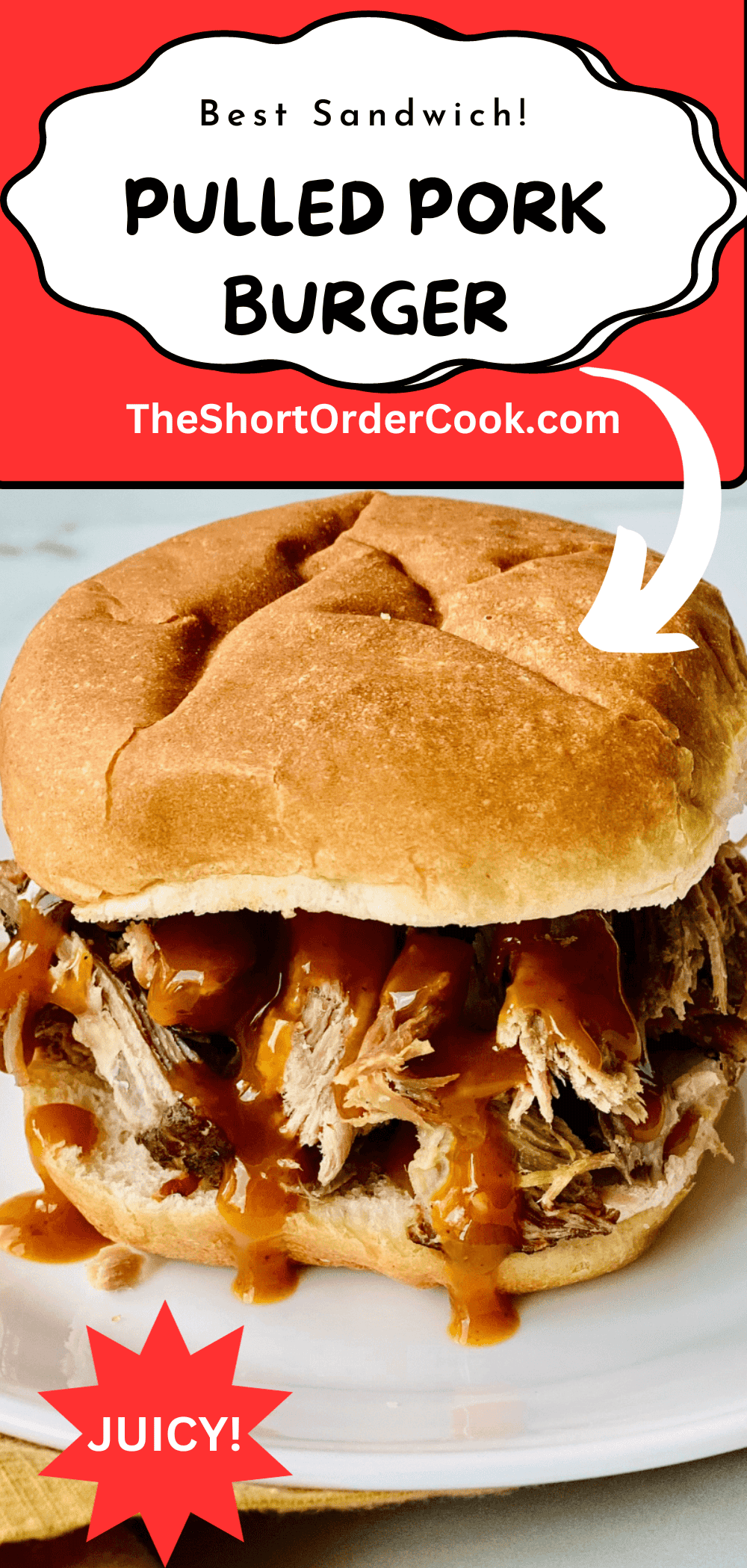 FAQ
How many people will a 5-pound pork shoulder feed?
It is easy to calculate how much pulled pork per person is best for serving. Typically ¼# of meat is used for each pork sandwich or burger.

For this recipe, the 5 pounds of raw meat (bone not included) will cook down to about 3.5-4 pounds. That will feed 12-15 people. It is great for big families, Super Bowl parties, or small events.
Is there a beef patty in a pulled pork burger?
While some restaurants, fast food chains, & recipes make a hamburger with pulled pork added to it, this is not that type of recipe. This is a pulled pork sandwich served on a traditional burger bun. But if you do want to add a patty to it, I recommend a Wagyu Burger for a gourmet version that is outstanding.
What is the best bun to serve pulled pork on?
For this meaty sandwich, you will want a bun that will hold together and not fall apart. A soft, light, and fluffy roll (such as potato bread) may not be ideal. I recommend a substantial bread that is a bit more dense or has a crustier texture.

Try some fun & unique buns such as the following: ciabatta, pretzel, sesame seeds, sourdough, or whole wheat.
More Pork Recipes
Looking for other recipes like this? Try these:
What to Serve with Pulled Pork Burgers
These are my favorite dishes to serve with pulled pork on a bun: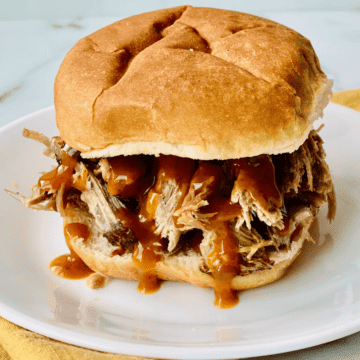 Pulled Pork Burger
For the best juicy & sauced Pulled Pork Burger, try this recipe. The shredded meat piled high on a bun is a hearty sandwich everyone will love. The seasoned & slow smoked pork butter or pork shoulder makes for the best moist & flavorful meat. Add your favorite smoky, sweet, or spicy BBQ sauce or a pile of creamy coleslaw. Enjoy for lunch, dinner, summer cookouts, Super Bowl game day, camping, parties, or tailgating.
Equipment
meat smoker

(or slow cooker / pressure cooker)
Ingredients
5-6

pound

pork shoulder or pork butt

(bonein or boneless)

1

cup

Kinder's Seasoning Blends & Rubs

** any combination of seasonings or your favorite store-bought rub with brown sugar will work

12

Burger Buns

Barbecue Sauce

your favorite store-bought bottled or homemade recipe
Instructions
Prep the smoker with charcoal/wood to smoke the meat. The ideal temperature for pulled pork is to cook between 225°F- 250°F.

While the coals are coming to temperature, bring the pork shoulder/pork butt to room temperature.

Add the seasoning blend or dry rub to all surface areas of the pork. You want a lot of it on there so be generous. Use your hands to pat it on so it will stick.

Once the smoker is at the right temperature (225°F-250°F) place the meat on the smoker grate. Place the lid on top and let the pork cook for about 4 hours.

** check the smoker temperature regularly to make sure it is maintaining the right amount of heat. Adjust to bring it up or down as needed.

Once the pork reaches 160°F, it is about ⅔ done cooking. It is now time for the final cooking step.

Place the pork butt in a disposable foil pan and cover with foil. This helps seal in the juices plus makes sure the meat doesn't stall (slows cooking). Place it back in your smoker for the final hours of smoking.

Let it cook for another 1.5 hours or until the internal temperature reaches 200°F.

Do not remove the foil or move the meat from the pan. Let it rest covered in the foil pan for 30 minutes.

Using tongs or meat claws, shred the pork right in the pan with the juices. If there is a lot of rendered fat you can remove some - just remember that is a lot of flavor and keep the meat moist. Add your favorite BBQ sauce and toss to coast.

Prepare or toast the burger buns. Pile about ⅓ pound or ½ cup of pulled pork on the bottom bun. Add more BBQ if desired and cover with the top half of the bun.

Enjoy immediately. Serve with chips, fries, salad, or fruit.
Notes
Nutritional information will vary for this recipe - it depends on the amount of meat on each sandwich, the type and size of the bun, and the brand of BBQ sauce. 
Raw Pork Food Safety
Here are my top tips for safe handling and cooking of raw pork:
Cook to a minimum temperature of 165 °F (74 °C)
Do not use the same utensils on cooked food, that previously touched raw meat
Wash hands after touching raw meat
Don't leave food sitting out at room temperature for extended periods