The antipasto ingredients of salami, mozzarella, olives, tomatoes, and pepperoncini peppers are the ideal complement to the Italian dressing for this rice salad.  This is a great way to enjoy a side salad that is not a pasta salad for those on a gluten-free diet.   It is similar to an orzo salad but with rice.
This antipasto Italian cold rice salad is an easy and delicious recipe.  It is a great rice salad for summer but can also be served while the rice is still warm for a lovely side dish any season. A bonus about this antipasto rice salad is that the more it sits and gets a chance to marinate with the Italian dressing, the better it becomes.
Recreating a Memorable Recipe
As for the longer, it sits, the better it becomes - let's just say this rice salad recipe and my fondness has sat in my memory for a long time.  My best friend when I was a teen lived close by and I was at her house quite a lot. Her mom made this rice salad more than a time or two in my presence and I was a willing taste tester.
I longed to recreate this memorable rice salad somehow especially since it is gluten-free. I hope this antipasto rice salad is something my family and yours continue to enjoy and have fond memories about even decades from now.   But mostly, I hope I have done Linda proud and recreated the rice salad beautifully.
The Antipasto Ingredients Include:
Diced salami
Diced mozzarella
Sliced olives - I used green, kalamata, and canned black olives
Sliced grape tomatoes
Sliced pepperoncini peppers
All lovely Italian/Mediterranean/Greek flavors for this rice salad
Assemble the Antipasto Rice Salad
After prepping the antipasto ingredients, gather the dressing ingredients and the room temperature rice that was made earlier.
The Italian dressing ingredients include:
Olive oil
Red wine vinegar
Dried basil leaves
Minced garlic
Dry mustard
Salt & pepper
Stir together the Italian dressing ingredients in a measuring cup, mason jar, or small bowl. The small amount of dry mustard powder helps not only boost the flavor with some tang but also helps thicken the dressing.  This ensures the dressing coats the ingredients nicely versus just simply soaking into them as plain olive oil and vinegar would.
Pour the dressing over the rice and antipasto ingredients.  Stir to combine.  This is best when left to marinade together at least 30 minutes before serving. I do prefer this at room temperature. If you make this more than 30 minutes ahead of time and it is put into the refrigerator, I suggest having it sit about 30 minutes at room temperature before serving.
PIN THIS RECIPE FOR SAFEKEEPING & SHARING!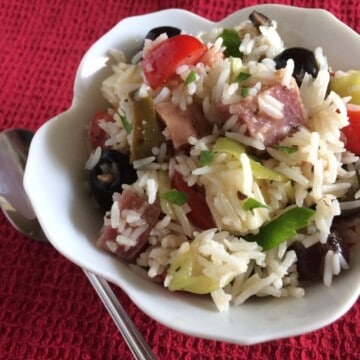 Antipasto Rice Salad
Rice paired with antipasto ingredients like salami, mozzarella, and olives are mixed with Italian dressing for a wonderful gluten-free salad alternative to pasta salad.
Ingredients
3

C

cooked basmati rice

1

C

diced mozzarella

1

C

diced salami

1

C

sliced olives

any variety

1

C

grape tomatoes

halved

¼

C

pepperoncini peppers

chopped
Dressing Ingredients
½

C

olive oil

¼

C

red wine vinegar

1

teaspoon

garlic

minced

½

teaspoon

dried basil

½

teaspoon

dry mustard powder

¼

teaspoon

salt

fresh cracked pepper

1

TB

fresh parsley chopped

optional
Instructions
Cook basmati rice either on the stovetop or with a rice cooker. Ensure the final result yields 3 cups. Once the rice is ready, put it in a large serving bowl so it can begin to cool. The bowl should be big enough to hold all the salad ingredients with space to stir.

While rice is cooling, prepare the remaining ingredients by dicing and slicing the antipasto items. Set aside and begin making the dressing.

For the dressing, whisk together all the ingredients or place in a mason jar, close the lid, and shake.

Once the rice is at room temperature, the salad is ready to assemble. The rice should not be too warm or the dressing will make the salad soggy. It should also not be cold. When the rice is at room temperature, the rice will absorb some of the dressing making sure it is very flavorful. Top the rice with the antipasto ingredients and then pour the dressing over everything. Stir to combine and let sit for about 30 minutes to marinate a bit.

Serve room temperature with fresh chopped parsley.

Leftovers can be refrigerated. Bring to room temperature before eating and additional dressing may be needed to bring it back to life.
Notes
Nutrition Facts
Servings: 8
Amount per serving
 
Calories
513
% Daily Value*
Total Fat 25.1g
32%
Saturated Fat 5.9g
30%
Cholesterol 24mg
8%
Sodium 894mg
39%
Total Carbohydrate 58.3g
21%
Dietary Fiber 1.8g
6%
Total Sugars 0.7g
 
Protein 12.8g
 
Vitamin D 0mcg
0%
Calcium 45mg
3%
Iron 2mg
9%
Potassium 250mg
5%
*The % Daily Value (DV) tells you how much a nutrient in a food serving contributes to a daily diet. 2,000 calorie a day is used for general nutrition advice.