When you have a recipe that lists apple sauce as an ingredient and you do not have it, using a substitute or an alternate can be done.  For alternatives when you are without apple sauce, this list includes so many choices that there is likely something you have already that you can use in a pinch.   There are many ingredients that can be used as a substitution.
Depending on what you will be cooking or making, you may need to take into account the consistency of the replacement for apple sauce.  If you are baking version making a sauce or condiment, the type of substitution for cooking with apple sauce may change.
Apple Sauce as a Flavoring
When cooking or baking a recipe that calls for apple sauce as the main ingredient so it has apple taste, the replacements for it will depend on the taste you are looking to result in your recipe. Replacing apple sauce in a recipe with another fruit-flavored sauce is a great idea but the taste will be different.
This can be fine at times but at other times it may be less than ideal.  Here are some suggestions on ingredients to use instead of apple sauce in recipes.  There are mild flavors that are subtle. Some add a new flavor twist but just as tasty.
Substitutions When you Want Apple Flavor
If your recipe is to have the flavor of apples, you may not want to replace it with a different fruit or another ingredient.  Here are the best alternatives for apple sauce in a recipe that will still give you that apple flavor you are looking for.
HOMEMADE APPLE SAUCE - if you have the time, make your own in the CrockPot!
Puree/blended peeled & cored apples - 1:1 replacement (SEE RECIPE BELOW)
Apple Butter - if for some reason you have it, use it as a 1:1 replacement
Plain Greek yogurt mixed with apple juice - mix 50/50 and use in a 1:1 replacement for what amount is called for in apple sauce
Marmalades, Jams, or Jelly - alternate flavors can be used and will bring sweetness and a fruit texture to the recipe when replacing apple sauce. (orange marmalade, apricot jam, & peach preserves work best)
Substitutions When you Any Fruit Flavor Will Do
All of these fruit purees will work great as an alternative in recipes that call for apple sauce.  You can puree fresh fruit yourself, buy it ready-made, or even use baby food for small quantities. Here are the best choices for replacing apple sauce with different blended or smashed fruits.
Pureed or Smashed Pears - great in muffins or quick bread
Pureed or Smashed Bananas  - great in muffins or quick bread
Pureed or Smashed Peaches - great in muffins or quick bread
Pureed or Smashed Strawberries - great in cakes or muffins
Pureed or Smashed Prunes - fabulous in chocolate or spice cakes
Pureed or Smashed Pumpkin  - good for quick bread or muffins
Pureed or Smashed Cooked Sweet Potatoes - good for quick bread
Apple Sauce as an Oil Replacement
If you use apple sauce as a replacement for oil in a recipe, here is what will work well in a pinch. All these apple sauce alternatives can be used in a recipe where you would normally be adding oil or some fat and moisture such as in baked goods.
Vegan Apple Sauce Substitutes
These two vegan ingredients are good alternatives when you need to replace apple sauce in a recipe. Both are healthy whole ingredients that will add moisture which is ideal for baking.
Avocado

- Blended or smashed avocado can be used as an oil replacement when you do not have apple sauce to use instead. The natural oils in the avocado will help keep the baked goods moist and the neutral flavor will not change the recipe too much.

Coconut Oil

- This is a good option if you do not mind the taste of coconut in your recipe.  It will give a mild coconut flavor as it ensures the baked goods have the oil so they do not turn out dry even without the apple sauce.
Store-Bought Vegetarian Apple Sauce Replacements
These 3 ingredients you likely already have in your refrigerator. These common store-bought items make good apple sauce alternatives. They are vegetarian and work great when baking or cooking.  Replace it with any of these items in your recipe the next time you find yourself without any apple sauce in your pantry.
Mayonnaise

- You can substitute equal parts mayo for apple sauce in baked good recipes such as in muffins, cakes, or quick bread. Keep in mind that mayo contains eggs and oil. Therefore, you may want to only include half as many eggs in your recipe when also using mayonnaise as a replacement for oils and apple sauce in a 1:1 ratio.

Butter

- for an oil replacement instead of apple sauce, there is nothing better than butter in my opinion. It is great for flavor and texture and is not heavily processed like some oils can be. It is high in fast so if you are on a low-fat diet, this may not be the apple sauce replacement for baking that is right for you.

Yogurt

- For moist baked goods, you can replace apple sauce with yogurt.  A thick greek yogurt works best as it has less water content and will not make the batter too moist. If you do not have greek yogurt, you may need to add a bit more flour to your mixture to ensure it is not too wet before baking.
Apple Sauce in Baking
All these baked goods will turn out great if you substitute the oil for apple sauce. If you are making one of these recipes and want less oil or fat in your diet, apple sauce may be the best replacement. If you do not have apple sauce on hand, this is when one of the top choices makes sense such as homemade apple sauce or puree, apple juice & Greek yogurt, or another pureed fruit.
All of the following recipes can be made with apple sauce or these replacements for perfectly moist baked goods.
Muffins
Homemade & Brownies
Homemade & Boxed Cake & Cupcakes
Quick Bread
Other Desserts...
PIN FOR SAFEKEEPING & SHARING!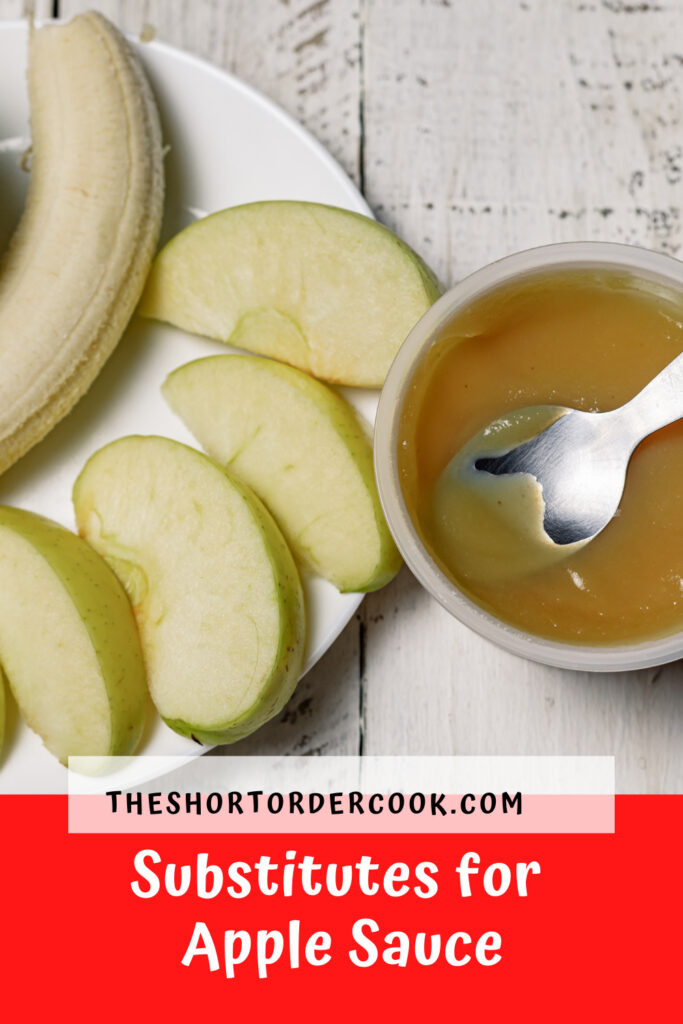 Substitute for Apple Sauce
For all the best options on how to replace apple sauce in a recipe, try this list. There are easy substitutions with every day ingredients for swapping out apple sauce when baking or cooking.
Instructions
Peel, core, and dice 2 apples.

Add the apple chunks to a blender. Puree on medium speed and work your way up to high. You will get a mixture that may still be a bit chunky with apple juice altogether. It will not be smooth and creamy like apple sauce but is still the same ingredient in a different texture.

Use as a replacement in any recipe for apple sauce.
Product Recommendations for this Recipe - #ad:
The Short Order Cook is a participant in the Amazon Services LLC Associates Program.  As an Amazon Associate, I earn from qualifying purchases.  If you click on a link and make a purchase, I may earn a small commission on the sale at no additional cost to you. This helps with the costs of running the blog. Thank you! 
Did you make this The Short Order Cook Recipe?
Tag @theshortordercookblog (Instagram & Facebook) or @shortorder_cook (Twitter). 
I would love to see your latest creations and kitchen adventures.