Yes, I had to try out the new charcuterie-like trend & create a sweet and spicy butter board. And boy am I glad I did. This trending appetizer or first course takes bread and butter to a new gourmet level. Butter boards are so easy and delicious that we will all wonder where have they been all our lives.
This one has a ton of wow with very little effort. The combination of creamy butter with a few salty ingredients plus hot honey for sweet heat has it all. Now I am calling upon all bread and butter lovers to get "on board"...see what I did there...with this recipe?!
Butter boards are fantastic as an appetizer or first course. This recipe would go well with any Italian or French dinner. It is also ideal for dinner parties, gatherings, & potlucks. Everyone will love how beautiful it looks and how amazing it tastes. The bonus is that it is quick & easy to make - and can be made ahead of time too.
Jump to:
What is a Butter Board?
If you haven't heard of butter boards before, you are not alone. They have hit social media like lightning and for good reason. Butter boards are simply put, a board smeared with butter and topped with a variety of ingredients for a pretty and flavorful spread. Fresh bread, butter, & tasty condiments have always been something our family loved so we knew this was so our thing.
I was inspired to make this recipe after seeing it on the news last week. I began to think about flavors. Since I adore crusty bread with really good olives in it I knew I wanted to try that. Then I remembered how much I love hot honey on bread, pizza, and biscuits. So that is where I started and the ending --- well you just need to make this to find out how this love of bread and butter story ends.
Ingredients
For this homemade butter board recipe, you will need the following ingredients. Keep in mind, you want fresh good quality ingredients when making this. This is true for all recipes but even more, the case when you are eating the ingredients simply and without cooking like for this recipe.
Begin with the best quality butter you can afford. I recommend using salted butter even though we will be adding more as a topping. The butter will need to be softened to room temperature. It is also best to have the other ingredients at room temperature. For the sweet, salty, spicy, & fresh flavors that will be the toppings, here is what else you will need.
Salted Butter

Flaky Sea Salt

Marinated Green & Black Olives
Chopped Fresh Parsley
Baguette
See the recipe card for quantities.
How to Make a Butter Board
Begin by bringing the butter and other ingredients to room temperature. It should take about an hour for the butter to be soft enough to spread and swirl. (depending on the temperature of your home at the time). My homemade Hot Honey is great on this. It is stored in the refrigerator so I bring this to room temperature too it can drizzle easily.
I am using marinated olives that come in a packet from Trader Joe's. I like to use these because they have so much flavor versus plain olives. They have lemon and herbs to kick up the flavor profile. They do have the pits so I am removing them and chopping them up. You can buy already pitted olives but really try and use some that are marinated so there is additional flavor.
Spreading & Swirling the Butter
Once all the ingredients are ready it is time to spread and swirl the base of this recipe, the soft creamy butter. You will want a cutting board that is the right size for making a butter board. For 2 sticks of butter, a board of about 8x10 in size is good. It can be another shape like a 17x7 long wooden board with a handle similar to what I am using. Round, square, oblong, or any shaped wooden board is good for making a butter board.
I like to use a spoon to do this. Why not a butter knife? I tried both and found the spoon to be so much easier. It was great to use the back end of the spoon for pressing the butter down to spread. But it was also perfect for the swirling design you want for a butter board.
Use the back of the spoon to flatten, spread, and press the soft butter on your cutting board.
Once spread, use the back of the spoon to press and slightly push up at an angle. This will create little swirls.
The swirls act like divots in the butter for a rustic design. They are also great for catching all those yummy toppings and drizzles that will be added next. Not to mention it adds texture and makes it look even more pretty.
Butter Board Toppings
Now it is time for the fun and yummy toppings. Now begin layering each ingredient one by one. As this builds up the colors and smells will really get you ready for this amazing recipe.
Begin by sprinkling on the flaky sea salt. It will seem like a lot but you want that saltiness to enhance all the flavors. I use Maldon flaky sea salt.
After the salt is done, next comes the olive mixture. Sprinkle on the chopped marinated olives. Again, sprinkle them evenly spaced over the butter board.
Next, using a spoon drizzle the hot honey over the top of the olives. The amount in this recipe adds a bit of heat to the butter but is not overly spicy. If you like a lot of heat, add more. It is all about what you love and making it fantastic.
For the last topping, on goes the fresh chopped parsley. Just a little bit goes a long way. It adds freshness and the grassy flavor always pairs beautifully with butter.
Hint: If you are serving that at a party, have extra toppings on the side. This way your guests can add a bit more of this or that to customize. Everyone knows someone that loves this crazy spicy or super salty - so really please your guests.
What to Serve with a Butter Board
Keep in mind, a butter board is not a dip. The butter will be swirled relatively thinly so you can use your butter knife to scoop some up and then spread it onto your bread. Place the cutting board topped with butter out with one or more butter knives to make eating it easy. You may see others dipping their bread in and smashing it around to get it coated, that is ok too but the original intent of the recipe is for it to be a gourmet spread.
Bread is a must to have with any butter board. Offer gluten-free & regular bread to guests if serving this at a party. Fresh sliced crusty loaves of bread like baguettes, sourdough, & my homemade ciabatta recipe are my personal favorites. But you can also serve these other items along with your butter board.
Toasted Crostini
Rye Crisps
Fancy Crackers
Apple Slices
Biscuits or Scones
Keto Cornbread Chaffles or other cornbread
Waffles cut into strips
Substitutions
This butter board is fantastic as is. I really recommend you enjoy this combination of sweet, spicy, salty, crunchy, creamy, tangy, & herbaceous. However, if you are missing an ingredient or need to adjust for dietary reasons, here are a few alternate ingredient ideas.
Green & Black Olives - you can use canned black olives that are already pitted for an easier & more kid-friendly version
Hot Honey

- use plain honey & stir in some red chili flakes for the heat
This recipe is already vegetarian & gluten-free. It is not vegan due to the real dairy butter and the hot honey.
Other Ideas & Variations
Honestly, butter boards have an endless amount of variations that can be done with them. The ideas on what to top or mix into the butter are endless. I like to balance different flavors as I did with this one. Here are a few combinations of butter board ideas that are sure to be delicious.
Italian Deluxe- stir in a bit of pesto along with the butter for a bit of color and basil flavor
Nutty - add finely chopped pistachios for a crunchy nutty flavor
Kid-friendly - omit the hot honey and use regular honey
Fancy - add edible flowers for a pretty butter board perfect for wedding showers
Equipment
Grab your favorite or cutest cutting board for this butter spread recipe. I have a paddle-looking one with a handle. It is also on legs which makes it more fun and a real showstopping centerpiece.
The Short Order Cook is a participant in the Amazon Services LLC Associates Program.  As an Amazon Associate, I earn from qualifying purchases.  If you click on a link and make a purchase, I may earn a small commission on the sale at no additional cost to you. This helps with the costs of running the blog. Thank you! 
Storage
This recipe does not store well. You can make it about an hour before your guests arrive and let it sit at room temperature. The butter board will last for many hours during your party as long as it is in a cool location indoors or outdoors. If the weather or house is hot or too cold, it will be hard to spread the butter to serve it and enjoy it.
Top tip
For easy cleanup or if you do not want to spread butter all over your fancy cutting board, use parchment paper. I actually did that for this recipe and for the photos. The parchment may move around a bit as people serve themselves so keep that in mind.
I am so glad I caught Justine from Justine Snacks on GMA the other day. Otherwise, I never would have found something new to love. I hope you adore butter boards as much as I do now too. Let me know what you think and if you try any other combinations.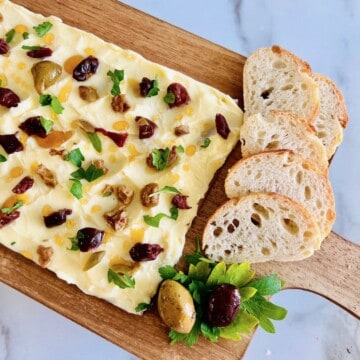 Sweet & Spicy Butter Board
For the best sweet & spicy butter board try this easy recipe. This trending appetizer or first course takes bread and butter to a new gourmet level. It's creamy, salty, & irresistible.
Ingredients
2

sticks

salted butter

room temperature

⅓

cup

marinated green & black olives

chopped

2

tablespoons

hot honey

1

tablespoon

fresh parsley

finely chopped

1

baguette

sliced into thin rounds
Instructions
Be sure all ingredients are at room temperature.

Grab a clean wooden cutting board. It will need to be about 8'x10" or another similar size so it can hold all the butter & toppings with room on the sizes for bread.

Use the back of the spoon to flatten, spread, and press the soft butter on your cutting board.

Once spread, use the back of the spoon to press and slightly push up at an angle. This will create little swirls.

Now add the toppings. Begin by sprinkling on the flaky sea salt.

Next, sprinkle on the olives in an even layer. Be sure to space them out a bit.

Drizzle on the hot honey so it is evenly distributed.

Lastly, sprinkle on the fresh minced parsley.

Serve with sliced baguette. See the section about for other ideas on what to serve with this butter board.
Notes
Nutritional info will vary based on the bread used and how big the slices/servings are per person. 
Nutrition Facts
Servings: 12
Amount per serving
 
Calories
282
% Daily Value*
Total Fat 15.8g
20%
Saturated Fat 9.8g
49%
Cholesterol 40mg
13%
Sodium 523mg
23%
Total Carbohydrate 31.4g
11%
Dietary Fiber 1.2g
4%
Total Sugars 3.9g
 
Protein 4.3g
 
Vitamin D 11mcg
53%
Calcium 13mg
1%
Iron 2mg
12%
Potassium 9mg
0%
*The % Daily Value (DV) tells you how much a nutrient in a food serving contributes to a daily diet. 2,000 calorie a day is used for general nutrition advice.