Cornbread chaffles made with almond flour are the best Mini Dash keto waffle recipe. What is a chaffle you ask? It is a cheese-waffle! This low-carb almond flour cornbread recipe is fluffy on the inside and crisp on the outside with all the flavors of corn but is grain-free & gluten-free.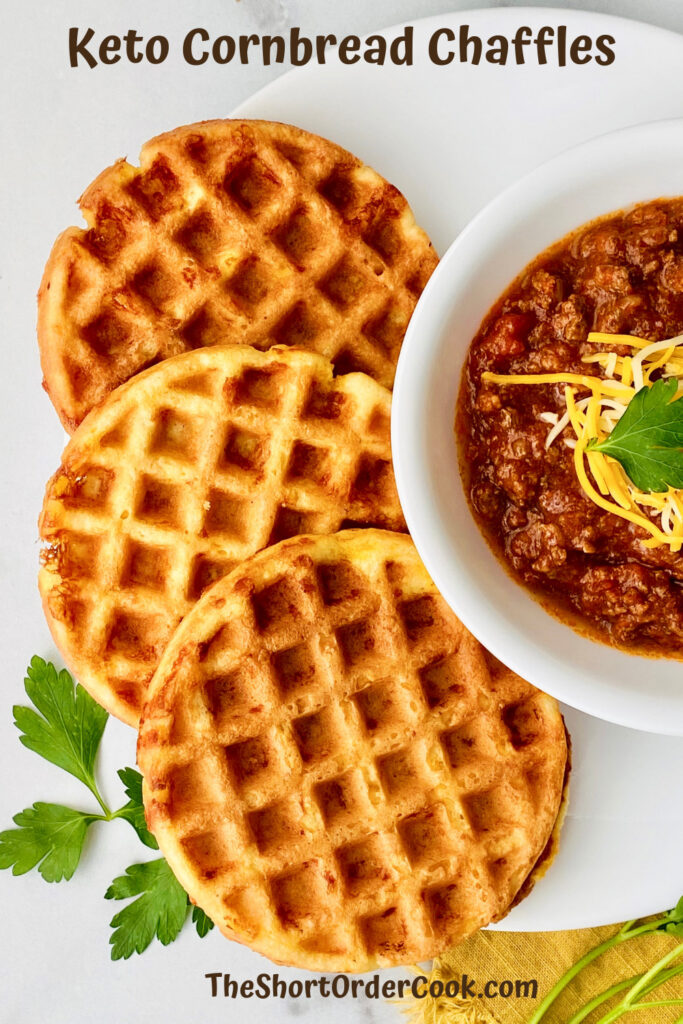 Making keto-friendly cornbread chaffles is quick and easy.  A savory easy side for chili, soup, or salads. 
The must-have equipment is a Mini Dash waffle maker and I highly recommend buying one in the duo set with the mini pancake maker.  You can make keto pancakes or eggs in the other one and it is so cute and fun.  You can also jazz up this recipe and make jalapeno cornbread or add more cheddar for the cheesiest cornbread keto waffle.
Jump to:
How to Make Keto Cornbread Chaffles
This recipe only needs a few ingredients but a few of them are very important and I suggest not making any substitutions.  For a true cornbread flavor, you will want to be sure you use corn extract. Be sure it is food grade and not one that is an essential oil.  This is the brand and type I use and as you can see it is very popular and has great ratings.
Best Almond Flour to Use for Chaffles
For a good cornbread texture in a keto-friendly recipe, use coarse ground almond flour or almond meal which gives you the best results. It will most resemble and give the same texture as real cornmeal. 
I like to use this brand as it is not as coarse as an almond meal (which also tends to have the almond skins on it which I do not care for) but not as finely ground as other brands like Kirkland or Bob's Red Mill almond flour.   
I suggest you purchase this brand but you can also use a combo of equal parts almond meal combined with your favorite finely ground almond flour if you have those on hand.
How to Make Keto Cornbread Chaffles
To start this simple recipe for keto chaffles, in a small bowl whisk the egg. Next, add the cheese, mayo, & corn extract.   Stir to combine.   Then add the remaining ingredients and stir to combine.
Cooking Chaffles in a Mini Dash Waffle Iron
To cook these chaffles, preheat your waffle iron for 3-5 minutes.   Once it is ready, you will cook one at a time using ⅓ of the batter for each chaffle.   
Let it cook for 4-5 minutes until it is the level of doneness you prefer. I like mine pretty crispy and done so I let it cook for 5 minutes in my Mini Dash chaffle/waffle maker.   Look how yummy & it smells great!
Let them cool and enjoy them immediately. 
Storing & Reheating Chaffles
Keto waffles do keep and can be stored in the refrigerator for up to 5 days if sealed in a Ziplock or container.  They also freeze well for a meal-planning later. Freeze for up to 30 days.
To reheat refrigerated or defrosted chaffles, place them in the microwave, toaster oven, or oven. For a microwave reheat for 15 seconds. In the toaster oven, oven, or air fryer set to 375° & reheat for 5-8 minutes.
Keto Chaffle Ideas
To add to this base recipe you can add jalapenos or green chiles for additional flavor. For sweet keto cornbread, you can add a sweetener like Monk Fruit, see the recipe card for both of these optional ingredients. Here are a few other fun ideas on how to eat these keto cornbread waffles:
Top with cream cheese & drizzled with Frank's Red Hot sauce for a snack or side
Drizzle with keto syrup and top with your favorite chicken for the ultimate keto chicken and waffles recipes - See below for my grain-free chicken nuggets for total perfection! OMG!
Cut in chunks and add to salads like croutons
This cornbread chaffle recipe is low-carb, keto, diabetic, grain-free, gluten-free, and fairly low-calorie. These are only 114 calories and 3.4 net carbs for each chaffle.
For another great chaffle recipe, try my 2-ingredient KETO BELGIAN CHAFFLES.  Once you learn more about making chaffles, you can come up with your own fun varieties in no time.
What to Serve with Keto Cornbread
These low-carb cornbread chaffles are so versatile. They are a great snack as they are but they are a great side dish with so many of your favorite keto recipes. This recipe for keto chaffles can be used to make keto cornbread stuffing or dressing.
This recipe makes for the best keto chili and cornbread combination. My favorite ways to enjoy these are with my beef & bacon chili or as a side with salads.   
To find out what goes well with keto cornbread, continue reading for the best recipes.  They are all delicious recipes for anyone on a low-carb, diabetic, or keto diet and make a complete keto dinner in no time.
Slow Cooker No-Bean Chili (keto)
Velvety slow-cooked beef is simmered in spices and finished with crispy bacon for the ultimate keto comfort food. This recipe without beans is so easy and cooks in the CrockPot.
Check out this recipe
Keto Cream of Mushroom Soup
This restaurant-quality low-carb keto cream of mushroom soup is easy to make and simply delicious. The creamy texture with sherry creates a rich velvety mushroom soup that is so much better than any Campbell's condensed version you can buy. 
Check out this recipe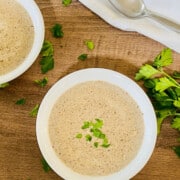 Keto Chicken Nuggets
Homemade Keto Chicken Nuggets are easy to make & delicious. The grain-free/gluten-free coating is low-carb, crispy & crunchy. Boneless skinless breast bites are deep-fried until juicy on the inside & golden on the outside. The breading of almond flour, parmesan cheese, & spices is flavorful. These are the best & loved by kids & adults.
Check out this recipe
Paleo Chicken Thighs
Juicy chicken thighs browned in a cast iron pan and cooked in a wonderful lemon sauce with Greek ingredients like olives, capers, tomatoes, and artichoke hearts. A bright and flavorful easy one-pan meal that anyone on a paleo, gluten-free, keto, low-carb, or Whole30 diet.
Check out this recipe
Italian Chicken
This recipe for authentic Italian chicken drumsticks is bursting with flavor thanks to an easy lemon, pepper, garlic, and herb marinade. The chicken legs are grilled to juicy perfection.
Check out this recipe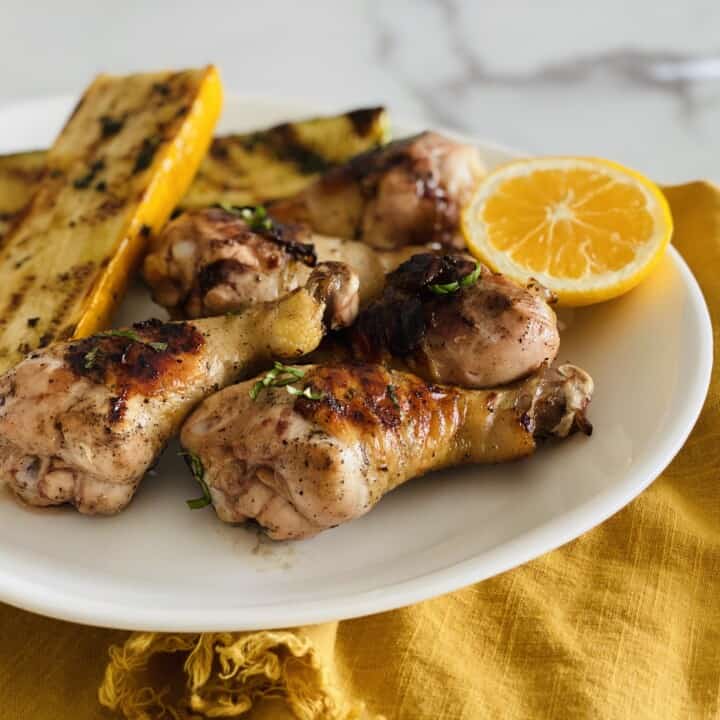 A big bowl of my Slow Cooker Beef & Bacon Chili with one Keto Cornbread Chaffle is hearty, filling, and low-carb meal.  This meal has 457 calories, 9.4 net carbs, and plenty of fat & protein.  It should be part of your regular rotation.   
Bonus:  I made the best keto chili hot dog with this recipe. I folded one of these chaffles around a grilled hot dog, topped it with some chili and a bit of cheddar, and OMG - seriously keto heaven.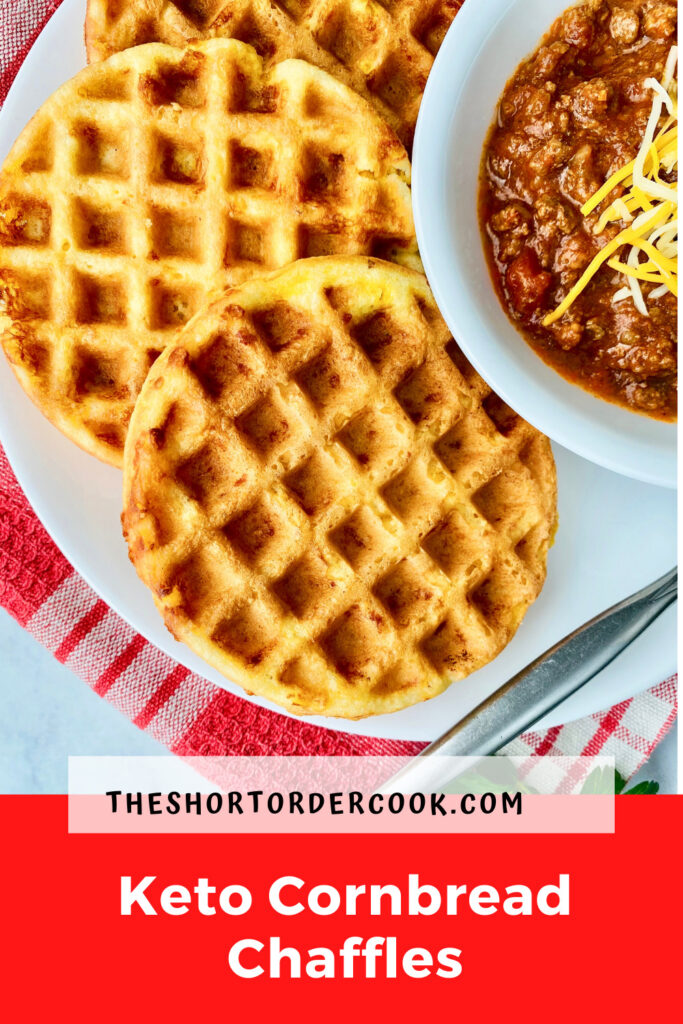 Product Recommendations for this Recipe:
The Short Order Cook is a participant in the Amazon Services LLC Associates Program. As an Amazon Associate, I earn from qualifying purchases. If you click on a link and make a purchase, I may earn a small commission on the sale at no additional cost to you. This helps with the costs of running the blog. Thank you!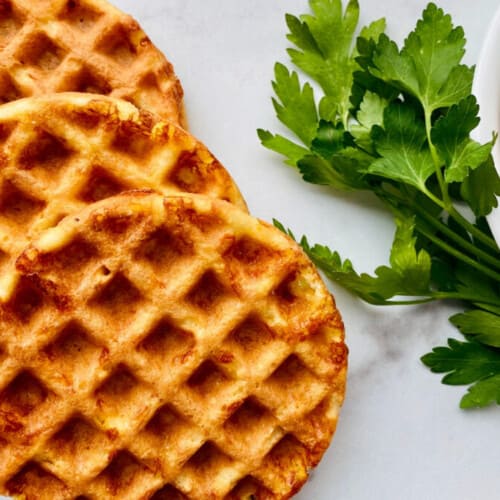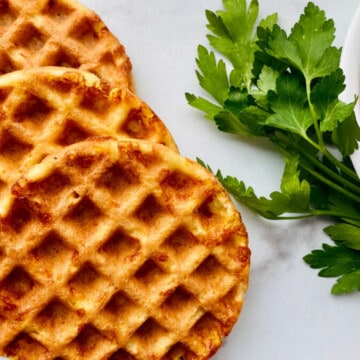 Keto Cornbread Chaffles
Cornbread chaffles made with almond flour are the best Mini Dash keto waffle recipe. A savory low-carb & gluten-free side for chili, soup, or salad.
Ingredients
1

egg

¼

C

Cheddar & Jack Cheese mixture

shredded

2

TB

Full-Fat Mayo

⅛

teaspoon

corn extract

see notes & link above for recommended brand

⅓

C

coarse almond flour or almond meal

see notes & link above for recommended brand

½

teaspoon

baking powder

⅛

teaspoon

salt
OPTIONAL
½

teaspoon

Monk Fruit sweetener

if you want a sweet cornbread

1

TB

jalapeno or green chiles

diced
Instructions
Plug in the Mini Dash waffle iron to preheat. It should warm up about 3-5 minutes to be ready to go.

In a small mixing bowl, add the egg and scramble it. Add the next 3 ingredients through the corn extract. Stir to combine.

Add the remaining ingredients and stir to combine

Once the waffle iron is ready to use, add ⅓ of the cornbread mixture to the waffle iron in an even layer. Close the lid and let it cook 4-5 minutes depending on how crispy/dark you like your keto cornbread.

When done cooking, take it out and let it cool on a plate. Now add ½ of the remaining batter into the waffle iron and repeat the 4-5 minute cooking time. Finish with the last bit of batter. You should get 3 mini keto cornbread chaffles from this recipe.

Enjoy. These chaffles store well in the refrigerator in a Ziplock or sealed container for up to 5 days. They reheat easily in the microwave, toaster oven, or oven.
Notes
The nutritional information below is for the base recipe and does NOT include any of the optional ingredients.
 

Nutrition Facts

Servings: 3
Amount per serving
 
Calories
114
% Daily Value*
Total Fat 9.1g
12%
Saturated Fat 3g
15%
Cholesterol 65mg
22%
Sodium 245mg
11%
Total Carbohydrate 3.8g
1%
Dietary Fiber 0.4g
1%
Total Sugars 0.9g
 
Protein 3.9g
 
Vitamin D 5mcg
26%
Calcium 54mg
4%
Iron 0mg
3%
Potassium 105mg
2%
*The % Daily Value (DV) tells you how much a nutrient in a food serving contributes to a daily diet. 2,000 calorie a day is used for general nutrition advice.
Did you make this The Short Order Cook Recipe?
Tag @theshortordercookblog (Instagram & Facebook) or @shortorder_cook (Twitter).
I would love to see your latest creations and kitchen adventures.